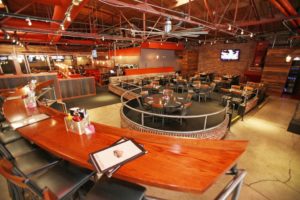 Nothing wrong with a facelift.  Change is good.
Breckenridge Brewery has been pouring drinks for 20 years on Blake Street in Denver.  They decided that it was time to upgrade their space and their menu.
The menu had been nearly unchanged for the entire 20 years and was just updated by long-time Breckenridge Brewery Chef, Ron Piscitelli. The focus of the menu change was to showcase more locally sourced ingredients and healthier dining options.
They are stepping up their game to compete with Denver's rising food reputation.
Start your meal with Pretzel Knots dipped in an assortment  of spicy mustards. It will satisfy your salty,spicy, and tangy craving all at the same time. Entrees like Grilled Salmon Tacos and Lamb and Grilled Asparagus Salad are healthy and fresh options that have been added to the menu.  They still have typical bar fare including delicious chicken wings, grilled artichoke, and wild boar sausage and red cabbage.  A sampler platter of the appetizers is a perfect companion to friends, beer, and watching Denver sports on TV.
Breckenridge Brewery chose to go green with their renovation.  The facelift took two weeks and cost $400,000.  The building itself is repurposed and is on the historic register. They used reclaimed lumber in the recent renovations and even repurposed a snow fence into the signage.
By doubling the amount of taps to their selection they hope to cut down on the number of bottles being served. Less bottles equals less waste. Now, 32 American Craft Beers are on tap.  Beers like Breckenridge, Avery, Left Hand, Oskar Blues,Odell, Boulevard, River North, Colorado Cider, and Redstone Mead.  The only problem is having to choose which one to try first.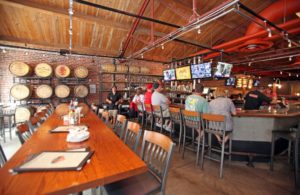 Change is good, but change is hard. It is so important to support a local business that has been around for two decades and that is willing to revamp everything to stay current. They are on to something here.  How will you make Breckenridge Brewery a part of your Colorado tradition? Go celebrate Breckenridge Brewery's 20th Birthday by ordering something new from their menu or  trying a new beer.  Is there anything better than a beer on tap? I didn't think so.