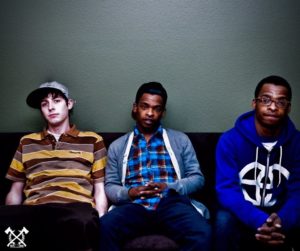 Being booked to play a string of major summer music festivals typically means a band is on the brink of major success, and done with the days of playing small venues. However, after performing at events like SXSW, Wakarusa, Electric Forest and Camp Bisco, electronic hip-hop trio, Two Fresh, is modest regarding their recent rise to fame, and will play an intimate show tonight at Cervantes Masterpiece Ballroom. The Nashville natives and Elm and Oak favorites are eager to bring their live show back to Denver, the city they now call home.
"Living in Denver is dope, it's cool to see and hear the difference in our own production solely from changing our environment," says DJ/producer Kendrick Nicholls. "It felt like getting a whole new look on equipment we've always used… sharing techniques with all the ill fellow producers out here is a plus, too."
Nicholls shares the "Two Fresh" moniker with fraternal twin brother, Sherwyn, and live drummer, Colby Buckler. The three grew up attending live shows and making beats in Nashville during their early teenage years. After attending separate universities, the Nicholls brothers reunited to make music, adding Buckler as a permanent member in late 2008.
"The roles in Two Fresh are completely shared," Kendrick explains, "but Colby brings a whole new aspect to our live show. We go through and plan our sets more with him playing, and are able to really create a vibe for that night."
Indeed, Two Fresh's live vibe has fostered a massive loyal following and quickly caught the attention of DJ/producer and owner of Elm and Oak, Alex Botwin. The Boulder-based lifestyle company wasted little time adding Two Fresh to their roster of progressive electronic-based acts such as Cherub, Black Actors, and Botwin's project, Paper Diamond.
"Working with Elm and Oak is a dream," Kendrick says. "It's all about surrounding yourself with like-minded musicians and people who help push you to your highest potential."
Two Fresh's involvement in the Elm and Oak community is evident in their sophomore release, last year's Air Mail. Taking a noticeably creative departure from their debut album, Baker's Dozen, Air Mail focuses less on sampling and primarily on original composition. Experimenting with varied tempos and genres, the trio has crafted a sophisticated collection of raw beats with polished production. Kendrick says the band has loved showcasing their evolved sound at live shows, but tailors their set to their setting and crowd.
"Our focus during our live performances is to show our audience exactly what we're on at the moment," he says. "One night we could be feeling more upbeat, or maybe a smoked-out, hip-hop feel. It just depends on the environment. We strive to have our audience stay engaged throughout the whole set, so it's all about placement with certain tracks to provoke an emotion."
Looking ahead, Two Fresh's next release will incorporate MCs like Elm and Oak's own Ouiz, as the trio continues to push one another to take creative risks. But while Buckler focuses on percussion, do the Nichols brothers ever battle over creative differences?
"Always," says Kendrick. "It keeps us both on our toes."
Catch Two Fresh alongside Koan Sound, Freddy Todd and Vinnie Maniscalco at Cervantes Masterpiece Ballroom tonight, presented by Euphonic Conceptions. Tickets available at the door. Doors at 8 p.m. Show at 9 p.m.