I'm already kicking myself for telling you this. You're just as happy scooching your chair in at any restaurant selection along Pearl Street's renowned row; and why wouldn't you be? With Frasca and L'ATELIER ready to beam you to foreign fine dining bliss at one end, The Kitchen and SALT there to wrap locally sourced farm-to-table tastes around your tongue at the other, and countless accolades in between, you almost can't go wrong.
And, if you've made the journey all the way up highway 36, over the Platte River and through the suburbs just to be here by dinnertime, you must choose wisely. Unlike in your run-of-the-mill, chained up resort destination, sticking to Boulder's downtown isn't just for dummy tourists who wouldn't dare stray from the convenience of a concierge recommendation. By that same token, being a town held in such high culinary regard, venturing off the map—which is just to say off Pearl—isn't just for rogues and locals. Don't be afraid, foodies fatten up for winter on the outskirts, too. Plus, it's cheaper. How do you think I can afford to eat almost every meal out and still manage to rent in Boulder?
Next time you're up here and not bound for the land where scenesters position themselves on front patios for equal parts good food and a place to be seen eating it, check out what's good at one of these spots. Who knows, maybe you'll make the trip just for that next time. Just save me a table if you do.
Go Here, Get This
We'll begin our tour in east Boulder (that's mountains in the rearview to all you natives) with Pica's Mexican Taqueria. This little spot stole my heart our first visit when I ordered the grilled shrimp tacos, and have been back, every week, for the exact same thing. For $9.75 you get two tacos on Pica's homemade tortillas with marinated, grilled tiger shrimp, and they don't skimp—each with three or four of these plump suckers. Topped with a tangy cabbage and slightly spicy salsa, the taco duo is accompanied by Mexican rice and black beans. I can't bring myself to order anything else because you just can't get good shrimp in Colorado; it's always, you know, shrimpy, as if there's not an ocean around here or whatever.
For another uncanny oceanic experience, hit up the cozy, Italian-style Caffè. Okay, you got me. This is technically on Pearl and, brought to you by Frasca Food and Wine, perhaps already on your radar. BUT, how can I begin to delve into Boulder's most surprising budget bites without mentioning the Tonnino—the first in a selection of a small, open-faced sandwiches on the Tartine menu. Topped with fresh, top-quality tuna (rumored to be the same as served at Frasca), this toasty flatbread is rounded out with melty mozzarella, savory capers, pickle and oregano. At $2.25 a pop, you're going to want to go ahead and order at least two of these…trust me.
Up in my northern (NoBo) neck of the woods, I'm lucky enough to live across the street from Boulder's best plate of huevos rancheros, served up with a choice of home fries or hash browns at Lucky's Café. This darling diner recently redid its menu, yielding an improvement so great that it's brought me in more times since the switch than in the five years leading up to it.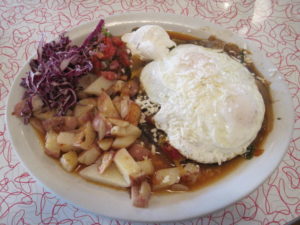 Most smothered Mexican breakfasts go something like—forkful after forkful of one flavor, usually green chili, and, oh, by the way, there's a tortilla under that sloppy mess. This particular dish beats out all other huevos I've had because it achieves the opposite, enabling you to appreciate the fresh pico de gallo and crisp cabbage just as much as the six-hour green chili and local eggs, all atop two Abbondanza Farms blue corn tortillas that demand to be noticed. It's expert flavor blending that's orderly enough to split down the middle into distinctive halves, best shared with a half or full order of French toast.
On the other side of town, and a quick jaunt off 36, stands the local brewpub that's afforded me the most success in luring friends from afar…that is, until they opened a location in Denver. I'm of course talking about the trio of sunny spots known as the Vine Street Pub, Mountain and Southern Sun—this last one being my favorite for having the best bar space, food selection and views. Observing the socialist system of tip splitting, the entire staff is at your disposal, meaning that you may place and receive your beer and food order from four different people. Instead of the cluster this has the potential to be, it almost always equates to service that's friendlier and food that's faster.  Need something? Grab anyone. That's efficient.
From any one of your wait staff, order the meaty, perfectly spiced hot wings. BBQ is good, too. You could actually start and end your meal here having had what's considered by many to be #1 on the bucket list of chicken wingdom. The spinach salad with balsamic will make you feel slightly less guilty for that pile of picked-clean bones or a burger will put you all in. Always take a look at the daily specials menu for awesome options, and bring cash or check—all they accept.
And oh, there's beer. If you haven't been here to dabble in the pints aplenty, then you've yet to try one of your favorite brews. That's right, I said your. From the Blackberry Wheat and Jah'Mon Ginger to the Java Porter (On nitro? Yes please!), if one of these on-tap treats doesn't make your craft beer short list, then my condolences for having lost your palate.
Tune in next week, when I'll wonder why I'm letting you in on the rest of Boulder's on-point, off-the-map spots. In the meantime, I'd love to know what yours are and taste what I've been missing. I won't tell…promise.