Some time ago, a good friend of mine wove a tale of Seattle's famous cream cheese and caramelized onion topped hot dogs. In my condition at the time, it sounded like the greatest item on Earth, as though it was sent from Heaven just to line my stomach after a long (and slightly blurry) night. The moment word of this unbelievable delicacy hit my ears, I had made it my mission to find one in the city of Denver. I scoured the nighttime streets of downtown, asking any hot dog cart vendors if they carried the enticing combination I had heard of, only to be shut down time and time again. I would even ask restaurants that had hot dogs listed on the menu if they could slather on some cream cheese and load up the onions. All I would get was an eyebrow raise and a "we don't have cream cheese here." I was beginning to think that the caramelized onion, cream cheese adorned hot dog was nothing but a myth. However, one fateful evening I was told by a co-worker that she had eaten "one of the best hot dogs ever," and that it was crowned with cream cheese and caramelized onions at a restaurant called Biker Jim's Gourmet Dogs.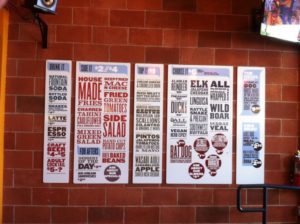 The menu alone is enough to make your jaw drop. Walk into the casual, open kitchen area and gawk at its selection of elk, buffalo, rattlesnake and pheasant (they can make a hot dog out of rattlesnake and pheasant?), and yes, for those who are less adventurous they have the average, run of the mill, everyday boring hot dogs, too. You then get the option of picking from numerous condiments, such as Harissa roasted cactus, Malaysian jam, cilantro, meaty New Jersey style chili or, of course, "Biker Jim's Classic," with cream cheese and caramelized onions. Naturally, I tried the latter, and was immediately taken to a paradise I had never known before.
Seriously, it was that good.
My friend dove right into their "Bat Dog," which is a smoked bacon hot dog piled with avocado, cream cheese, caramelized onions and tomato. Yes, that is really a thing, and Biker Jim's carries it. We felt like pioneers in a delectable landscape full of new tastes and amalgamations we had never heard of before. If you think I am being way too dramatic about a restaurant that serves hot dogs, you simply have not been to Biker Jim's (and I am being a little dramatic). One bite of Biker Jim's Gourmet hot dogs and you'll understand why the one-and-only Anthony Bourdain claimed that it was something nowhere else in the country had, and why even Mayor Hickenlooper has been photographed digging into one of its dogs. My friend and I were also thrilled to see that Biker Jim's offers fried green tomatoes as a side, along with fried mac n'cheese, hand-cut potato chips and charred Tahini cauliflower, all served a la carte. The portions are large enough to split between two people, as are the hotdogs, but who wants to share?
From its meager beginnings as a hot dog cart, Biker Jim's Gourmet Dogs has come a long way, developing a brick-and-mortar location at 2148 Larimer Street and creating the "Doglorean," a catering truck that is available for all types of events. The comfortable and familiar atmosphere of the restaurant makes it the perfect stop in for any occasion. Whether you are taking a lunch break, showing off to out-of –towners, or craving a hearty snack after a long night of dancing on the weekends, Biker Jim's Gourmet Dogs are a perfect Denver staple.