Sustainability and innovation collided at Meow Wolf's Absolute Rubbish: A Trashion Show. 
Organized by Meow Wolf Wardrobe Coordinator Kate Major, Absolute Rubbish took place Tuesday, September 19 in Meow Wolf Convergence Station's Perplexiplex.
There, 20 designers each showed one intricate piece, made of and inspired by trash, secondhand materials, and other found items. The show was hosted by local talent Bender Flames and DJed by Bo "DJ Blaque Girl" Richardson.
"Idea" by Adobe Darko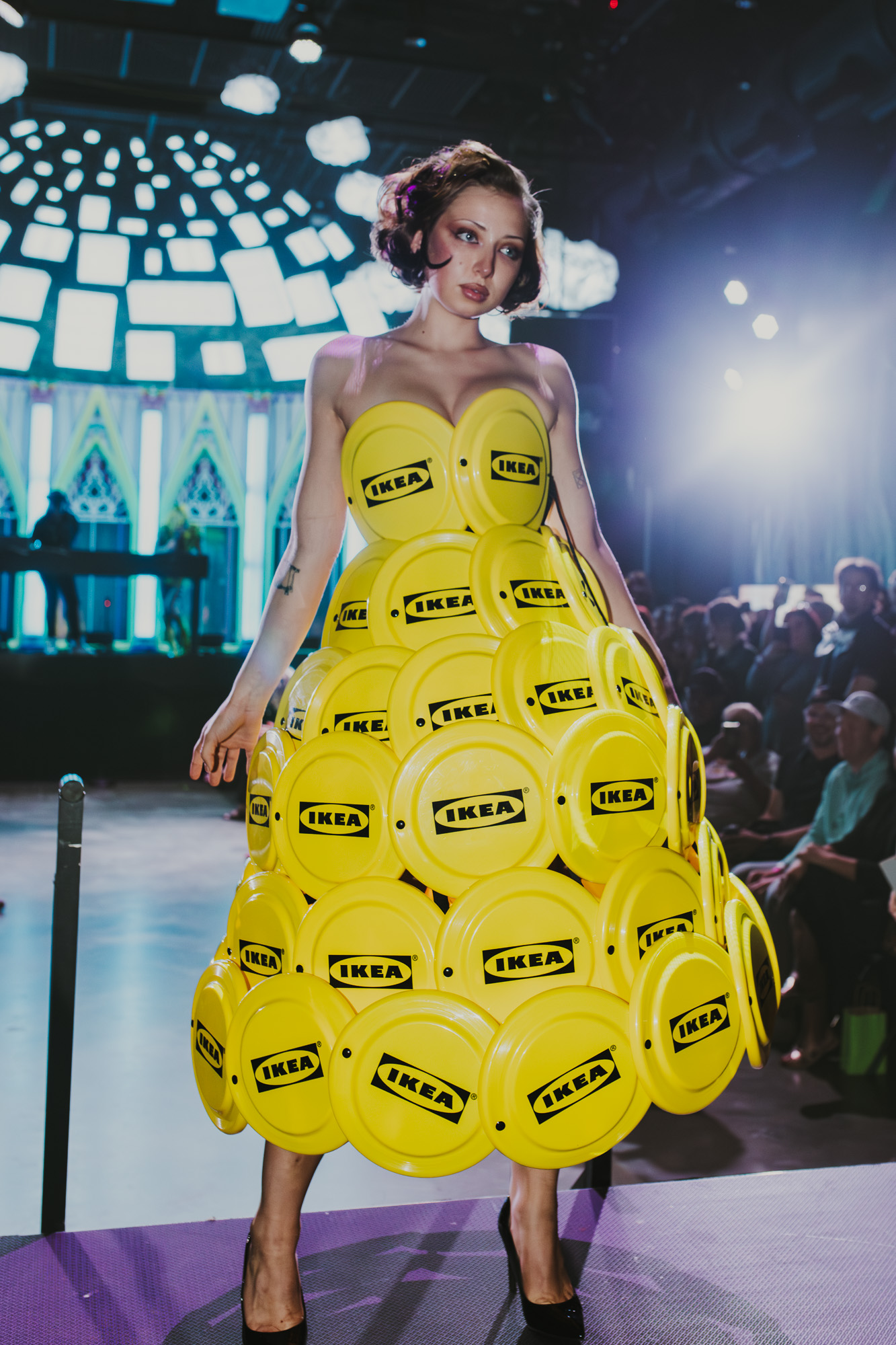 Modeled by Siena Renee, Adobe Darko's design was a playful commentary on consumerism, as well as a call to action to find beauty in the unexpected. Made entirely of IKEA frisbees that designer Chaim Bellinsky found and rescued from a junk pile on the street, the lightbulb shape of the dress represents the proverbial "lightbulb moment:" bursting with inspiration and illuminating a new way of thinking.
"Armor or Fashion" from A Subtle Notion by Steffie Gilbert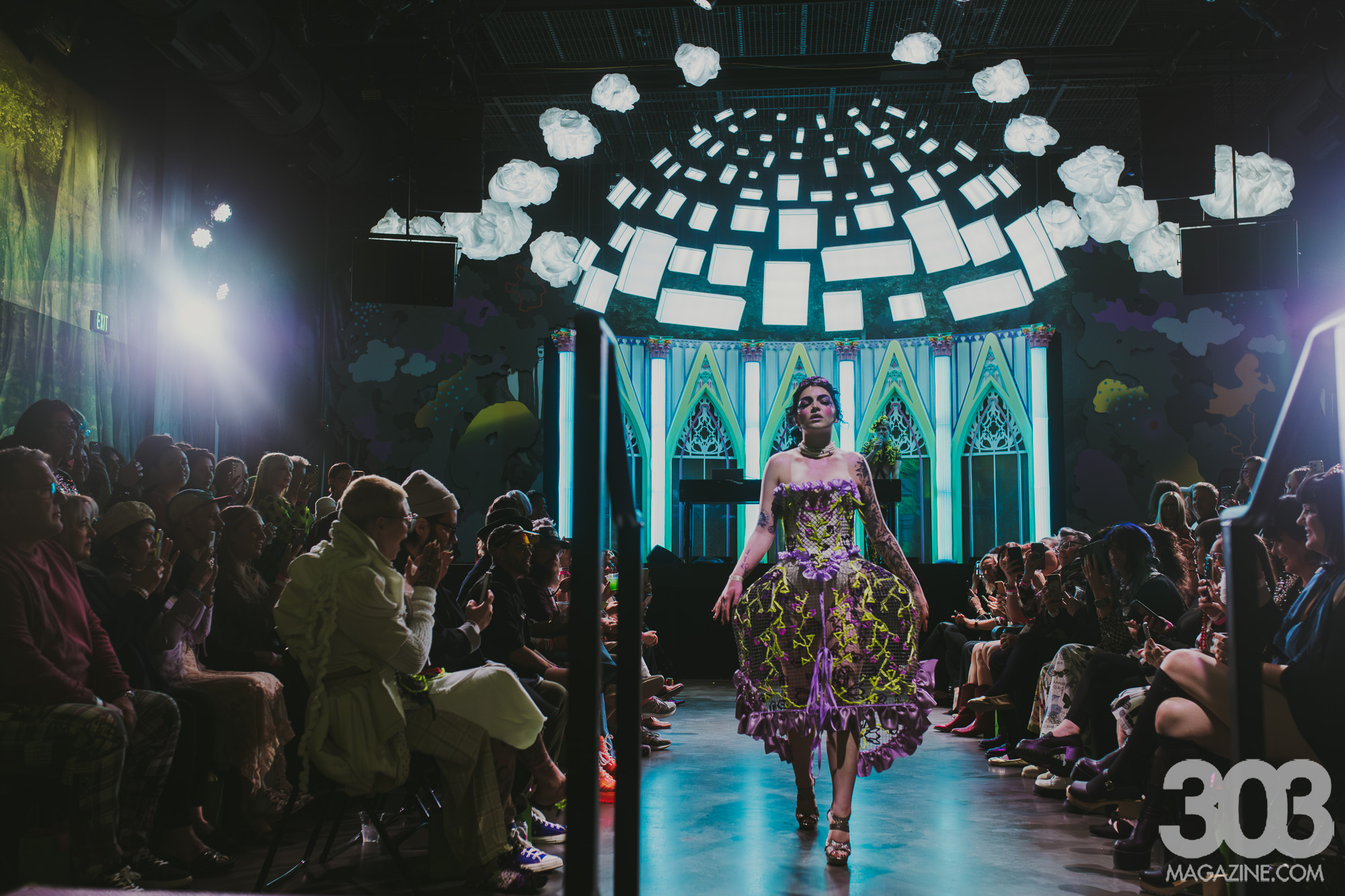 Made of chicken wire and ribbon, A Subtle Notion's design is both delicate and sturdy, representative of the dissonance between trash and beauty. Modeled by Sophie Gilbert, the dress is reminiscent of Victorian-era fashion. The ribbon entwined within the chicken wire structure creates an intricate floral pattern that is both innovative and eye-catching. 
"Woman's fashion has always been a bit impractical and sensational, too cumbersome to be useful. It has also served as a layer of armor against the dangers of the world around us," Notion said. "This piece speaks to all of these qualities, protective yet beautiful, and highly impractical while still being fun to wear."
"Whale Fall" by Mold Space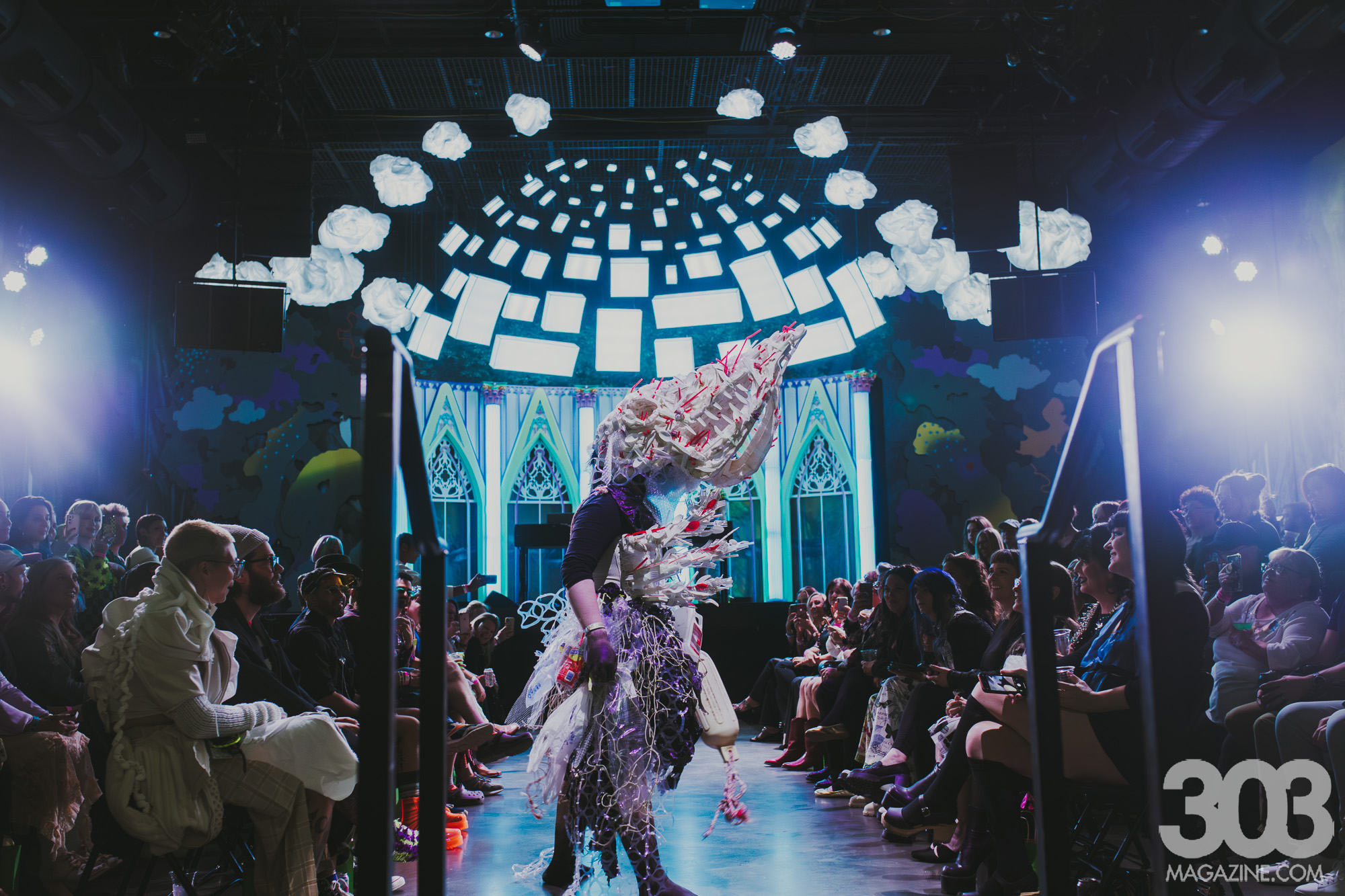 ""Whale Fall" considers the similarities and differences between ocean garbage patches and decomposing marine animals — how whale carcasses sink to the bottom of the sea and provide food and habitat for octopi and bone worms, while ocean plastics churn at the water's surface, choking photosynthetic organisms below and entangling passers-by,  both permanently reshaping the ecosystems around them," Designer, Willow Sedam said.
Sedam's innovative design utilized materials including styrofoam, single-use plastic cutlery and straws, six-pack rings, plastic bottles, garbage bags, netting, fishing line and tackle, bubble wrap, and a vintage corset. Modeled by Harri Sedam, the final product is a striking and thought-provoking design whose purpose is to force audiences to consider: "what happens when the hulking, bloated beast of late capitalism falls apart — and what might take root on its bones?"
"Clicks Per Minute" by Ann Moorman and Grayson Nite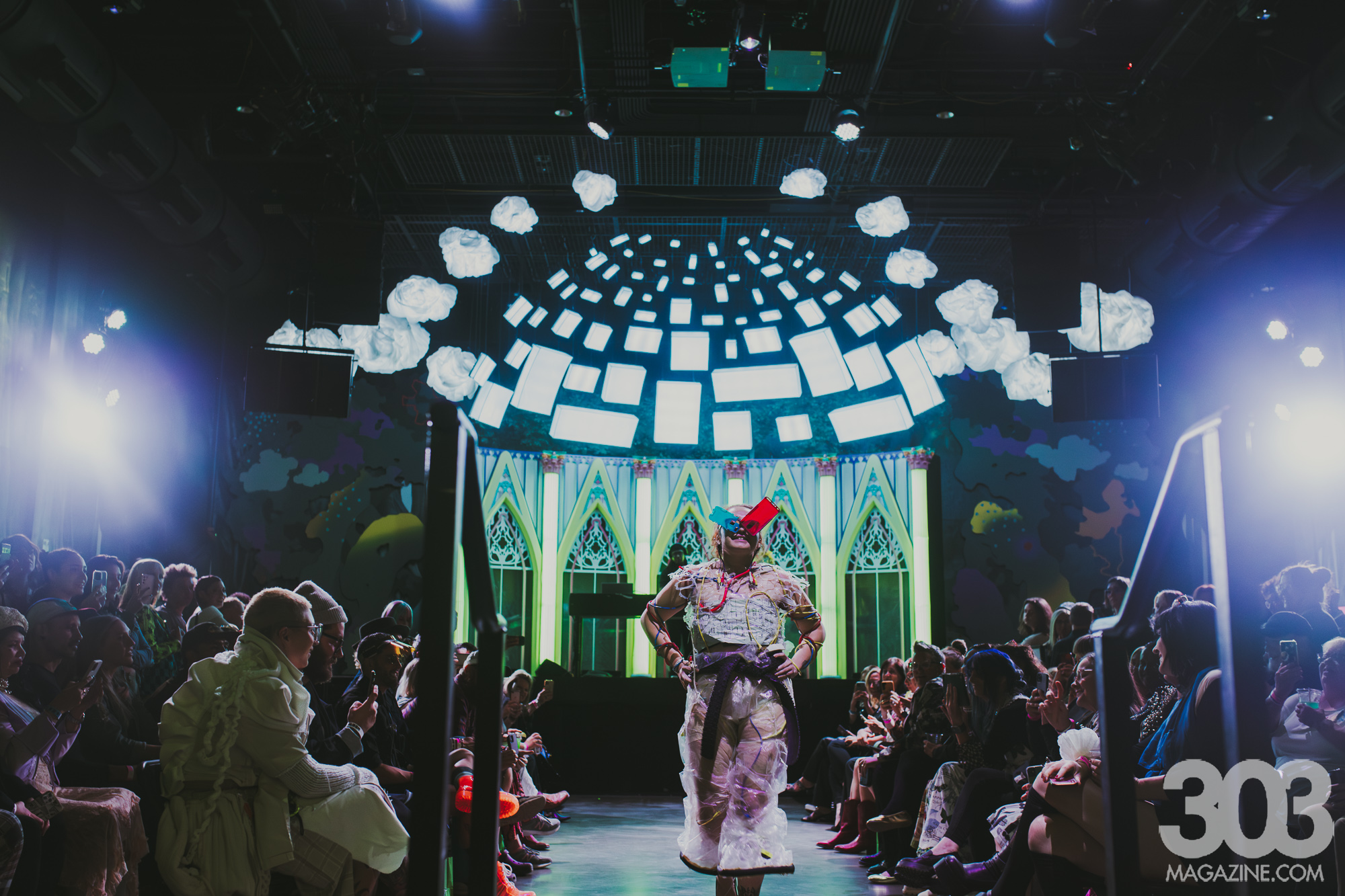 With phone case glasses and shoulders adorned with old cables, "Clicks Per Minute," is a thought-provoking commentary on consumption and fast fashion.
Designed by Ann Moorman and Grayson Nite, this design was crafted from recycled plastic sheets, rubber tires, old cables, phone cases, and soda can rings. Inspired by the issues of fast fashion and overconsumption driven by influencer culture, this innovative design, modeled by Crystal Minjarez, challenges norms and encourages eco-conscious choices in fashion.
Being Things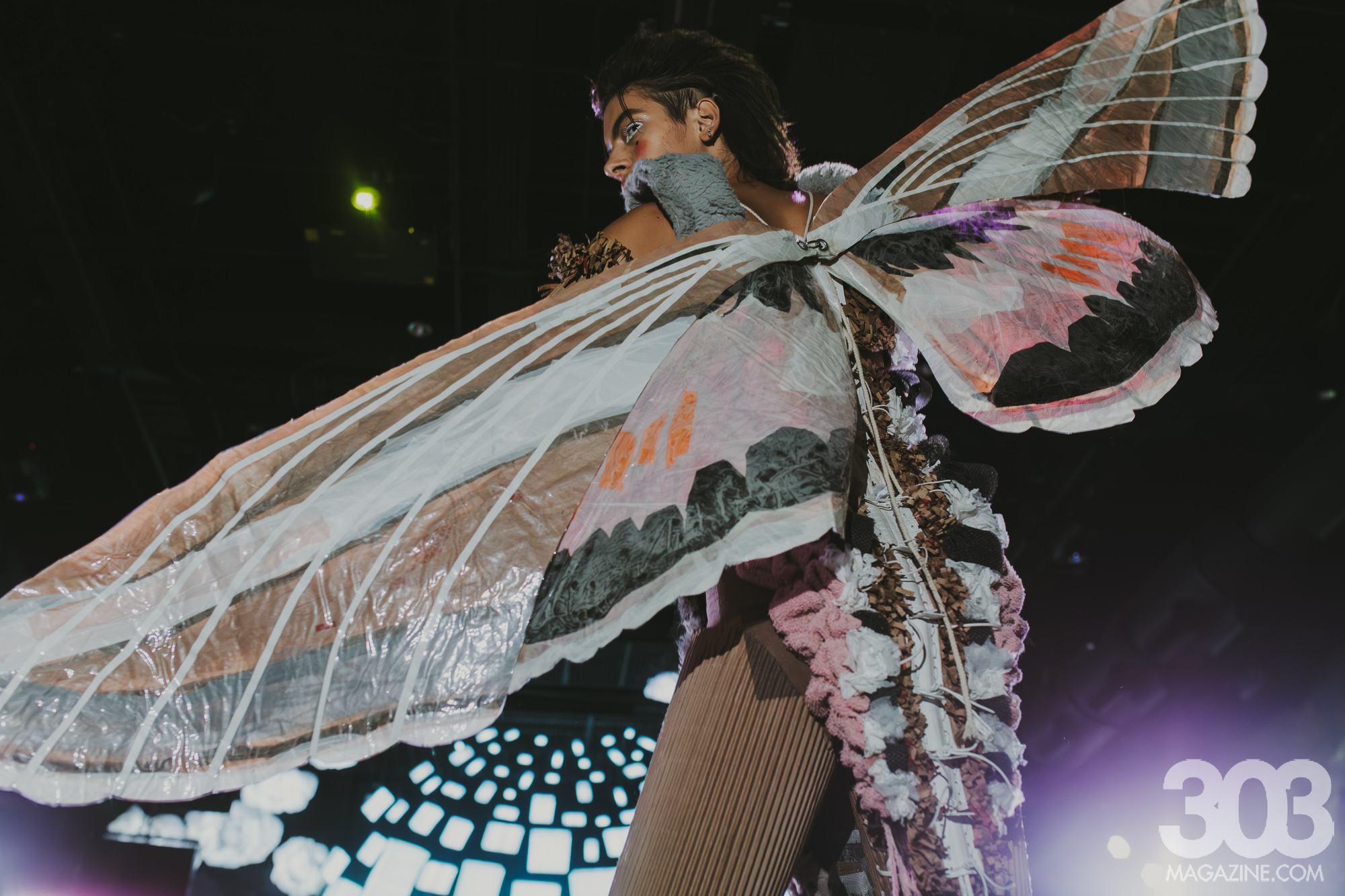 A breathtaking design with insect-inspired origins: crafted from a number of materials including cardboard, paper bags, paper towels, screen doors, speaker cables, phone chargers, taffy candy wrappers, dryer sheets, and a bath mat rug, the brand Being Things drew inspiration from a dead white-lined sphinx moth discovered in their garden, perfectly intact.
With an impressive pair of wings and delicate ankle adornments, the design both celebrates the importance of appreciating found wonders and encourages a unique perspective on everyday waste materials, transforming them into a visually stunning and thought-provoking work of art. 
The Blue Muze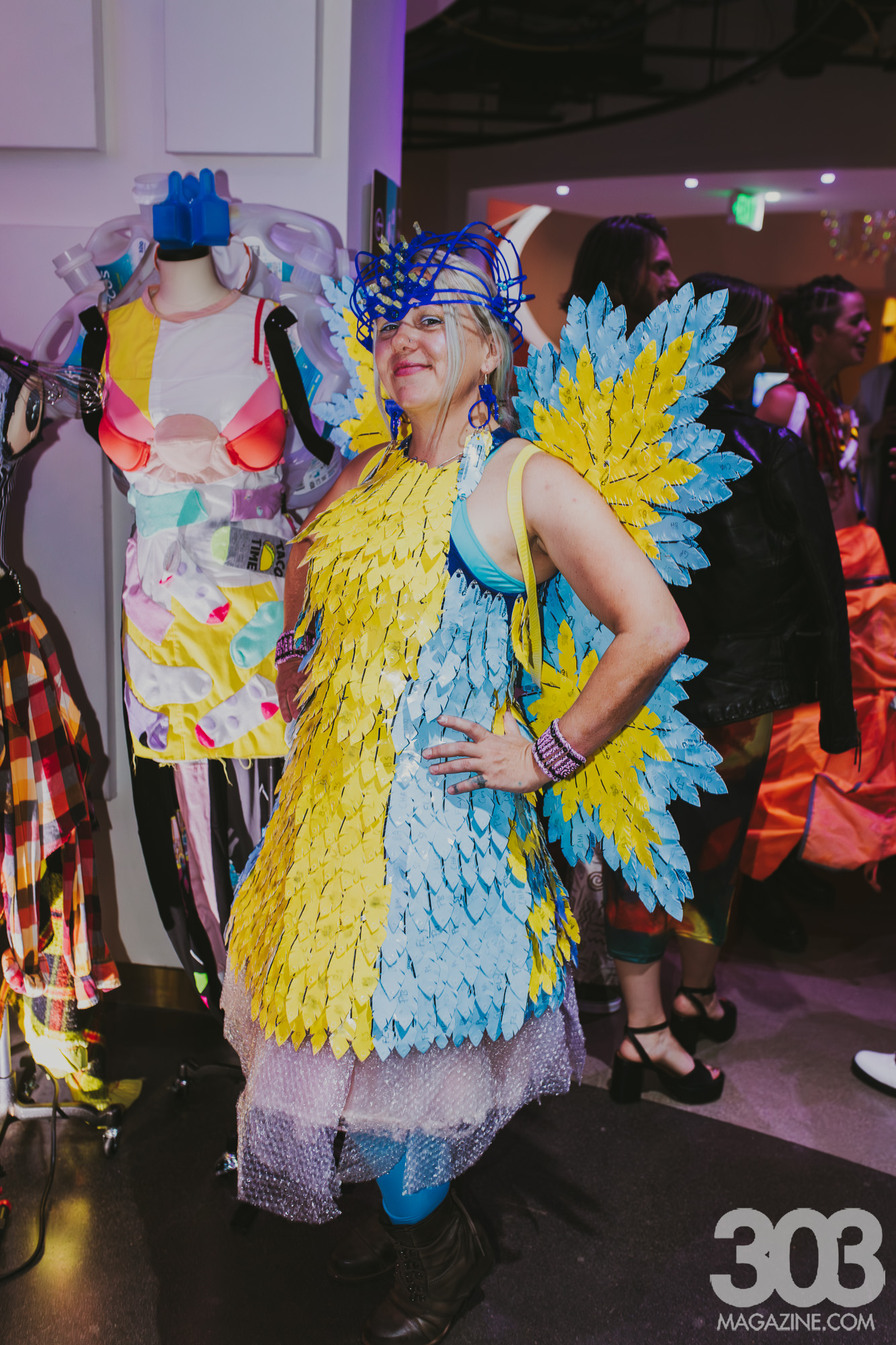 The Blue Muze modeled a design that repurposed discarded cannabis industry materials like plant tags, tag holders, Mylar bags, joint packing tubes, and bubble wrap into a unique creation. Inspired by the cannabis industry's need to tag every marijuana plant, this piece symbolizes this requirement's significance and impact on the planet. Yellow tags denote medical plants, while blue tags represent recreational ones, and altogether, the tags form a colorful, memorable dress. With inspiration drawn from "cannabis, altitude, and attitude," this design, featuring a "Negative Thought Blocker" adorned with sunshine crystals, takes fashion to new heights, offering a sustainable take on both fashion and the cannabis industry.
Hott Pink Matter moved the show forward with a design made from torn trash bags, bread clips, cans, saran wrap, clothing and shoes torn by the designer's puppy, and a handful of other found items. The streetwear bridal look modeled by Ruth Love balanced bridal elegance with discarded items and edgy streetwear vibes.
"From Vows to Vogue: Crafting Glamour from Wedding Leftovers" by Brandi Shigley-McMichael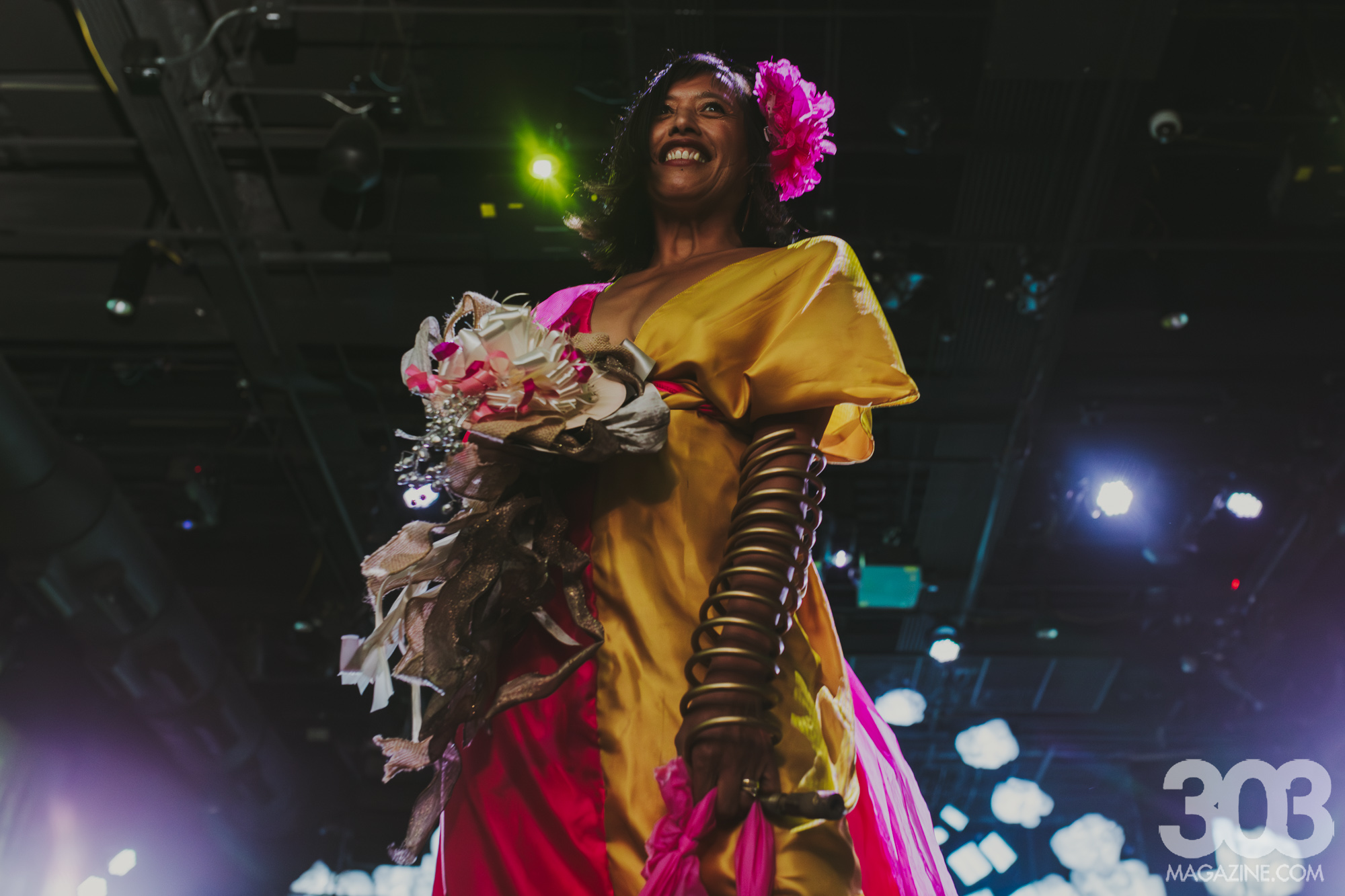 Brandi Shigley-McMichael, founder of Fashion Denver, curated a design that repurposes materials from her own bridal shower and wedding, primarily table runners and miscellaneous décor. The inspiration behind this ensemble is to transform wedding remnants into a memorable and unique fashion statement.
It prominently features the table runners from Shigley-McMichael's personal wedding cake table and incorporates repurposed accessories from various décor elements — including her mother's previous floral bouquet from decades ago. The result is a sustainable and nostalgic fashion piece packed with individuality and color. 
"ARIZ and Q-T: Sentient Space Junk Couture" by MENEZ TO SOCIETY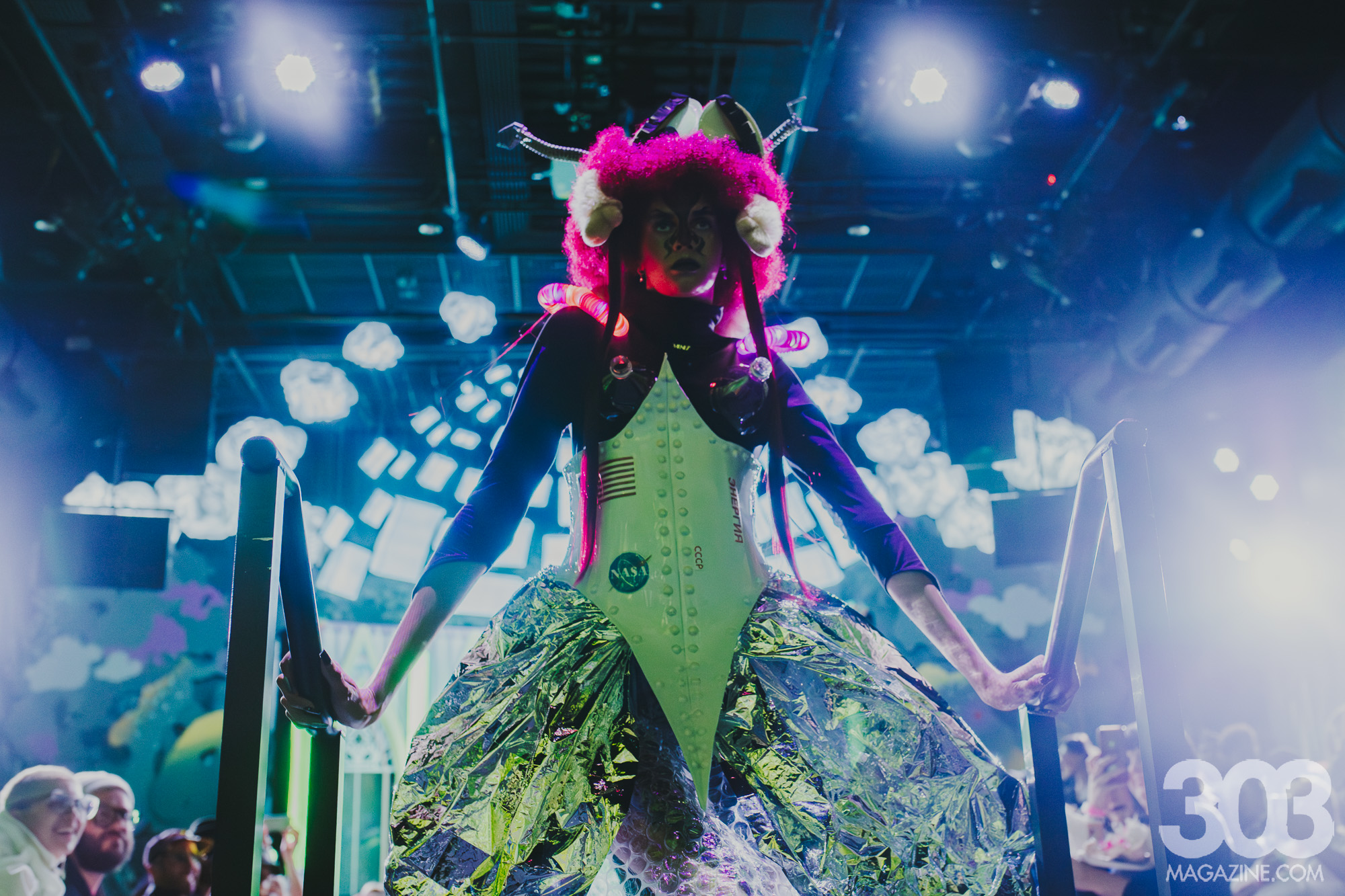 Memorable and intergalactic, MENEZ's trashion design creatively incorporates repurposed materials such as water bottles, bubble wrap, toys, and recycled plastic. This design draws inspiration from the extensive presence of space debris in our environment and is fashioned out of a shiny aluminum skirt, a textured pink headdress, and a plastic NASA corset.
The character ARIZ, played by model Olivia St. Aubin, ingeniously transforms decommissioned rockets into this ensemble — emphasizing the use of recycled plastics and toys to craft a unique and sustainable fashion statement.
"Plastica Botanica" by La Adorna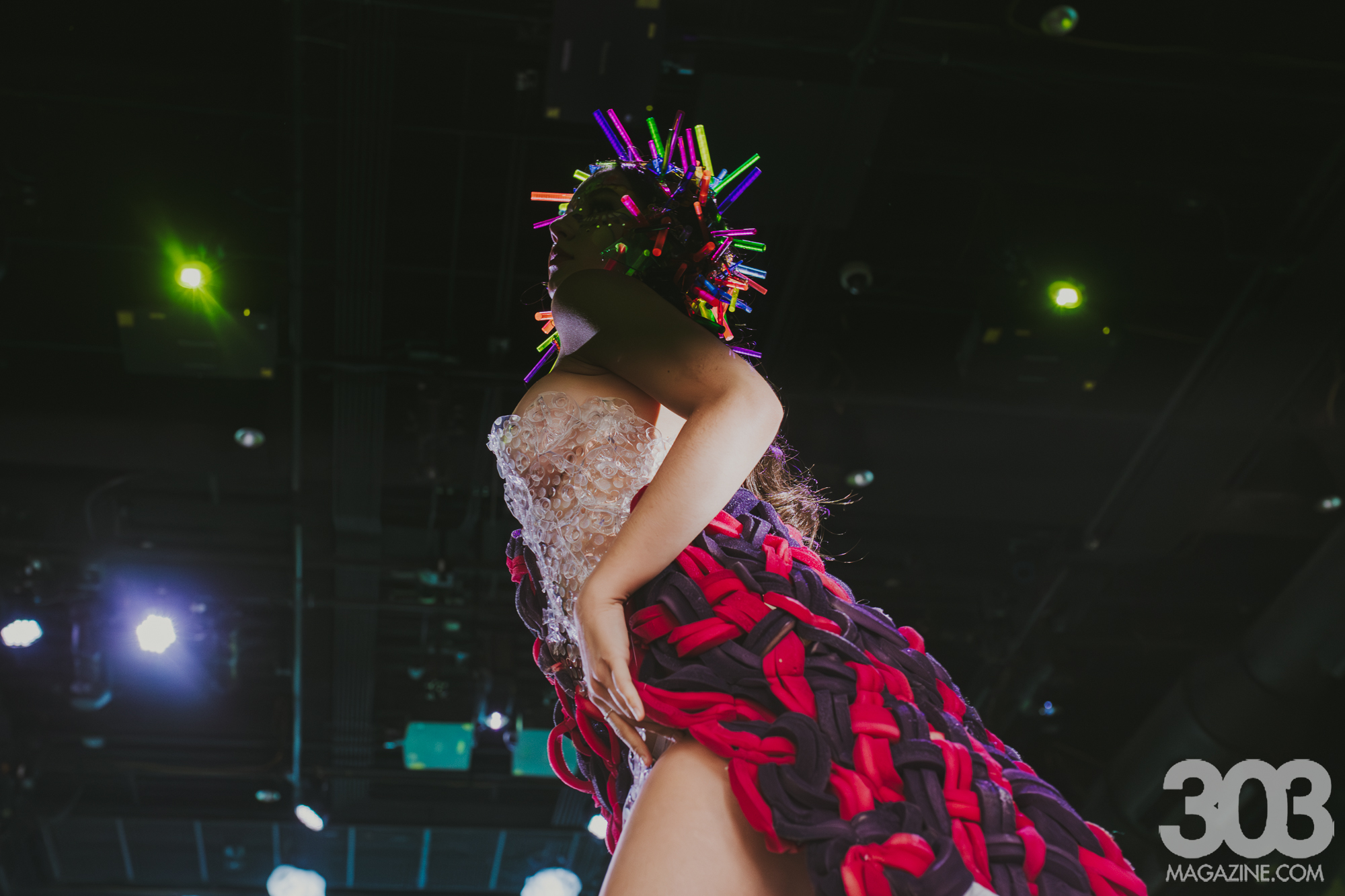 Britney Schall of La Adorna designed "Plastica Botanica" which incorporates unconventional materials such as foam, recycled plexiglass off-cuts and fishing line.  Model Noella Wong wore a corset made of bubble wrap and an intricately woven foam skirt —  an elegant take on sustainable trashion.
Topped off with an eye-catching multicolor plexi-glass  headpiece, the design takes inspiration from avant-garde fashion pioneers like Alexander McQueen, Iris van Herpen, and Paco Rabanne's iconic 1960s plastic dress series.
"Girls Just Wanna" from MadBell by Meghan Anderson Doyle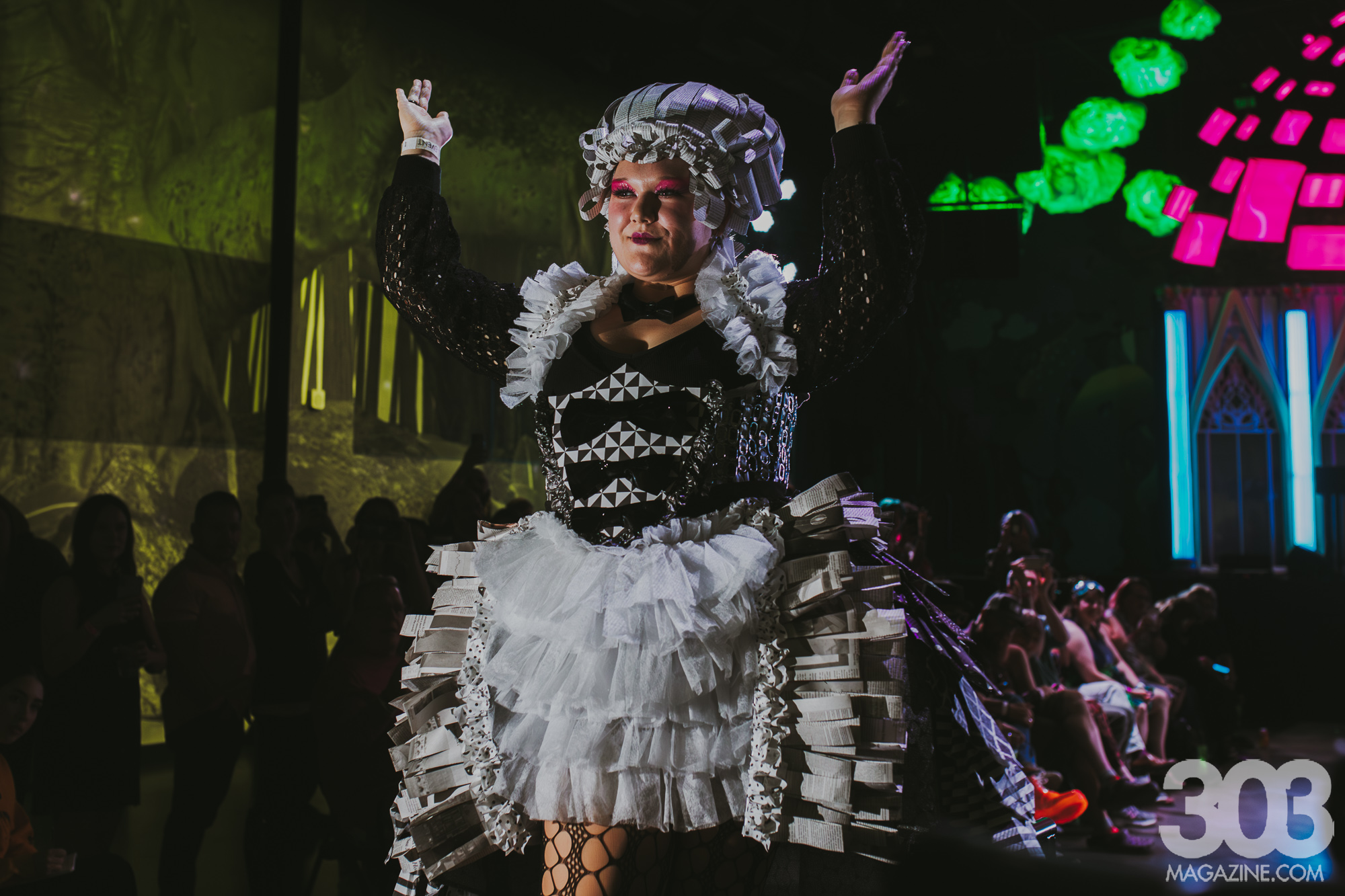 "Girls Just Wanna" by Meghan Anderson Doyle is a campy Rococo-inspired fashion piece crafted from a diverse range of materials, including bubble wrap, an Ikea poncho, packing tape, scrap vinyl, aluminum can tabs, dryer sheets, thrift store tops, a cereal box, paper toilet paper wrappers, newspaper, and cardboard toilet rolls.
The look is decidedly regency, complete with a frilly newspaper bubble skirt and a powdered wig-esque headdress made from scraps. Modeled by Maya Rae Taylor, the design pays homage to Cyndi Lauper's iconic newspaper skirt with a playful and eclectic twist.
MadVan Design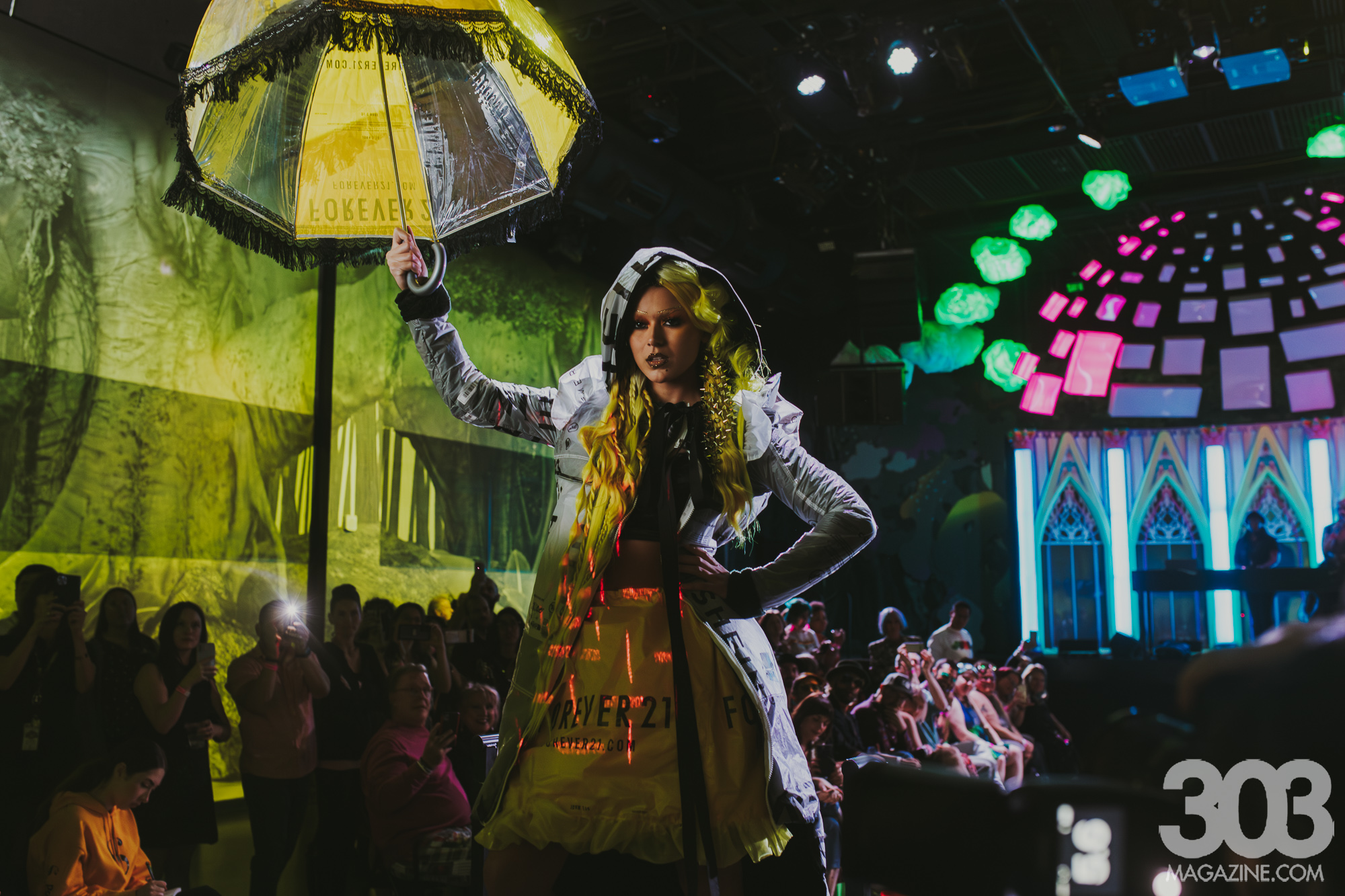 This sustainable trashion ensemble is a statement against fast fashion's negative impacts on the environment and workers. Crafted from repurposed Shein and Forever 21 plastic bags, it serves practically as waterproof rain ensemble — complete with hood and fringed umbrella worn by model Mya.
Nevertheless, MadVan Design's curation highlights the issues of pollution, exploitation and design theft associated with the fast fashion industry.
"Med Trash" by Katrina Niemisto
"As a card carrying member of the multi-million dollar legs club and disabled person, there's a lot of trash in my life: namely in the layered and deeply disturbing medical system we all have to fight through to receive care," Designer Katrina Niemisto said of her design. 
This unique design, named "MedTrash," repurposes non-biohazard medical waste, including medical bills, waiting room brochures, masks, gloves, COVID-19 tests, medication packaging and other disposable medical items. The inspiration behind this creation is the challenging experience of navigating the complex and costly healthcare system, particularly for those without significant financial resources or during the COVID-19 pandemic.
And the result? An elegant and poignant design that won't soon leave the mind of Absolute Rubbish's audience. 
Musa Mahoney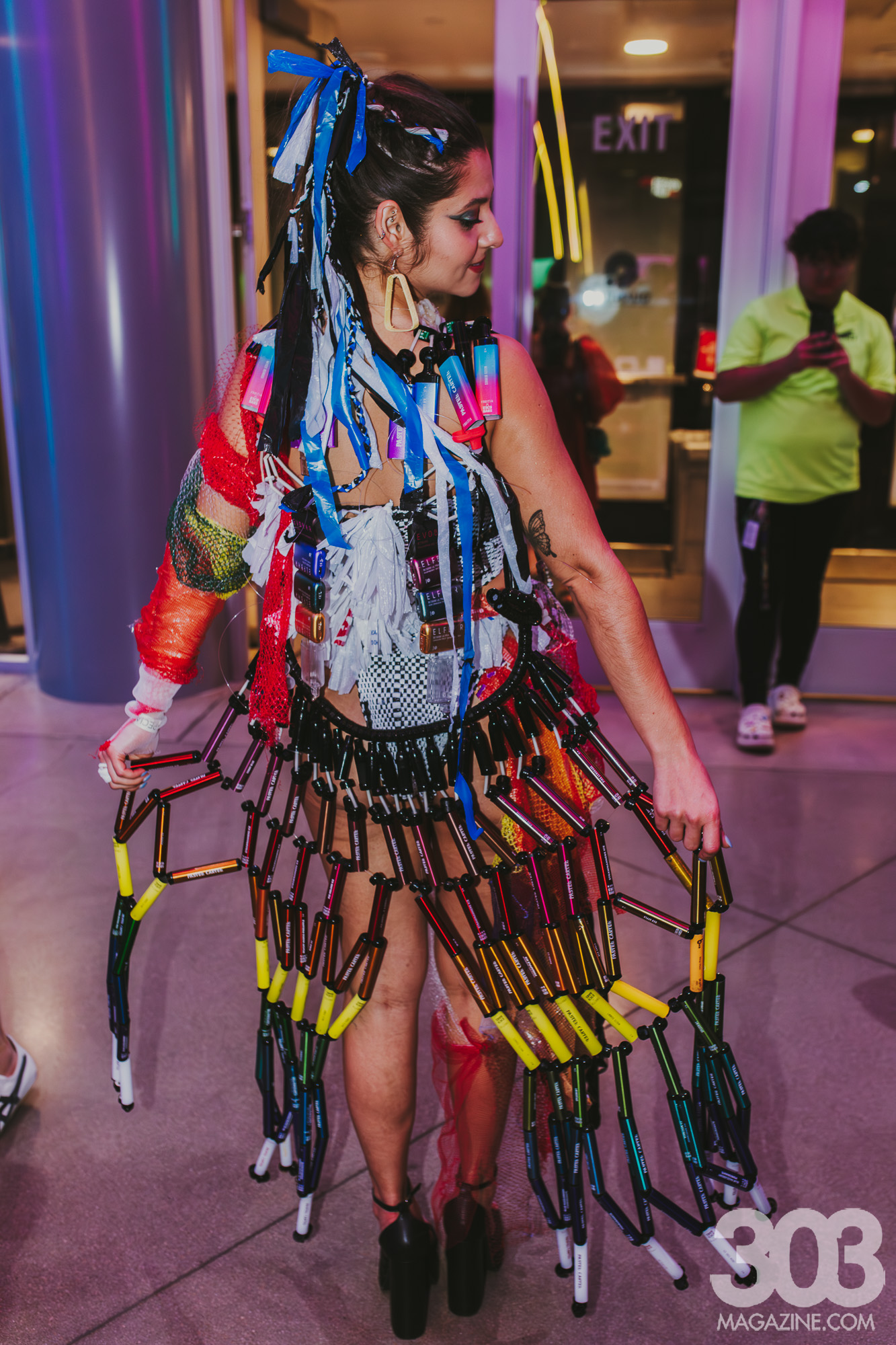 This sustainable trashion design, titled "Oceanic Reclamation: Eco Chic," creatively utilizes materials such as used vapes, plastic bags, magazine paper, bottle and can tops and produce netting. With vapes draped along the collarbone and a skirt made up of Escobars of every color, Musa Mahoney's design brings consumerism and waste to the forefront of the conversation.
Decorated with ripped pieces of tarp in Mahoney's hair and Elf Bar suspenders, the inspiration for this eco-friendly design draws from a variety of sources, including Versace's "Ocean Spring" collection in 2021, Nick Cave's Soundsuits, African tribal necklaces, and Isabella Rossellini's character in "Death Becomes Her" (1992).
"Penny Joes" by Penny and the Jets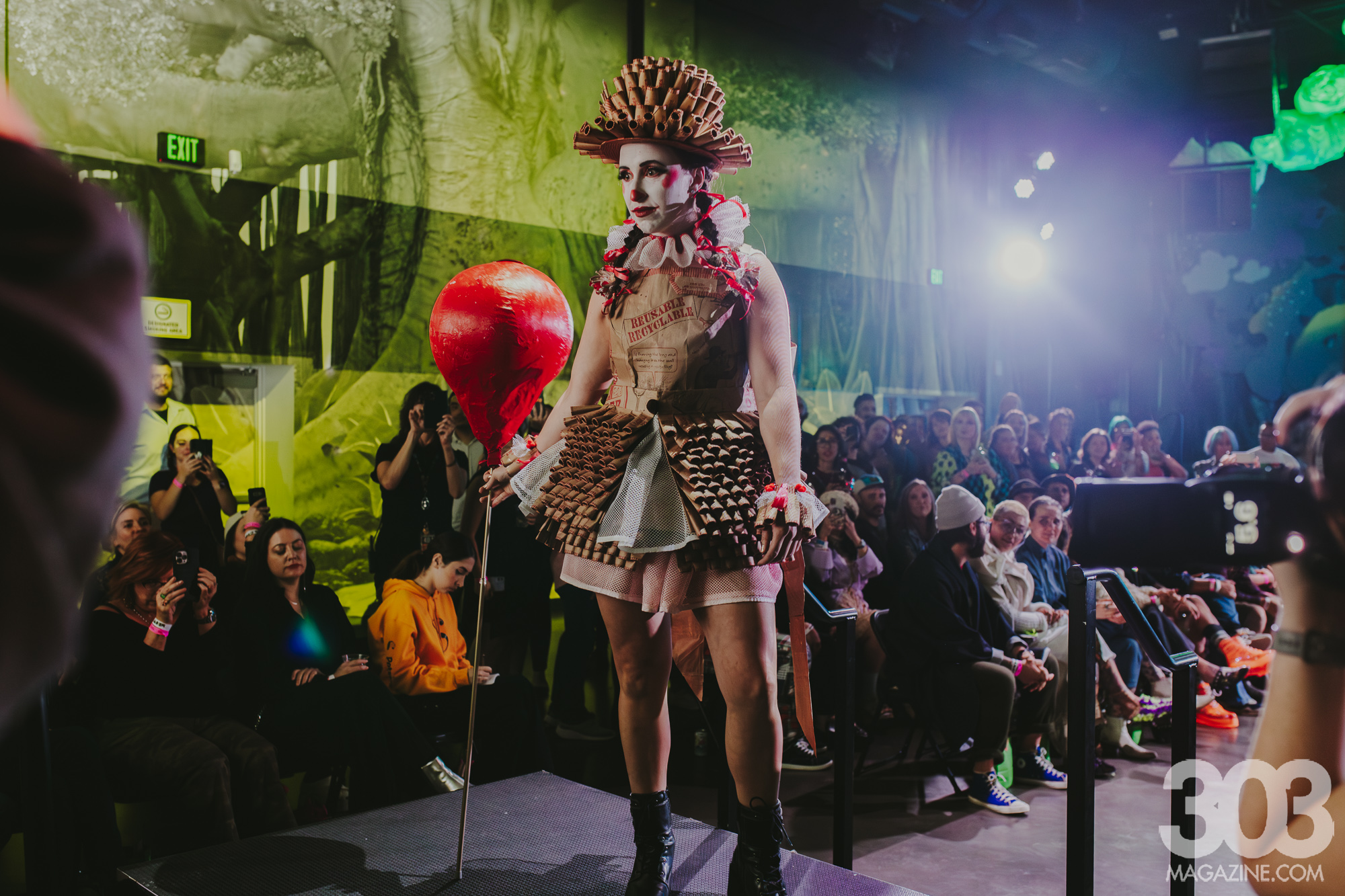 "Penny Joes," is crafted from materials such as penny tubes, Trader Joe's bags, mesh laundry baskets, shoelaces, lunch bags, a curtain rod, and a deflated beach ball. The inspiration behind Penny and the Jets' this design draws from the iconic character Pennywise the clown from Stephen King's IT and the concept of pinching pennies and penny rolling in a late capitalist society.
Complete with textured shorts, a handmade balloon and iconic clown makeup, the outfit modeled by Brigitte Hulbert poses a thought-provoking question about whether these financial practices are practical or if they lead us into a Pennywise-like nightmare where we descend into the metaphorical sewer of consumerism.
"No. 13" by Tay Jimenez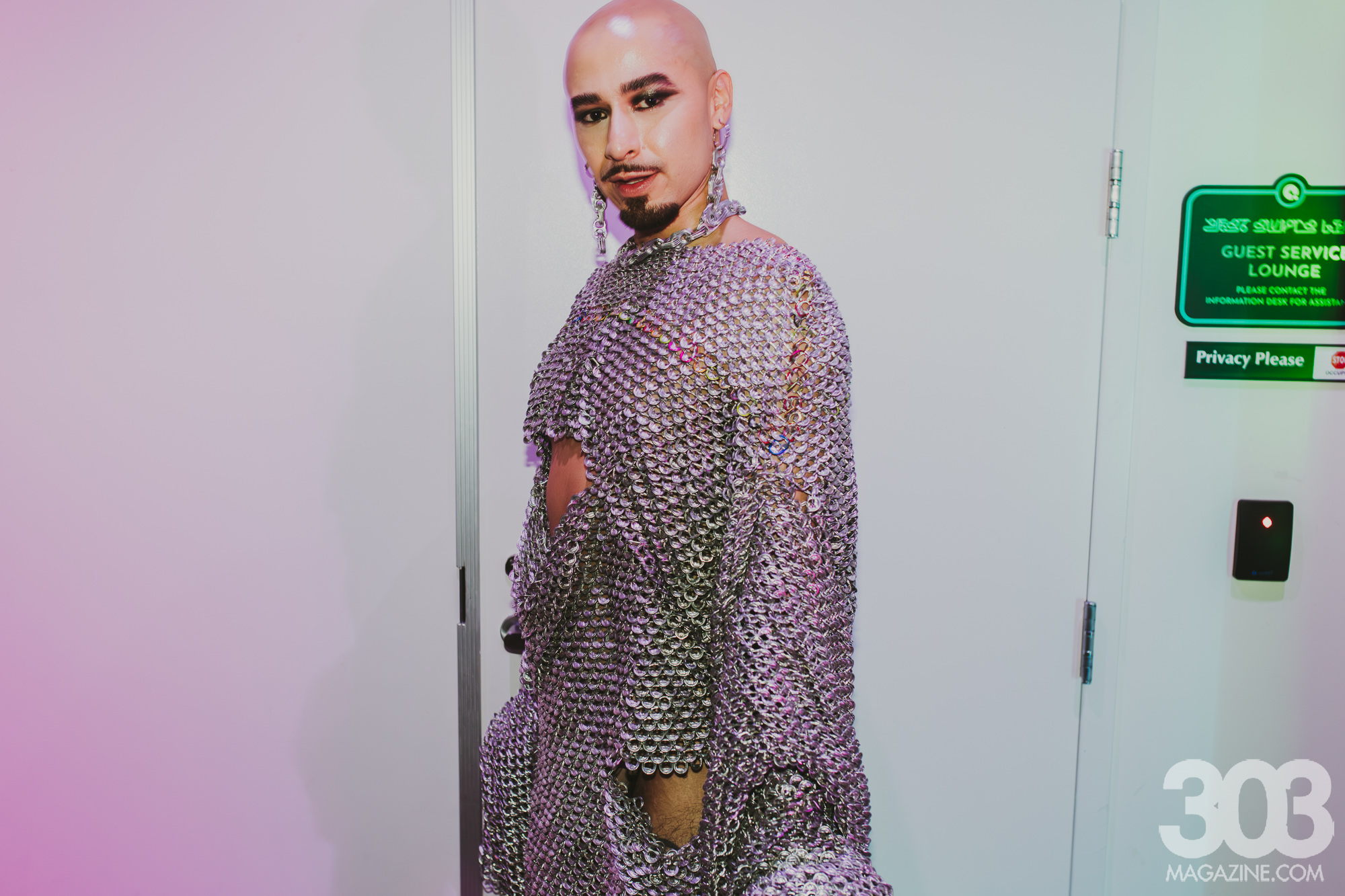 Trashion embodied, "No. 13" by Tay Jimenez is made entirely of soda can tabs, making for an elegant look reminiscent of renaissance chainmail. Complete with soda tab earrings and tasteful cutouts, the look is both tasteful and cheeky. The inspiration behind the look comes not only from its visual appeal – but its auditory effect as Jimenez models the look. 
"I've always been inspired by looks that are more than visual, so when it came to materials I knew a collection of aluminum tabs would produce sound and give an ASMR experience," Jimenez said. 
"WIRED" by SKYE|AIRE by Skye Barker Maa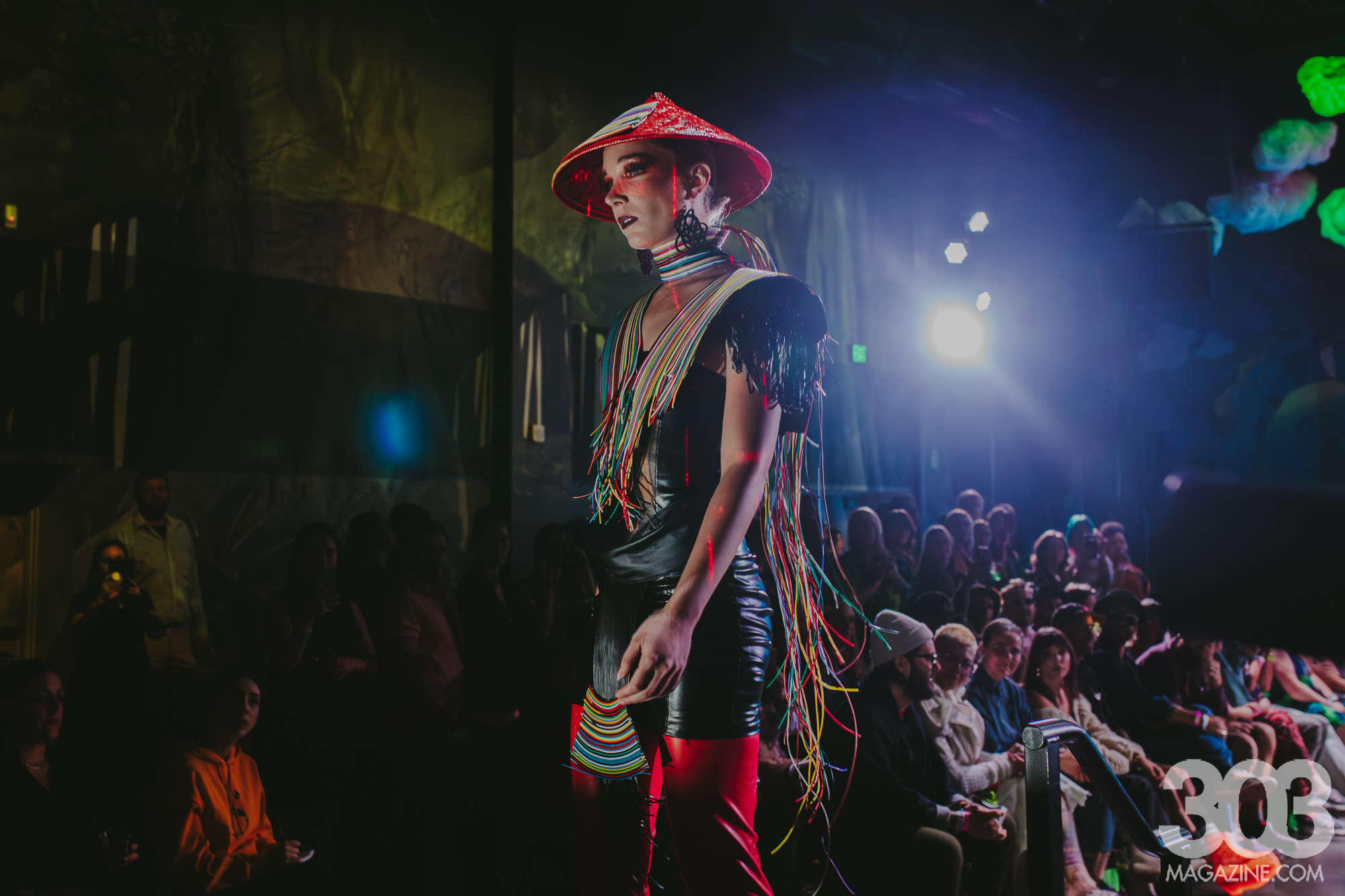 "WIRED" is crafted by Skye Barker Maa for SKYE|AIRE. The look is made from recycled wire and telephone wire. Its inspiration draws a fascinating parallel between wires and the neural connections in the human brain. The outfit combines a traditional conical hat and wires all over —from the decorate neck decor to the v-neck that drapes down the back of model Sam Metli to an eye catching triangular adornment on the skirt.
Just as wires serve various essential functions, including carrying electricity and transmitting signals, our brain is depicted as being "hard-wired" with neural connections that link sensory inputs to different parts of the cerebral cortex. This design explores the intricate relationship between technology and the human mind, highlighting the complexity of both.
"La Belle Poubelle" by Idiot Cult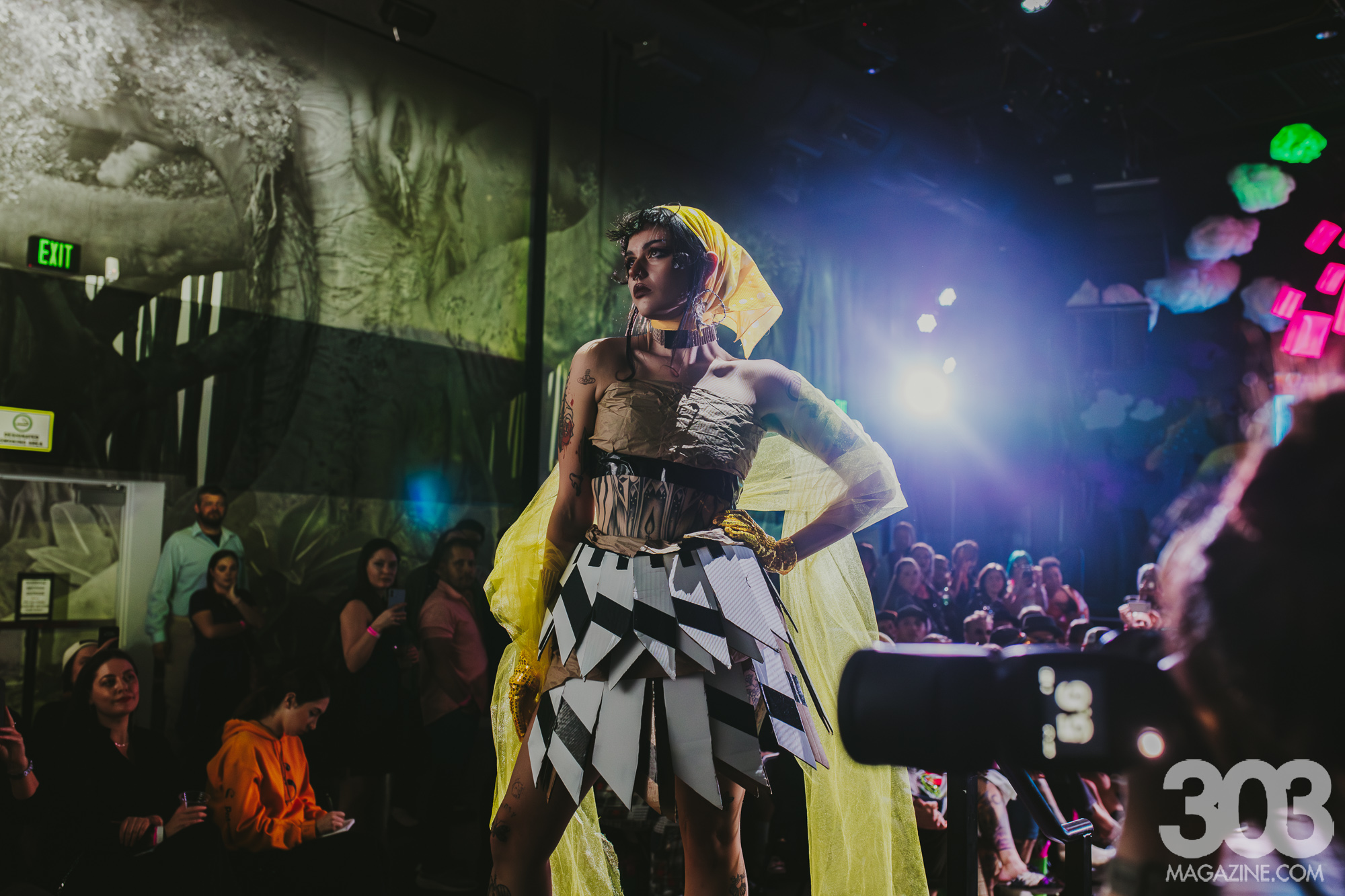 "La Belle Poubelle" or "The Beautiful Trash Can" by Idiot Cult is a memorable trashion design. Made from cardboard, duct tape, brown paper, and a variety of other secondhand materials, this design struck the perfect balance between high fashion couture, street style and — what the attendees were all there to celebrate — upcycled trashion.
Sticking to a yellow, black and white color scheme, model Sophia donned a look that was at once cohesive and thought-provoking, allowing audience members to second guess what might materials could make up high fashion. 
"Duchess of Dumps" by Glittz and Litter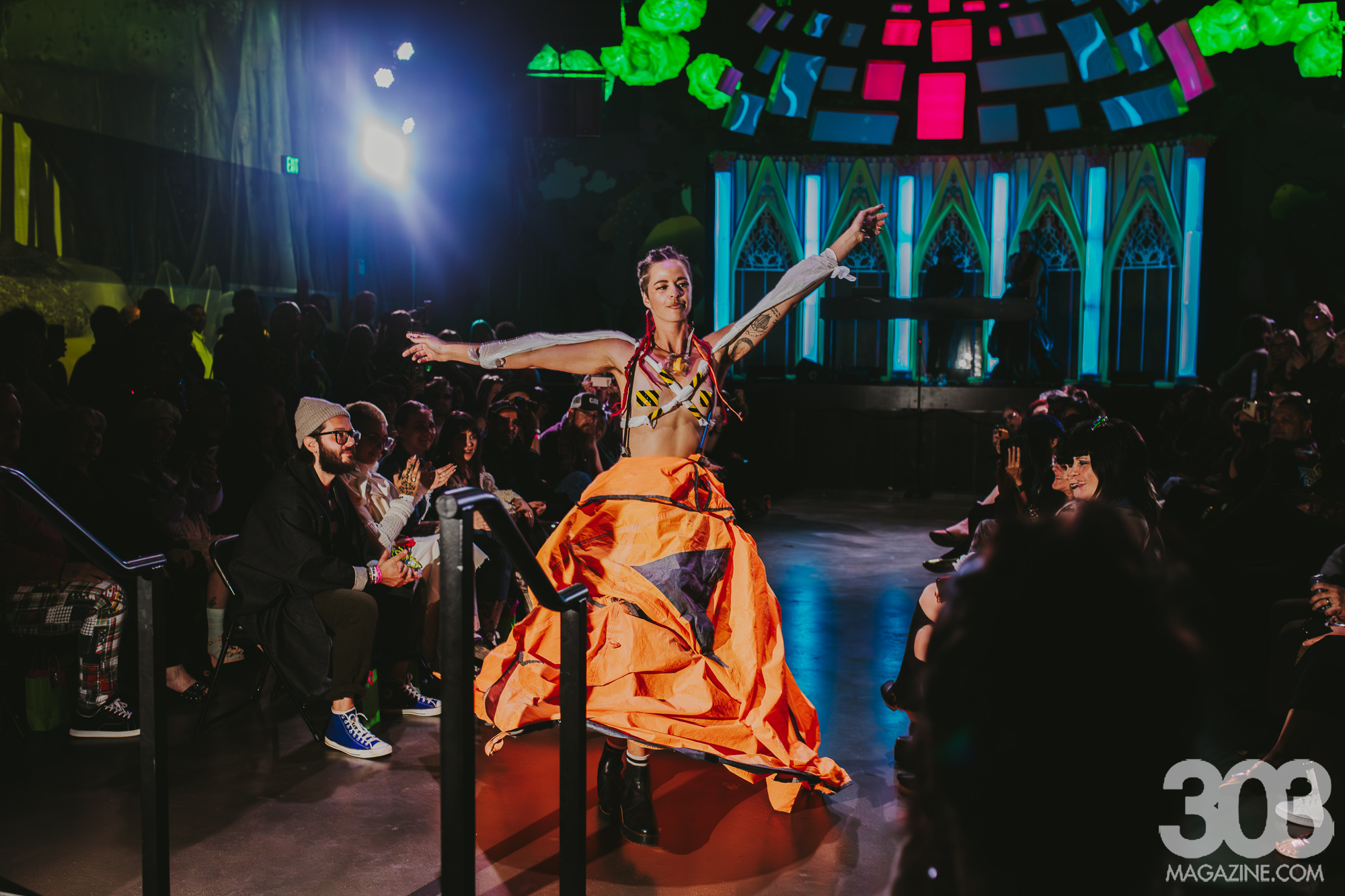 The "Duchess of Dumps" trashion ensemble creatively combines unconventional materials to capture the essence of modernism and consumerism while paying homage to Victorian hoop skirts. The shirt is crafted from a trash bag, complemented by duct tape caution pasties.
The hoop skirt features Christmas wreaths of varying sizes and a tomato cage at the waist, held up by bungee cord suspenders, a ripped-up tent from Burning Man. This innovative design modeled by Glittz and Litter herself not only adds a contemporary twist to Victorian fashion but also embodies resourcefulness and sexy princess aesthetic brought to life through free and found objects.
"Yard Pink Junk" by Marginal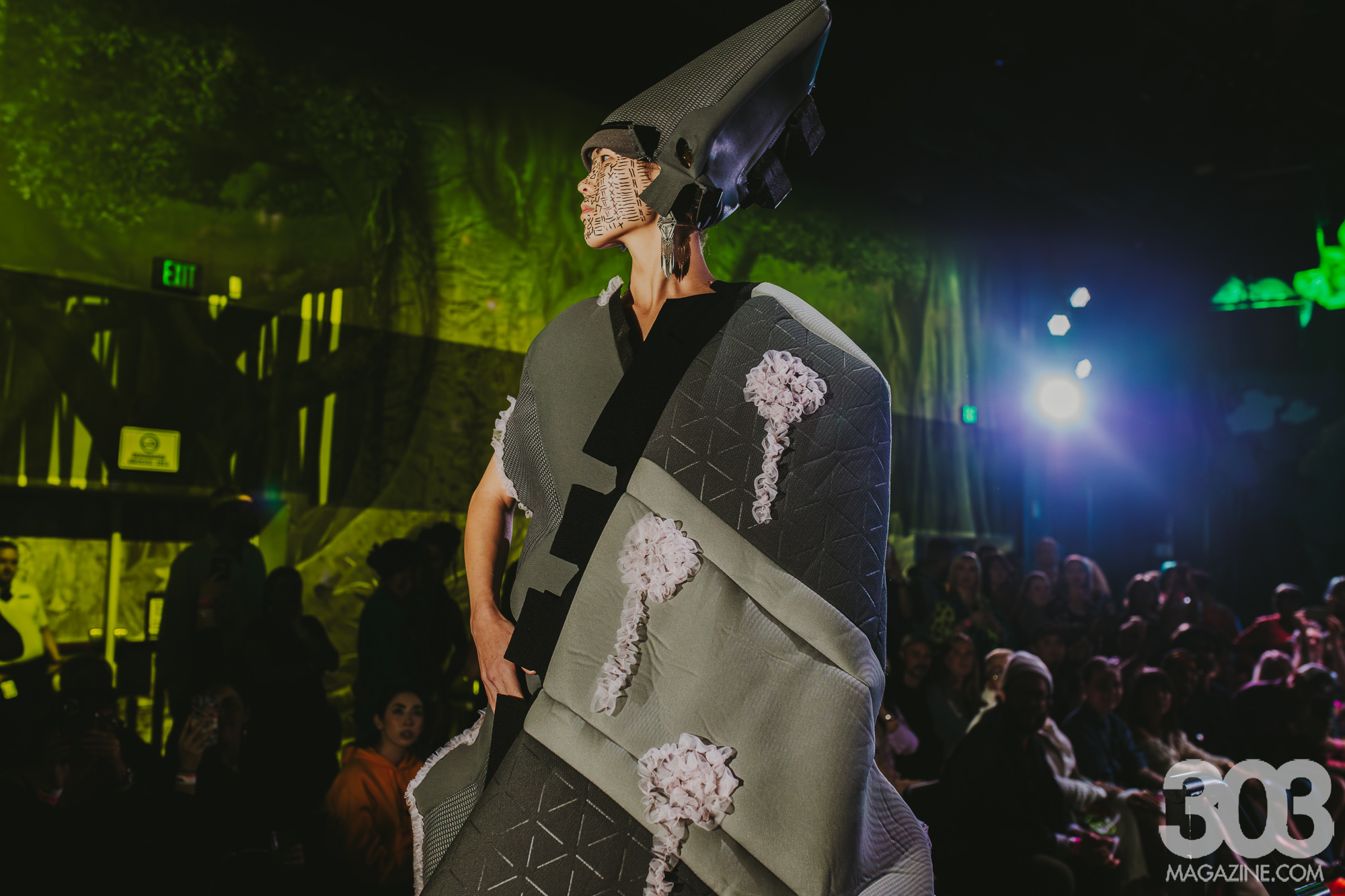 The trashion marvel "Yard Pink Junk" by designer Matilda Marginal for Marginal draws its materials from car seats, creatively repurposing them into a unique ensemble.
The name of the piece, "Yard Pink Junk," is a nod to junkyards, reflecting its origin in car seat covers. Modeled by Aidana Tokenova, the look's unconventional makeup is juxtaposed against the high-end design: it's highly reminiscent of traditionally bulky and oversized looks that have been hyper present on national runways. Additionally, the touch of pink in the design is inspired by Sakura blossoms, adding a subtle and elegant element to the overall concept.
Unless otherwise specified, all photography by Lily Fox.
Complete photo collection from Absolute Rubbish: A Trashion Show can be viewed here.