On Sept. 18-19, the Arctic Monkeys North American 2023 tour made its way to the Red Rocks Amphitheater. From Arabella's to monkey onesies, Colorado fans wore outfits that was easy to take inspiration from for upcoming concerts.
Here are some of the top trends we saw at the Arctic Monkey's Concert.
When you first drive to the venue, immediately fans are lined up wearing leather jackets and black clothing. Leather jackets have become a staple of Arctic Monkeys fashion and are referenced in many of their songs.
"When I think of Arctic Monkeys, I think of a leather jacket and a cigarette," One fan said. Most jackets were vintage purchased from thrift stores, vintage markets or consignment stores. Although most were black, some wore other shades of leather. From red leather blazers to gray biker jackets, every jacket matched the personality of the fan wearing it.
Many concert goers also dressed up as "Arabella," a song by the Arctic Monkeys describing a woman who the lead singer's in love with. The song states, "That's magic in a cheetah print coat, just a slip underneath it I hope."
Because of this, many fans dressed in a furry cheetah print coat with a simple black slip dress underneath. These outfits were then finished with a pair of black combat boots, or a pair of platform heels. 
Although color wasn't present in the crowd, one stood out against the sea of black — red. Many fans wore red accessories, whether it was red bows in their hair or a red bag to hold their concert essentials.
Additionally, many tops and bottoms had hints of red within the actual garment itself. The only other color that dominated the crowd was the deep blue of a pair of vintage Levi's, alike the ones lead singer Alex Turner wore on stage. 
A lot of concert goers also accessorized their hair extensively.
From butterfly clips to bows, every type of accessory was found. By taking time to style your hair, it can easily elevate any look with little effort. Tying a bow to the back of your hair made any outfit appear much more classy and fashionable.
The shoes fans wore were just as much of a staple as their leather jackets. From over-the-knee chunky combat boots to tall platform heels, concert goers set aside their comfort levels for the sake of fashion.
For those who wanted to remain on the side of comfort, a dirty pair of black converse were a great go to. 
Due to Red Rocks being tucked into a mountain, weather can often vary. Arctic Monkeys was one of those concerts that proved to be cooler than most and because of it, most fans were layered in heavy winter clothing.
Items like scarves or heavy jackets were seen throughout the crowd. Many concert goers wore gloves so that they could applaud after every song without worrying about the cold sneaking up on them. As it suggests on the Red Rocks' website, always bring an extra layer of clothing.
After all, this is Colorado and you never know what to expect.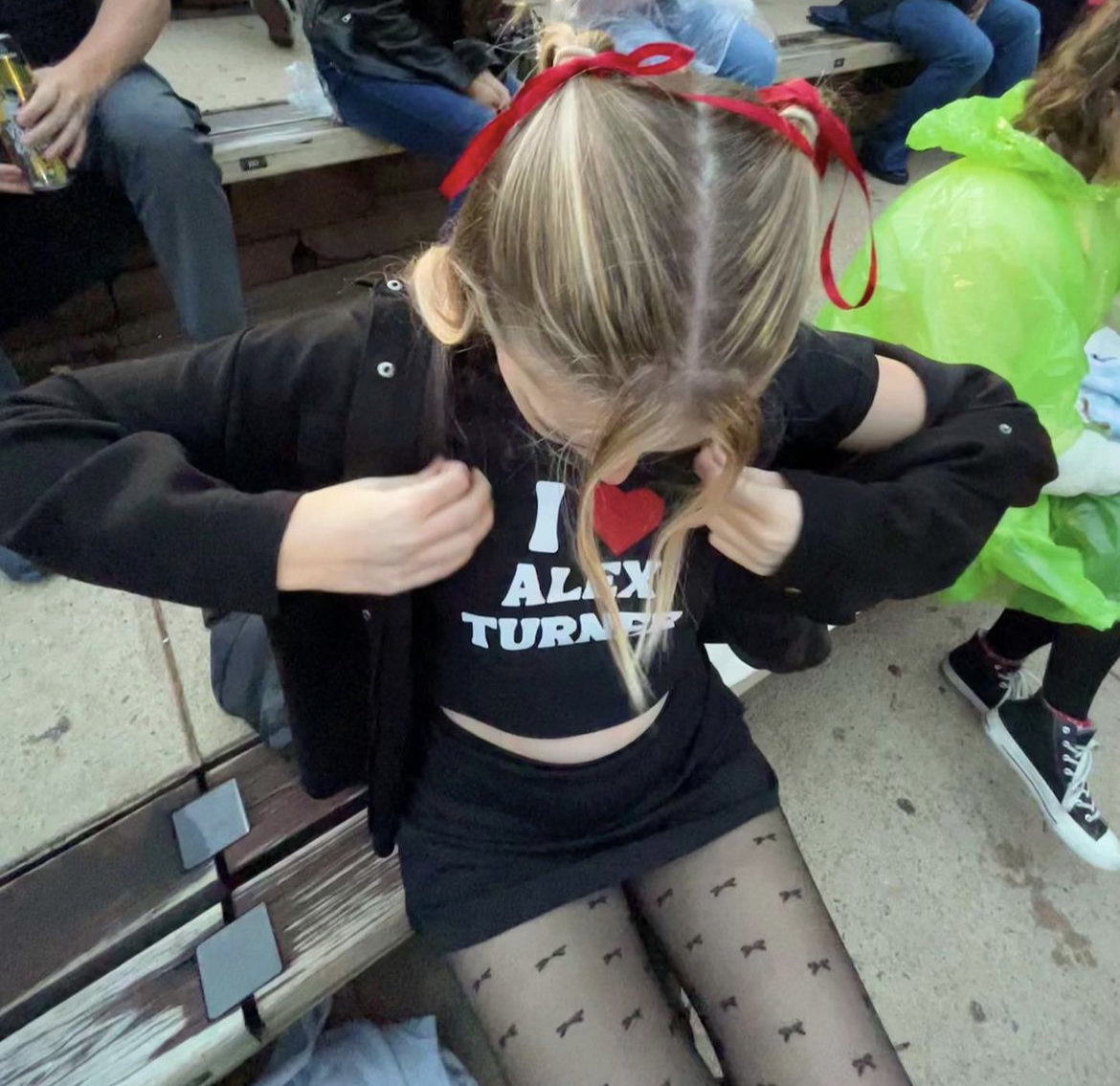 Like other concerts, a lot of fans chose to wear merch from other bands they enjoy.  From Green Day to Fiona Apple, many concert goers decided to rep their pride for other artists they love.
This is a fantastic choice if you want to discuss music with other people attending the concert. When fans saw someone wearing one of these shirts, a simple conversation along the lines of "what's your favorite song?" would begin. From there, the conversation would continue until phone numbers had been exchanged and the now-friends had already purchased tickets to see another concert together. 
Lastly, many fans sported the new merch they bought while at the concert. As the weather was unexpectedly cold, many purchased a hoodie to throw on over their outfit. The members of the crowd who have been fans for longer wore exclusive merch sold at past concerts. 
No matter what outfit was worn to the Arctic Monkey's concert, it was a great time.
And yes, two people did come dressed up as monkeys.