A collection of local Native American stores is nestled among the beautiful tapestry of Denver's cultural landscape, each offering a glimpse into the rich tradition and artistry of indigenous communities. These boutiques offer a unique opportunity to support local craftsmen, learn about Native traditions and purchase one-of-a-kind artifacts that highlight the beauty of Native American artistic ability.  
Here's a closer look at the local boutiques in Denver that showcase Native American culture.
Mudhead Gallery
This slideshow requires JavaScript.
Mudhead Gallery located at 1720 Wazee Street, is a haven for those seeking authentic Native American art and jewelry. The gallery's collection includes pieces from various tribal nations, reflecting the intricate techniques and distinct aesthetics that define Native craftsmanship. From intricately beaded and turquoise jewelry to contemporary interpretations of traditional designs, Mudhead Gallery captures the essence of Native artistry. 
Four Winds American Indian Council Gift Shop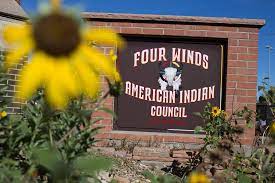 Situated in the heart of Denver at 205 West Fifth Ave, the Four Winds American Indian Council Gift Shop is a treasure trove of authentic Native American jewelry and clothing. This boutique embodies the spirit of Indigenous culture, showcasing jewelry adorned with turquoise, silver, and semi-precious stones.
Traditional clothing, such as moccasins and ribbon shirts, offer a glimpse into the sartorial heritage of indigenous communities.
Sowilo Artisian Jewlery
This slideshow requires JavaScript.
Sowilo Artisian Jewelry located at 999 Valejo Street, is a jewelry boutique with one-of-a-kind items rich in texture and gems. Sowilo Artisan Jewelry's collections serve as portals to a world where elegance, spirituality, and craftsmanship harmonize.
Each piece is carefully designed and handcrafted with meticulous attention to detail, ensuring that wearers experience a deep connection to the jewelry.
Corn Maiden Designs
This slideshow requires JavaScript.
There are also many different local designers that provide beautiful indigenous culture embedded into modern fashion. Corn Maiden Designs is a popular designer at the Unceded Cheyenne Arapaho Ute Territory, but are local to Colorado. They create modern fashion and jewelry that combines traditional Native American beading, and colors, especially for the new generations of Native Americans. 
Sage Mountainflower
This slideshow requires JavaScript.
Sage Mountainflower creates an iconic mix of Indigenous fashion that can be worn 'outside of traditional boundaries.' They blend together beads with modern pieces that range from streetwear clothes like hoodies and t shirts to classy looks like dresses and gowns. Sage Mountainflower was also featured in Native Fashion in the City, which features local Native American designers and art.
Native American boutiques in Denver offer an enriching opportunity to engage with indigenous culture that exemplify Native artistry. These shops are more than simply places to purchase goods — they also provide education on traditions, tales, and art that have impacted Native American communities for millennia.
So, go on a cultural adventure by visiting these businesses and experiencing the beauty that lies at the core of Denver's Native heritage.