The fascination with radiant, effortlessly seamless "glow-y" makeup remains a thriving, ever-evolving trend, showing no signs of losing popularity or attention.
In recent years, this momentum has been fueled by the compelling influence of platforms like TikTok and Instagram, alongside the impactful presence of renowned and trending celebrities. Noteworthy figures such as Hailey Bieber, Sofia Richie, and Margot Robbie embody this aesthetic with distinction.
In the summer, glowing makeup easily takes center stage — featuring creamy bronzers, blushes, and highlights, complemented with luminous, glass-like foundations. This particular look radiates simplicity and embraces the philosophy of "less is more," all while maintaining exquisite beauty and unmistakable chicness.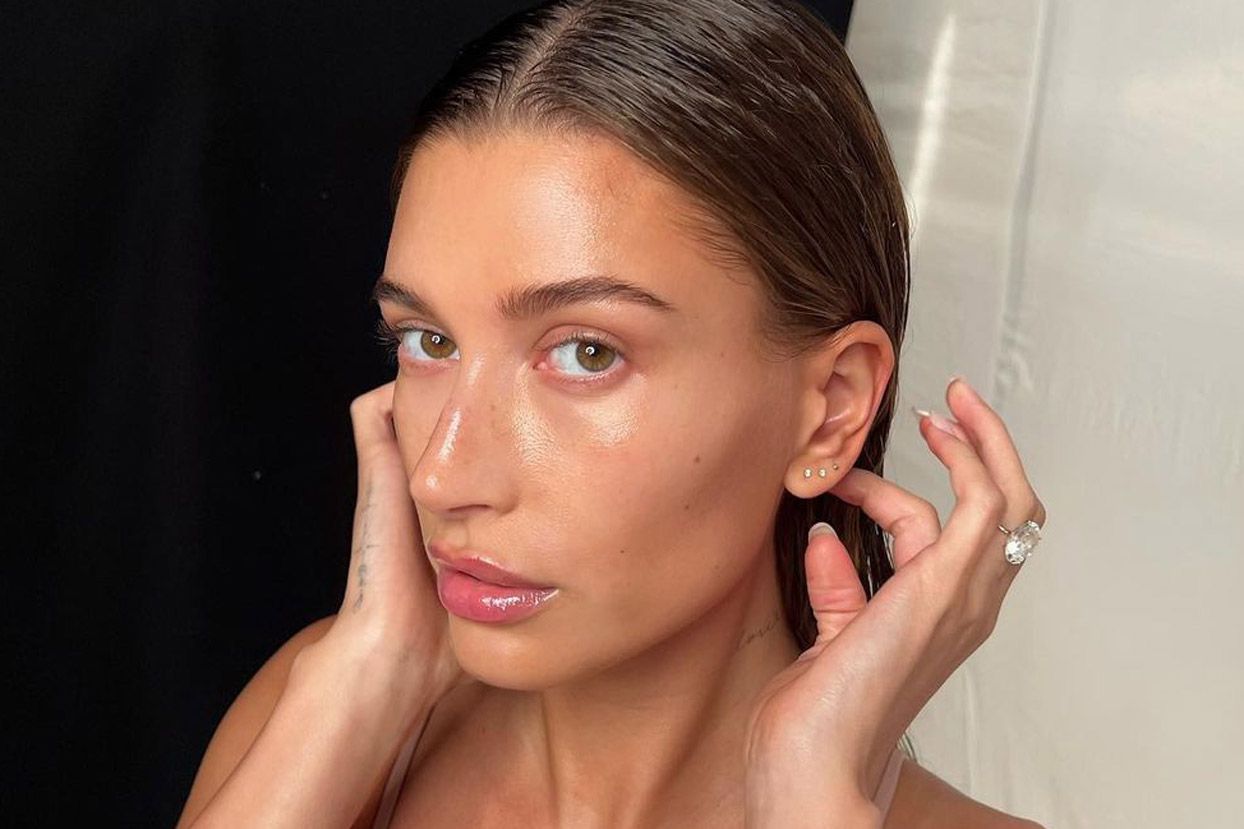 Yet, as we transition into the autumn and move through the winter months, maintaining this dewy visage becomes notably more challenging due to intensified dryness and sudden shifts in weather conditions. Therefore, the question arises: How can we consistently sustain this radiant complexion amidst the conditions of fall and winter?
The solution lies in meticulous skin preparation — a vital component for achieving and retaining this specific look across all seasons — along with the selection and application of certain products.
To achieve a dewy fall and winter makeup look, the initial step is crucial: exfoliate and thoroughly moisturize the skin before starting any makeup routine. Prepping the skin stands as an essential foundation for attaining different levels of dewiness. Whether it's a glass-like finish or a delicate hint of natural radiance, the choice is yours. Prioritizing exfoliation ahead of moisturization works to eliminate dead skin cells, enhancing the skin's ability to absorb serums and moisturizers into its outermost layers. This method empowers the products to optimally deliver their intended benefits.
Byrdie has identified the top exfoliators of 2023. The Best Overall Exfoliator is the ExfoliKate Exfoliating Treatment by Kate Somerville, available on both Amazon and Sephora. For those seeking an organic option, the Golde Papaya Bright Face Mask takes the title of Best Organic Exfoliator and is conveniently accessible on Amazon. If you're looking for a budget-friendly choice, the Neutrogena Hydro Boost Exfoliating Cleanser is awarded as the Best Drugstore Exfoliator, which can easily be found at Target, Walgreens, and various other drugstores. Lastly, the Best Chemical Exfoliant is Paula's Choice 2% BHA Liquid Exfoliant, available for purchase on Amazon and Sephora as well.
Sephora features a list of top moisturizers designed to help achieve glowing skin. Among these standout options are the Laura Mercier Tinted Moisturizer Natural Skin Perfector Broad Spectrum SPF 30, the Anastasia Beverly Hills Hydrating Oil, the Ren Clean Skincare Glow Daily Vitamin C Gel Cream, and the Paula's Choice Omega + Complex Moisturizer.
When considering foundation options, if you haven't yet picked a tinted moisturizer, it's recommended to look for a sheer liquid foundation. This selection allows your skin's natural qualities and radiance to shine through. Specifically, for this look, you should seek a foundation that has luminous and glow-enhancing attributes, further enhancing the radiance already achieved through your skin preparation. Foundations offering fuller coverage often contain more pigment and fewer illuminating components. Notably, both the Armani Beauty Luminous Silk Foundation and the Clé de Peau Beauté Radiant Fluid Natural Foundation SPF25 have been suggested as top choices, as noted in an article by Vogue.
Furthermore, ensuring consistent hydration while applying foundation offers benefits, aiding in the smooth blending and seamless integration of the product with your skin. Utilizing a water spray, for instance, can assist in this process. When it comes to blending all your products for a natural finish, many beauty experts favor manual application using their fingers and hands. Alternatively, some individuals prefer using sponges, and dampened sponges are often chosen to achieve that dewy appearance.
To enhance the effects of your foundation, the incorporation of glow enhancers is also an option. Consider products such as the Armani Beauty Fluid Sheer Glow Enhancer Highlighter or the popular Charlotte Tilbury Hollywood Flawless Filter to further elevate your radiant look.
The next step involves applying a velvety, natural blush. Among my preferred options is the Ilia Multi-Stick, a creamy stick blush renowned for its effortless application and seamless integration with the skin, creating a refined and authentic makeup appearance. The Charlotte Tilbury Pillow Talk Lip & Cheek Glow is also a preferred choice, as highlighted in an article featured in Observer. Other notable selections include the Patrick Ta Major Beauty Headlines Double-Take Crème and Powder Blush, along with the Tower28 BeachPlease Luminous Tinted Balm.
To wrap up the makeup application, it's advisable to set the look using a preferred setting spray. Opting for a "dewy" finish instead of a matte one complements this aesthetic seamlessly. Noteworthy options for consideration include the Anastasia Beverly Hills Dewy Set Setting Spray, the Tatcha Luminous Dewy Skin Mist, and the Rare Beauty Always An Optimist 4-in-1 Prime & Set Mist. Additionally, the Charlotte Tilbury Airbrush Flawless Setting Spray stands as a reliable choice to enhance and maintain the desired luminous effect.
You can also achieve an inner glow for your skin. Staying hydrated and taking supplements enhance your skin's radiance by boosting hydration, providing vital nutrients, and supporting collagen production. Hydration adds a natural glow, while nutrients promote skin health. Antioxidants shield against damage, omega-3s reduce inflammation and certain supplements assist in cell regeneration.
To achieve the "glow look," a well-rounded and balanced skincare routine is key. From preparation and product selection to hydration and supplementation, each element contributes to the luminous complexion you desire.
Keep in mind, that the journey towards attaining that radiant glow starts within and thrives through a blend of skincare, makeup, and healthy lifestyle decisions. By applying these principles, you can confidently embrace and refine your luminosity, radiating both inward and outward.