The vibrant spirit of Denver came to life at season two of Glowin' & Growin,' an annual community celebration that united residents and visitors in a joyous and engaging event
The highly anticipated "Getting Ready Party" took place on July 7 at Nurture – a WellCare Marketplace – followed by a fashion show the following day. 
The modern venue set the stage for the captivating event — with stylish elements like wooden accents, vibrant colors, textured fabrics, and lush greenery — resulting in a truly transformative and creatively inspired atmosphere. The lively space was flooded with popping music and included a sophisticated bar, inviting seating and dining areas. An abundant of natural light poured through the expansive windows, beautifully accentuating the displayed pieces and artwork.
This year's Glowin' & Growin' embraced the theme of "What Nurtures You?" as its central focus. This thought-provoking concept explored and promoted the various elements that provide nourishment and well-being to individuals.
Visitors browsed an array of carefully curated vendors offering an impressive assortment of unique products — from enticing mushroom brews, aromatic candles, and delicate dried flowers, to therapeutic stones and carefully-selected gems — there was something for everyone's taste. The event also showcased an assortment of fine, handmade jewelry, along with a range of fashion pieces spanning from vintage classics to extravagant, sparkly tinsels.
Fleetwood Candle Co.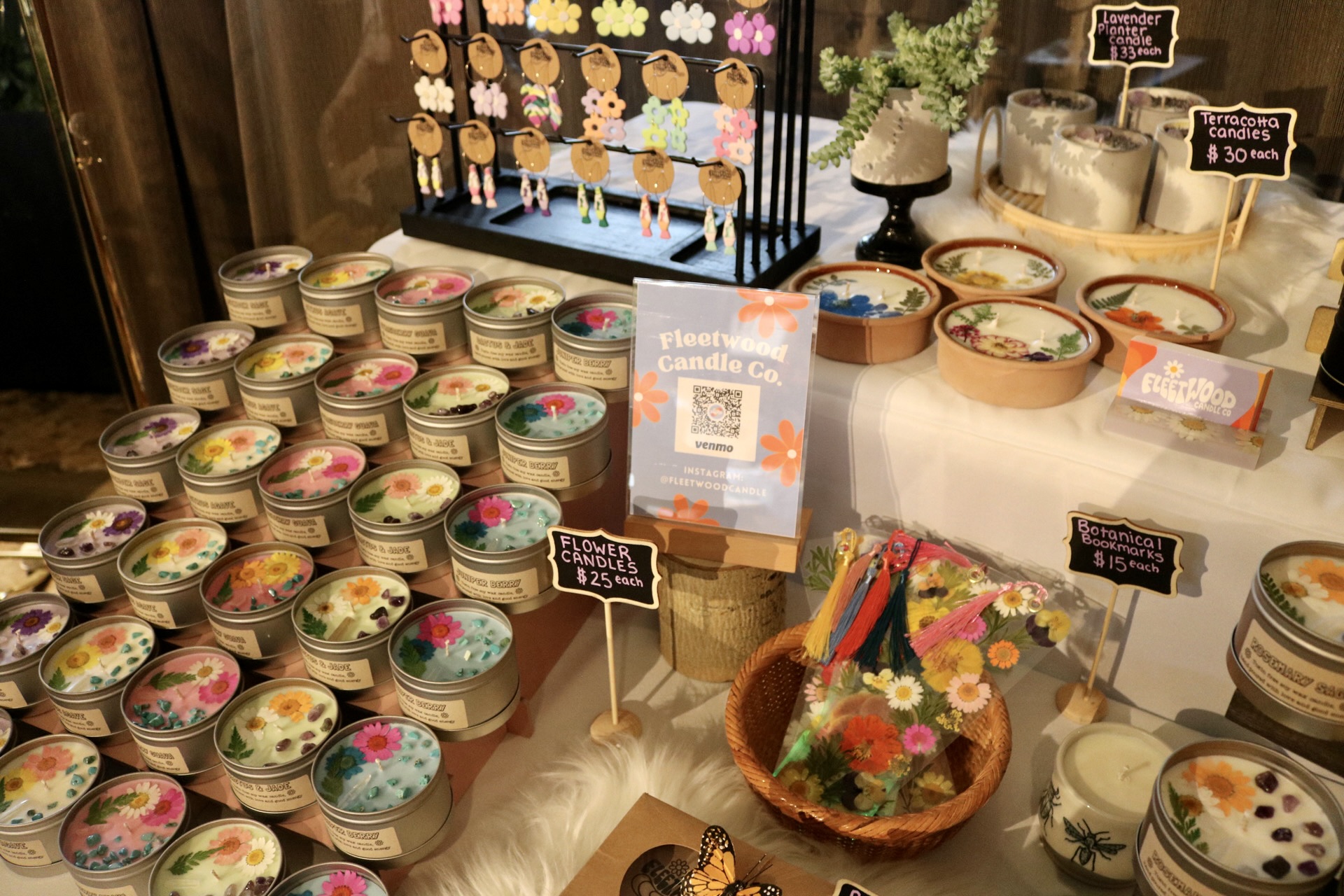 Fleetwood Candle Co. is a Denver-based brand specializing in handcrafted candles, featuring unique designs by incorporating real flowers and crystals. Their distinctive creations are carefully crafted, ensuring the flowers float to the top and are protected by a thin layer of wax, preventing them from burning. They offer a range of handmade products, including Polymer clay earrings and ceramics, all of which showcase their passion for botanical beauty and artistic craftsmanship.
Moonlit Malas 
Moonlit Malas is a company that offers handcrafted, triple-A grade gemstone malas. The exquisite pieces are thoughtfully selected at gem shows in Denver and beyond, reflecting a commitment to quality and authenticity. As a passion project of owner, Katie Kosters — who serves as a critical care nurse at Denver Health —Moonlit Malas acts as a cheerful outlet, providing solace and creativity after long shifts. Discover the beauty and intention woven into each mala, crafted with love and expertise to enhance your spiritual journey.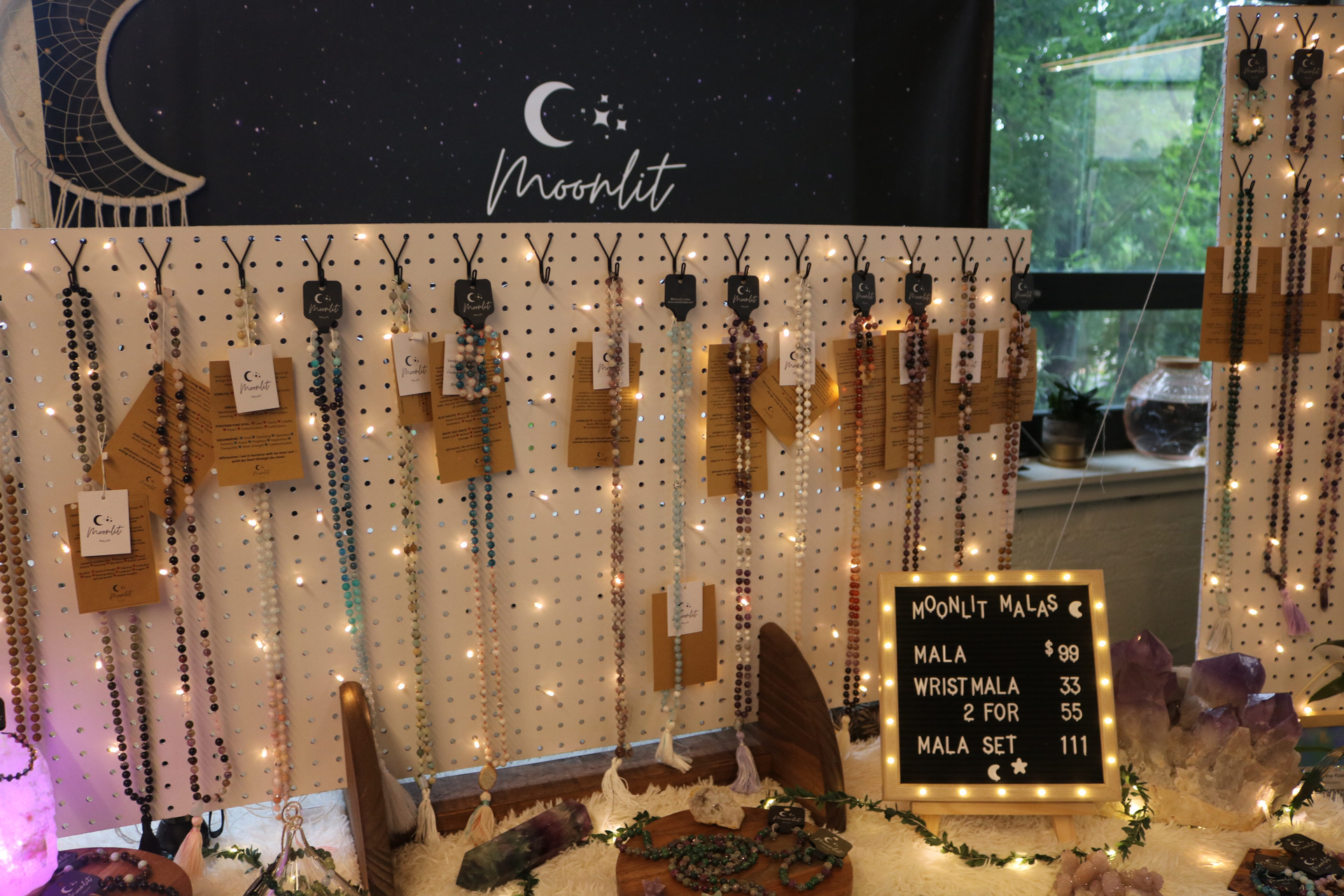 Tinsel Dreams
Tinsel Dreams is a thriving business that emerged just over a year ago, driven by a deep admiration for all things tinsel and sparkly. Inspired by dazzling festival attire, founder Amanda Pfeiffer, embarked on a journey to master the art of crafting custom tinsel garments. Specializing in vests, shrugs, and jackets, Tinsel Dreams offers a personalized experience, working closely with customers to customize colors, shapes, and sizes, transforming each piece into something unique. The rainbow jackets remain the most sought-after request, which is also Pfeiffer's favorite creation. Expansion plans include the addition of tinsel earrings, further developing the enchanting world of Tinsel Dreams.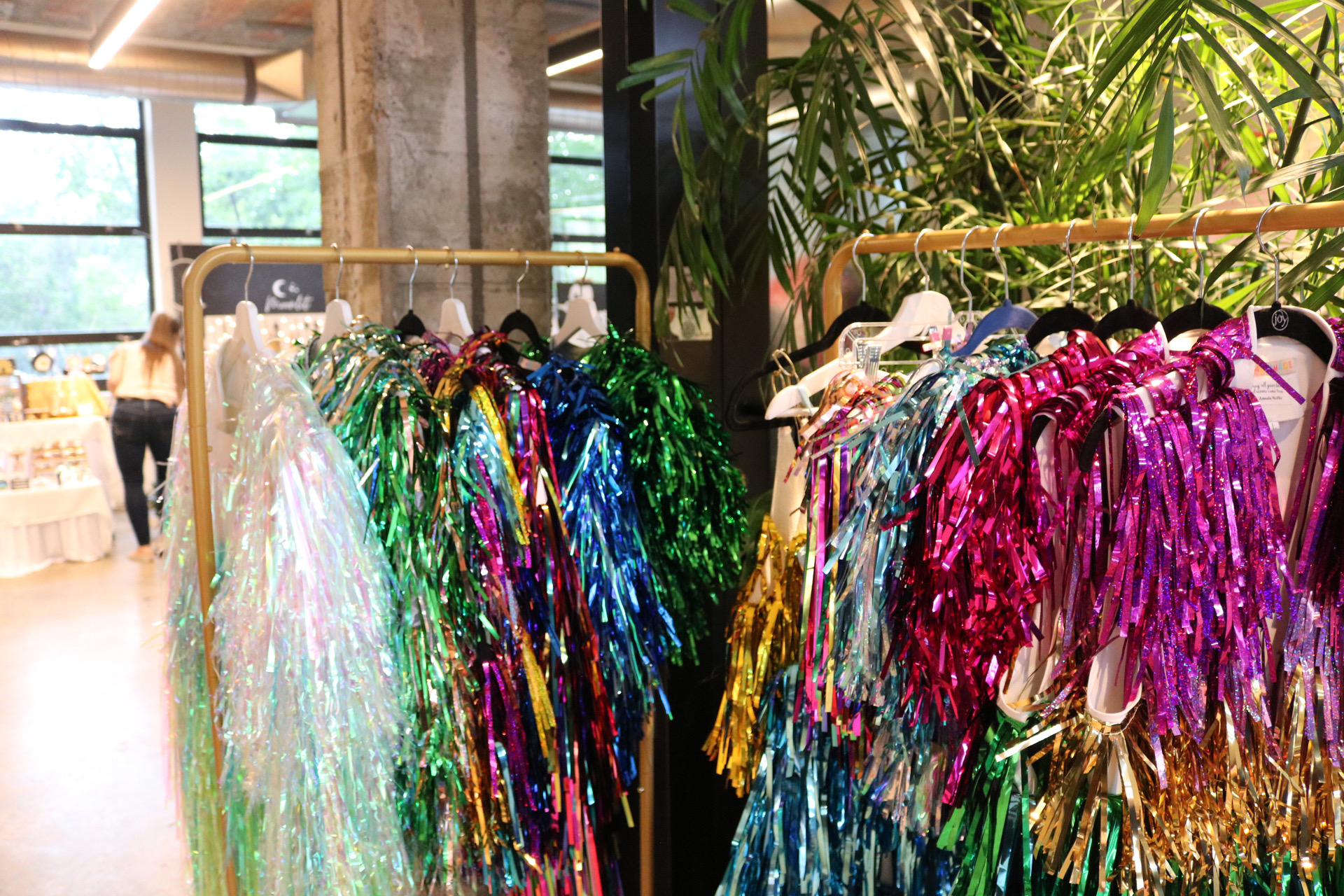 Undestructable
Undestructable is a non-profit organization dedicated to empowering survivors of intimate partner abuse. They assist individuals in rebuilding their lives by providing resume and cover letter support, skill development, and crafting plant holders from reclaimed wood from Perks Deconstruction – which helps reduce pollution and waste. Their sustainable practices contribute to environmental preservation, while their fundraising campaign, "We Give a Shit," has gained popularity, symbolizing care for survivors.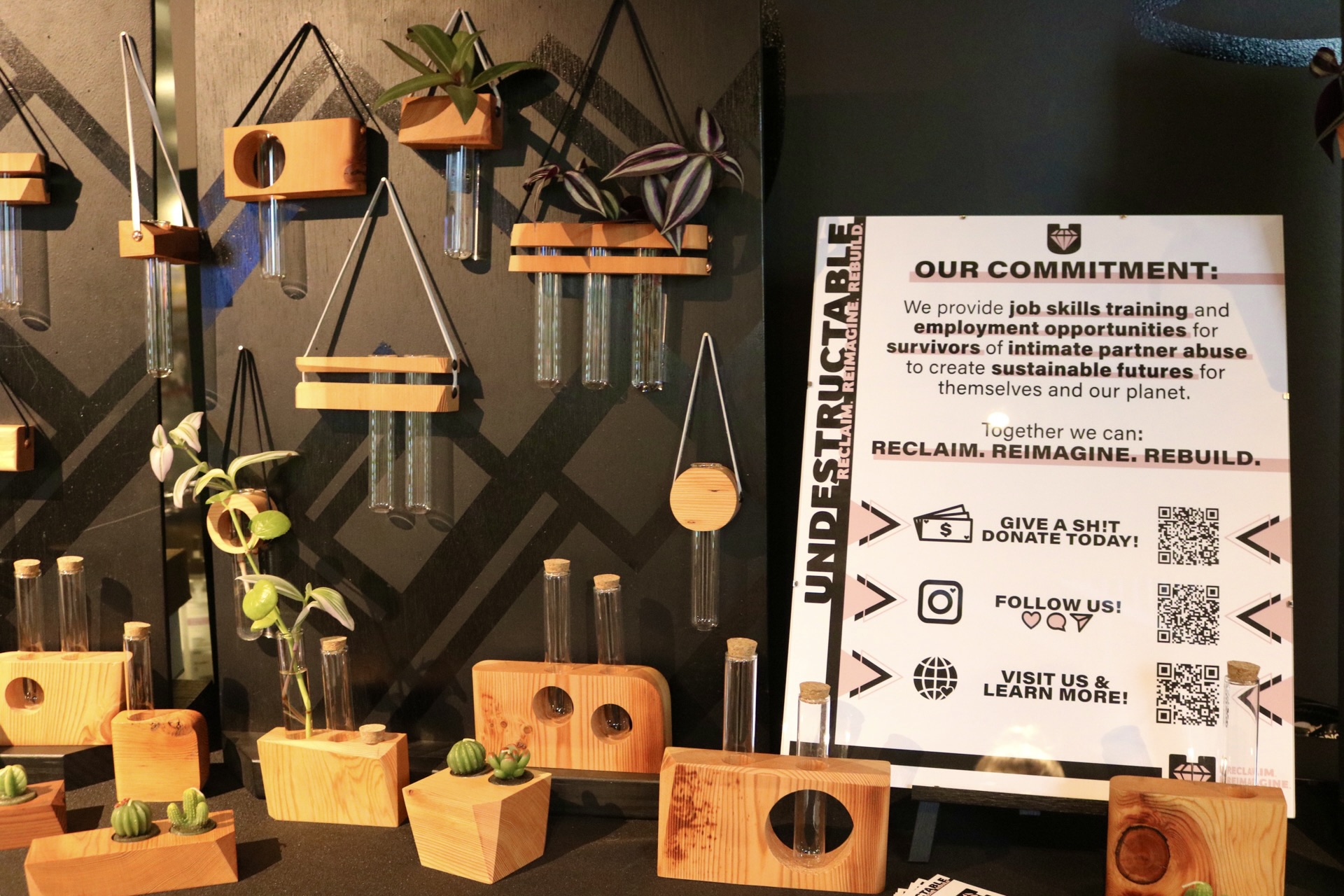 Vital Fungi
Vital Fungi offers a line of vitality-focused mushroom blends designed to cater to specific outcomes. The blends can be used as coffee substitutes or added for an additional boost. Their Clarity Blend, made with oat milk, contains brain-nourishing ingredients to clear brain fog and enhance memory, focus, and concentration. The Bliss Blend, infused with turmeric, is crafted to reduce stress. For a touch of intimacy, their Mushroom Blend for Intimacy, delicately flavored with rose, provides a chai-like experience. With a range of flavors to suit different moods, these blends offer numerous health benefits. Additionally, Vital Fungi extends its product line to include bath salts, scrubs, and creams, catering to beauty and other self-care needs.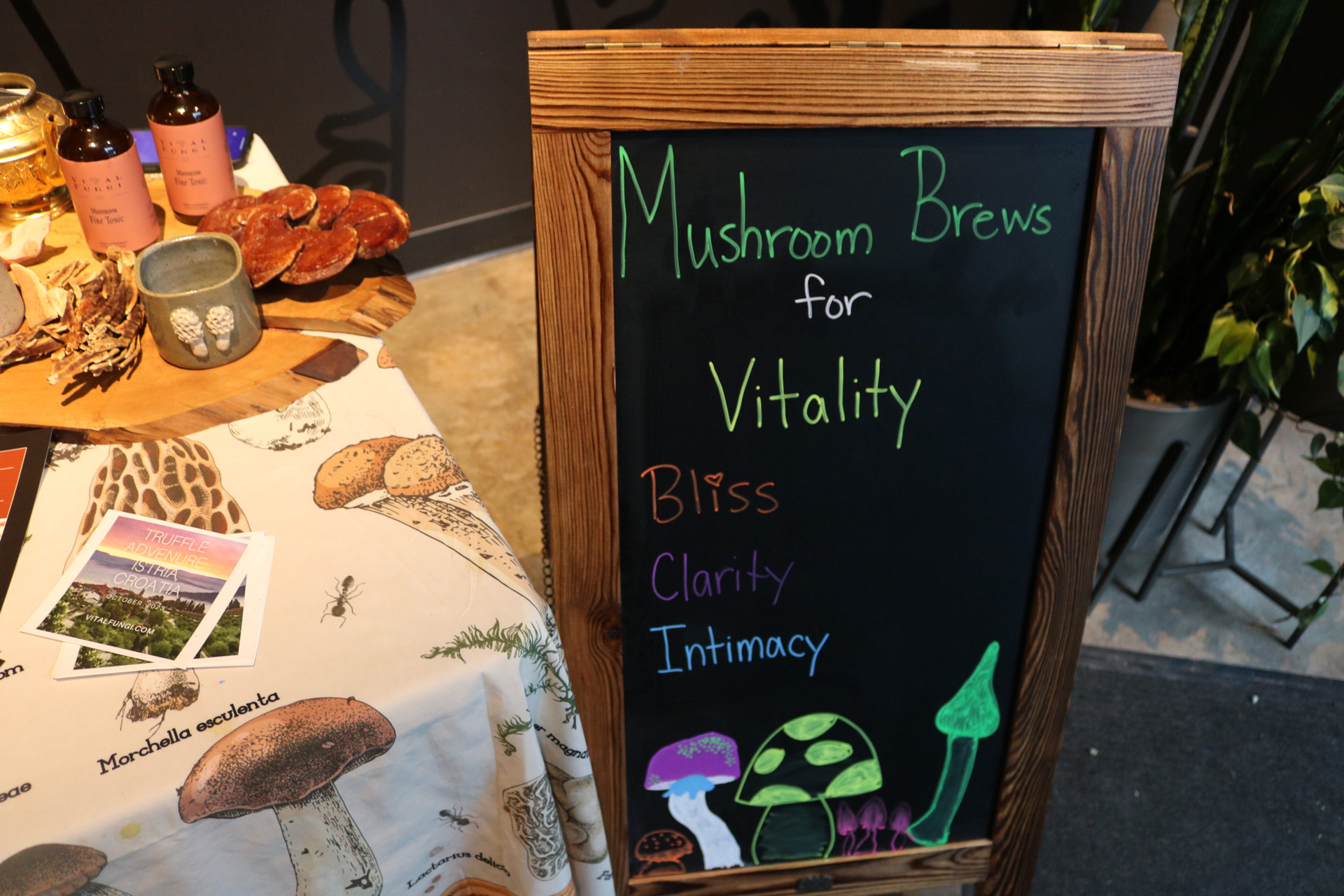 Nude Foods & Kindred Terra
Nude Foods is a Denver-based company dedicated to promoting sustainable and zero-waste living through its innovative approach to grocery shopping. Kindred Terra specializes in high-quality and eco-friendly home goods.
Moreover, a significant portion of their proceeds from the event will be donated to Lincoln Hills Cares, a Denver-based nonprofit that empowers local youth to connect with the Earth and contribute to their community and the environment.
The vendors at Glowin' & Growin' offered an array of "feel-good" products that prioritize holistic well-being and meaningful experiences. With a focus on maximizing health, healing the gut, and nurturing spirituality, these vendors are dedicated to benefiting and inspiring customers. Their overall commitment to human nature and human needs sets them apart as powerful and imperative brands. 
All photos by Olivia Myles