When roaring lightning pierces the sky surrounding the massive rocks that give the Red Rocks Amphitheatre it's iconic name and stature, the words "Lord of Lightning," King Gizzard and the Lizard Wizard's aptly named, thrash-metal inspired rock epic, suddenly take on a new meaning. Perhaps the King Gizzard crew is even more magical than they seem — by the grace of God, or maybe the mysterious Lizard Wizard himself, not even a monstrous thunderstorm could prevent the weird Australian psych-metal band from shredding the ever-living-fuck out of Colorado's most iconic venue.
For a while, it seemed like theroaring lightning would crush our hopes and dreams of seeing the off-kilter magic that King Gizzard is notorious for. Bright flashes streaked the sky, rain came down (although not nearly as heavy as Billy String's recent appearance at Red Rocks) and an alarming message appeared on the side-screens: "Show delayed due to potentially dangerous weather." Security encouraged the amped-up crowd, many of which had been there since 9:00 AM that morning to catch King Gizzard's afternoon show too, to wait out the storm in their cars. But we weren't having any of that. King Gizzard fans have a reputation for being just as rowdy as the band itself — sporting over-sized wizard hats, outrageous mullets and uncontained energy bursting at the seams of anticipation. Only a few people ventured to their cars to dodge the storm. The rest of us chanted, cursed the lightning, and enjoyed the spectacle as we patiently waited to get our minds blown.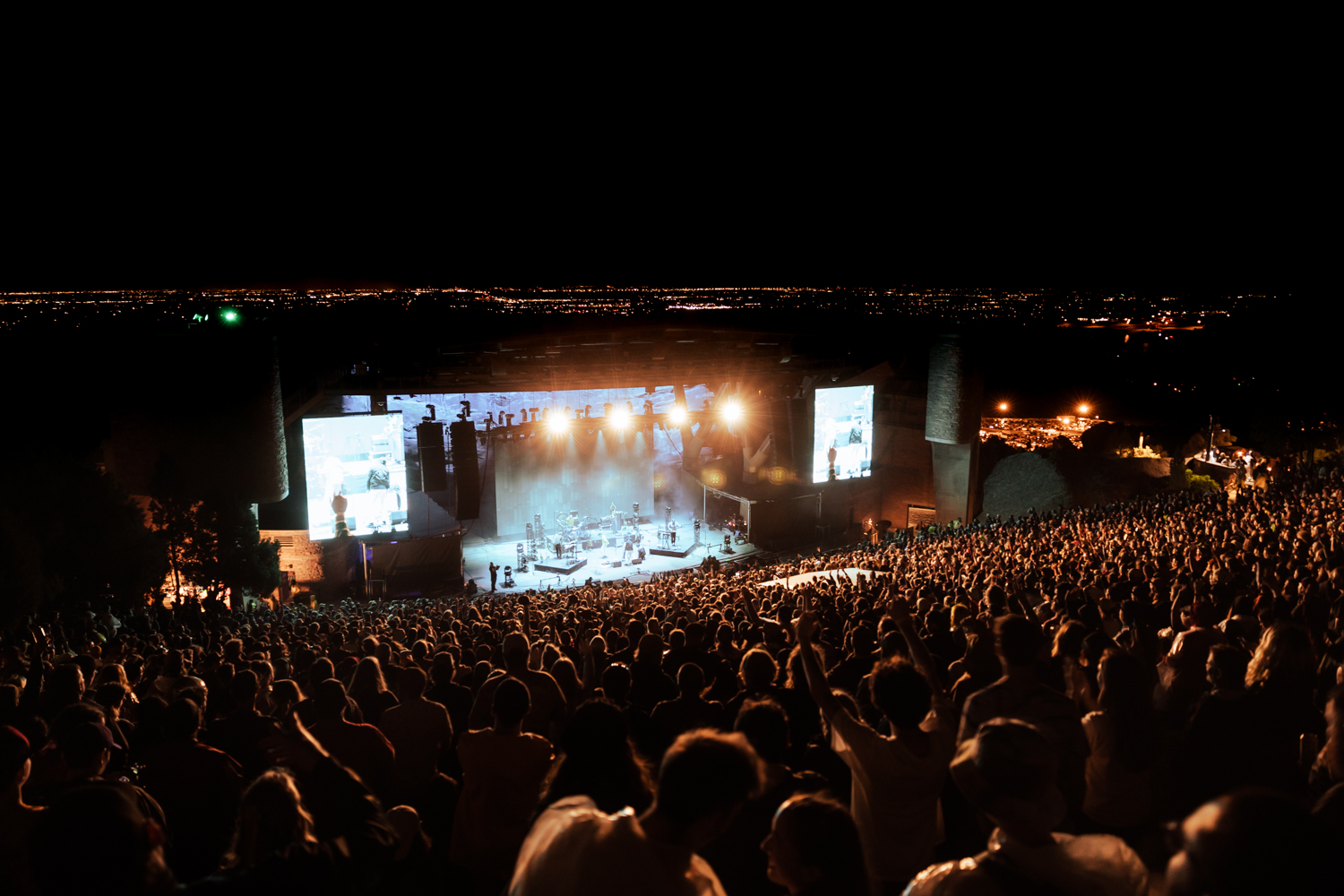 Thankfully, we were given the "all clear" just a few minutes after the band was originally supposed to start playing, so the show wasn't delayed much (although, the opening band, Kamikaze Palm Tree, didn't get to play, which is a bummer). The short wait was well worth it — King Gizzard came out swinging, scrolling through their catalogue of heavy hitters, desert metal and psych jam tracks. From start to finish, they fearlessly embraced their weird reputation, leaning into high pitched, demented shrieks on their opening track, "Rattlesnake," a grunge-heavy anthem that trades lyrical substance for high-octane rock and roll.
As the show raged on, each song became an extended psych-metal jam session complete with raging guitar solos, — often performed on funky microtonal guitars — heavy power cords and passionate vocal performances that defied all expectations. Each band member had their moment in the spotlight, but the frontman on this particular show was definitely Ambrose Kenny-Smith, who sang the majority of their tunes and curated much of the experience with his wild energy and unpredictability. Songs like "Straws in the Wind" and "Presumptuous" gave his expressive, erratic tendencies plenty of room to prosper. He even jumped into the crowd at one point, making his way to row 19 to get up close and personal with his fans. The crowd loved every minute.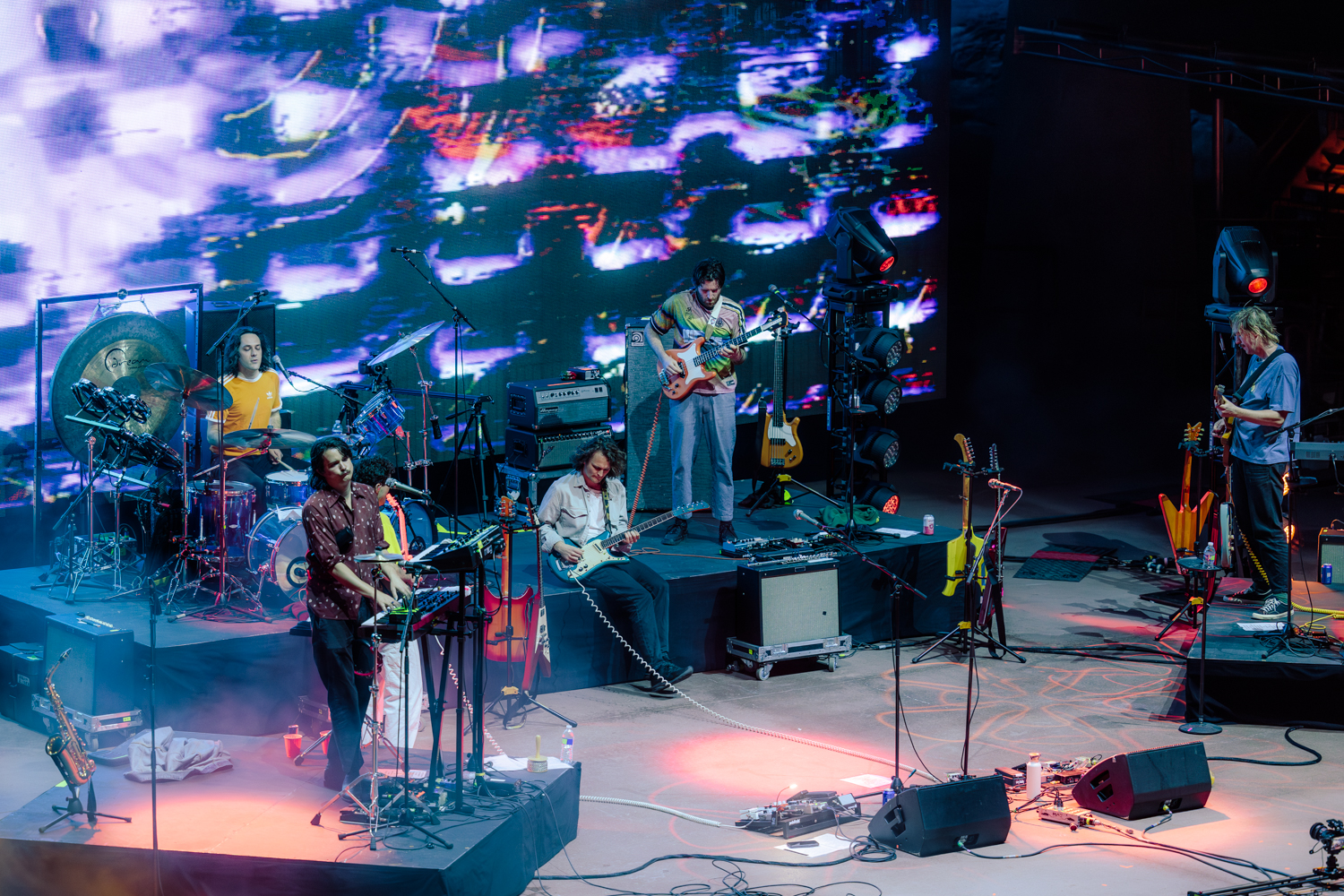 The show did get progressively stranger as the band explored different time signatures which became increasingly difficult to follow, although King Gizzard had no issue keeping up. Big props to the drummer for keeping in perfect time no matter how abnormal their pace became. Everyone stayed on beat without breaking a sweat, most impressively on "Hell," a thrash-metal epic that's shamelessly a-rythmic and devilishly aggressive.
Even their self-proclaimed "slow song," titled "Slow Jam 1" — which, to be fair, did start off considerably quieter and groovy — quickly transformed into a nine minute epic teetering on insanity and left-field psych metal. King Gizzard took no prisoners, but despite their sonically strange, heavy aesthetic, it wasn't a challenging experience by any means. That's partly because the band never took themselves too seriously, but more-so because their music is just that good. There's no denying the raw talent that was on display across the board; every single person on stage delivered intoxicating energy and unhinged passion. One thing's for sure — no one will ever shred as hard as King Gizzard and the Lizard Wizard did last night.
All phototogrpahy by David Cohn