On Saturday, June 17, a buzzing crowd surrounded MARGINAL studio, near the corner of 17th and Fillmore, ready to view new collections by local artists. LU₂ (blue)—an avant-garde event presented by MARGINAL, Ray Carney and Jacob Montano—was an immersive experience formulated to let people escape the many problems they face in today's life.
LU₂ (blue) was created as, what the creators called, a paradise simulation designed to allow people to reboot and rid themselves of glitches within their systems. It created a den of relaxation allowing viewers a chance to step away from their troubles. In collaboration with the LU₂ (blue) team, attendees were also encouraged to walk through the attached studios of Brett Fox and Bell Projects.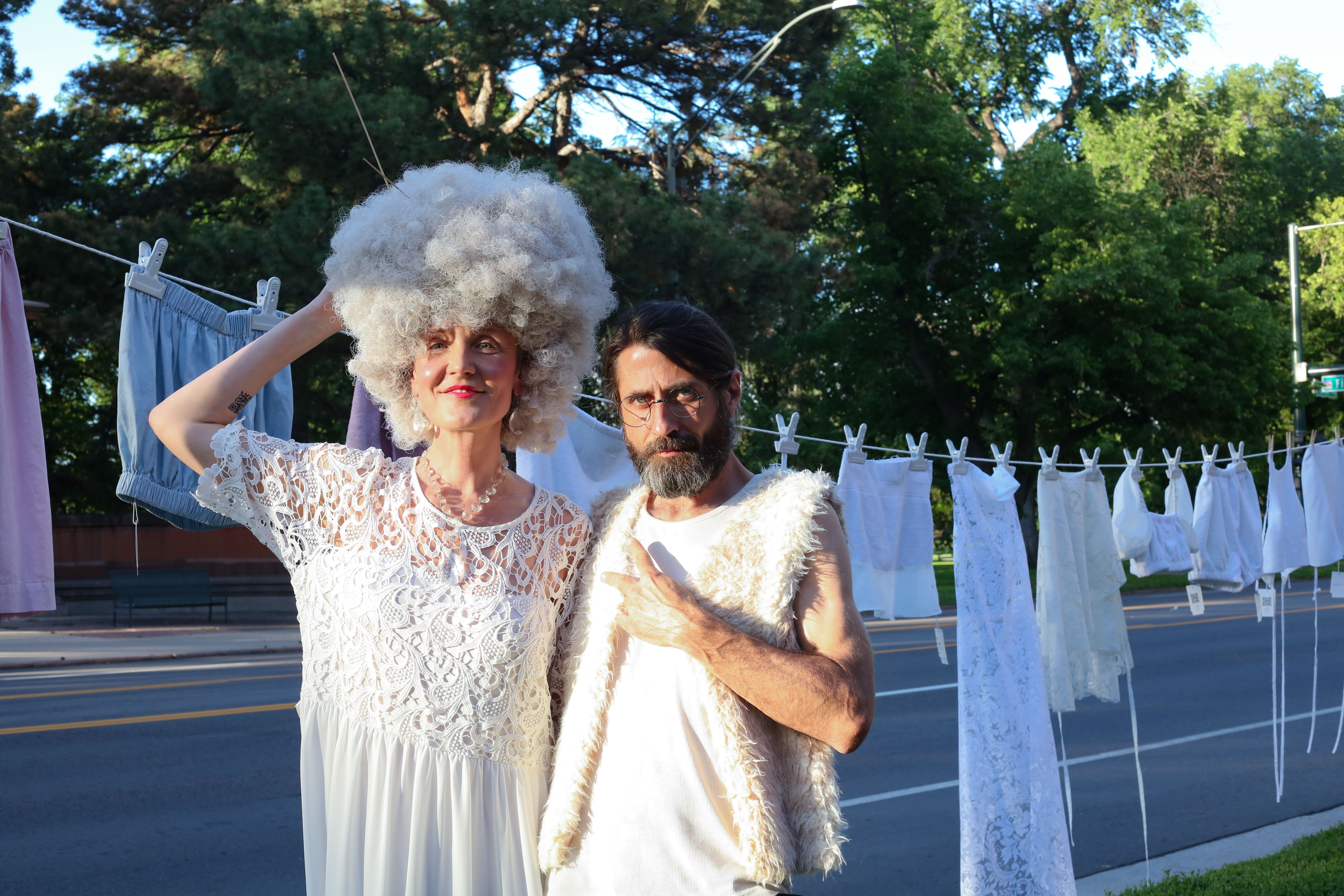 Hanging directly outside the store, MARGINAL's new summer collection could be admired by anyone who walked by the studio. This collection was buried in the same roots as Matilda Marginal's other collections but held a new life never seen before.
The inspiration for this collection began when Matilda's parents gathered a few discarded bed sheets from around their house. Matilda, a designer driven by sustainability, saw these sheets as a perfect medium for a new collection. She utilized these sheets, along with curtains and towels, and curated a 22-piece collection that is expected to grow as time continues.
"The collection was supposed to be SS 2024," Matilda said. "but Ray [Carney]  inspired me, and I decided to push through and make 'a few pieces' for his exhibition…and it came out more than a few."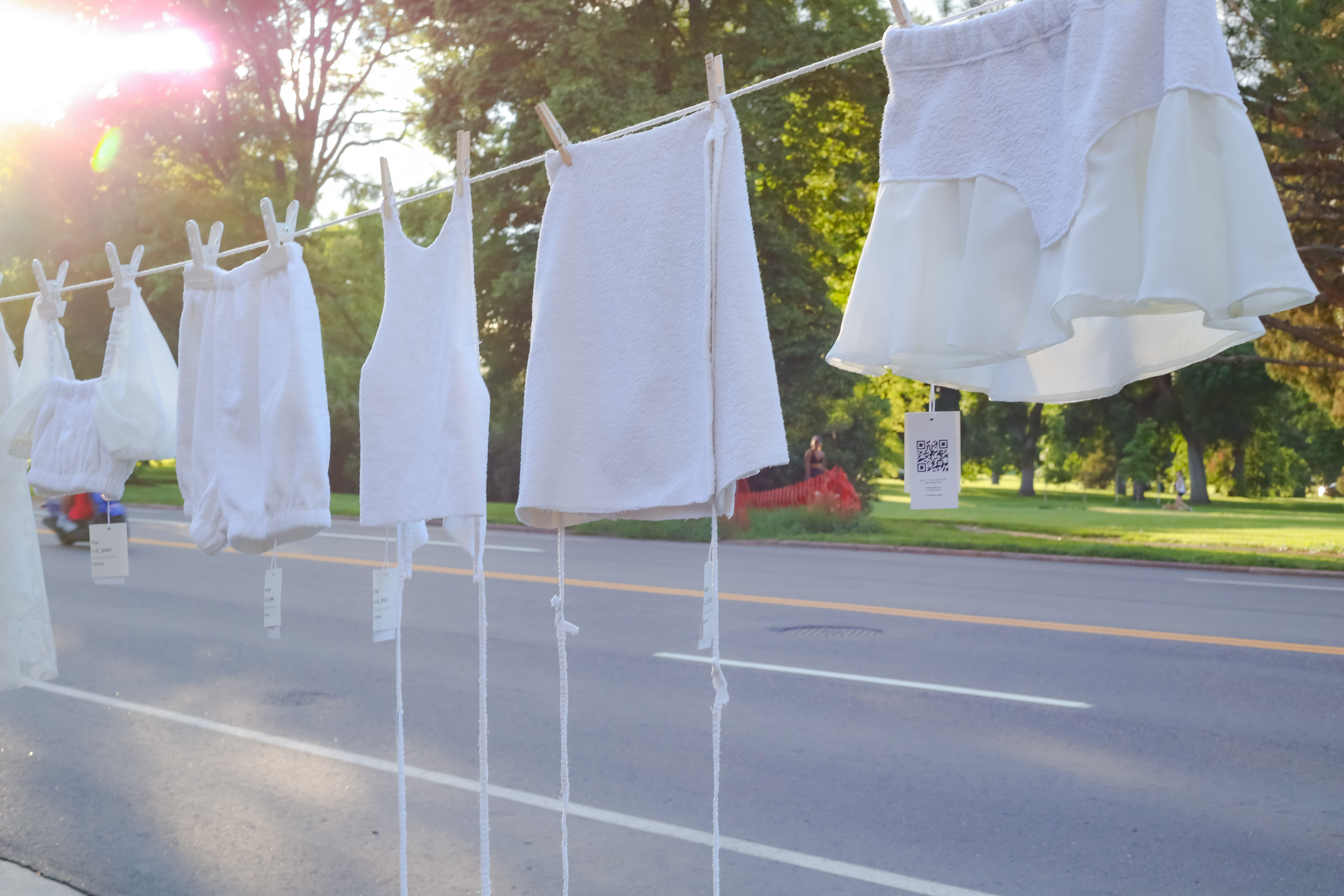 As a summer collection, each clothing piece was lightweight and breathable. Light, airy colored fabrics were used, including light pink, white and light blue. This color palette created a sense of opposition to MARGINAL's usual use of black and tan fabrics. 
Matilda plans on adding new pieces to this collection and displaying it at Denver Fashion Week this fall 2023 season.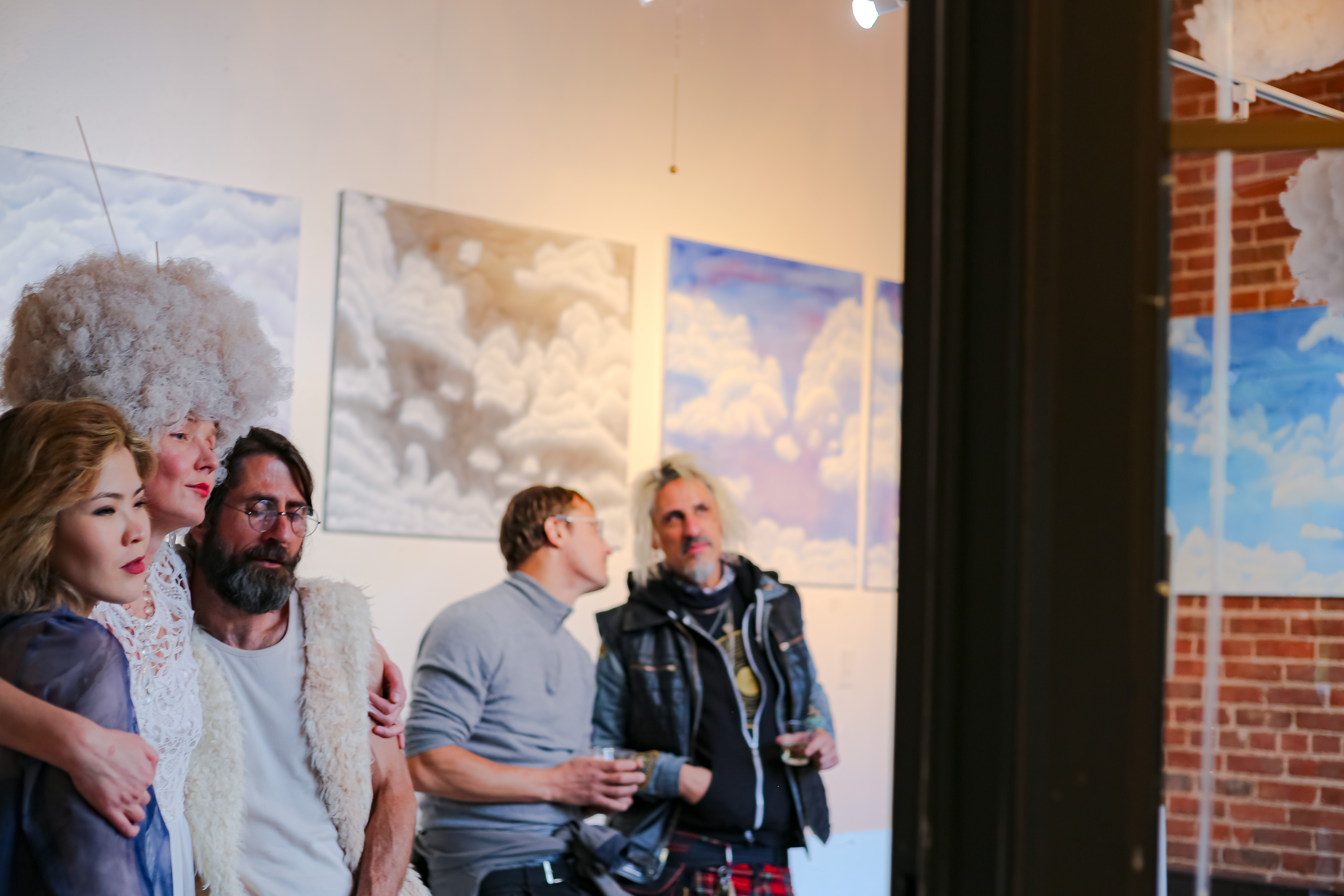 Upon walking inside, guests were greeted with free wine, candies and live music by local bass player Jacob Montano. Lining the walls of the room was a new 11-piece exhibit by artist Ray Carney titled Cloud Pop. 
The paintings in this new collection transformed from beautiful blue skies, sunsets hidden by clouds, and a dark night sky. This exhibit revolved around helping the viewer escape from the world's problems. Commenting on how everyone can get caught up in important issues, Carney asked onlookers to take a step back and just be.
"Although it is incredibly important for these issues to be solved, it is just as important to not become lost in them," Carney said. He also emphasized that these pieces were a place where people could rest their heads. 
The paintings were done in entirety using house and fan brushes — a detail that is heavily different from his past works. Carney used exclusively GALKYD medium mixed with odorless turpenoid.
Additionally, these paintings were all speed paintings, meaning they took on average only an hour and a half to complete, significantly less than the average painting by Carney which takes anywhere between two weeks to a month to complete.
"I wanted this to be different," He said.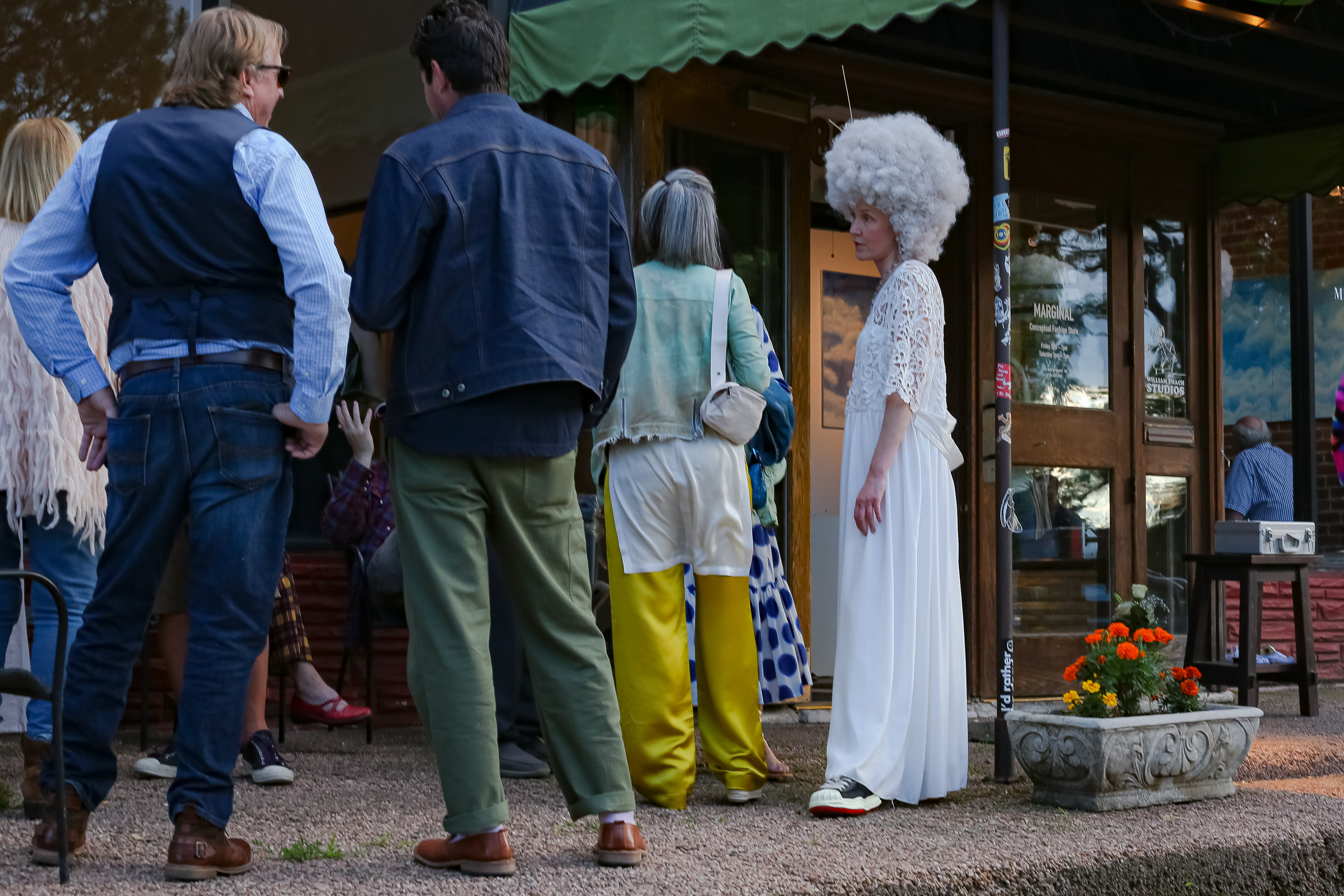 In a studio located behind Carney's, a wide variety of mixed medium art by Brett Fox was displayed. Fox successfully created a studio environment that held space for both creating and viewing works of art. The studio inspired contemplation of time and space.
"Although my work is process based, the end result is asking a question of what dimension we are in with regards to our memories [and] how we view ourselves in history on both a social and physical level," Fox said. 
These photographs used a wide variety of mediums, including transparency film, spray paint, oil, and gel medium transfer. Some pieces were covered with layers of found plastics, creating a new viewing experience for the audience.
"Time, space and face are my key focuses," Fox said.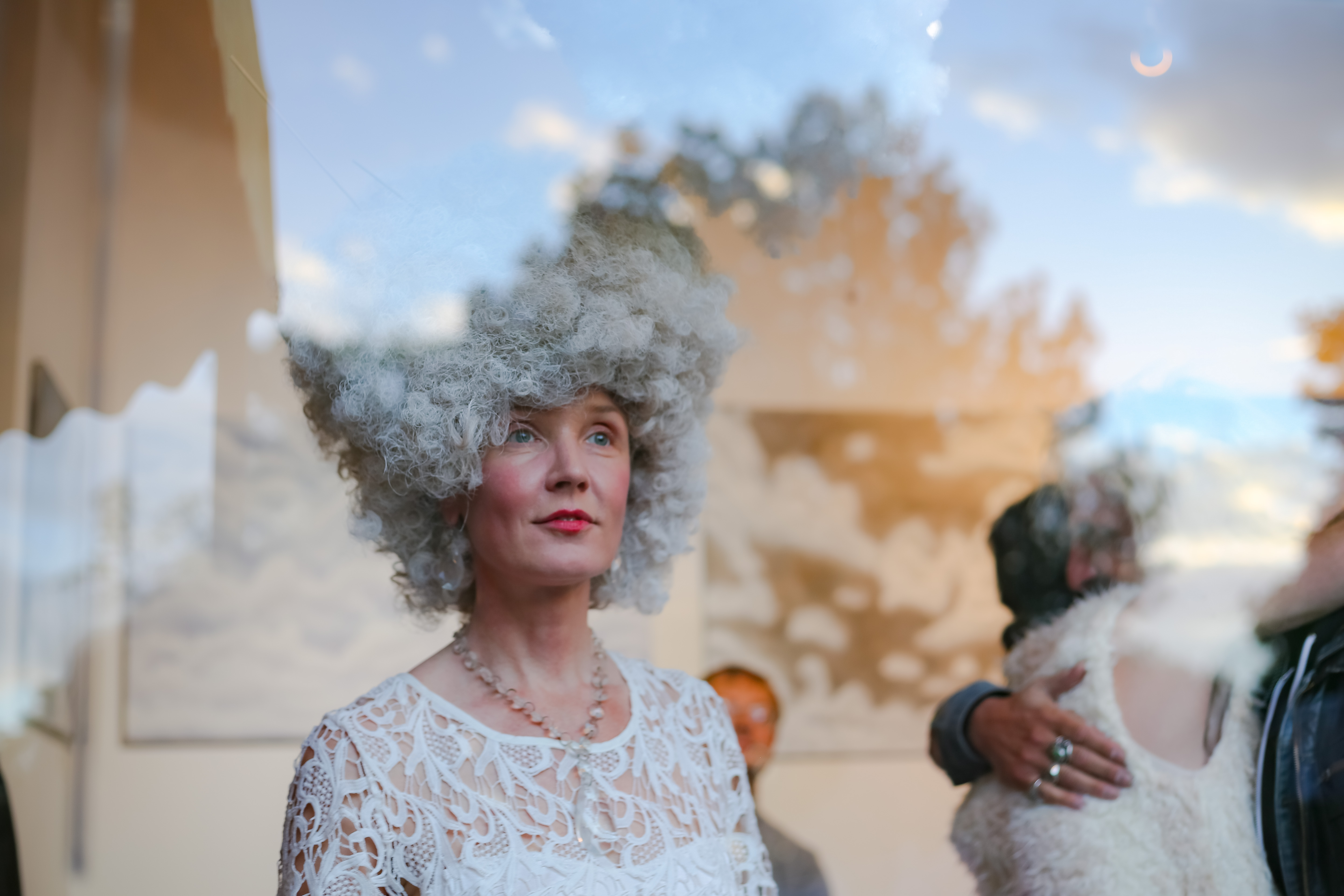 Inside the neighboring studio, Bell Projects, a large 17-piece exhibit featured the works of three artists — Mark Andrew Farrell, Daniel Granitto and Noah Schneiderman.
The exhibit, titled Ghost Body, was placed in an acidic, post-apocalyptic realm that was uncanny to the world we know. Although the work of the three artists blended together seamlessly, each artist's personal style was still on display for viewers to observe. 
Displayed in a small room behind the Ghost Body exhibition, laid the works of Elizabeth Moreno. The 12-piece exhibit, titled A New Purpose, consisted of a series of photographs designed, styled, and shot by Moreno. The inspiration for the collection revolved around repurposing objects that had been disposed of. Moreno wanted to create alternative objects that were one-of-a-kind. She created pieces that were alternative and one of a kind. Latex gloves with over 800 nails piercing through the material were featured in over 60% of the photographs displayed. 
A New Purpose, alongside Ghost Body, is on display at Bell Projects until June 25, 2023.
All photos by Shelby Moeller