Carolina Hellal
 knows a thing or two about fashion. Hellal is a Denver-based style influencer, blogger and manager for her online social publication and website,
Chic Talk
. There, she prepares and posts daily outfit examples, provides style tips to her audience of more than eighty thousand followers and shares glimpses into her world of motherhood.
As a true fashion figure, Hellal exudes impeccable style with her various wardrobe options and is a poised, shining example of what a true influencer should reflect.
In addition, she educates her audience on how to construct polished, contemporary outfits without breaking the bank or revamping entire wardrobes. As a follower of Hellal, 
303 Magazine
dove into her thoughts on summer trends, the incorporation of trends into wardrobes and what style she is tired of seeing.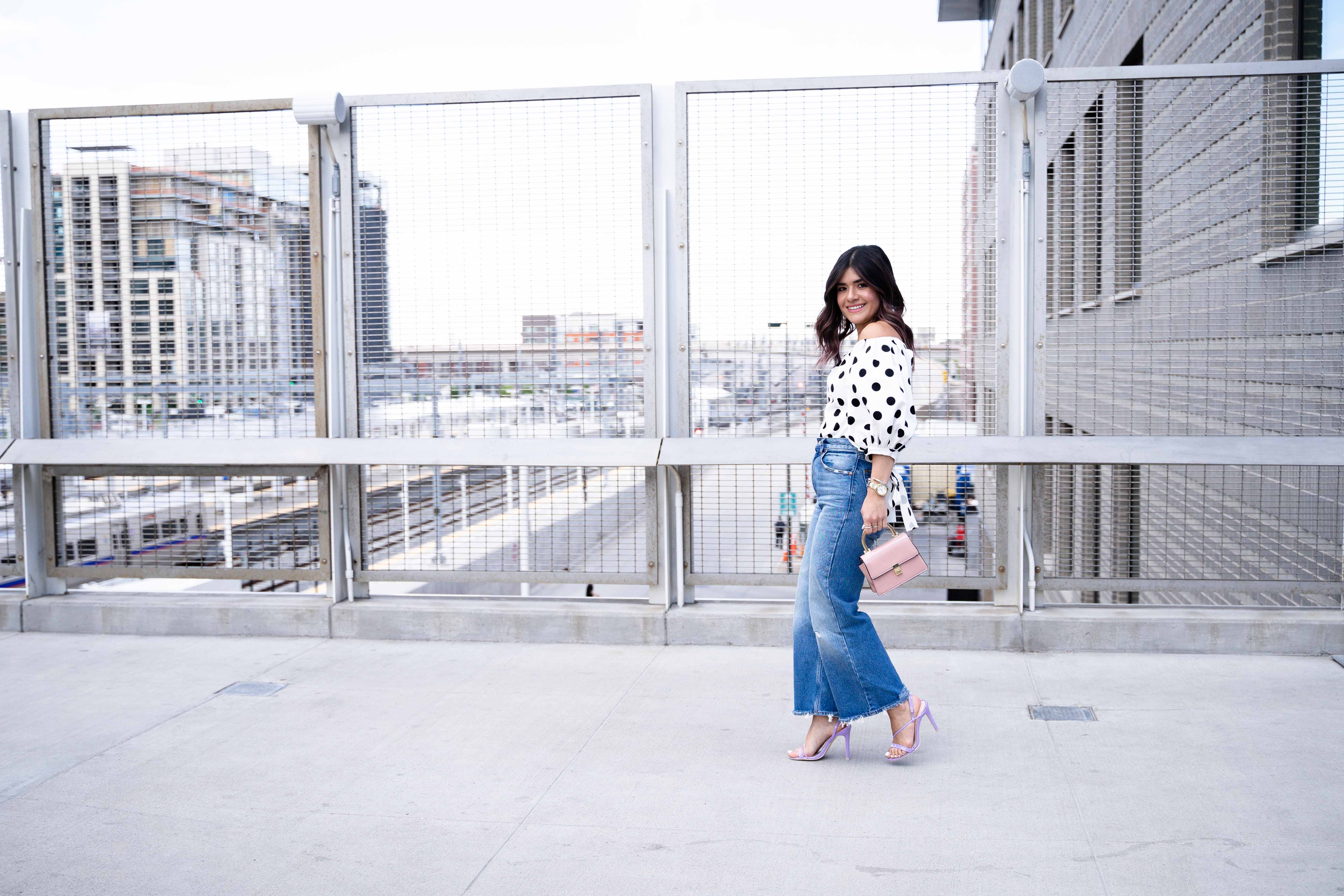 Styled in denim blue jeans, polka dots and a pale pink handbag, Hellal forcibly captured a casual yet polished vibe. "These strappy sandals really took over my closet this summer," Hellal noted. "It's a trend that was seen in almost every runway last year and it's finally hitting masses since spring this year. I love how they look with everything but I especially loved them in a feminine pastel color. I decided to style them with this eye-catching polka dot top and wide-leg jeans for a cool yet girly summer night out look."
303 Magazine: Can you please tell us how you first got involved in the fashion influencer world and what it was that attracted you to it?
Carolina Hellal: I would have to rewind to seven to eight years ago when I discovered fashion blogs. At the time I was reading about five blogs that always gave me so much outfit inspiration. The bloggers behind them are amazing and very successful today. I've always loved following their journeys and inspired by them I decided to start my own. Of course, I was attracted to the content they were putting out there, but as a creative person, what was so attracting to me was the fact that I could be the creative director of my own content. That was extremely fascinating to me.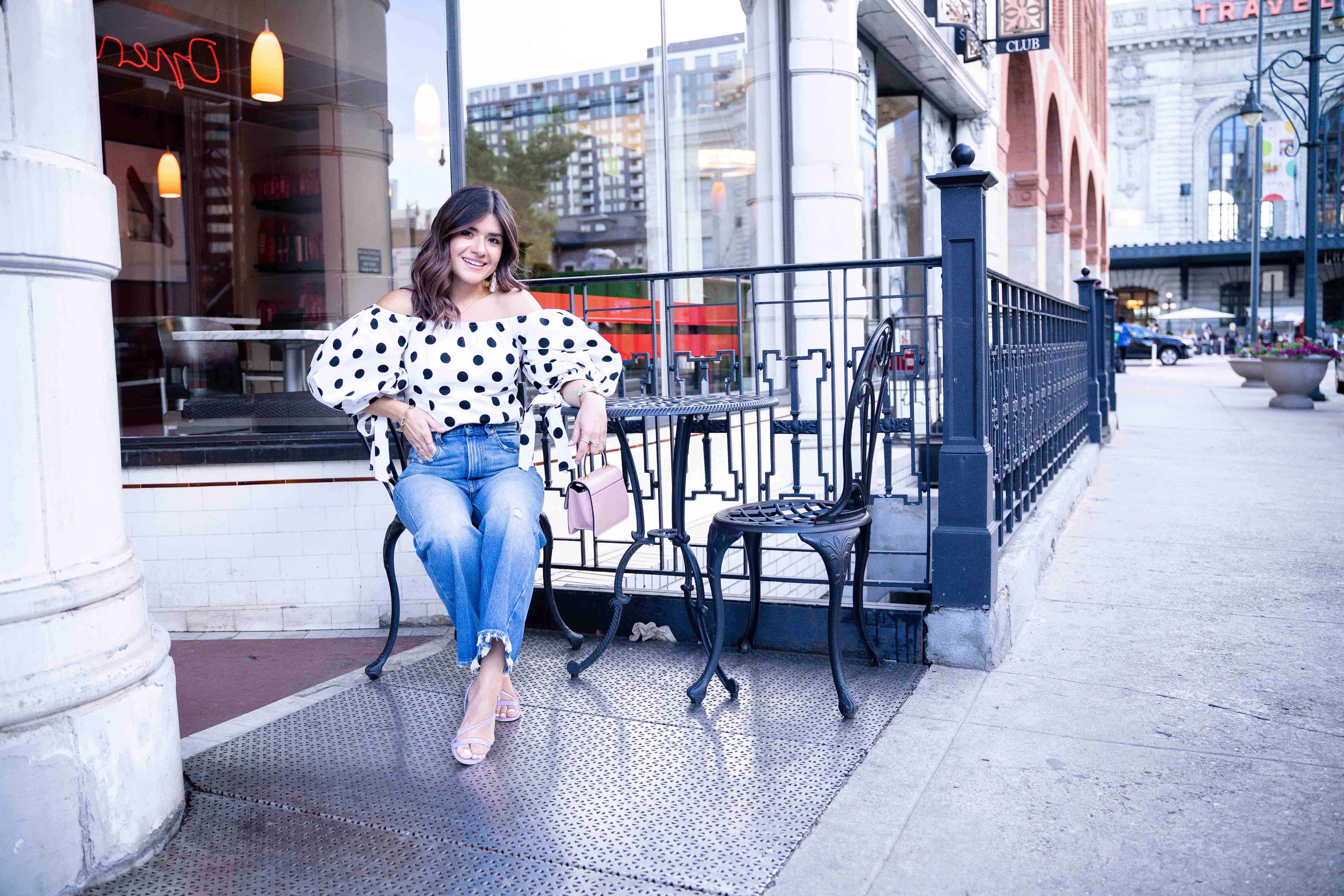 303: What are the top three summer 2019 trends you're currently loving and how would you style those?
CH: I'm currently loving linen sets like the one I wore for these photos. They are so chic and my favorite way to style them is with a simple tank top or bodysuit plus bare sandals which by the way, is my current favorite summer trend. The "barely there" sandal trend is so delicate and totally proves that less is more. I've been using those sandals in every color lately. I especially love how they look with raw hem jeans. And last but not least, tie-dye. I'm loving this trend right now and I especially love to see it in fabrics that have a lot of movement like chiffon, silk and lightweight cotton.
303: What is your advice to those who want to incorporate a summer trend into their wardrobe?
CH: My advice would be to find that one trend you really like and before buying things that represent it, go through your closet and see how you can incorporate it. If it's white dresses which are always on-trend, make sure you have the right accessories, shoes or handbag to pair them with. If it's polka dot prints, first try to think about what kind of garments you would feel the most comfortable in when wearing that print.
Trends come and go and that's why what I recommend the most is buying just a few items that are trendy and instead invest more in versatile and timeless pieces that you can continue to mix and match with the new trends every season brings. Many of our closets are filled to the brim with clothing that we love but also some that we don't love as much.
303: If you had to throw out one item from your closet, what would it be and why?
CH: Skinny jeans. I'm just not into them right now. I'm obsessed with straight leg and wide-leg jeans at the moment.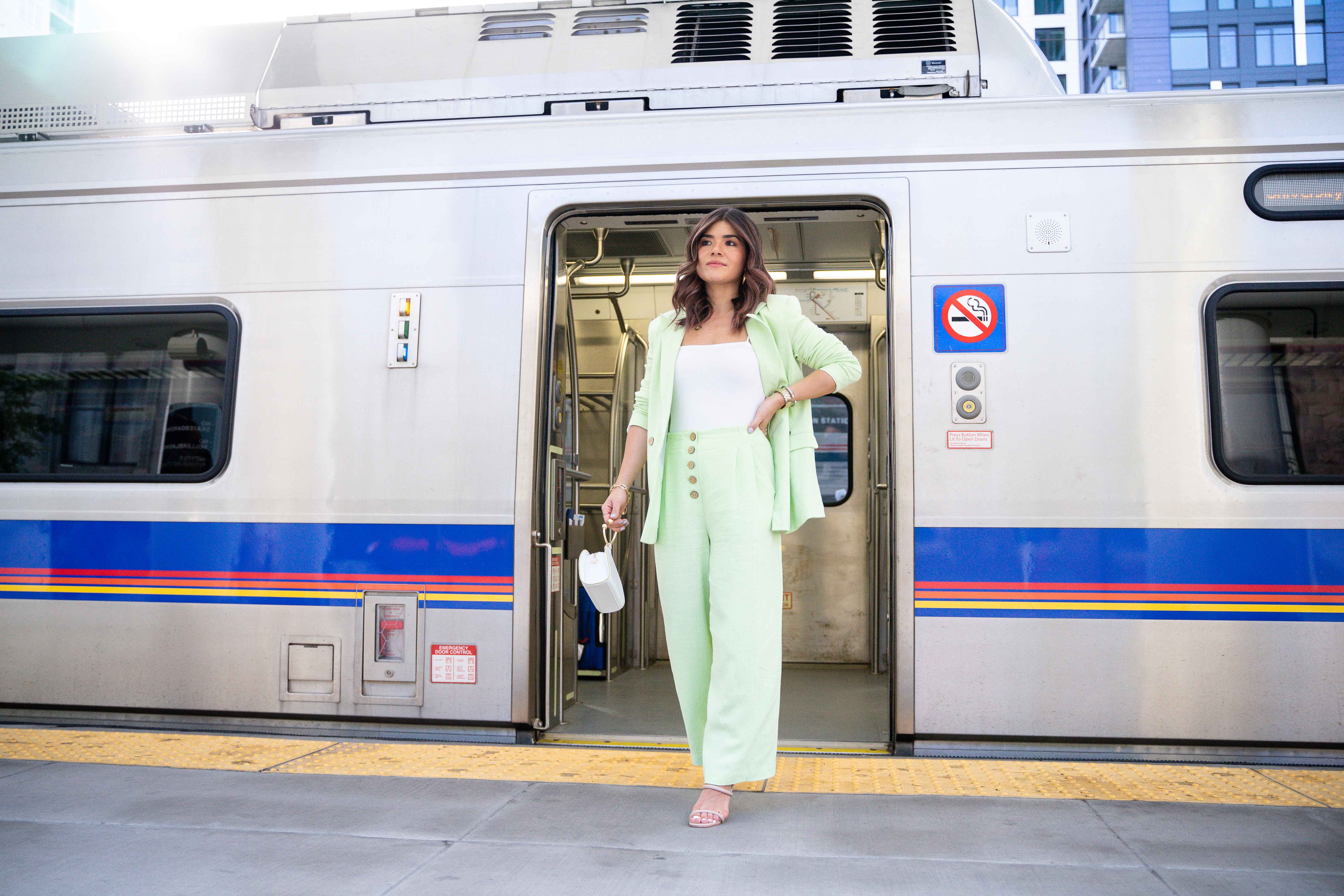 Here, Hellal's light and crisp suiting is timeless, elegant and extremely stylish. For this look, she played on the utilization of color and summer fabrics. "Neon and linen sets just sound about perfect together," Hellal explained. "As soon as I saw this set via Topshop I knew I wanted to use it for this photoshoot. I paired it with a plain white bodysuit and nude strappy sandals to really let the linen set stand out."
303: What fashion trend are you tired of seeing?
CH: Festival fashion. I don't understand why some people like to wear it outside of festivals. It's a big no.
303: Do you feel Denver nourishes fashion influencers and encourages style in the city? 
CH: Absolutely! Denver is growing at a really fast phase and it has so much to offer when it comes to fashion. There are so many new businesses and boutiques opening every week, I can't even keep up with them anymore. The style scene has definitely evolved and I love how diverse and rich it is now. With so many people moving from bigger cities, I've noticed how I'm constantly getting inspired by other people's style I see on the streets of Denver.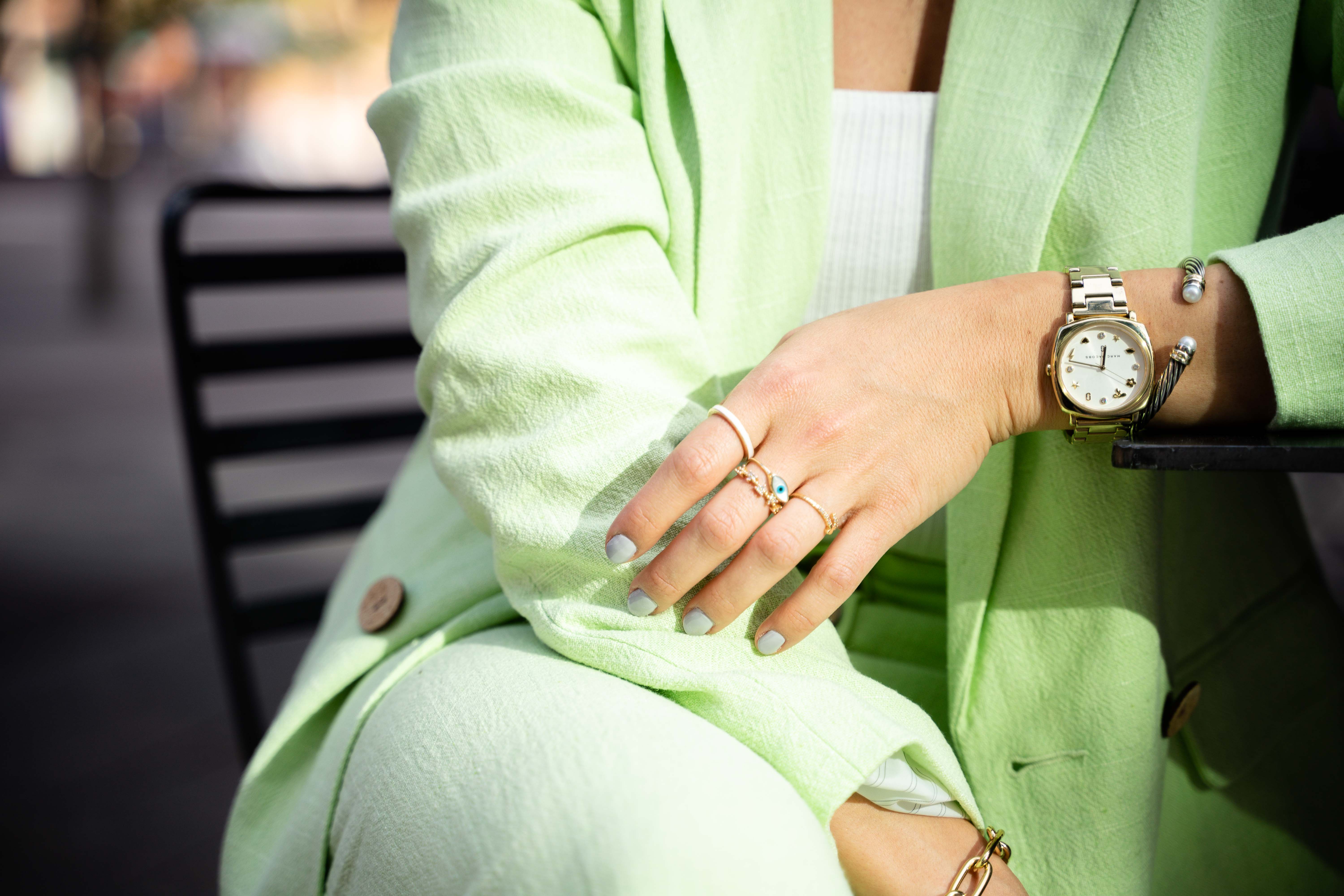 303: What do you love most about fashion?
CH: I think what I love the most about fashion is how it allows me to express who I am through what I wear. Over the years, I've gotten to really discover my style and I've realized that I enjoy fashion the most when I wear things that truly represent who I am when I wear things that make me feel confident and comfortable without caring or thinking if it's on-trend or not.
303: Many of your social media pictures feature you in denim blue jeans. As a lover of denim blue jeans, what is it about the timeless piece that you love?
CH: I love how versatile and comfortable they are. [They are] all I need right now as a new mom.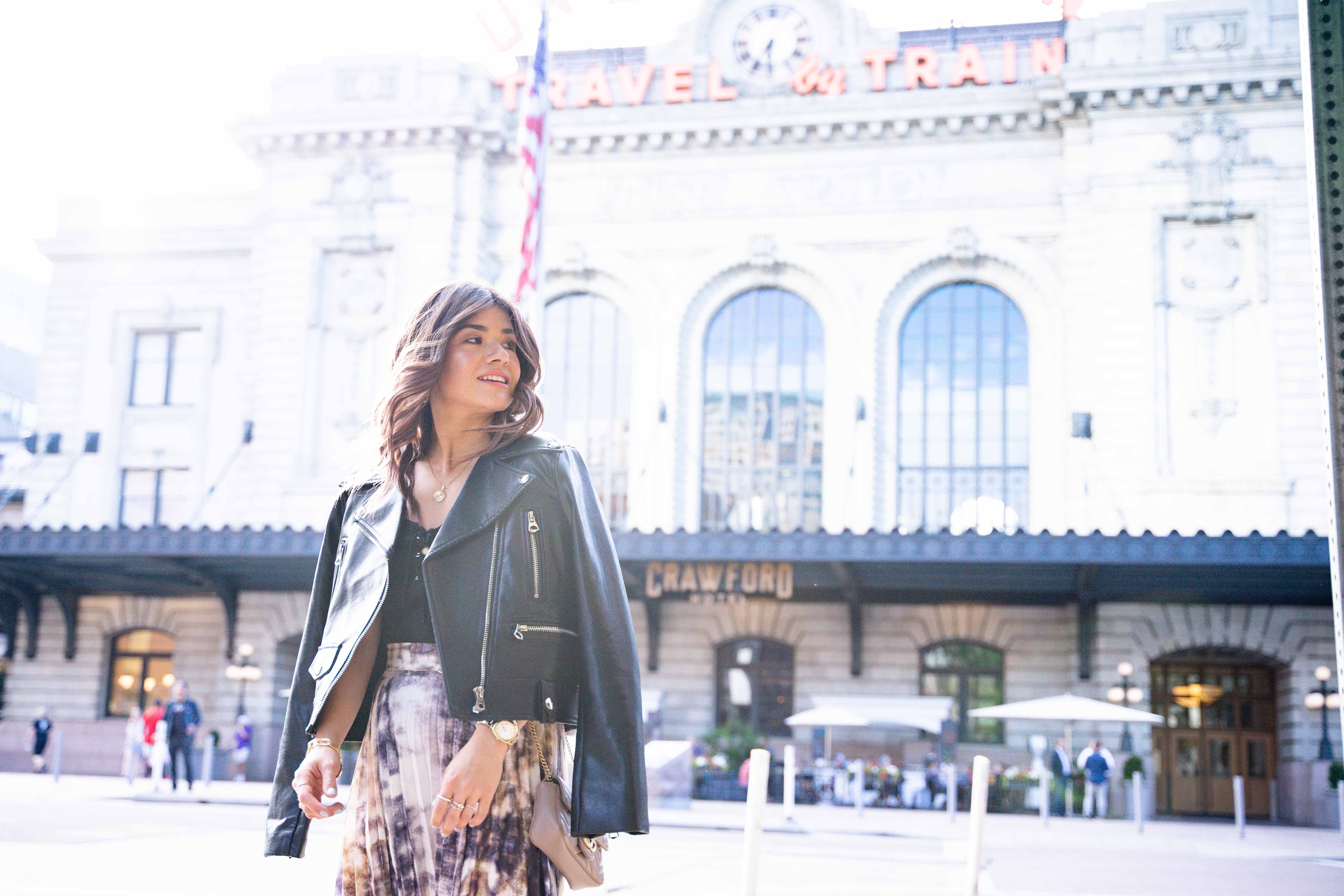 Hellal played with tie-dye and leather for her third look. The mixture of fabrics offered versatility and a touch of rocker chic to her wardrobe. "Tie-dye is one of my current favorite trends," Hellal said. "This skirt was a great find. I love how tie-dye looks in fabrics with a lot of movement and this skirt is the perfect example. I added the biker jacket for a little edgy touch."
303: How would you describe your personal style?
CH: I would describe it as casual chic. My lifestyle is very casual. As a new mom, I'm always looking to wear things that make me feel very comfortable but chic at the same time. I always gravitate towards staples and timeless pieces that I can easily elevate with accessories, hair and makeup. But I also think my style can be very eclectic too. I'm from Colombia so that Latina side of me sometimes comes out to play with prints, fun colors, feminine silhouettes and statements designs, especially during spring and summer.
303: What is one item in your closet you can't live without?
CH: My YSL crossbody bag.
303:  What is one item everyone should purge from their closets?
CH: Excessively distressed jeans.