In today's world, it's often rare to find something that has withstood the test of time. Things are on trend one season and the next they are old news. Denim though has been a closet staple since the late 1800s when Jacob Davis and Levi Strauss produced this cotton-based garment. In addition to denim, another facet of our world that has endured and been refreshed every season is our land. Both of these aspects, though opposite in association, are majorly similar in nature. Season after season, year after year, they are renewed, rejuvenated and made fresh for the world to see. Here, we dive into the age-old classic garment of denim and its updated approaches for 2019 in a rustic Colorado setting on the land near Boulder.
The Lowdown: Denim on denim dominated recent fashion campaigns but has always been a trend that thousands followed. Commonly known as the "Canadian Tuxedo," head-to-toe denim is a classic and foolproof way to be en vogue. Major fashion designers such as Calvin Klein, Lucky Brand and Gucci debuted recent campaigns filled with updated denim designs and major magazines followed suit. Deep in the January 2019 issue of In Style, denim on denim was featured on a female model that advertised tan designer handbags. In addition, Glamour Magazine approved major denim on denim styling approaches this year perfect for 2019. One of the composed designs was patchwork denim, and local designer Rebellelion made waves with her collection of repurposed denim this year.
Paint overlays, fringe and dimensional color served as a few of the added adornments Rebellelion incorporated into her work. A classic approach to styling these updated designs begins with an eye-catching pair of jeans paired with a denim blouse. To achieve Hailey Spung's style, patchwork jeans and a denim blouse were paired with a neutral colored belt and finished with a button-up collared shirt together to achieve a polished look.
A denim dress is always a wardrobe must-have, but the Rebellelion design Tori Glenn donned was made ultra fresh when black fringe was added. Black over-the-knee boots accentuated the color of the fringe and reiterated an edgy overall look. Similar to Glenn's dress, Spung's patchwork jeans were an updated version of the cotton garment. The added color, design and structure refreshed the look. To accessorize, a silk scarf was added around the neck. If a necktie is not in your realm of styling, another option is to tie it around the head for a '60s type of look.
Denim has long been a garment of interest and on trend in the fashion world and continues to be modernized and improved each season. This year will be another major moment for this clothing and with creative designers debuting imaginative collections integrated with denim, it is sure to endure many more seasons.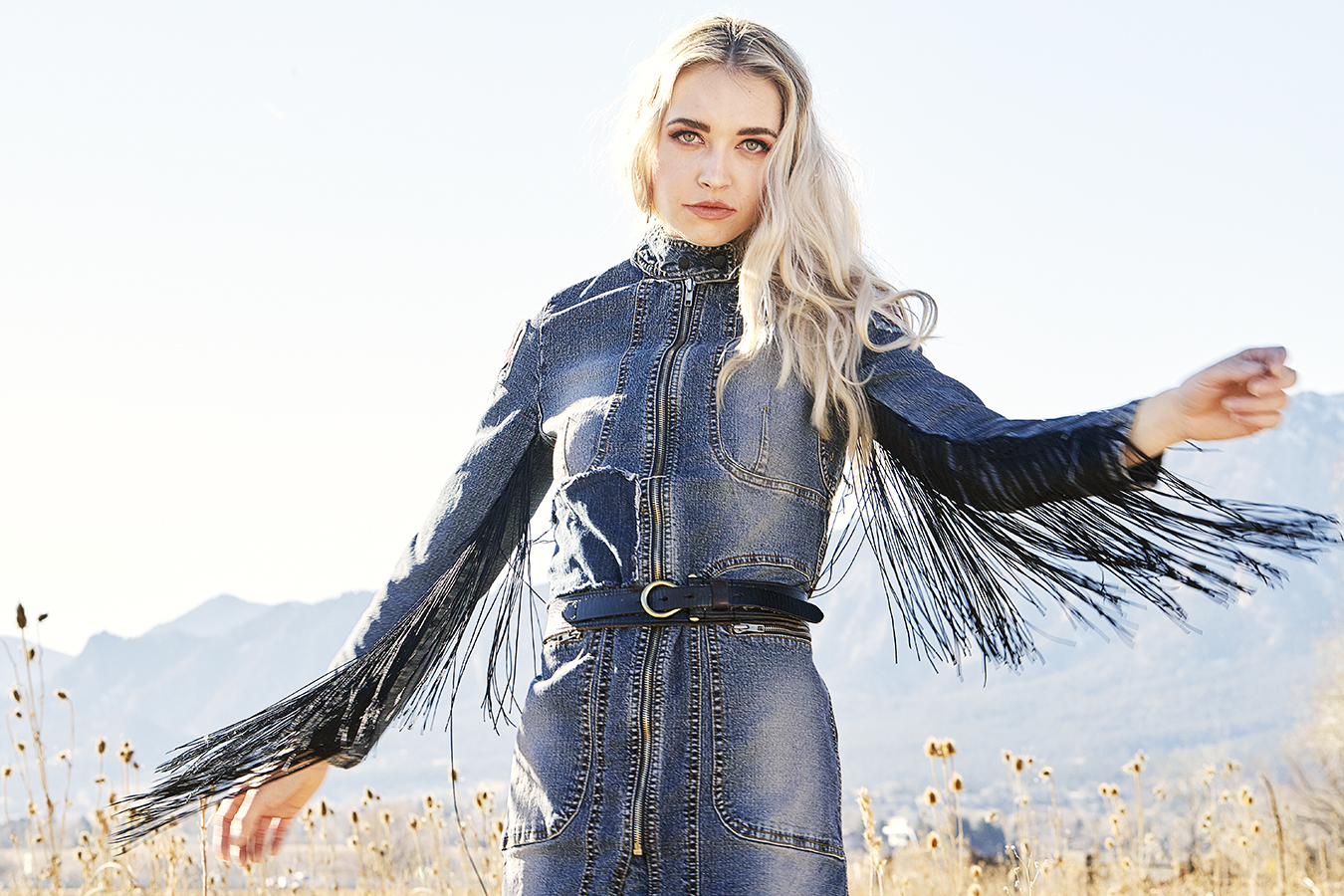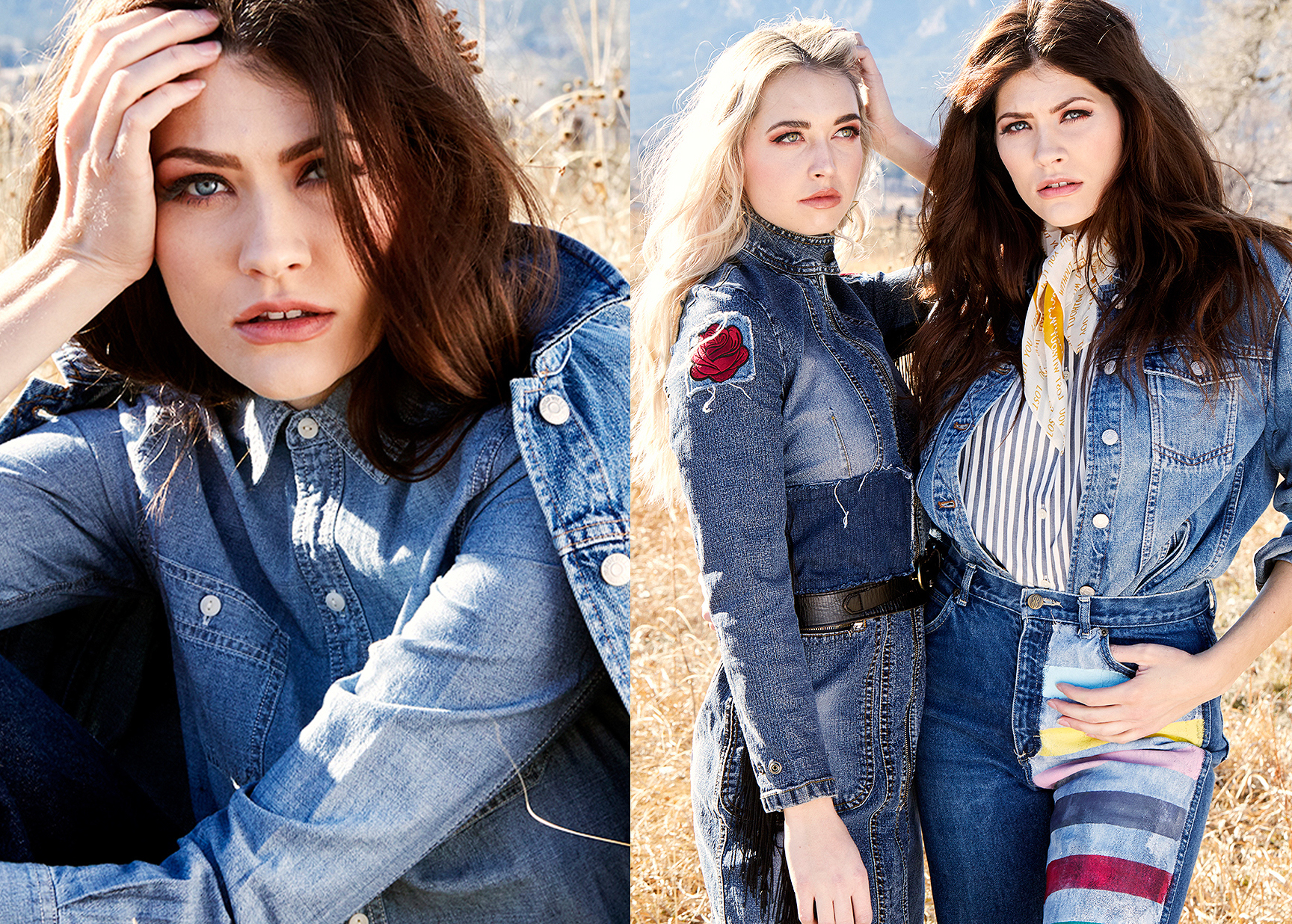 Photography by Rebecca Grant.
Models Hailey Spung (Donna Baldwin Agency) and Tori Glenn (NXT Models). 
Hair by Cecelia Kirby. 
Makeup by Michaela Carpenter. 
Clothing provided by Madewell , Blue Bangs Shop and Rebellelion. 
Styled by Cheyenne Dickerson.