Everyone has their own approach to the work week, either at the desk for eight hours or on your feet running back and forth making sure your next sale comes through. Whatever the job may be — for the plenty of fashion enthusiasts here in Denver — the goal is to stay true to your personal style Monday through Friday. Khiann Monet is a local visual merchandiser who specializes in men's apparel. Fashion and style are her everyday armor and with them, she's able to not only express herself but allow her sporty, feminine and vintage style to be seen through each outfit throughout the week. So, what does a week look like for Monet? She showed us her go-to pieces, favorite looks and best style secrets that work for her no matter the situation throughout the week.
Monday
Starting the week off with a pop of color is the way Monet likes to start her day. "If Monday starts off shitty, the rest of your week is shitty, so you might as well start it off bright," explained Monet. The number one article she goes for is the Asian-inspired duster she received from her late grandmother. "I pair it with simple looks because it's so vibrant, plus this is my favorite shirt from Urban Outfitters. The entire front looks like floral, but it's actually an entire orgy," Monet said. "These heels are my favorite to give me that boost on Mondays. They're so now. Iridescent accessories are here for a comeback," said Monet about her studded latex heels. The look brings simple, vintage and modern into the mix.
Tuesday
Wide-legged trousers are a must throughout the week for Monet. Her retro houndstooth bottoms are the go-to perfect piece to pair with her cropped pearled denim jacket. Playing with multiple textures is her style secret. "This outfit is perfect for afternoon chow because it's extra like Breakfast at Tiffany's. It's all about those vintage vibes." She adds a plaid bag to get her vintage aesthetic just right and pairs the look with the now-trending skinny shades.
Wednesday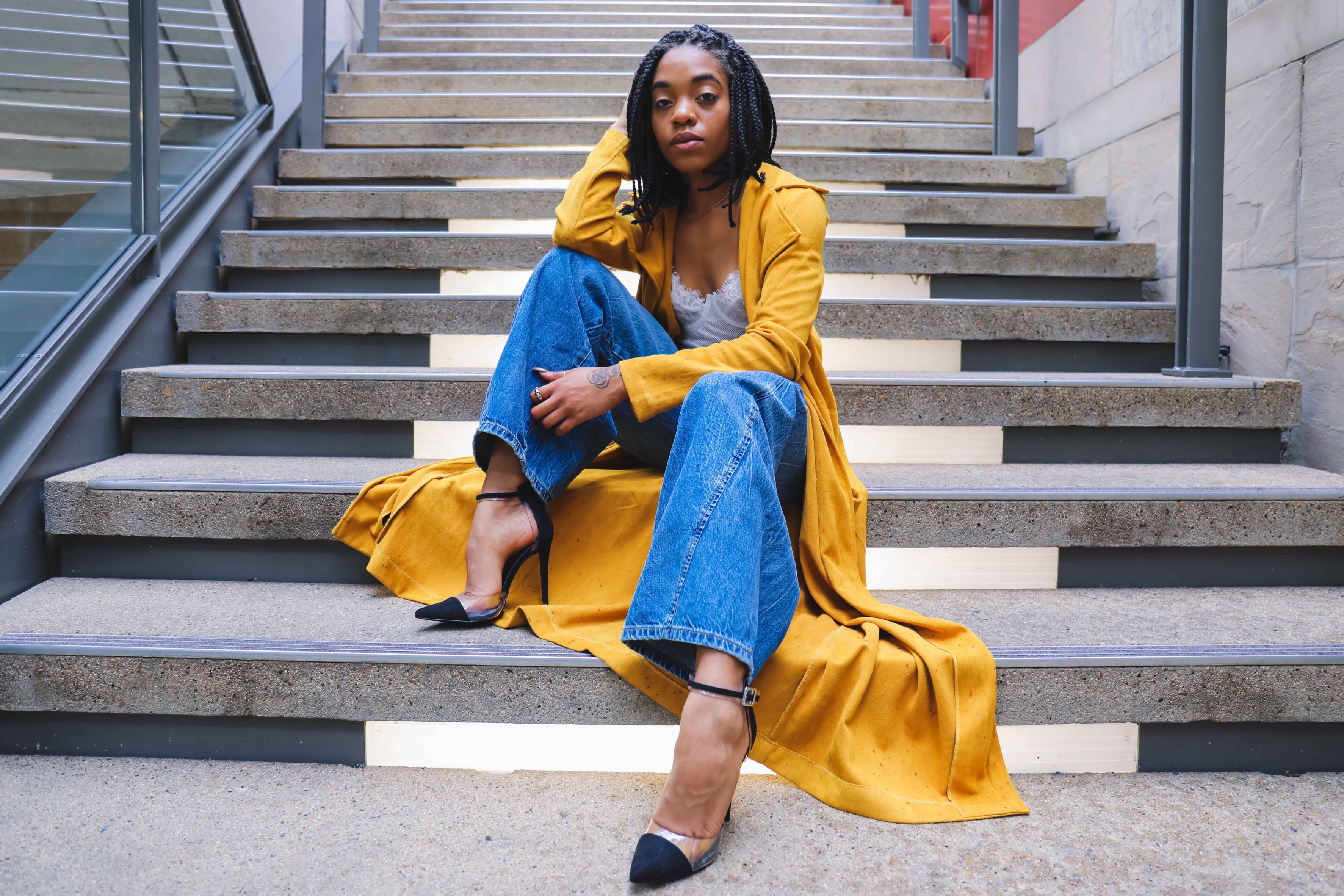 It's the middle of the week and Monet likes to pair her favorite high-waisted flared denim with lingerie. "I like wearing lingerie with denim. Something about is so cute and pulls and denim pant together," Monet said about her favorite lingerie bodysuit. Lace and mesh are go-to's for her "beginning of the weekend" attitude. She likes to end the week with a pop as well. Adding a yellow suede duster is the best way to be chic and sleek.
Thursday
"Vintage band t-shirts are my favorite," Monet said. Thrifting is a must in Denver and every time she goes thrifting she keeps an eye out for pieces that she can easily customize, making it a perfect match for her style and personality. "This look is simple. During the day I'll pair it with my Chuck Taylor's but when I get out of work, I throw on some heels and boom, it's a look for the evening."
Friday
The weekend is finally here and it's time to flirt just a little with Monet's favorite and most simple combo — ruffles and camo — the ideal way to achieve the sporty femme look she loves. "The combination between both styles is what I like. The masculine and feminine look is my favorite," said Monet. "It's not too sexy and not too casual, it's just the right amount of dressed up and dressed down. It's perfect for drinks after work."
All photography by Danielle Webster
Co-Styled by Ernesto Prada
Model Khiann Monet
All Clothing Model's Own