As fans of musical artists, we tend to enjoy seeing the bands we admire continue to grow and prosper throughout their careers. Being a popular chart-topping name in the music industry is a lucrative position to hold and once you have it, a bigger challenge comes in growing it. At any moment, the fame once enjoyed by a successful artist can be either replaced by the next best thing or just simply not hold on to its popularity – which is why concerts can be so special. On the hand of the concert goer, there's always a chance they'll never get to see their favorite artist in action again. On the other hand — the one of the performer — this could be their last tour. So, when artists perform every show as if it were their last one, it calls for a priceless experience. Ohio-based duo Twenty One Pilots gave Denver just that – a priceless experience at The Pepsi Center on November 19.
After the lights cut, leaving the venue dark and full of deafening excitement, the faint outlines of drummer Josh Dun and frontman Tyler Joseph walked on stage. Joseph, dressed in his iconic ski mask, hopped up on a beatdown car, while Dun, wearing a bandana and hood with a torch in hand, lit the car on fire and took his place at the throne of his drum set. The duo broke into "Jumpsuit" off their 2018 release, Trench. With the level of energy already set at a high level, the show only got better from there.
Twenty One Pilots are known for their mysterious and almost rogue-type image along with their heavy hitting introspective lyricism. During their set, their visuals reinforced their image and their talents as musicians spoke for themselves. Joseph's vocal abilities are beyond powerful. From being able to scream with great emotion to belting out incredibly high notes — he never fails to deliver quality performances as the frontman. On top of his killer vocal range, Joseph also excels at the piano, ukulele, bass and songwriting making him one of the most versatile musicians on the scene today. Dun, who is also a skilled multi-instrumentalist, is able to emote and radiate energy while sitting down at the drum set. The two musicians together made this show sound full and left the sold-out Pepsi Center crowd wanting more.
Over the past nine years, Twenty One Pilots have racked up an impressive catalog of hits. With this in mind, Joseph and Dun gave fans a little bit of everything during their set. Hits like "Taxi Cab" took longtime fans back to 2009 with the band's debut self-titled release while other massive songs such as "Stressed Out" and "Ride" took us to 2015's award-winning Blurryface. Their set list was wholesome and satisfied every year of the band's existence.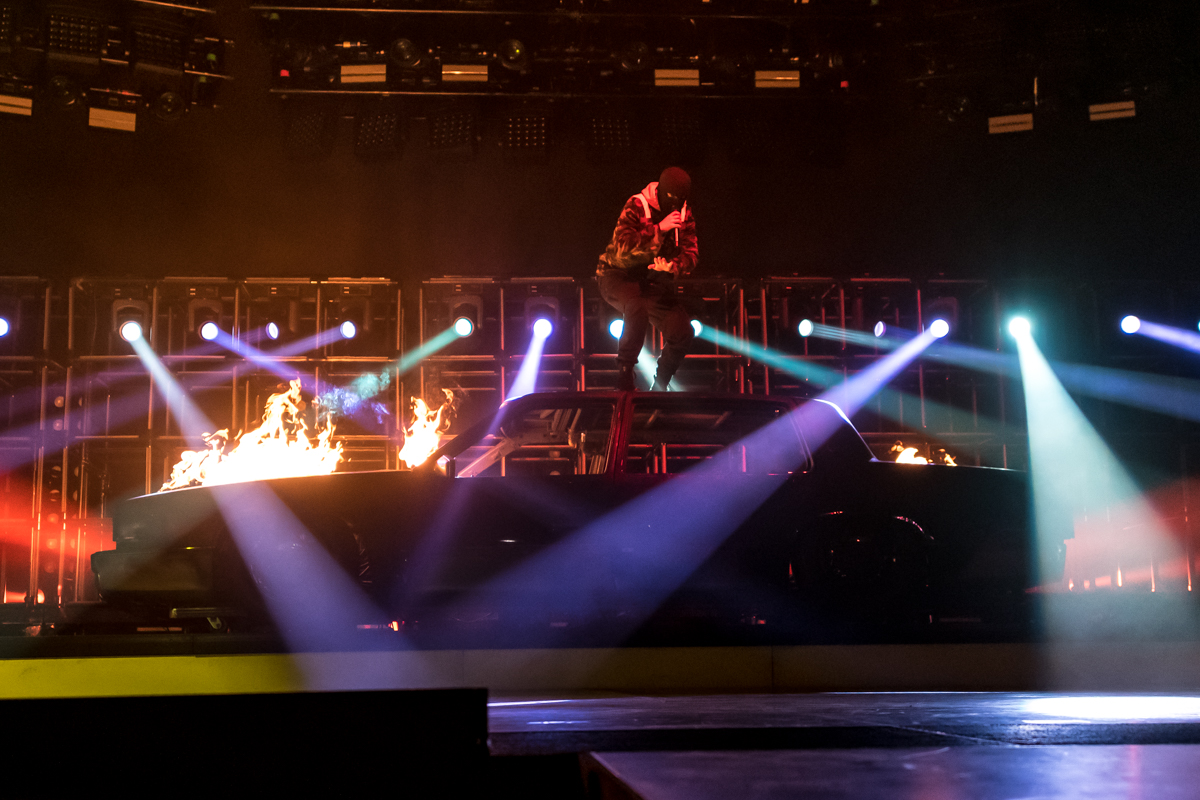 Joseph and Dun stuck to tradition during their set as well. During "Fairly Local," the Denver crowd was led to believe that they were watching a masked Joseph perform in front of them. As the song ended, "Joseph" fell back into a hole on the stage as the lights briskly cut out. A few seconds later, a spotlight aimed at the top section of the arena illuminated the real Joseph. This trick is nothing new to their set, as they've done it in tours past but this disappearing act never seems to lose its magic. The duo also ended their set with the same song they've ended countless shows with — "Trees."
About midway through the pop-rock-rap duo's set, a long floating bridge lowered itself from the roof of the arena and hung above the large GA floor pit full of starstruck fans. Joseph climbed onto the bridge and walked across it, leading him to a second stage set up on the opposite end of the arena during "Nico And The Niners." After Dun joined his longtime friend on the other stage, a beautiful shimmering curtain filled with icicle-like lights that moved up and down in mesmerizing patterns.
Near the end of their performance, Dun took the traditional "rock concert" move of crowd surfing and flipped it on its head. A smaller platform with a stripped down version of a drum set on it appeared from backstage. Crew members put total faith in the audience as the platform made its way out into the crowd as Dun crawled off stage, on to the platform itself and continued drumming.
In a short amount of time, Joesph and Dun have climbed through the ranks of Denver venues. Everything from The Bluebird Theater back in 2014 to The Gothic and Ogden in 2015 then two years straight of two night sold-out Red Rocks shows in 2016 and 2017 and now selling out one of Denver's largest venues at The Pepsi Center — this band can truly say they've done it all. Their live sets speak for themselves. There's a reason why Joseph and Dun have worked their way through all of these venues over the past four years, and they continue to prove it every time they come back.