On the eve of Halloween, Black Moth Super Rainbow played a hazy, synth-filled psychedelic show to a brimming crowd at the Bluebird Theater. Equal parts eerie and engrossing, the four-piece experimental electronic ensemble, hailing from Pittsburgh, made the high-vaulted ceiling of the Bluebird Theater reverberate and shake with magnified frequencies for nearly 80 minutes.
Though some of the live versions of their songs fell into a repetitive lull at different points throughout the show, it's not unexpected—considering the sheer amount of effects, looping, layering and knob-twiddling required in each of their tracks. Both Black Moth Super Rainbow and opener Stargazer Lilies performed their sets between two screens — one screen stood at the back of the stage, while a mesh screen stood at the front the stage with the band playing behind it. Both screens had simultaneously different visuals projected over them, obscuring the bands in a shadowy swirl of glitchy, bright patterns.
Stargazer Lilies opened for Black Moth Super Rainbow, playing a noisy, distorted set that sounded like a cross between the early works of Icelandic post-rock band Sigur Ros (think Ágætis Byrjun and earlier) and Olympia shoegaze/post-punk band Broken Water. They were loud and distorted but played with a constrained and laid-back approach. Atmospheric vocals gently floated over the distorted trio of guitar, bass and drums as they played their last song out into distorted oblivion.
The crowd, dressed in a hodgepodge of snow jackets and Halloween costumes, shuffled restlessly between sets. Yet the nearly 40-minute wait was well worth it. Wood-paneled visuals introduced Black Moth Super Rainbow, who kicked off their set with the poppy "Born On A Day The Sun Didn't Rise." Each song melted into one other with little to no time wasted in between. As they began to play "Tooth Decay," the front screen projected a still image of an open mouth. Shadows of heads from the crowd lined the bottom row of teeth as smoke swirled through the projection. Meanwhile, the back screen displayed surreal, nearly endoscopic footage that went down a person's throat into a neon animation of what could only be presumed to be stomach acid.
The layered effect was not limited to the visuals alone. Live drums, as well as drum machines, were utilized, most memorably in their performance of "Twin of Myself." At times they sounded almost psych-rock, while at other times they sounded like a noisier Stereolab. Toward the end of their set, Black Moth Super Rainbow took the crowd into a deep space exploration, sounding almost like the band Air.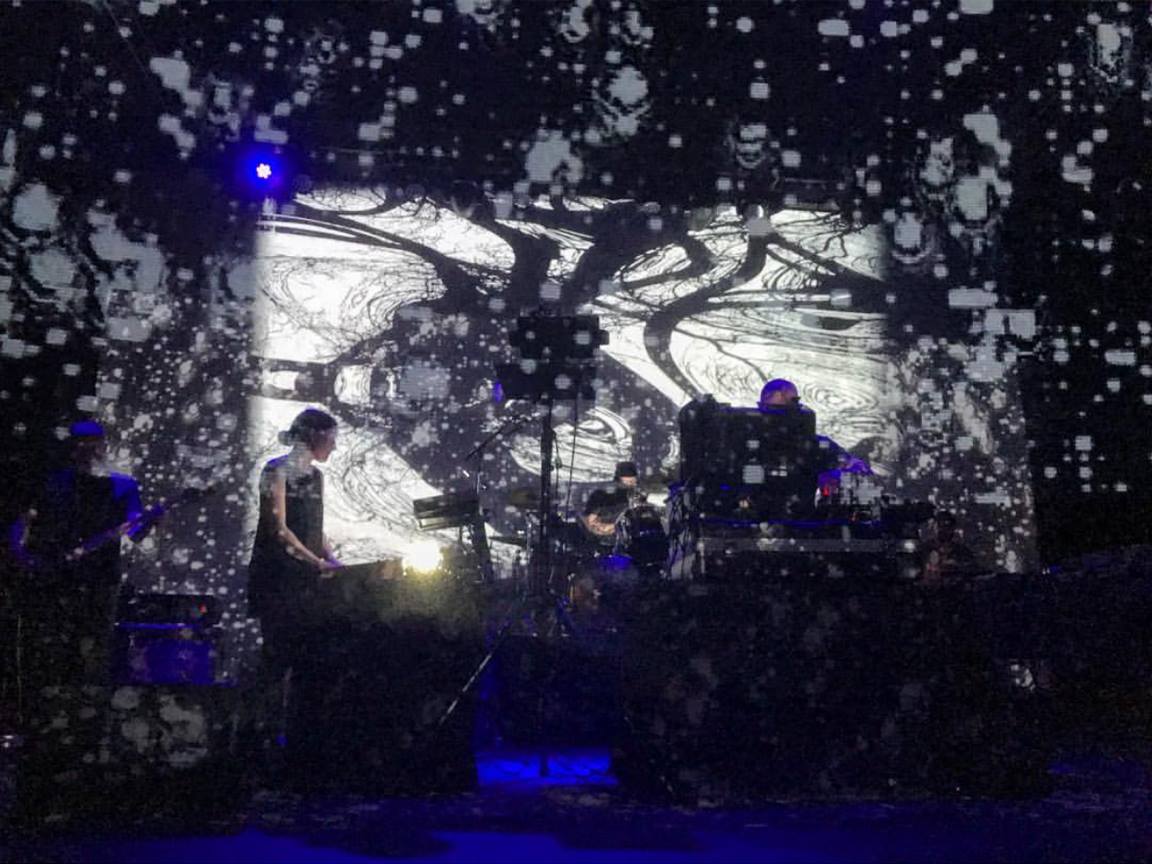 Each band member has various side projects, the most well-known being the side project of singer Thomas Fec, Tobacco. Synth player Maureen "Maux" Boyle, who performs as a solo ambient project under the name The Seven Fields of Aphelion, truly shined in this performance. She spent the entirety of the set hunched over a massive table crammed with synthesizers and samplers, flipping through a thick book of notes between songs.
The artists had stepped off stage, yet the crowd continued to yell and cheer—clearly not ready for the show to be over. After 10 unrelenting minutes of demanding an encore from the unyielding crowd, the band walked back on and launched into a four-song encore. Eight-bit slime oozed down the front screen while the back screen projected footage of an animated river during a noisier version of "Sun Lips." They then played a longer, rocking rendition of an older song, "Forever Heavy," while a glitched-out impressionist landscape spun and folded into itself on the screen behind them. They ended their set with an untitled roadside demo that sounded bittersweet and melancholy, almost as if they were sad the show was over. Perhaps Black Moth Super Rainbow will return next Hallow's Eve to deliver another grossly enthralling performance.