There are a lot of people who claim to know a lot about beer, myself included. Let's be honest there are a lot of people who do know a lot about beer. However, there are a select few who have taken their knowledge of beer to the next level. In the world of wine, these people are referred to a Sommeliers, in the world of beer they are called Cicerones. The official definition of Cicerone is for "hospitality professionals with proven experience in selecting, acquiring and servings today's wide range of beers." You can visit the official website here.
The Cicerone program is tiered, there are four levels. Thousands of people have passed the first two levels. It's challenging but achievable. You begin with Certified Beer Server, then to Certified Cicerone, Advanced Cicerone and finally at the peak of the mountain is Master Cicerone. There are only 16 Master Cicerones in the world. No one passes the Master Cicerone test of the first attempt. It is a two-day gauntlet where you are quizzed by the people who literally wrote the book on beer like Randy Mosher, who has written every book you might want to read on brewing. Intimidating? Yes. Challenging? Insanely so.
Dan Imdieke is one of three, that's right three Master Cicerones who work at MillerCoors. Imdieke works in the beer education department which, to him, is a dream job where each day is different. "My day always varies, working with key customers on beer and food pairing programs, doing beer style tastings for our sales and marketing teams, speaking to consumers at a beer dinner, it's always different. Essentially, we try to elevate the experience of beer in any way possible." In talking with Imdieke it's clear that the mission of MillerCoors through its education program is getting people excited about beer as a whole.
Since he is one of 13 people in the world to pass this test we had to learn what the experience is like, how he views the ever-changing beer industry and most importantly whether or not he can just drink a beer without analyzing it? The answer to the last question is a firm no. As Imdieke describes it he can't help but break down how a certain beer tastes the way it does and what is the foundation of the beer. He was quick to point out it's not about judging the beer or being critical but more about the experience of the beer itself and what in the ingredients is creating that experience.
Prior to passing the Master Cicerone test Imdieke spent over 12 years in the beer industry. It wasn't enough, even with his everyday contact with beer buying, tap systems and anything else that might have come his way. Instead, when he made the decision to go for this certification he spent two and a half years studying. Passing this two day, eight hours a day test consumed Imdieke.
"It's a bit embarrassing to talk about because it was kind of an obsession and a lifestyle.  I initially took six months off of work and read about 25 books and countless articles on beer.  Every bit of my free time had something to do with reading about or tasting beer.  Most people would think it was crazy but I was hooked. I took classes on how to build a draft beer system.  I made over 1,000 flashcards for all of the different topics and studied four or more hours a day. I brewed with the team at Dry Dock Brewing Co. and asked them a million questions. It's a passionate road."
A Master Cicerone is quite possibly the most well-rounded beer expert in the beer industry. Not only do they have to know how to put together a tap system, blindly decipher beer styles but they have to understand every step in the brewing process. On top of all of that, they can taste and describe off-flavors in bad beer and should be able to create the proper beer pairings for any meal. Looking at all of that and all the work Imdieke put in it's easy to see why he can't just drink a beer.
So, what kind of beers do you find in the refrigerator of a Master Cicerone? It's not a shock, Imdieke goes with mostly Belgian beers. There will almost always be a Tripel and of course, there has to be a solid pilsner. Imdieke leans towards styles that are simple and yet complex – he tends to avoid beers that are overly hopped (Hazy IPAs) or my current favorite the barrel-aged pastry stout. It's not that he doesn't enjoy those beers and he was very candid in that he appreciates them. "Any beer that brings people into craft beer is a good beer. Every beer serves its purpose." Once people get over their initial misconceptions of what beer can be it opens up the rest of the world of craft beer can be.
Tasting Beer With A Master Cicerone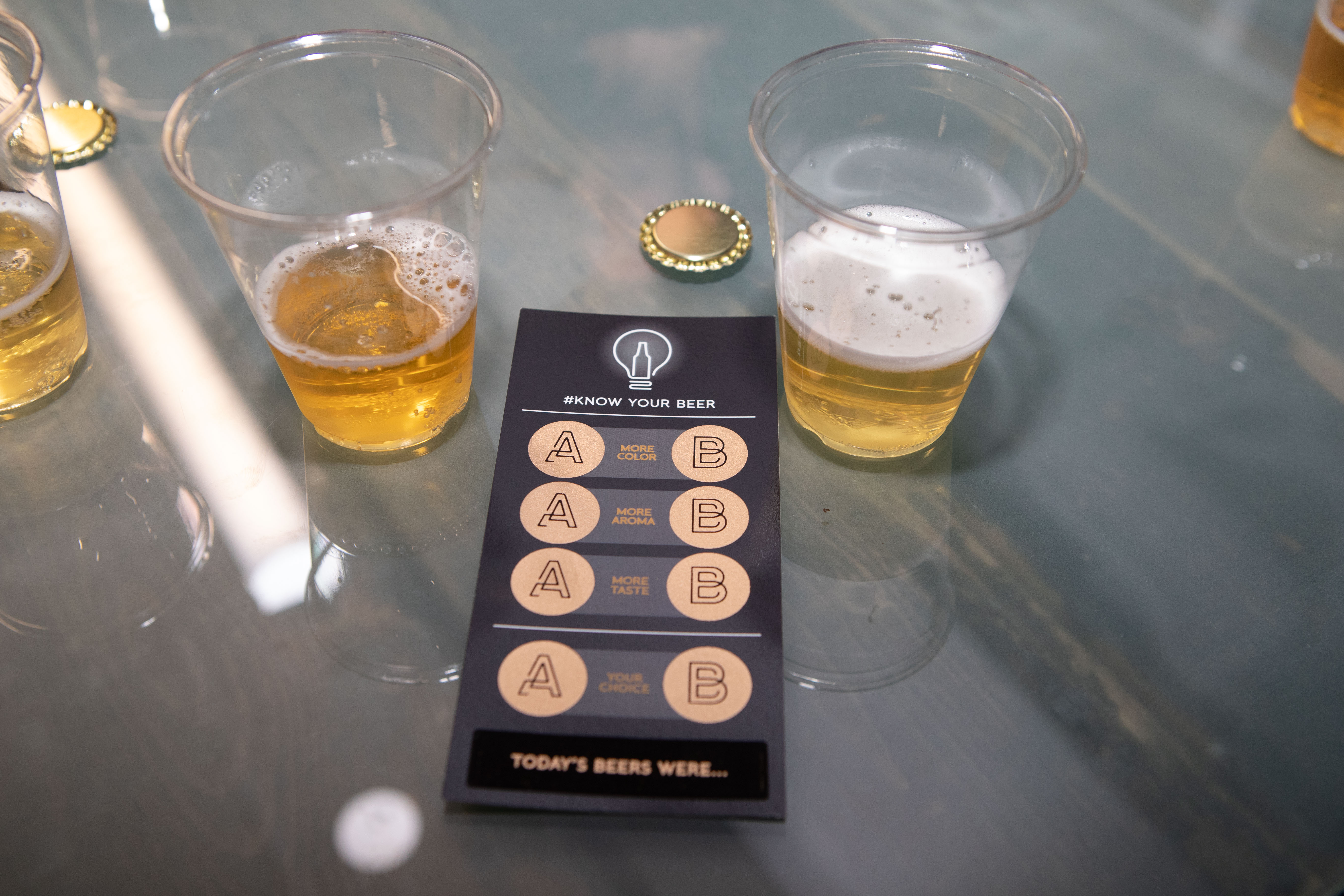 Not only get we get to dig into the mind of a Master Cicerone but we also got to walk through a couple of different tastings. First, we tasted a number of different beers from the Blue Moon lineup but we weren't told in advance what they were. It's embarrassing to admit but we definitely learned to leave misconceptions behind. The mind via verbal suggestion can manipulate the taste buds – this was learned when we dug into a coffee beer and found out it was a lighter style beer.
MillerCoors has also been doing blind taste tests where they have everyday people (us included) compare MillerCoors to another big brand. The beers aren't labeled and we went through the beers picking our preferences. First, we selected which beer we thought had the best color. Next, we selected which of the two had the best aroma. We finished by sipping on the two beers and picking which one we preferred. After all of that, each one of us selected our beer of choice. There was a clear winner, hint hint, but the reasons weren't as we expected. I would challenge anyone to do this the next time they order beers. Whether or not it's a large brand or your local brewery, slow down and really experience your beer.
During this process, we also found out just how critical scent is to the tasting process. Before we even drank the beers Imdieke had us plug our nose and eat a jelly bean. Halfway through chewing the jelly bean we unplugged our noses. While plugged it was just a bland chewy piece of candy, once unplugged the flavor of the jelly bean revealed themselves. We can only taste a few things, our sense of smell is where we truly get the flavor. Try this experiment whether with a jelly bean or, how I prefer it, with a beer.
As we rounded out our time with Imdieke we asked him if he could pick three things he wishes people knew about beer. He didn't limit himself to three and we don't blame him. "Smell your beer, beer is a great partner for food, there is a beer for every palate and challenge conceptions."
While to me beer has always been more than just a beverage even I was able to gain a great appreciation for everything beer can be in talking with Imdieke. Slow down, think about your beer, it's only going to make a good beer better.
All photography by Kyle Cooper