The Great American Beer Festival (GABF) has never been bigger. Not just in terms of popularity but in sheer size. Thousands of people descended upon the city of Denver to celebrate three days of everything craft beer. They explored 100,000 square feet of new space in the Colorado Convention Center and joyfully debated who would win the first-ever Hazy IPA Gold Medal. Despite the additional space and the numerous events that overtake the city, the festival still feels as special as it did 37 years ago. At any point you could find friends exploring new beers together, people running into each from across the country and acquaintances turning into familiar faces. The brewers, the judges, the attendees and the volunteers all came together to put on an event that despite its size never lost the communal feel. Even if you stood in the extra-long lines to get in (one thing we agree GABF needs to work on) people found camaraderie — knowing that thousands of beers awaited them.
Also, important to note, the state of Colorado took home 30 medals in a variety of styles. In the end, it was a party, and the city of Denver is going to need a week or two to get over the hangover. With the final taster glasses tucked away and the state's pretzel stash depleted here is our recap of all things GABF.
The New Additions
The three biggest components of the new square footage were an expanded Meet The Brewer Section, The Buffalo Wild Wings Sports Bar and The Jameson Caskmates Barrel-Aged Beer Garden. Meet The Brewer is a must stop and the best time to visit is on Saturday afternoon because most of them are flashing their newly acquired hardware from the Saturday Morning awards ceremony.
Even if you are not the biggest beer nerd you can't help but join in on their excitement while they talk about what they won and what beers they are currently pouring. GABF is all about celebrating the year in beer. We had a great time celebrating with the victors, commiserating with those who didn't win and plotting for next year. Side note – it's absurdly hard to win a medal. Out of the 8,864 beers submitted for judging this year (new record), only 306 walked away winners, that is just over three percent of the entries.
On that note, congratulations to the Denver Beer Company, Ska Brewing, Butcherknife Brewing, Banded Oak Brewing and 105 West Brewing to name a few. The Colorado Brewery List has compiled a list of all the Colorado winners and broke it down by medal and style here.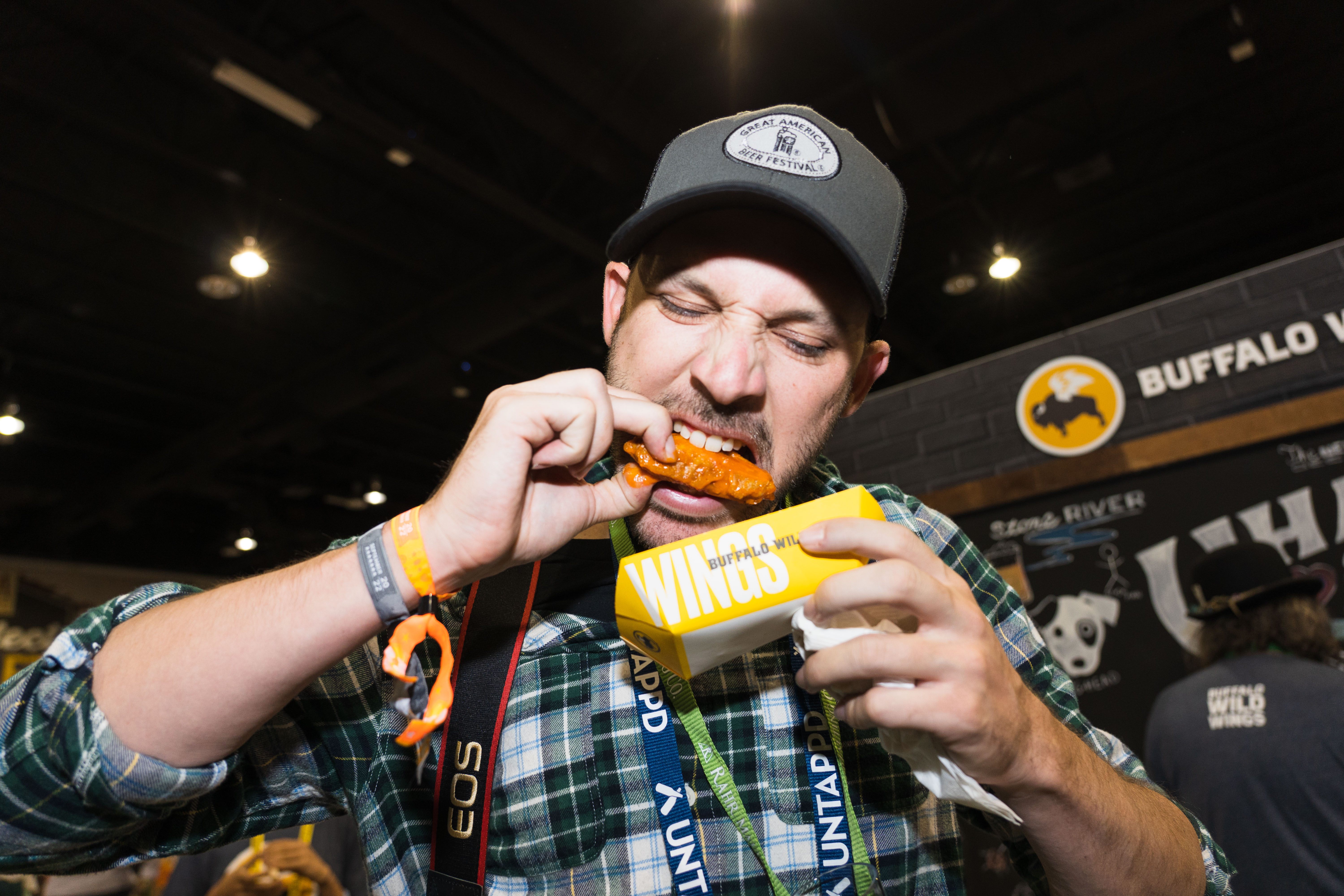 As for the new areas — we were skeptical about the addition of the Buffalo Wild Wings Sports Bar and The Jameson Caskmates Barrel-Aged Beer Garden. Mainly because giving that much attention to large corporate entities doesn't jive with GABF's focus on independent breweries. But both companies pulled out the big guns and brought in activations that were worth our while and only seemed to enhance and celebrate the existing culture. The free wings, two at a time, were a delightful break in between sections. Not only that, but great beers were still flowing, you could take a quick seat to rest your overworked feet and catch up on the latest football scores. We sincerely hope this section is here to stay, as long as they continue to mesh with GABF and bring in elements that provide something for the festival-goer.
We can say the same about the beer garden. It shouldn't be possible but this was, in fact, a festival within a festival. You could feel the difference the moment you walked in, it might have had something to do with the DJ pumping bass-enhanced jams. These beers were boozy, Jameson enhanced creations that changed the vibe of the people consuming them. We would like to give a big thank you to Royal Gold who was kind enough to hand out free bags of pretzels to those coming and going from the Jameson Beer Garden for we needed them the very most.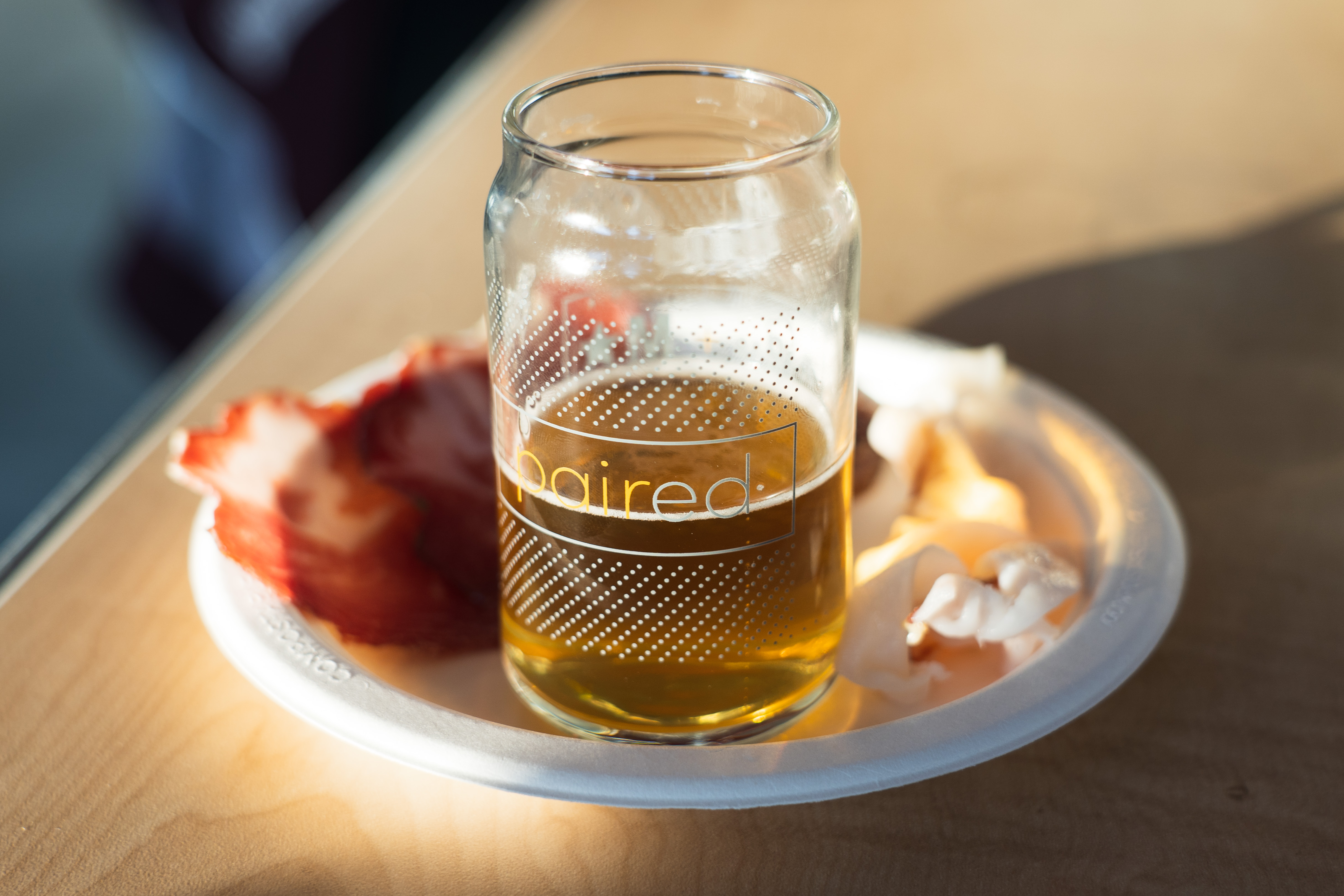 One section that wasn't new but new to us was Paired. If you love craft beer and appreciate how it can be paired with food from the best chefs in the country this is for you. It's a special section, away from the crowd, where you can delight in how the flavors of delectable craft beer play off of world-class food. This is going to be a tradition for us every year moving forward.
The Beers Who Got The Most Love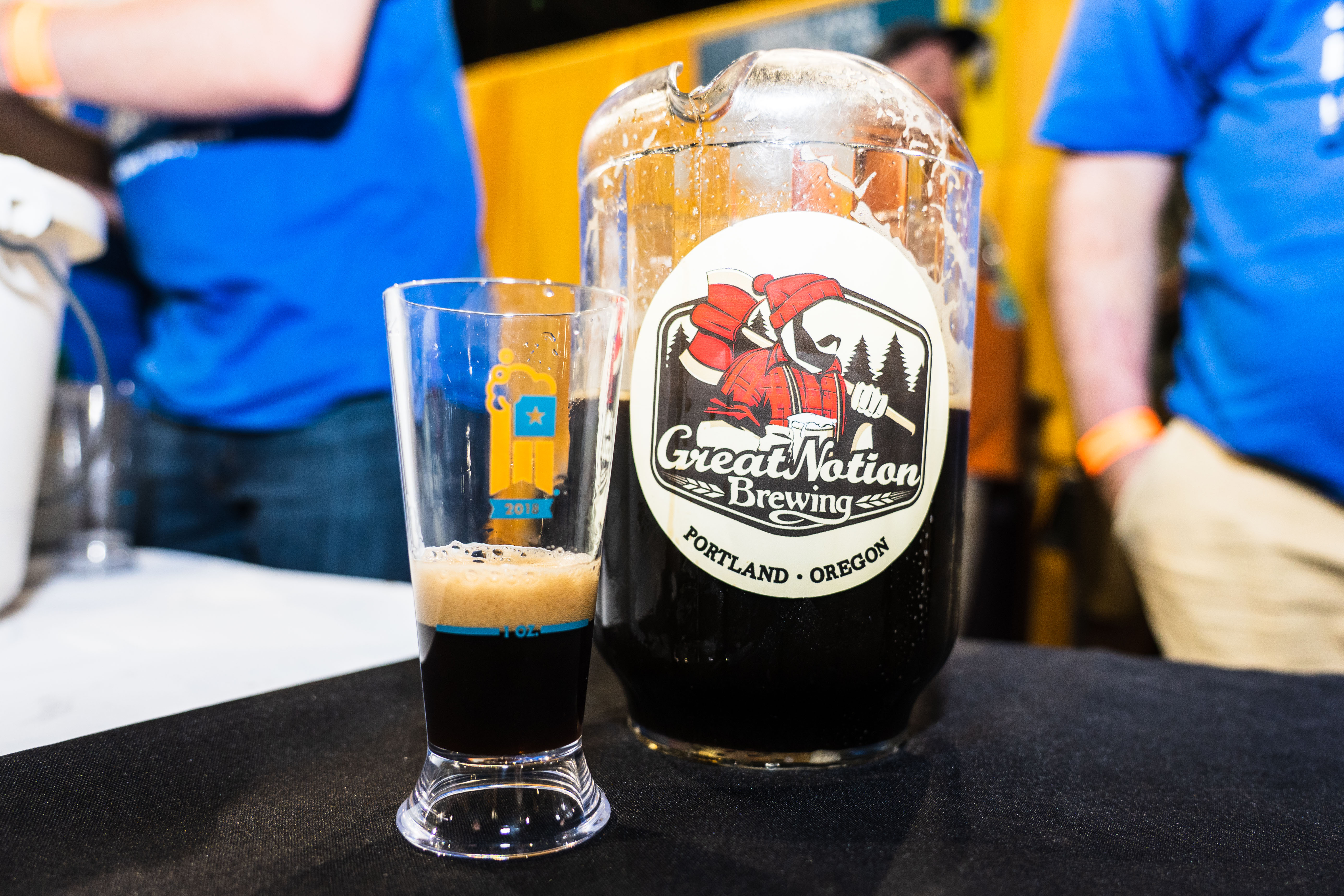 We told you there would be long lines at Bottle Logic Brewing, Firestone Walker, Great Notion Brewing and WeldWerks Brewing Company. The people wanted all of the dark beers, preferably aged in a barrel. This was also the case at New Holland Brewing with its Dragon Milk, Fremont Brewing who featured both Rusty Nail and Dark Star as well as Odell Brewing who consistently had a line for the Jolly Russian. There is something fun about drinking that rum barrel-aged imperial stout while wearing the pirate's patch.
The Hazy IPAs got a lot of love as well. The style is only going to grow if this year's festival is any indication. Not every booth had one but you only had to wander over a couple to find your next stop if you were hop hunting. The consensus favorites, based on lines and people's recommendations started with Hop Butcher For The World – the full lineup featured hazy greatness. Modern Times' Space Ways drew a crowd, Disco Ninja from Revision Brewing kept the people coming back and Sneakbox by Kane also found itself on the must-drink list.
We can't forget Fiction Beer Company pouring the heat with Madame Psychosis, the bronze medal winner for Hazy Pale Ale. If you love the Hazy IPA style you could have easily spent an entire four-hour session tasting the best of the best haze in the country. Just be prepared to spend a lot of quality time with your fellow haze chasers.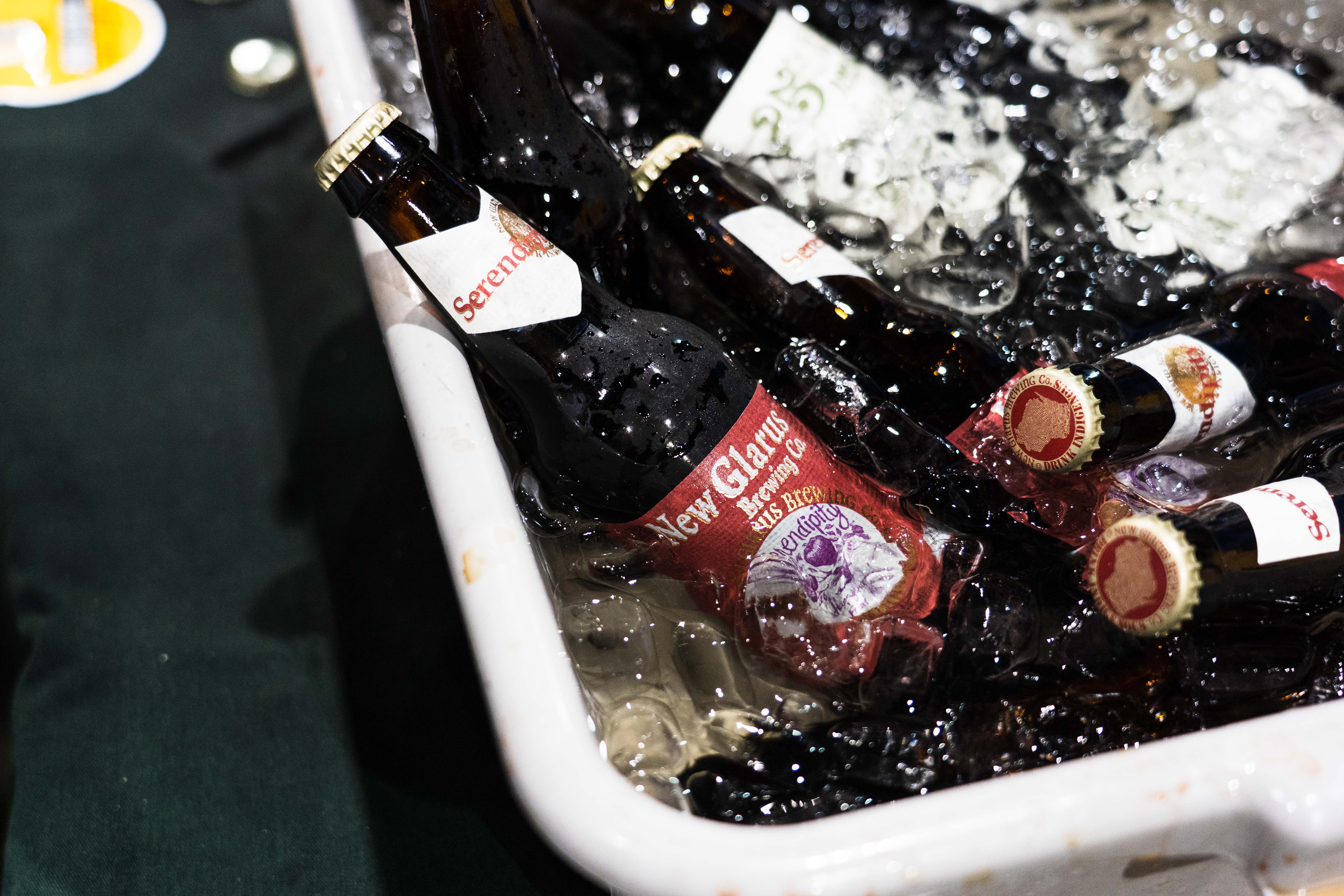 One line we didn't see coming and we feel silly about was the consistently deep but fast-moving line at New Glarus Brewing. While the tart of side of beer was prevalent at the festival ( although we would have liked to see more of it) New Glarus stole the show. The Vintage 2016, a Gueze inspired beer was balanced, tart and addicting. It was no match, however, for Serendipity. This fruited sour ale smelled like the Kool-Aid (in a good way) of your youth but packed a perfect tart and fruited punch that you finished drinking in an instant. We went back more than once during each session.
The Trends for 2019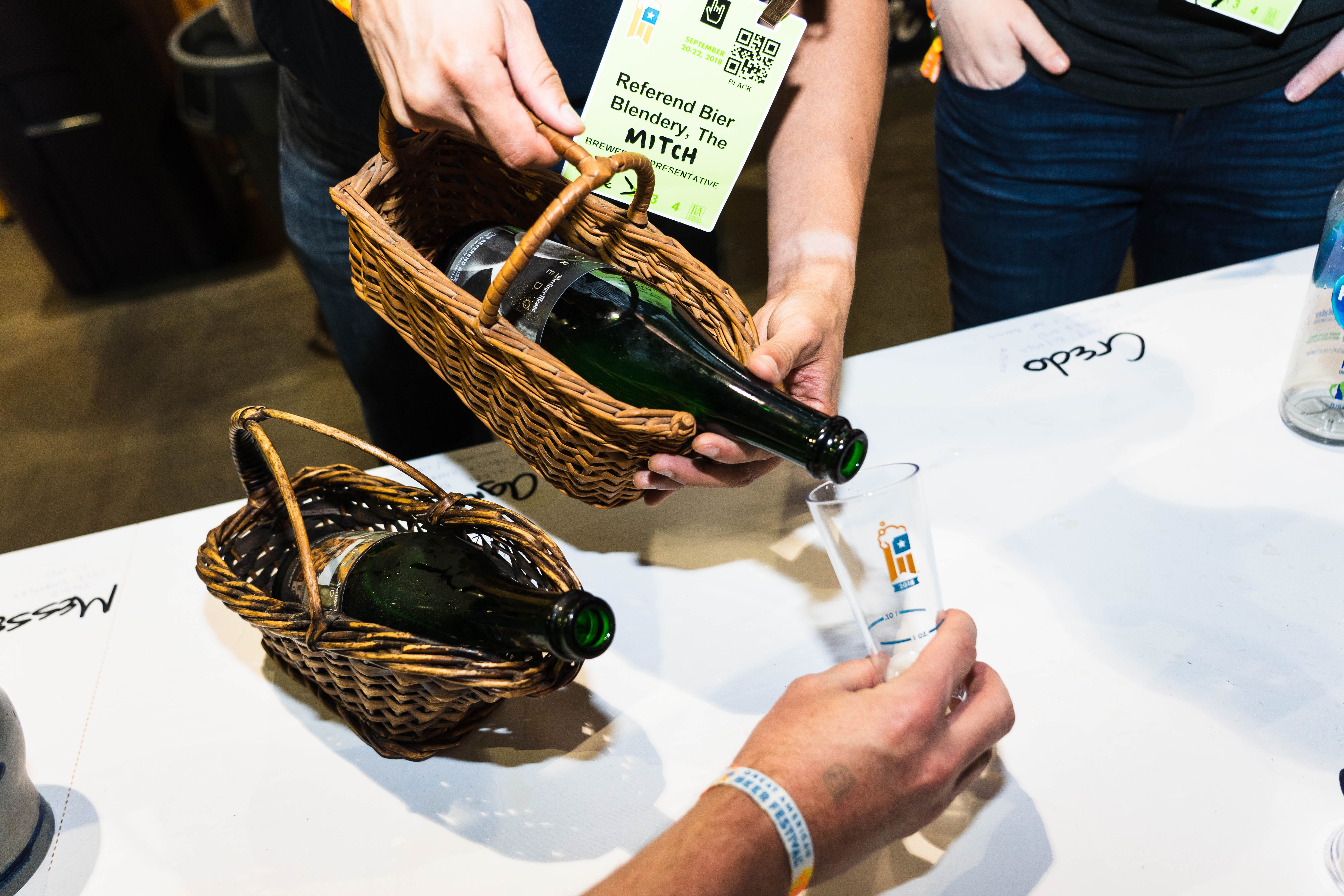 In years past there was a clear winner when it came to trends. A new style would beg for our attention as it slowly made its way across the country and arrived at GABF. This year was different, there wasn't one certain style that stood out. One thing we did notice was that more and more breweries seem to be specializing in certain styles whether it be Hazy IPAs or spontaneous beer – it feels like the industry is taking a slight turn towards specialization. One example that stands out is The Referend Bier Blendery out of Pennington, New Jersey. The small brewery specializes in the production of spontaneously fermented beers inspired by the lambic brewers of Belgium's Pajottenland. The beers were even poured out of traditional Lambic baskets, a unique sight at GABF.
On the hazy side of things, like Colorado, the rest of the country is trending towards the Milkshake and the Brut as sub-categories. We might love our local beers but Just Brut It from WestFax Brewing was our favorite example of that particular style and we tried all we could find. There were only a couple Milkshakes and our favorite, was the Guava Milkshake from Loveland Aleworks, just creamy enough and truly showcased the guava.
It wouldn't be fair to say the brewers at the festival played it safe but if we could make one request for next year it would be for even more boundary-pushing beers.
–
Of course, with 4,000 beers being poured, we are the first to admit we couldn't visit every booth but we did work hard to maximize each one-ounce taste. Going forward we look forward to the expansion of the Hazy IPA and what this increased specialization means to the craft beer industry.
We already have October 3-5, 2019 marked on our calendars for next year's Great American Beer Festival. One thing we have learned about craft beer is that a lot can happen in a year and we can't wait to drink it and neither should you.
All photography by Brittany Werges.