Most musicians begin their careers with the sole purpose to write and create music that people want to hear and can relate to. Yet often times, it feels like somewhere along the way many lose that purpose with the job they once considered their creative outlet, now a source of status and reputation. So when you watch an artist perform to thousands of worshipping fans yet you notice they resemble a happy-go-lucky kid rather than a Grammy-winning international artist, you realize that they are not like the rest. Sam Smith was that kid at the Pepsi Center on August 21.
The night began at 8 p.m. with Smith's opener, indie-rock singer, Beth Ditto. Wearing a silver sequined dress, a black wig —at one point adjusting said wig and commenting, "Put your wig on" — and high-heeled boots to match, Ditto delivered a performance equally as loud as her outfit. Singing original bass thumping and heart-pounding songs, Ditto showed off her impressive vocal range and lung capacity. Ditto was unapologetically herself and worked the stage for all it was worth, walking around as much as the platform allowed while stomping her feet to the beat of the drum. Her performance was fast paced and electric, at times her voice was almost overpowering — even for the sound system. Ditto ended her show by quickly yelling, "Michael Cohen was found guilty today. That got political. Bye!" and then running off the stage, leaving us laughing and a little dazed before the anticipation for Sam Smith began to sink in.
Smith came on at exactly 9 p.m.  All eyes were at the top of the stage waiting to see when Smith would walk out — anticipation building with each second. It wasn't until a minute passed when you noticed that Smith had already risen from the ground, sitting on a chair in the middle of the stage. He began the night with "Burning" off his sophomore album, The Thrill Of It All. He then picked up the pace, launching right into "I'm Not the Only One," the crowd singing along to every word — at times louder than Smith himself. Smith spoke with wonderment saying "Oh my god, there are so many fucking people in this room… I promise I won't take this for granted." Positioned at the front of the stage, staring into a stadium filled with screaming and adoring fans, Smith looked more like a humbled boy simply doing what he loves and thankful that we loved him for it.
Throughout the night, Smith enthusiastically waved to the crowd, always a giddy smile on his face and a spark in his eye. It never felt like he expected people to come and see him perform — rather, it felt as if he was amazed and gracious that even one person would come, let alone thousands. But it wasn't just Smith's friendly banter and warm smile that made the performance feel authentic, it was his deep appreciation for his fans and his passion for the career he chose to pursue. Smith brought back the innocence and purity that comes with performing, delivering a show that was raw and warm, all at once. 
His rendition of "Lay Me Down" was started a cappella, giving him space for his voice to fill up the stadium, reaching to every corner and wiping the tears inevitably streaming down the crowd's faces. "I feel bad singing [along] like I shouldn't be singing," commented an audience member. Everyone felt it. We were seeing a glimpse into Smith's personal world and it felt intrusive to try to sing along with him. But his hits like, "Like I Can" and "Money on My Mind" had everyone on their feet, dancing and singing along anyway. He was soft on the outside yet harder on the inside. Smith sang about his struggles and inner demons, shown by his powerful and memorable performance of "HIM" — a song that depicts the struggles he faces of being a gay man. "I wrote this song [because] love is love… I am a proud gay man."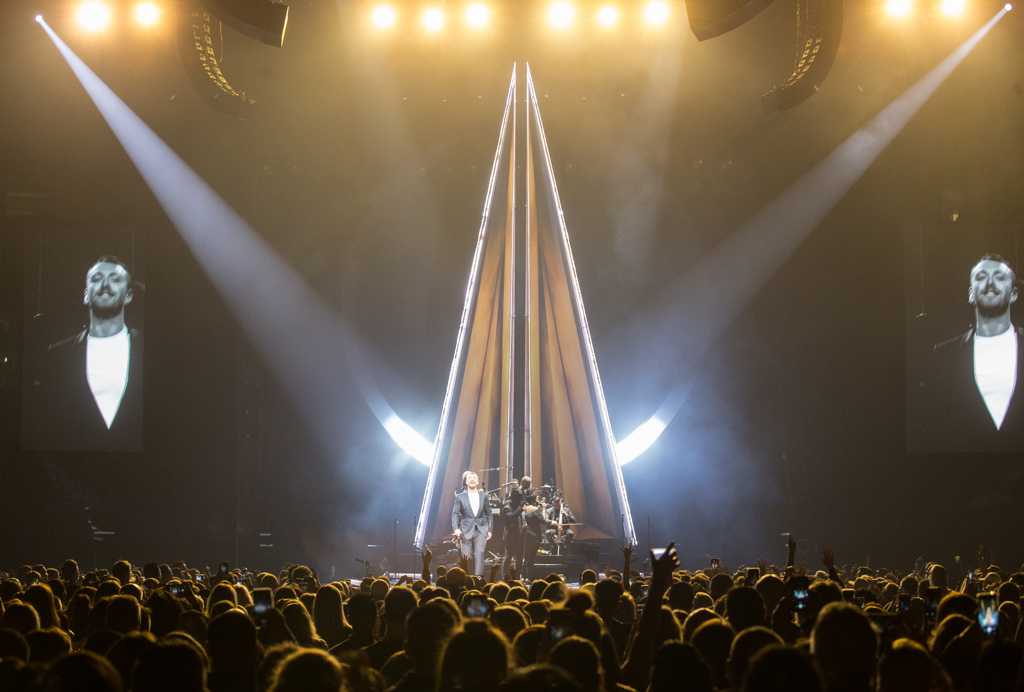 Smith was equally impressive as his background singers and band members. They shared special moments on stage, from patting each other on the shoulders in passing to sneaking knowing smiles between each other associated with inside jokes — showing they weren't just a band, they were a family. From a uniform line of synchronized dance moves to a huddle in the middle of the stage, they didn't view this as their job  — another show being checked off the list — this was a man and his band that made music together because they wanted to share it with the world.
Smith mixed an equal amount of slow and fast-paced songs, slowing down to sing the love songs — the sad songs. They're the type of sad songs that you feel in your core — that dig up our deepest, sometimes painful memories. Smith did this repeatedly, only to then pick back up and shake off the bad vibes and welcome in the good ones. He even commented on his lyrics saying, "My music is really fucking depressing." And he's not wrong. His music has been known to hit where it hurts. But that's what made it beautiful. Smith's lyrics hold meaning and value to everyone. He sings to our stories of the loves we lost and the loves we have. He even brought up a point that sometimes escapes us all — while we're so busy trying to move on past our last love, we overlook the current loves we have — our friends, our family and even ourselves.
Towards the end of the night, if you were one of the many that stayed for the encore, you weren't disappointed. Smith sang his most recent love ballad, "Palace" and a crowd favorite of the night, "Stay With Me," holding up the mic to the audience to sing along to. And sing they did — so loud and so full of heart, it almost seemed like Smith was taken aback. And while Smith may have been grateful to his fans for knowing his songs, we were grateful he gave us songs worth knowing — and singing along to. The singer performed for nearly two hours, never a note off key or a breath too shallow — he was as equally ready for Colorado as we were for him. Smith's youthful performance reminded us of what a true performer looks like with the purity and authenticity that comes with musicianship.