–
How is something made? That's a question that all four artists probe in their exhibitions at the Museum of Contemporary Art (MCA) this summer. Whether the "something" is an object, an idea, a feeling or a perception, each artist dissects the act of forming and generating that something.  Together, the four exhibitions tell a story of personal discovery where the viewer either experiences deep empathy or succumbs to some kind of discomfort. Both are equally justifiable — after all, learning how something is made can be distressing, especially when it's not the way you always imagined.
Taken separately, each exhibition holds its own weight and tells its own story. On the main floor, Lisa Oppenheim's Spine spreads across two rooms in a mixture of photography and woven textiles, asking viewers to experience the plight of early 20th Century factory workers. Kristen Hatgi Sink shares the main floor, displaying three video pieces inspired by classical portraiture and a tank of honey (we'll explain that later) in an appropriately titled exhibition, Honey. Downstairs in the Whole Room Gallery, Charts, Parts and Holders display Patrice Renee Washington's ceramic tile reliefs — a fairly recent series of work — questioning the use of racial stereotypes in marketing. All three of these exhibitions have been on display, and open to the public, since May 24. The fourth exhibition (opened to the public June 8) is from New York-based artist Derrick Adams, titled Transmission, and through a playful and immersive installation Adams leads viewers on a compelling and ultimately bittersweet ride.
Lisa Oppenheim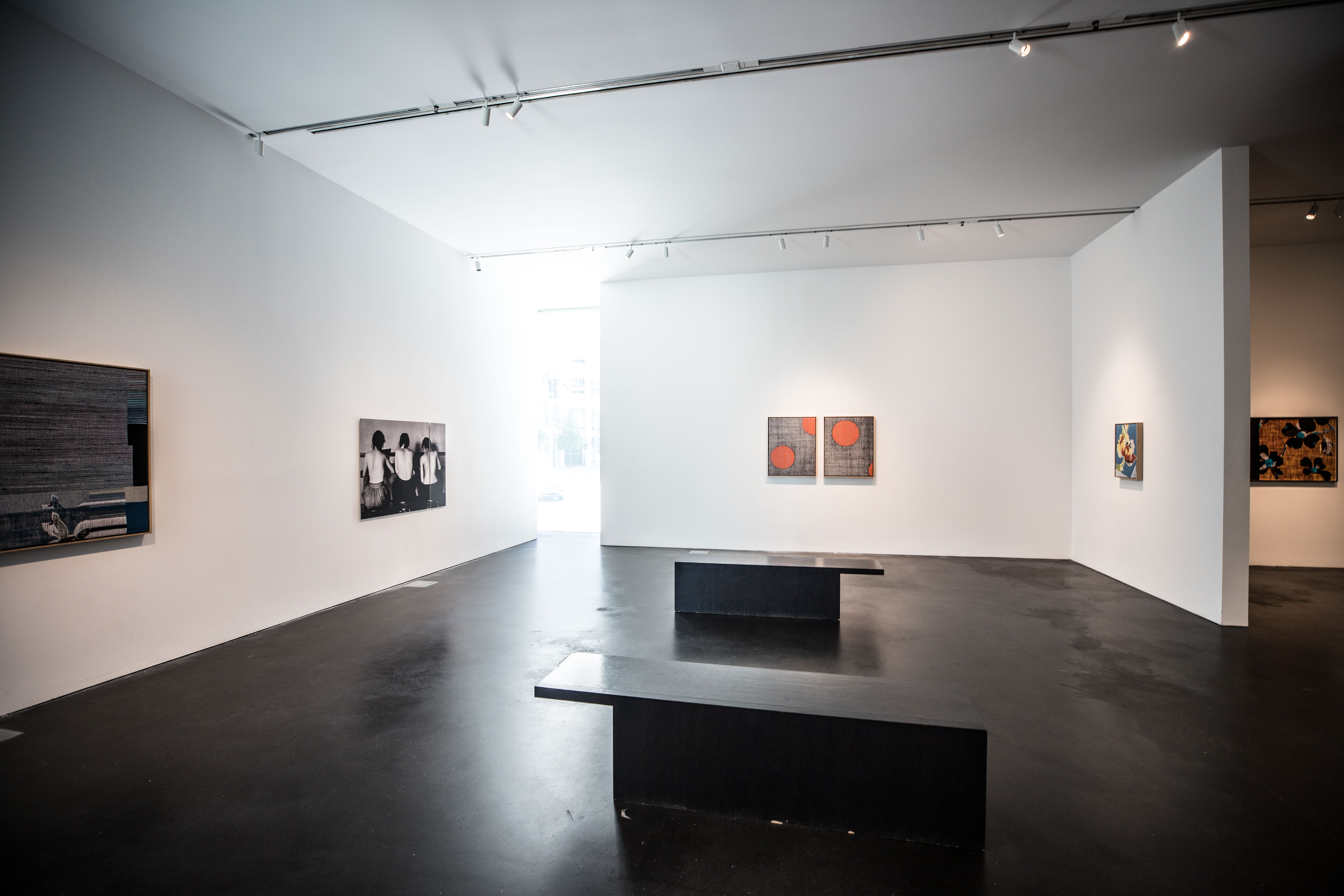 –
Three series compose Lisa Oppenheim's exhibition, Spine. The first room holds four works that appear as abstract or pixelated images in colors that are both muted and vibrant at the same time, and though these certainly hold an intrigue and beauty on their own, it's not until you reach the second room that the first room is put into context. It's still worth a minute or two to peruse the works in the first room (titled Remnants) without knowing how or why they are made — partly because they evoke a curiosity to continue with Oppenheim's other works and partly because they trigger an unexpected nostalgia. For some viewers, they might wonder "why are these so familiar?" Which is a great question to have in your mind, moving to the second room.
–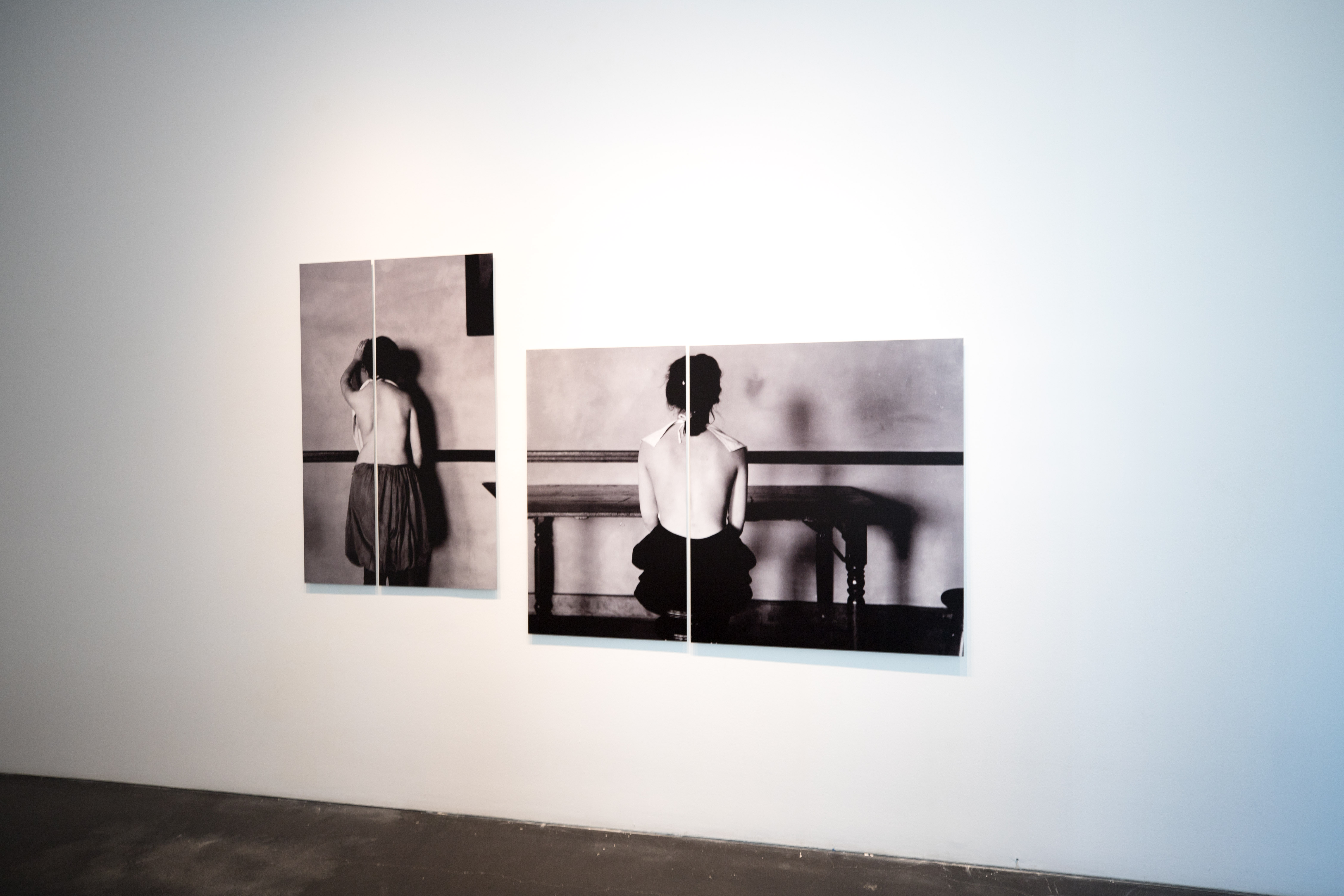 –
Using photographs by Lewis Hine, available through the Library of Congress, of young immigrants to America who worked in factories and mills during the Industrial Revolution, Oppenheim frames the rest of her work within the setting of these young women. To ensure the viewer finds a way to relate, Oppenheim printed these photographs according to scale (or almost) and therefore the subjects grow more relatable the closer you approach. Though Oppenheim printed photographs by another artist, she makes them her own by splicing each one with a perfectly vertical and straight line — in opposition to the women's crooked spines. Through the timid but intimate representation of these women — topless, backs to the camera — the viewer has no choice but to imagine who they really are on their own. But also, Oppenheim calls attention to what these women did — hard and relentless work, work that took a toll on their bodies.
It is from this place of understanding the consequences of production that Oppenheim creates the rest of her work, including the pieces in the first room and the Jacquard Weave pieces that are mixed in with the photographs. Sourcing textiles, like dishcloths and other household fabrics, from the same time period as the photographs, Oppenheim placed tiles of those textiles into photo enlargers, inverting the design and color. Those inversions are portrayed in the first room. Then, she reverses the process with those pieces again, creating a second inversion, which she then weaves instead of printing. Each piece in the first room corresponds to a weaving in the second — and through this back and forth technique, Oppenheim shows handmade items within the context of people who painstakingly made them.
Kristen Hatgi Sink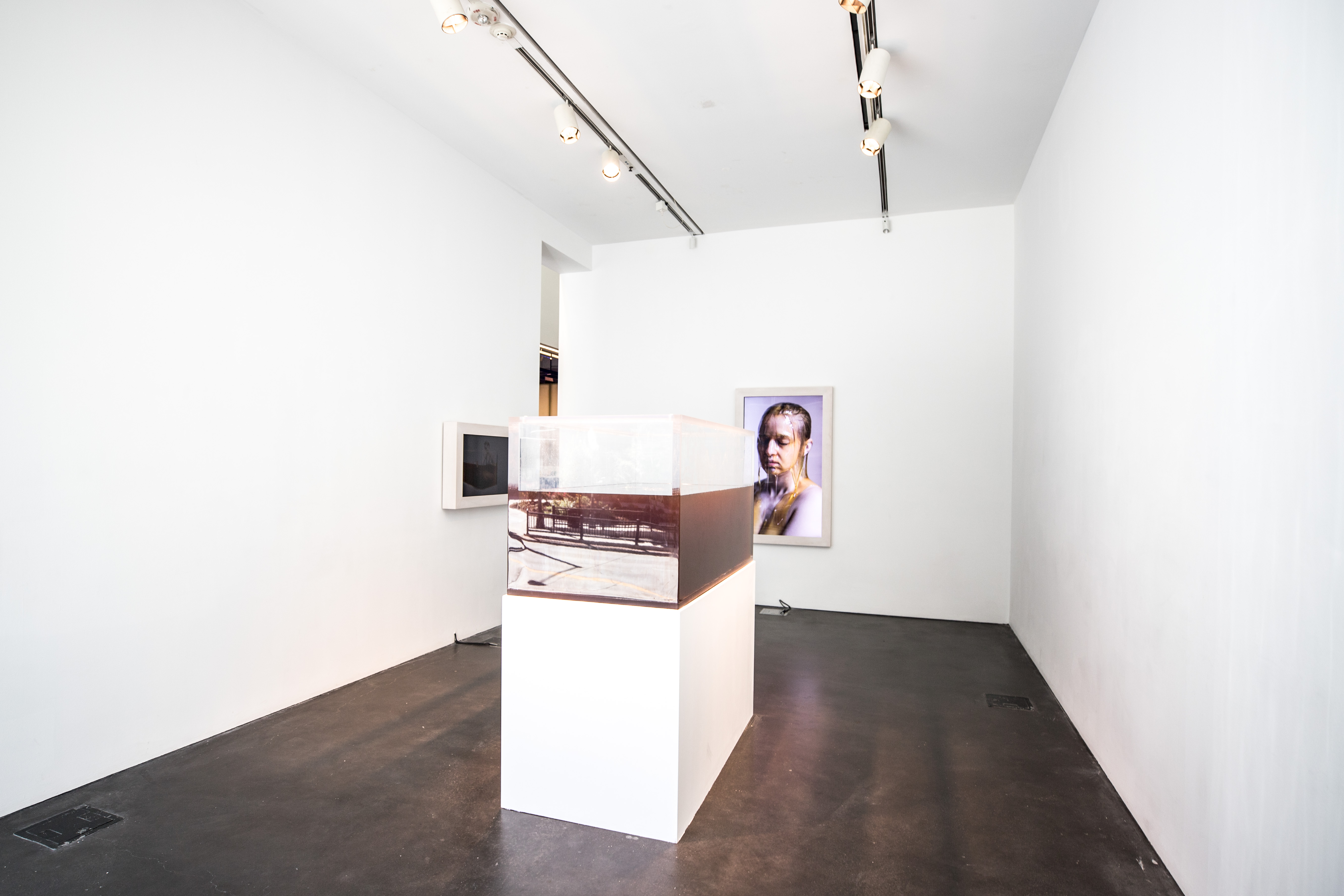 –
Denver-based artist Kristen Hatgi Sink is primarily a photographer, but for this exhibition, Honey, Sink explores video and performance art. In the small room adjacent to Oppenheim's work, Sink installed three video screens surrounding an aquarium filled with 115 gallons of honey — actual honey. One video features a woman, pictured from the chest up, who endures several minutes of honey pouring onto her head. What first starts as something playful, maybe even sexual, turns into some kind of torture — the woman blowing bubbles of honey from her nostrils, trying to catch a breath. Another video features a young girl, clad in a beekeeping suit, feet dangling as she sits atop a pedestal. Within a few seconds, honey pours over her as well, eventually gathering enough weight to collapse the top of the hat onto her face.
The tank of honey in the center of the room sits empty — not counting the exorbitant amount of honey — except when the model in the first video steps inside during special performances. Once inside the viscous mixture, the model writhes and presses different parts of her body against the sides of the tank. For those who don't happen to catch this performance, a pre-recorded one inhabits the third video screen in the room.
–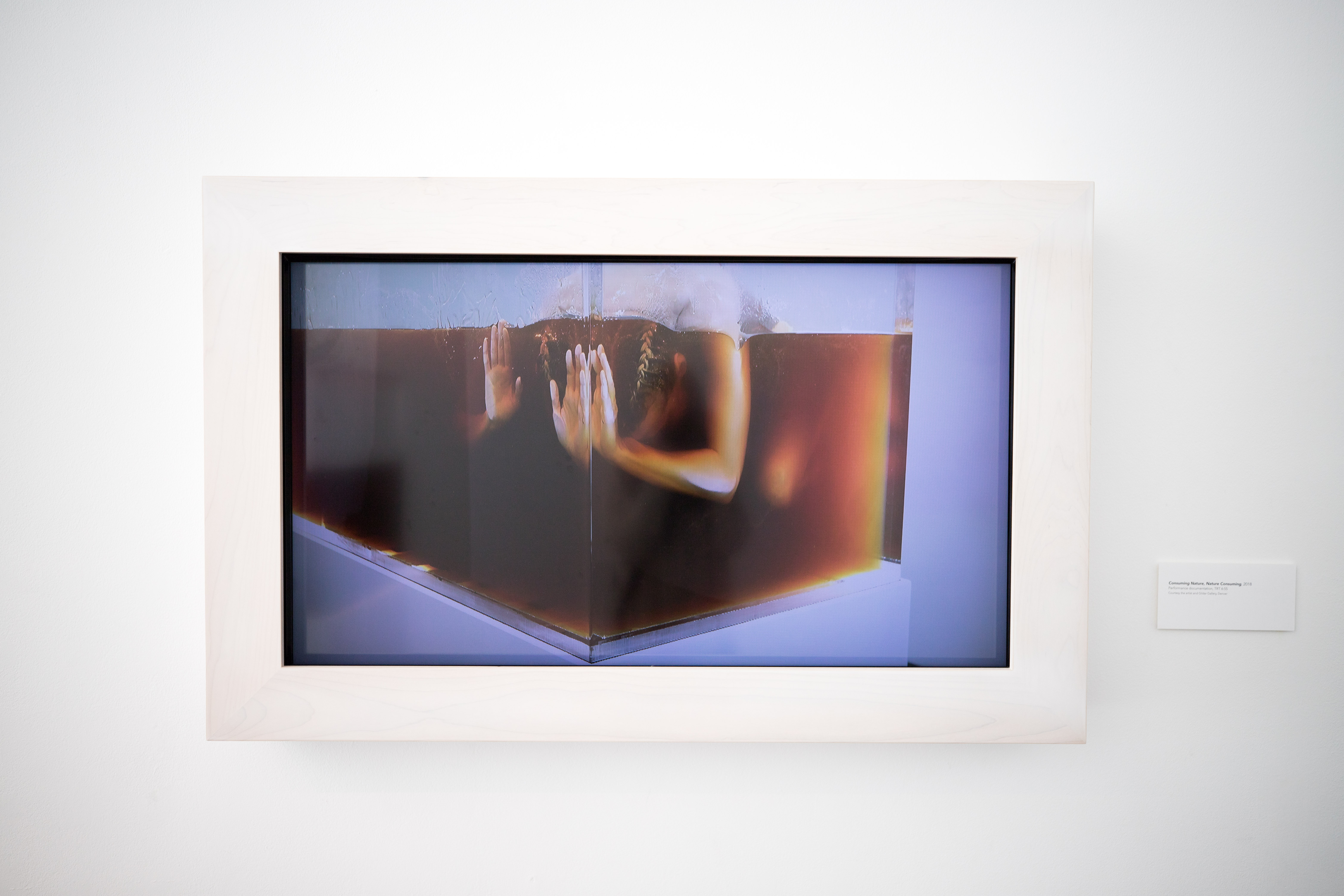 –
Though any environmentalist will cringe at the amount of honey used in this exhibition, it does call attention to the precious substance. Viewers might suddenly wonder how difficult it is for a bee to make that much honey. Or they might wonder what happens to the honey after it's done being poured over models or writhed in for art. In that way, Sink's exhibition focuses on the destruction of something as much as it highlights the creation of it.
Patrice Renee Washington
This slideshow requires JavaScript.
–
In this recent series of work, Patrice Renee Washington moved away from sculptures and into ceramic tiles. Though these pieces hang from the wall, each presents an image or series of images that are raised from the surface. These are considered bas-reliefs and Washington's use of them — instead of completely 3D sculptures — presents viewers with a feeling of incompleteness. This feeling is highlighted more by her use of natural and neutral tones — as if the ceramic could eventually be glazed with more vibrant colors.
But Charts, Parts, and Holders is not an exhibition that wants viewers to rely on surface-level assumptions. Instead, Washington uses the basic tiles and tones as tools to deconstruct racial stereotypes that have been popularized by marketing companies. By stripping the images of color and context, she questions the invention and proliferation of those racial stereotypes. These pieces feel unsaturated like someone changed the settings on a photograph to take away colors or shadows. But taken in the aforementioned context, the exhibition reveals a desire to neutralize or democratize said stereotypes. Her choice of medium, colors and subject matter all point to her desire to minimize these poorly conceived ideas in such a way that it no longer makes sense to see them as you once did.
Derrick Adams
–
Walking into the second-floor exhibition by New York artist Derrick Adams might feel like walking into a playhouse. And taken only as an aesthetic experience, Transmission provides a playful and fun hour. But that is only one small aspect of this — and all of Adams' work — because underneath the bright colors and engaging objects hides the struggle of an entire culture. Though Adams explains the series of work featured in Transmission as "exploring self-image and forward projection," his own experiences and self-images are made relatable through his use of popular icons and familiar patterns.
First, viewers are greeted by three heads within TV frames sitting atop two cardboard boxes each. Each head is composed of many planes, similar to a faceted stone or mineral, and each plane is covered in a different pattern or vibrant color. On the opposite wall, three TV screens made with paper, acrylic, fabric scraps and old TV guides featuring the likes of Bill Crosby and Oprah (to name a few) begin to clue viewers into the true theme of Adams' exhibit. Pieces of the fabric and paper hang below the frame of the TV, suggestive of bleeding or escaping. Instead of delighting in the cornucopia of colors, the viewer must begin to question the role of television and the decision on Adams' part to frame all of his work using the well-known household object.
–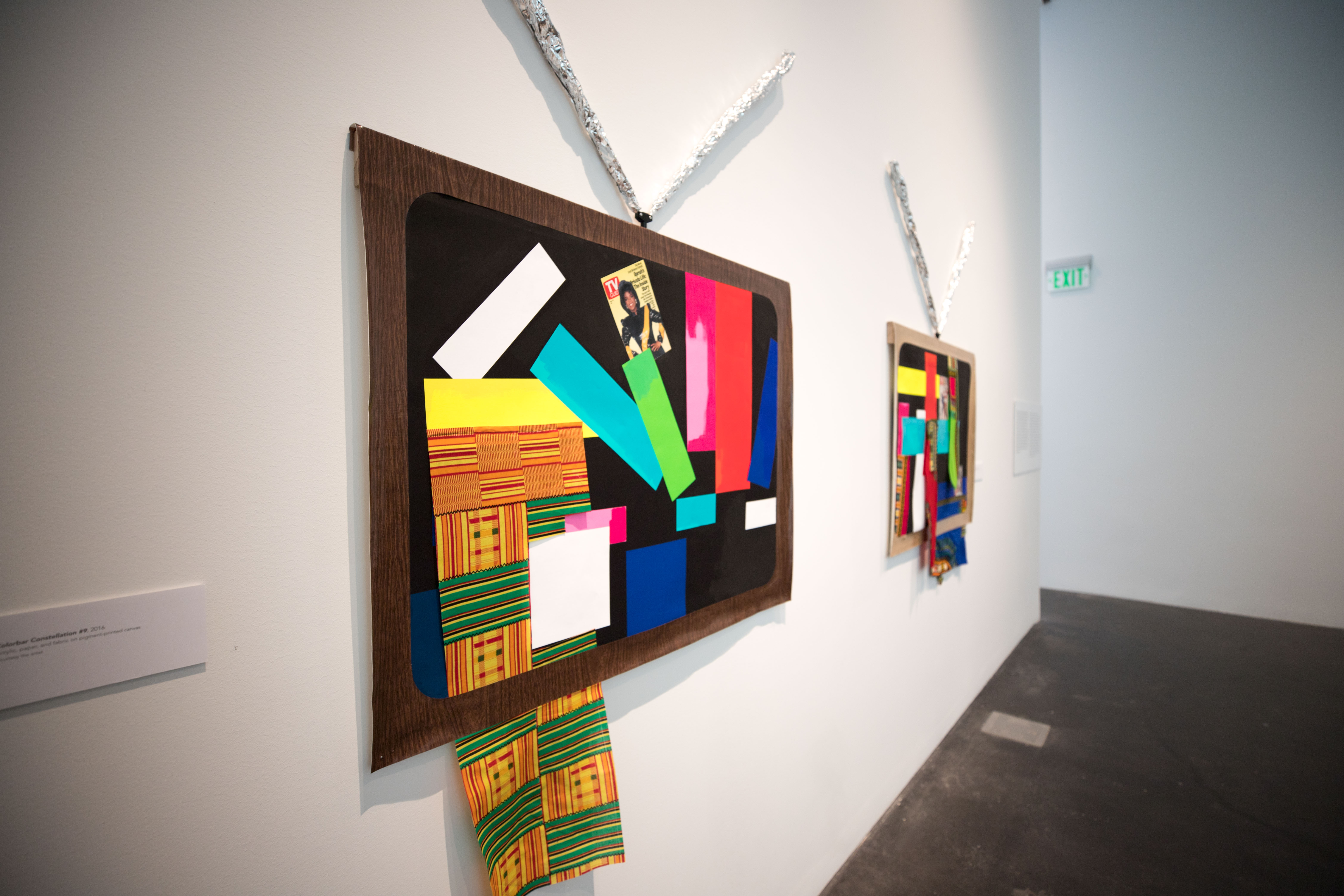 –
On one hand, Transmission illustrates the power of messaging through entertainment like TV, whether it be good or bad messaging. On the other hand, it also signifies the desire to escape through or into the television — something that most Americans should relate to, given the number of hours we spend in front of one. Which is why the second room in Adams' exhibition provides a curious setting to explore both those ideas.
With the walls painted in floor-to-ceiling vertical stripes according to the SMPTE color bar testing pattern, the first experience in the second room is one of shock. But those stripes are only the backdrop for Adams' large fabric TV collages, where he replaced the SMPTE colors with patterns that are typically associated with African American culture. In front of those TV collages sit four different "sets." These sets are recorded on cameras in the middle of the room and live streamed on the MCA's Facebook page for anyone to see, turning the viewer into the viewed. By flipping the script on the viewer, who has spent at least a little time perusing the art as a happily 0bjective outsider, the manipulative nature of a video camera is revealed.
–
This slideshow requires JavaScript.
–
The rest of Adams' work changes dramatically after the immersive recording room, moving from the brightest of colors to strictly black and white images in the series Future People. Ten pieces hang in the hallway, titled Orbiting, Us #1 -10, each made of wallpaper, collaged images, paper plates and other materials. Gathering inspiration from Afro-futurism, and admittedly Star Trek, Adams presents a vision of a different future, or maybe even a different dimension especially tailored to the black race. Using images of inventions created by Charles Harrison, the first African-American CEO of Sears Robuck, as well as other symbolic African diaspora objects, Adams seeks to transport himself and his viewers to a place they can appreciate the items without the clout of history. This series peaks in the final room, where a video projection dominates one wall, eight chairs suitable for an extraterrestrial exploration facing it in a "V" formation. The nine-minute video is best seen in person, where the sound effects and sensation of being buckled into a seat enhance it greatly.
–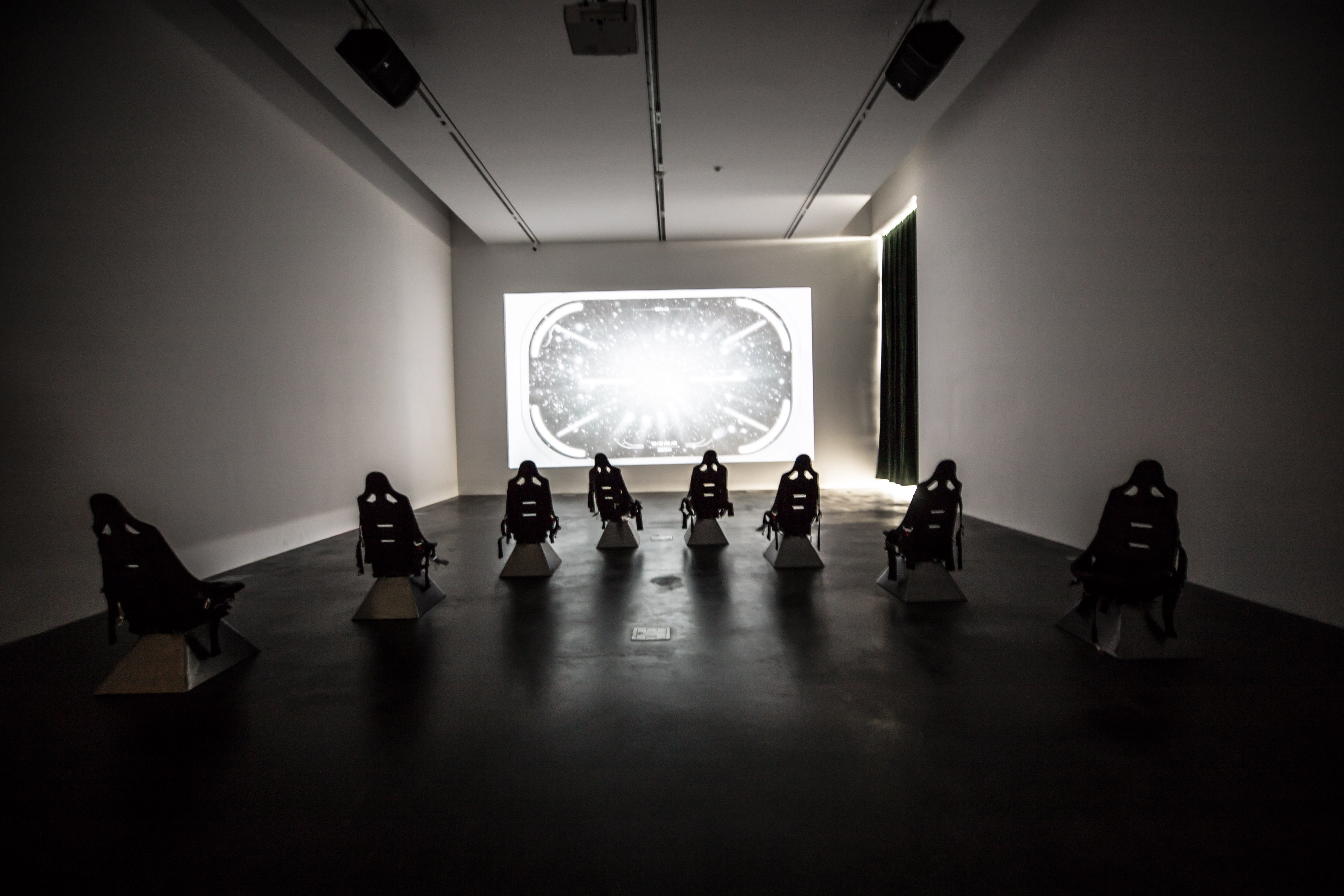 –
Adams understands, perhaps more than anyone, that his work is both fun and sad. The handmade quality of his work (made obvious with his decisively imperfect techniques) and the energetic color spectrum remind us of our childhood and stimulate our senses. But, much like seeing behind the scenes of your favorite TV show, once you look deeper at Adams' art the enchantment deflates, leaving in its place the realization that the familiar people, patterns and settings are all strangers who lack depth or authenticity.
—
All of these exhibitions are on view at the MCA, 1485 Delgany Street, until August 26, 2018. 
All photography by Heather Fairchild.