Many minds were sparked with a lasting impression on Friday, June 15 — when a "groupmuse" quartet serenaded various beings in an intimate setting. Eager souls were enthused as they mused at a few of Denver's finest classical musicians throughout the evening — all thanks to TEDxMileHigh for hosting this magical event. Groupmuse itself is an interactive platform that allows people to truly join in the physical realm by connecting classical musicians in the area with local audiences through social networking. It is simply a delicate orchestration of realness that creates harmony with communities far and wide. One can think of groupmuses as nationwide concert house parties.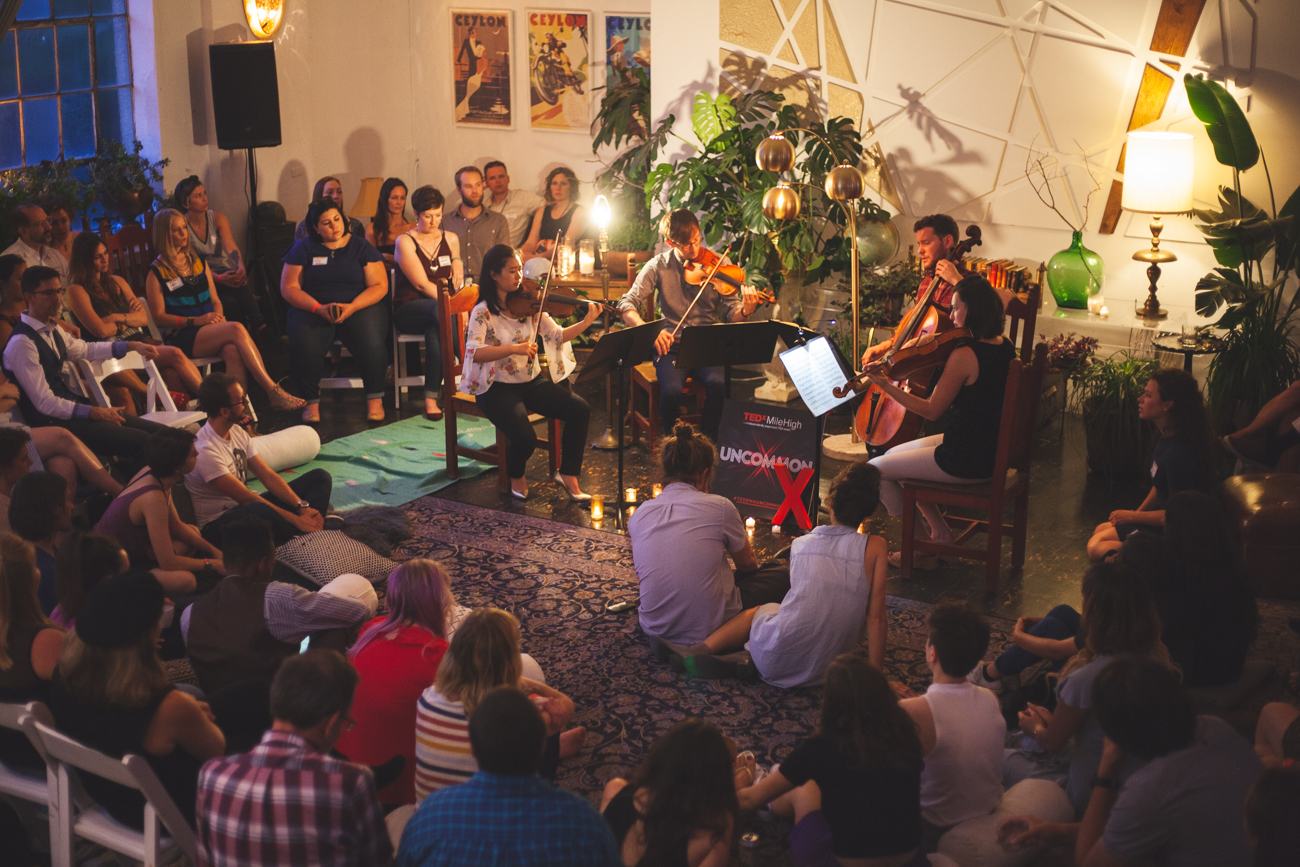 The collective performance complemented the sensation of warmth in a sacred space known as Invisible City which proved to be one of the most unique and remarkable zen-dens in Denver. It was previously an old synagogue which was turned into a home with a mysterious sense of new age balance. An immediate curiosity flooded the atmosphere as people walked into a sanctuary made up of soft pillows, elaborate carpets, luscious plants, flickering candles and vast windows. It felt like an exploration of transcendence where sound and space coexisted to create a peaceful atmosphere. In fact, groupmuses that are formed mainly perform in either living rooms or snug environments in order to cultivate a sense of comfort and relaxation that is reflected in classical music.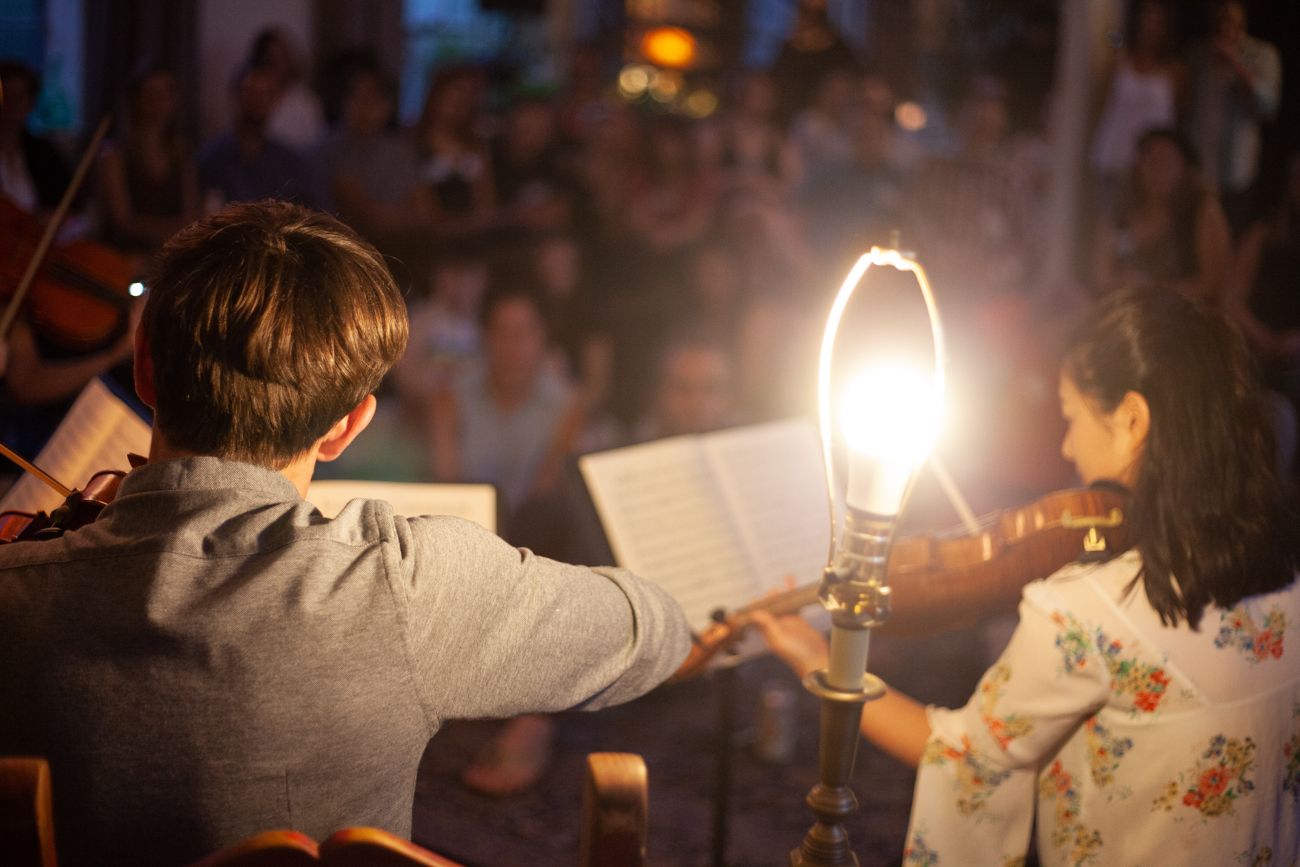 The evening consisted of two pleasant movements with an intermission in between for those who wanted to grab a drink or further explore the cozy structure. The first movement expressed clarity of forms and expressions which involved a sense of nobility. The second wave bundled energies and emotions together and reflected aspects that cannot be expressed or broken down. It illustrated the notion of Romanticism where the heart beats and blood pumps before breaking free. It was soothingly beautiful to experience even for those who do not listen to classical music or understand it for that matter. The whole purpose of Groupmuse, to begin with, is to not only preserve this style of music but to relieve the stigma attached to it and allow people to truly experience its representation and meaning. It is supposed to instill an enriching perspective for future generations by merging it with a fresh batch of historical significance — a communal collaboration where people can remember through shared engagement.
Groupmuse founder Sam Bodkin believes that chamber music reminds us of the possibility of retrieving the wholeness within all of us — as well as the existence of human experience and positive transactions. Music, in general, is self-contained and holds meaning that exists for its own sake. The meditative soundwaves that are articulated in classical music manifest the eternal present moment where time feels timeless after all. It is difficult not to become spiritually in tune with the sensual rhythms embodied within the undulating movement of each soundwave produced.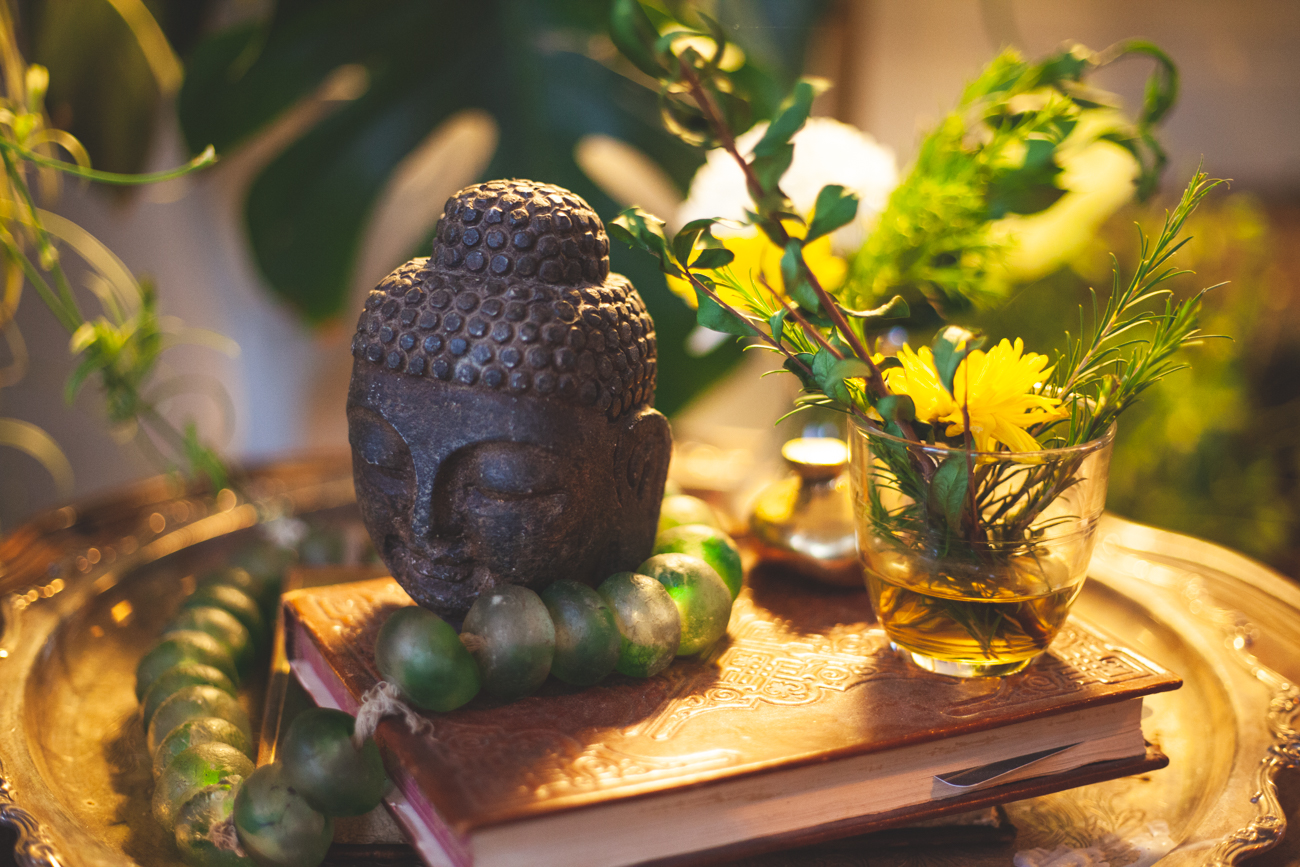 This particular groupmuse performance created an incredibly tantalizing, stimulating and sensational experience for everyone in the room and the artists were congratulated with a roaring standing ovation at the finale. The energy went from still to spectacularly spirited in a matter of milliseconds. The combination of talented musicians and jovial atmosphere transported beings into another dimension — a divine place that everyone else in the world should tap into sometime. The best part is that anyone can do this and host their own personal groupmuse if so inclined and have the space for it. The world needs a little more of this mindful awareness and we could help be the change. We are all ready for takeoff.
All photography by Zena Ballas.