To most, life's inconveniences are simply put up and dealt with by either adapting or screaming into a pillow. For many musicians, this type of frustration results from the pains of locating a place to stay while on tour promoting their passion. Cue Colin Bultinck, the founder and CEO of Denver's newest lodging service, Rock n Doze, who realized there is a way to resolve the housing issue that has been around since the beginning of time, or music.
"It's no secret that bands are always trying to find some place cheap. They're always sleeping in their van or on a couch," explains Bultinck on how he knew Rock N Doze was needed.  "Basically, what we're doing is trying to put all of those people on one platform to connect bands so they don't have to hope they find something. They can find somebody that supports what they're doing and wants to connect with them. Our goal is just to connect the music community together."
The idea for such a service came to Bultinck while standing in the monstrous crowd at Bonnaroo, along with 100,000 Mumford & Sons fans. However, it did not spark from a thought just to assist musicians. "It just kind of struck me how crazy it is that there are [so] many people traveling to a music festival in the middle of nowhere to see music, and to be with other people that love music," states Bultinck. "Music is something that connects people no matter what you follow or what you believe in. I thought there might be something here that we can do to help that."
While Rock n Doze wants to help musicians find places to sleep, that is just the tip of the iceberg for the company. The real goal is to connect music lovers from all over. Be that bands, fans and those who are simply curious about where to find good music while they are traveling. The end goal is to create a huge community across the nation, and maybe one day the world, that ties all of us together and makes it simpler to access all music scenes. Creating this space could assist in stimulating local venues as well, as it could encourage travelers to tap into scenes they otherwise wouldn't have known about.
"Before I moved to Denver I flew out here to see if this was someplace that I wanted to live and I was excited to look at some local music spots," says Bultinck. "I asked my [Airbnb] host 'what's a good local music spot to check out?' and my host said, 'I don't know.' Obviously, that was just one random situation, I'm sure most people know a little bit more, but I know I am not the only one who is going there for the music. We're just hoping those people want to connect with other people and we want to offer a cooler and more unique experience to their time in Denver, no matter where they're going."
"Right away it was the best decision over hotels for our stay in Denver this time around," claims French producer Klingande of his stay with the company. "It gives a good space specifically tailored for touring people. Everyone involved knows there can be no surprises and is just a great host."
Once Bultinck was able to fuel the idea for Rock n Doze, he needed to put it into gear. Rock N Doze has only been in business since last September, having started with just Bultinck's home consisting of a spare bed, a couch and a few air mattresses. Today, Rock n Doze boasts over 40 homes in Denver and has just expanded to L.A. They just had their first band that performed at Red Rocks stay with them, Los Angeles' Poolside. While the growth is certainly happening quickly, there are still a few kinks to work out. The trust factor is obviously huge for guests and hosts, which is why the website requires all users to create a profile, with which guests and hosts can use to rate their experiences together, just like Airbnb.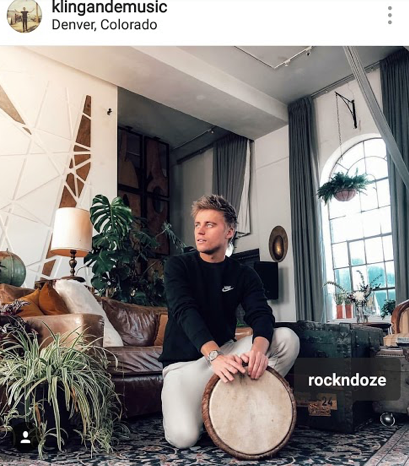 "Because we are so small, we don't provide insurance right now," says Bultinck on Rock N Doze's largest hurdle. "Airbnb has $1,000,000 insurance," he continued. "[Most] people who use Airbnb are awesome but there are always those who make it a bad experience. It's always isolated, but when those do happen we want to be able to help our hosts out." While insurance would undoubtedly create a safer feeling for all, another issue is simply space. For solo musicians, finding a place to sleep is easy. For larger assemblies, ensuring that everyone has a bed can cause a struggle, especially if the band or group of people is used to a higher sense of privacy. "Bands that travel are usually six-eight people and are used to hotels and everybody having a bed," said Bultinck. "Every band is different. I am very grateful for where we've been and where we're going, but we don't have it all yet."
While it can be difficult to locate appropriate spaces, it is still very meaningful to acts to have more options available. "Sometimes it can be difficult to find the right space for us, and it's not always nice to stay in hotels all the time or if on a smaller budget, afford the accommodation costs for a whole crew," adds Kilgande. "It's cool to have a community that will support touring acts."
Not to mention, there are options in town that are working hard to help keep the dream of Rock n Doze alive. One in particular, Invisible City, is a local membership-based event execution company that specializes in assisting in the exploration of Denver's unique and creative passages. Started by Paul Laurie and Kate Wilkonson, the group aims to provide a space for planning and connecting the cities eclectic talents and interests. Operating out of an old synagogue, Invisible City offers a truly beautiful space to bring Denver together.
"Paul and I are both Denver natives and something that we are both super passionate about is helping Denver build its own identity," describes Wilkonson. "Something we hear about a lot is people who think Denver, with all of its growth, doesn't quite know who it is yet. We want to build more of a community." Wilkonson continued, "We hear from a lot of people that they have really scattered friends, like 'these are my music friends and these are my festivals friends' and what we are trying to do is create a space where we can pull all of those people together. "
Invisible City has an upstairs that operates as the space for their own programming and a basement that they rent out as an Airbnb, for things like Rock N Doze. While they too only got started towards the end of last year, the organization is working to make Denver a more connected part of Colorado. They, along with 40 other hosts in the Denver area. are helping to keep Bultinck's dream alive and churning.
It will be interesting to see where Rock n Doze finds itself in the coming summer months when the shows coming through Denver are at an all-time high. With such drive and excitement behind the young company, it is clear to see Bultink and his associates will be making major waves from here in Denver. " I love the fact that it is [from] Colorado and I wanted it to be a Colorado product," says Bultinck. "We're just trying to connect people and help support people pursue their dream."