Hailing all the way from Massachusetts, Shayna Ariel, the founder and creative director of Darkm0th Industry, has made a home for her brand here in Denver. As a trained vocalist and fire dancer who has traveled the United States performing, Ariel found her true calling in fashion after years of designing costumes for her performances and for friends. She fell in love with creating items that were size inclusive and could be interchangeable or reversible. She also found genderlessness to be her muse and the focal point of her brand. We got to see the first collection unfold and discuss her vision and inspirations before her next goal for Darkm0th Industry — a full collection to debut at fashion week this year.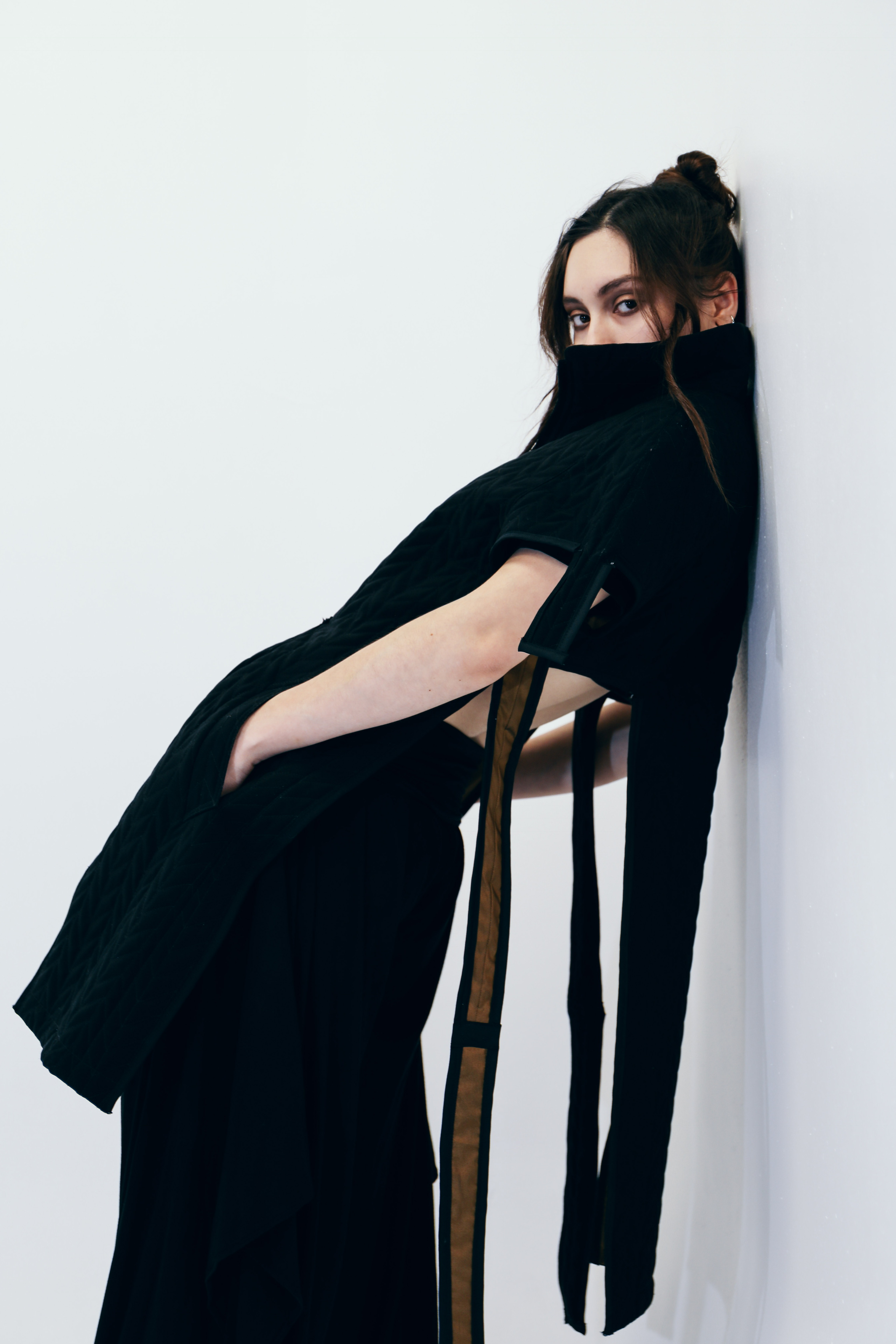 303 Magazine: How did Darkm0th Industry start?
Shayna Ariel: Living in Boston, Massachusettes, I worked full time producing garments for the US Navy while also making music and performing as a fire dancer on the weekends. I always designed costumes for every social occasion. My friend requested I make an elaborate piece for a gig he had and after years of being preoccupied with other forms of art, it reminded me how much I loved designing for myself and others. I especially loved designing for artists who were not afraid to wear new and creative shapes that pose speculations and questions of the current fashion norms. When this strong reminder came, I immediately decided to get serious with sewing and started designing on my own. I learned to hand stitch from my mother at a young age and I created my first fashion line in high school with a home-sewing machine purchased by my grandfather as a gift. I created a twenty-four piece couture collection for men and woman for an after-school event which led to me selling my first few designs.
Years later in Boston, I fixed up this old Husqvarna machine and got right back into creating like I had never taken a hiatus at all. I linked up with a music producer from California who was interested in my vocals and decided to meet in the middle of our two coasts, Denver. Despite the chaos of creating so many different forms of art simultaneously — my inherent desire to design — the creativity that oozes and seeps out of every pore of my body kept me designing after the move. My need to constantly create is to get the pictures, the movements, the sounds, the colors and shapes out of my head. My desire to promote a future I believe we all could be a part of harmoniously cemented my strong homecoming yet again into the fashion world thus creating my newest endeavor — Darkm0th Industry. This was a way for me to actualize the ideas flowing within me, by creating a glimpse of what I imagine our future world should look like.
303: As a new designer in Denver, how can you best describe your fashion aesthetic?
SA: Darkm0th Industry in a few words is dark, minimal, industrial and futuristic. It is important to me that any person who enjoys futurism and luxury but the simple aesthetic is able to wear my clothing. Art should not discriminate towards any person or group of people. If you enjoy it, you should be able to enjoy it fully. Fashion should not be difficult. Looking and feeling good in your everyday life should not have to be hard or interfere with our individual choices and lives. So why not create a clothing line that anyone could put on their bodies if they desire to live as a moving, breathing, living piece of art?
303: What is your inspiration when you create either new pieces or new collections?
SA: My inspiration could really come from anywhere. It's safe to say it's different each and every time I sit down to design something. I draw a lot of my inspiration from the shapes of the human form. Transmuting organic curves, lines and mimicking them with a juxtaposed hard edge through geometric shapes, thus converting them whilst keeping them complementary to one another. I also gain inspiration by looking to the future of our civilization. I'm always demanding a glance towards tomorrow with examples from our mutual past. I look to the industrial revolution as well as ancient Egypt and futurist Japan. I look to both the harmony and disillusionment we experience in our various societies every day. I am a kinesthetic learner so I have the need to touch and feel everything and physically manipulate materials around me. I find fabrics that feel like water in my hands, have a nice weight to them and are high quality immediately catch my attention. A color choice may turn into a shape, a shape may turn into an idea for a garment and it goes on from there.
303: Your work can be worn by both men and women and can be adjusted to be either masculine or feminine. What is your process of making this possible for your designs?
SA: That is the fun part. I often ask myself why and how these interchangeable clothes started for me. I suppose the original ideas stem from my own need to shape-shift from task to task, day to day and to transform myself whenever and however I see fit. We all have that dress, or that suit jacket or that pair of pants that can be worn to one specific occasion. We all have that favorite article of clothing that can be worn in that one particular way. Why not have transformable clothing for every occasion imaginable, ever present and interchangeable? I create something that I could wear and then I then source a few friends from all walks of life as my real life fit-models. I start with petite bodies of all genders and work my way to larger bodies until I can ensure each and every person who models for me fits the garment perfectly. Once I have made every adjustment I possibly can, I know it's finished. If I don't fall too deeply in love with the garment myself, which is quite hard, then it can move onto its final form and adapt to its owner's body. This is certainly not a short or an easy process but I cannot possibly imagine it any other way.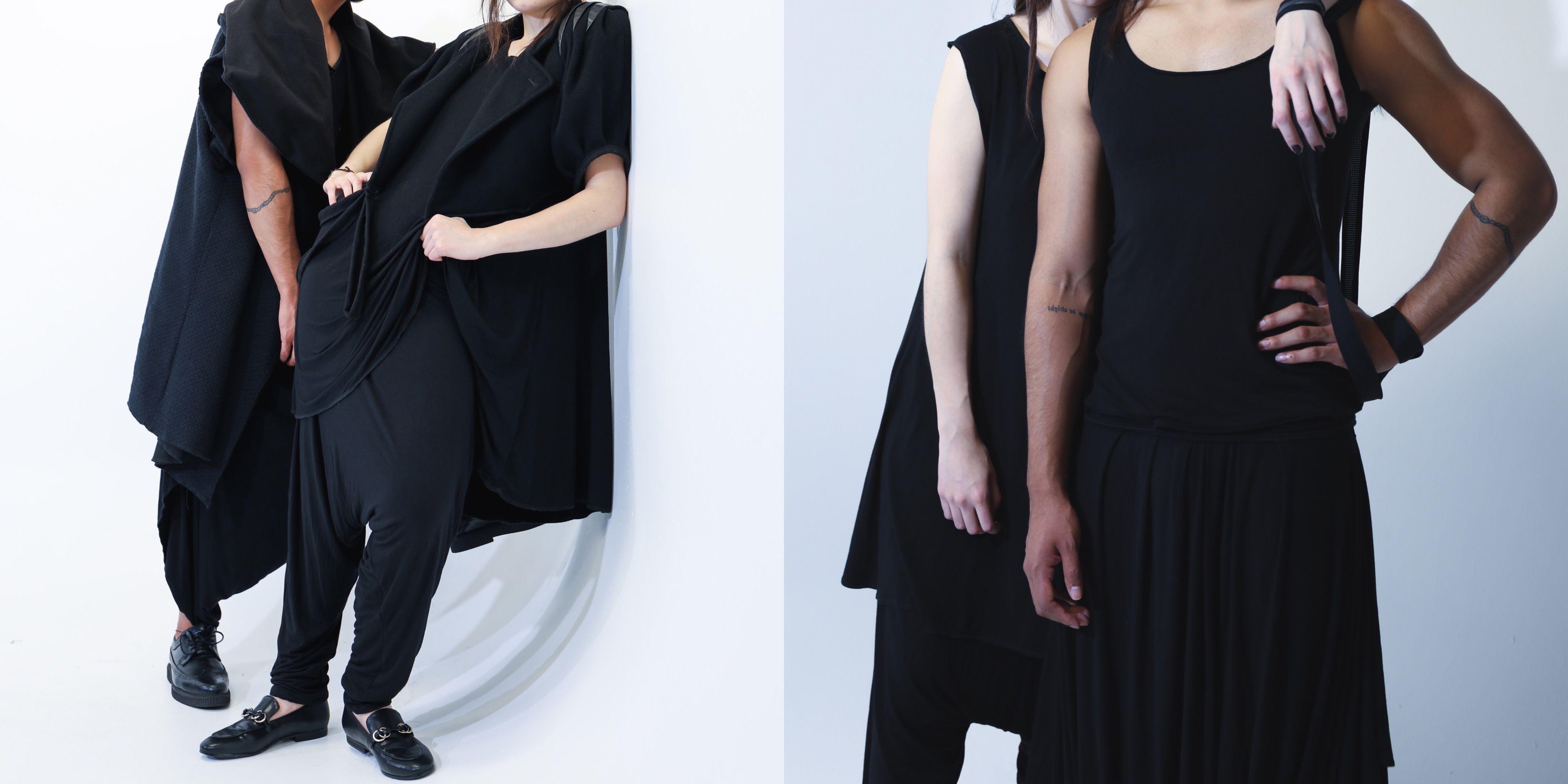 303: What fabrics do you use to achieve these minimal and avant-garde styles, silhouettes and structures?
SA: Choosing my textiles is arguably the most fun and important step I take in the production process. Fabrics, fibers and textures must feel amazing both on and off the body. The weight of the materials must be utterly perfect in my hands. The fabrics I choose must not cause any sort of skin allergy or throw off our bodies natural PH levels, allowing our pores to breathe as they were meant to. This allows the person wearing my garments to move with ease and confidence. I chose the most organically produced fibers and dyes that I can possibly get my hands on. The materials I use most is a luxurious bamboo fiber or an organically produced cotton that had a natural dying process. For my outer layers, I like to use organic wool, cotton and silk — all hand-picked, hunted down by me. For my waterproof materials — like rain and winter wear — I source materials that still have great movement and breathability. I always test wash my fabrics as many times as I can with both harsh detergents as well as natural soaps to ensure durability and sustenance. My clothing must stand what I call "the artist test" — being able to be worn by people who may be hard on their garments as I am.
303: Where do you hope DarkM0th Industry will fit in the altering of the fashion industry and the discussion of gender equality?
SA: Art speaks louder than any word any language ever could. Art is the language I chose to speak. Initially, creating Darkm0th Industry was a way for me to create an image for myself. A way to obtain a malleable armor of easily interchangeable, yet high fashion clothing, I could wear on any occasion. I wanted clothing that was fully adaptable to both the male and the female personas and various perspectives that I have within myself. Hard lines can be feminine just as soft curves and flowing drapes can be masculine. Gender equality and gender identity as a whole are prevalent in both social and political conversations. In recent years, the topic has been debated heavily in the media. It has been spreading important questions across our globe. I believe all of life's complex equations can be answered with a celebration of our collective differences, instead of arguing about how similar we all are in hopes of equality. I desire to show the world a new way of looking at how we dress our bodies and present ourselves on a daily basis. I'm hoping to open a wider conversation up about our collective future here on earth.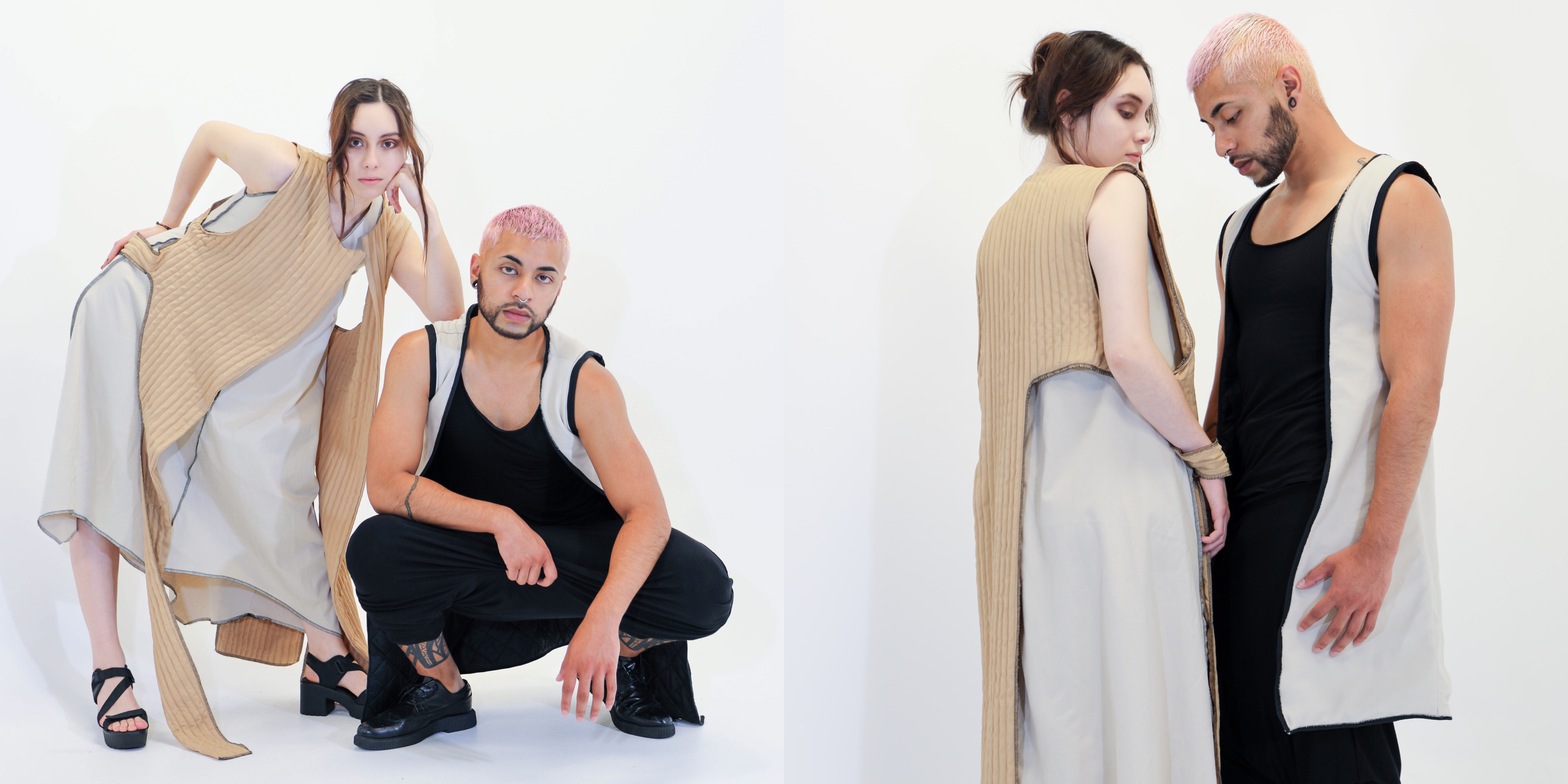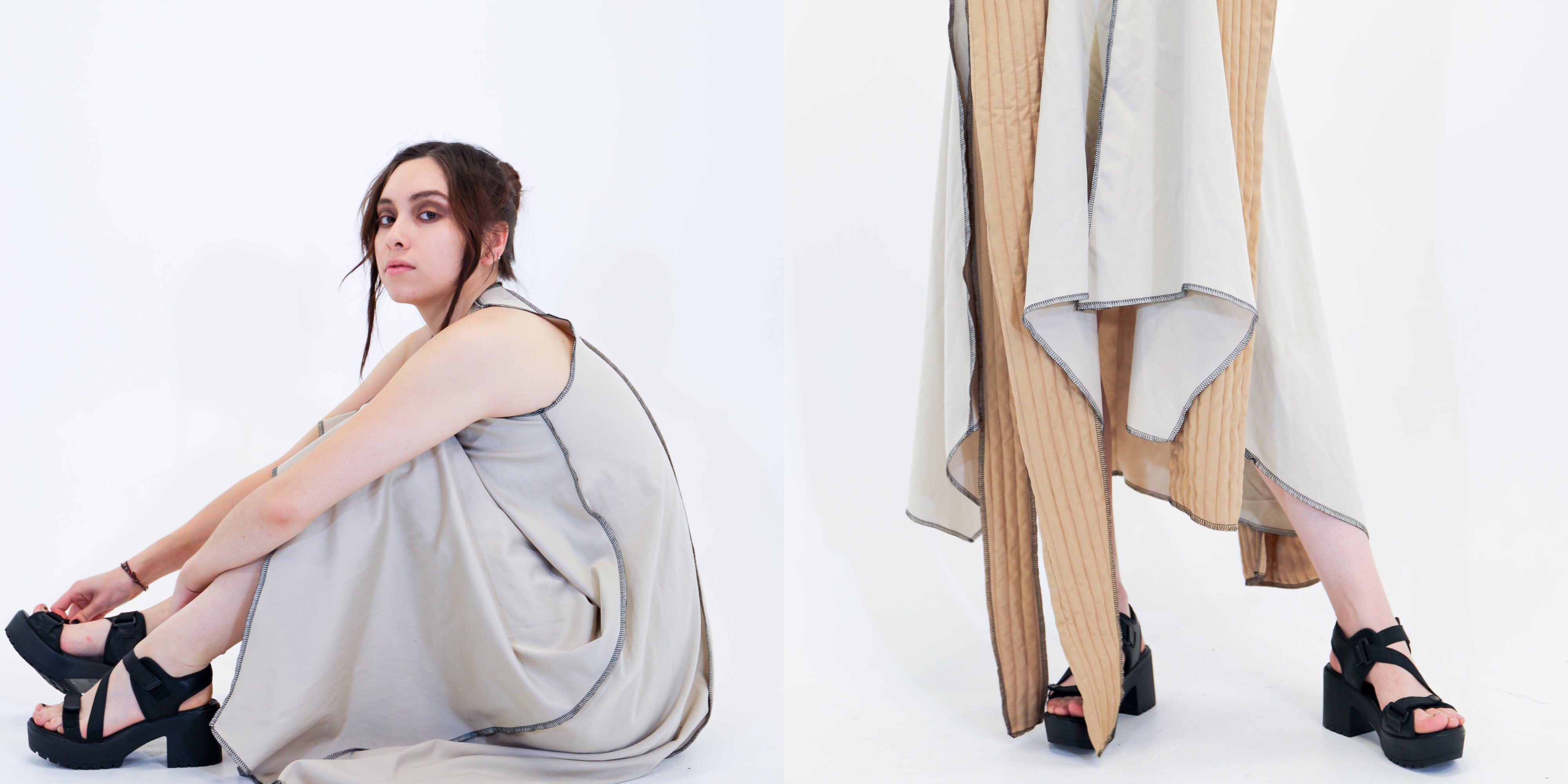 303: What's the next big step you want to take for your brand here in the city?
SA: My next step for Darkm0th Industry is to source a bunch of new materials and plan a larger scale cohesive collection for the runway. Even though I have only lived in Denver for a little over a year, I have met so many amazing people that I would love to include in a unique and interactive fashion show. First, I plan on hosting a trunk show with some of my older works so that I can more quickly and easily obtain the new materials needed for my next collection. I hope to have my line finished by winter of 2018. With this line, I hope to produce enough garments to open up a small online store so that I can get these garments on some bodies.
Models Sandra Olivas and Stephen Garcia
All Photography by Danielle Webster