303 Music Fest presented by LivWell Enlightened Health is only nine days away. 303 Magazine's local music showcase features four rooms of activities including two stages and a silent disco. StayLoose (formerly STéLOUSE) and Trev Rich are co-headlining with 15 other acts on the bill — and counting. Fort Collins company 303 Lazers — comprised of Christopher Bussard and Dustin Von Krosigk — recently announced their involvement with the fest, bringing lasers and more to Church Nightclub on May 17. We talked with 303 Lazers about who they are, the festival itself and of course, lasers.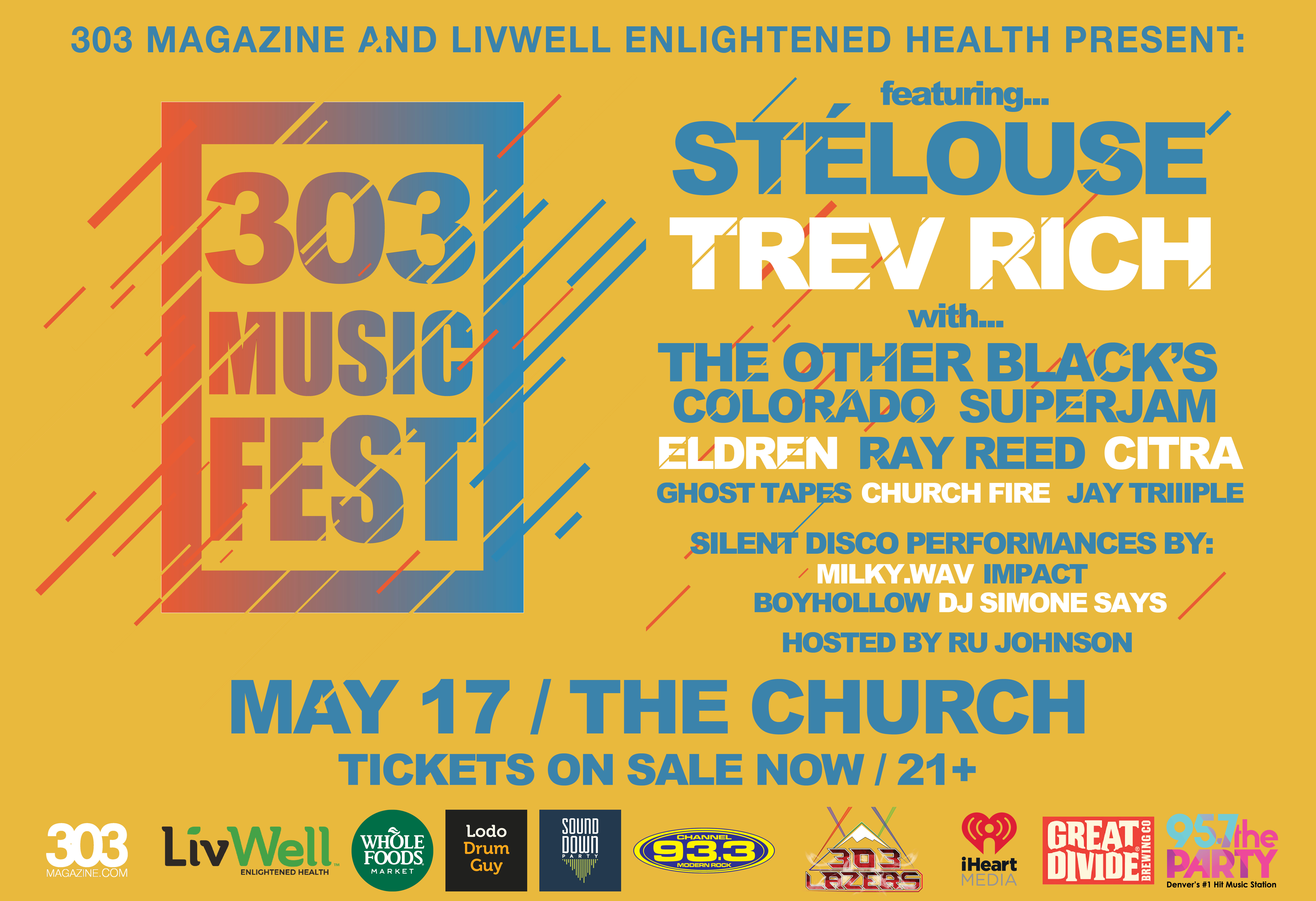 303 Magazine: How did 303 Lazers start out?
Christopher Bussard: We wanted to get into lighting and started doing stuff for concerts. We're not necessarily too musically inclined, so the next step was trying to find a way to get into concerts. We went over to a buddy's house one night and he had some cheaper lasers. We played around with them and thought it was something we could do for sure. We started learning the program and got some cheap lasers to start out. Then we got really into it and figured out this is something we wanted to do ourselves — as a company. We ordered better lasers, got a better program and we've just been pushing since then trying to get as many shows as we can. We wanted to throw a show this year and we actually accomplished that already. So that's one goal down. It was K Camp — Ray Reed opened up for him at Summit Music Hall.
303: What are you excited about, with being involved with 303 Music Fest?
Dustin Von Krosigk: What I really like about it is that you're focusing a lot on [musicians] like Jay Triiiple. That's someone that day-in and day-out I've see grind. People like that is who we need in this culture to help give it the good push because she's good people and she's always been on top of everything. And for you guys to focus on that and focus on people like us, you know, we were just like — that's our mindset. That's the culture we're pushing for.
303: Speaking of Jay Triiiple, are there any other local musicians that you're really listening to a lot right now?
D: TheyCallHimAP. He's great. I love 3AM. That's probably one of the best albums I've heard. I've not heard Ray Reed's new album, but he's played a few songs and it's really good — obviously. There's another kid that's going around. His name is Chy Reco and he does a lot of stuff with Jay Triiiple. They came out with a collaborative album type of thing. I really like his wordplay.
C: I like a lot of electronic dance music. We work with SoDown and we're pretty much his main laser guy.
D: We've done every Colorado show for him for the last two years — since 2017.  We work with a lot of local artists around here and some bigger artists as well like The Floozies and stuff.
303: Do you think your connection with and love for local musicians is what differentiates you from other lighting companies?
C: Absolutely. We definitely take the artists into consideration. I feel like a lot of headlining artists only want LED screens and we try to explain to them that openers appreciate just a little, just a logo is all they ask for. A lot of people don't really do that. It's just house lights until the main artist and then they're done for the day.
D: Our whole goal here is to offer something at a good price. So these guys that are trying to book shows and trying to push stuff, we can give that to them. And there's so much good talent.
Tickets for 303 Music Fest are available here. Go here for more information on 303 Lazers.