The first word that comes to mind when thinking of Fort Collins is community. Whether one pictures bustling students, hastily pedaling their bikes to class or parents strolling down Old Town — Fort Collins has always harbored an inviting atmosphere, ready to welcome any and everyone.
Yet, amongst the city's lovely people, landscape and attractions, something was still missing for the area. "There has been a long-term need in Old Town Fort Collins for a full-service hotel, and we wanted to fill that need while also acting as a community hub for everyone — college students, staff and visitors and the non-university Fort Collins community," Scott Sloan, general manager of The Elizabeth Hotel, shared. A partnership between McWHINNEY, a Colorado-based national real estate development company and Sage Hospitality, a national hotel developer and operator, filled this need — and thus, The Elizabeth Hotel came to be.
Rather than intruding on the Old Town environment, the hotel has aimed to mimic and adopt all of the quirky features Fort Collins has fostered over the years — mostly importantly, its strong ties to music. Musical elements waft throughout each corridor, as guest rooms contain record players and musical artwork adorns the hallways—and its greatest feature, a lending library, allows guests to check out and play a wide array of instruments throughout their stay.
"Our guests are most drawn to the 2008 Heartland Top-Tension Banjo—a replica of the 1937 Gibson Style-12 top-tension banjo made by Nashville-based Robin Smith, one of the preeminent banjo makers and expert on pre-war banjos," Sloan stated. "We also have guitars signed by musicians, such as Slash, Bonnie Raitt and Elvis Costello, and we're adding to the lending library on an ongoing basis to keep things fresh and exciting, so the possibilities are endless as to what instruments could be included down the line."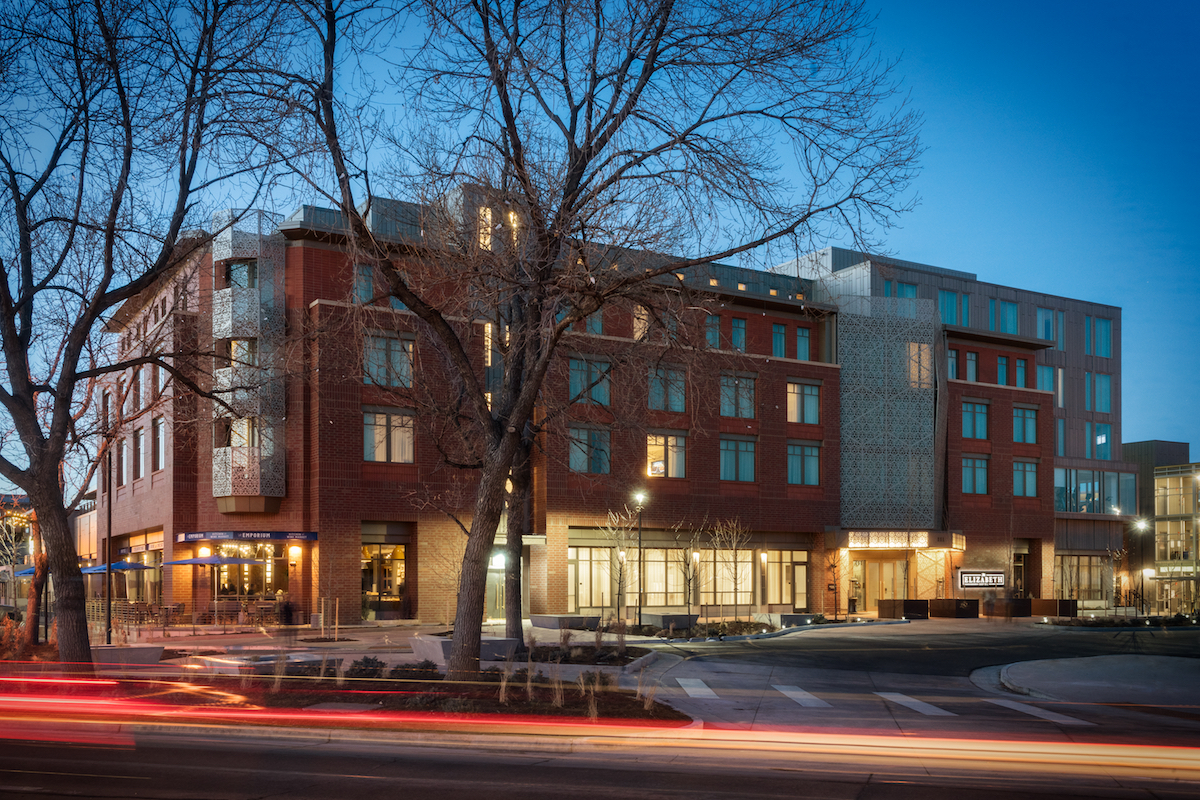 Further, all instruments come with traveling cases and instructions for care and use. The library's impressive collection also contains exact replicas of the iconic guitars of Eric Clapton and George Harrison. For guests who would rather listen than play, hundreds of vinyl records are available for check out, ready for use in each suite. As part of a mixed-use development with Firehouse Alley — a venue for vibrant live music and drinks — The Elizabeth Hotel finds harmony within its hotel walls and beyond for constant symphonic surroundings.
Of the 164 rooms the hotel has to offer, two signature suites step away from the traditional musical themes and cater instead to other cultures found in the Fort Collins area. With an obvious proximity to Colorado State University, The Elizabeth pays homage to ram country with its very own luxurious Rams Suite. Decked out in green and gold finishes, the space is saturated with a wallpapering of The Rocky Mountain Collegian, a quirky Cam the Ram art piece and of course, rams galore. One can also explore another Fort Collins' lifestyle in the Beer & Bike Suite, containing local brews served in its very own beer tap—and if that isn't enough, check out the fridge stocked with canned and bottled craft varietals. Each suite at The Elizabeth is as unique as the community at large, pulling from every wonderful element that Fort Collins has to offer.
"Our goal, since our very recent opening, has been and will always be to act as a hub for our surrounding community," Sloan added. "We want to be a vibrant host to our Fort Collins locals and neighbors but also play host to world travelers who come to the town for all of its unique sights, sounds and activities."
To book your stay or discover more, visit The Elizabeth Hotel's website today.