CITRA is playing 303 Music Fest on May 17. Go here for information and tickets.
By the way they act, the four men of CITRA could be brothers, except they're in no way related. Although they only officially became a band in 2016, their chemistry as a band makes it seem like they've known each other for decades. When they first formed, CITRA released the five-song EP Ocean and two singles titled "My My Mind" and "Air," which gave them an immediate following. This year, the group released their first album Mr. Copacetic, and on it came the stand-out song "That's What She Said." With such a clear story sculpted from the lyrics, a music video was inevitable, but Jeremy Schmidt of Nope Productions brought the video to another level.
Shot in a renovated church and the band's practice space in east Denver, the goal of the video was to portray the story behind the lyrics — a close friend of the band's volunteered to be the crazy girl referenced in the lyrics. "Every guitar bend, bass slide, snare hit and vocal pattern was taken into account during the editing process to showcase the extra details that each member of the band had contributed. When you're able to see the instrument in correlation to the song, it helps to pick up on the creative and subtle details that may have gone unnoticed just by listening," explained Schmidt.
303 Magazine sat down with the guys of CITRA — Brandon Arndt (Vocals, Guitar), Augie Menos (Lead Guitar), Dan Naddy (Drums) and Sean Slattery (Bass) — to talk about the main themes of the album, if that crazy girl in "That's What She Said" actually exists and more.
303 Magazine: What's the meaning behind your new album title Mr. Copacetic? 
CITRA: We were thinking about the lyrics with some of the songs being the theme of apathy. Honestly, I think it started because we liked the way that copacetic sounded as a word, and then we went through a lot of that where we started with a crazy name that we thought just sounded cool and it wasn't a word at all. But then finally we decided we had criteria that would bring it in — like the general idea of how the world is kind of fucked up right now. Everyone seems to agree on that, but no one really wants to do anything of significance about it, kind of apathetic about it. And that's usually where it stops.
303: Did you guys have a specific goal for the album? 
C: We're finally, after two and half years of being a band, we finally got to a point where we know what we're doing, and it just happened that the lyrics all have this overall theme that we found. We had our first EP of five songs that we made after about three months of being formed, so we were barely a band when we recorded these songs and then we've released two singles since then. This is our first collection of songs we've done since then, so we feel like we've progressed a lot as a band. That [album] shows who we are now as opposed to who we were at the very beginning.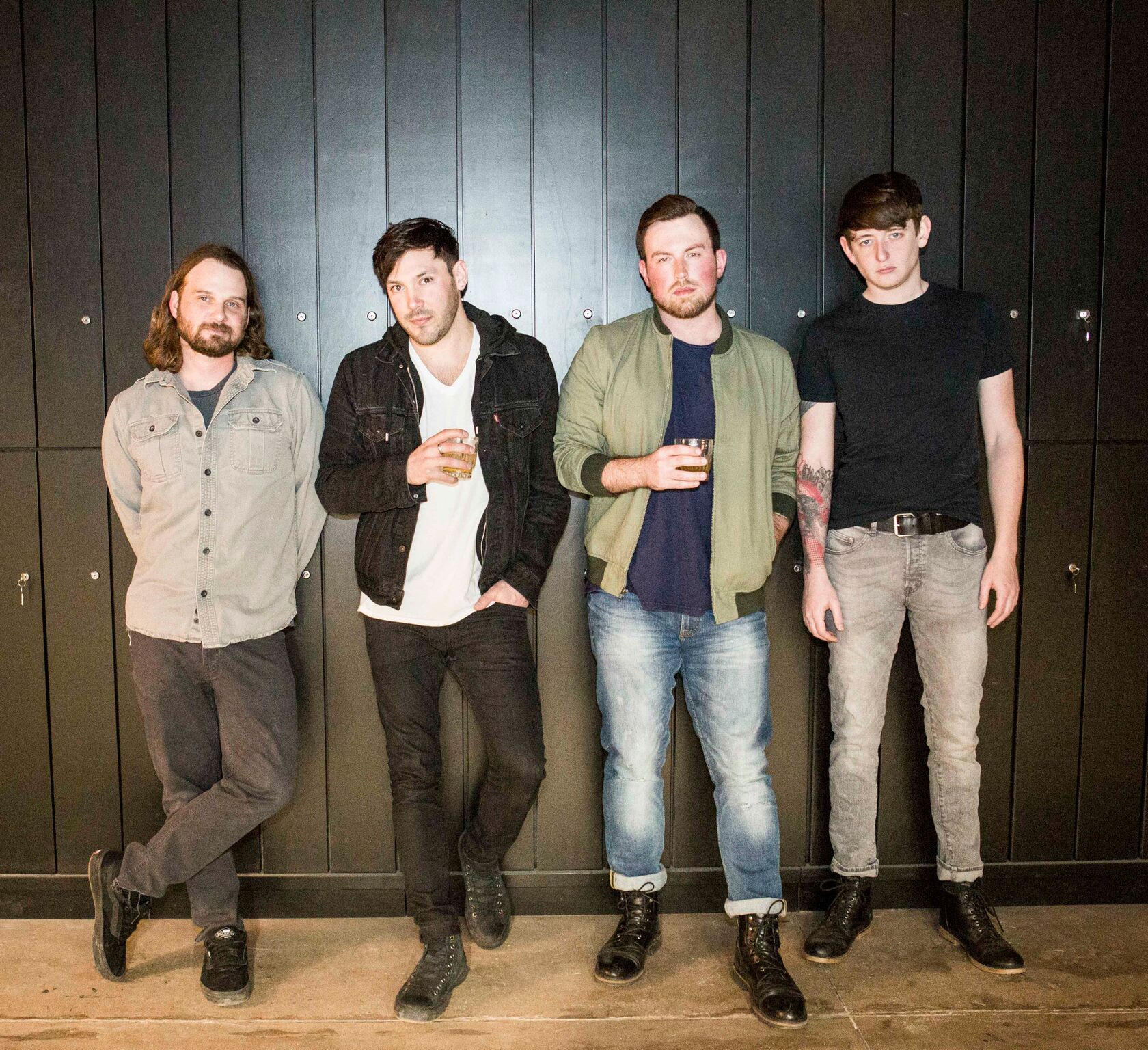 303: Who does most of the song-writing?
Dan Natty: Collectively we come up with ideas and then write as a team. As far as literacy it's mostly Brandon, then instrumentals, all of us together throwing ideas out there right in a room together. I can't really think of any time that somebody showed up with like an idea or song totally completed. Early on it was just walking around and somebody goes, 'Hey, what was that?' And then it'd be like I had this idea, but if you make it better. I would never be able to write a full song by myself.
303: I'm already obsessed with the song "That's What She Said," are the lyrics based off of true events?
DN: [laughing] No, not really. It just kind of fell together. It's a story, and it's not a terribly in-depth story. I think we had a catchy tune. We liked how it sounded, we wanted to have fun with it, Sean had the original idea about home and on my crappy garage band was just like one of the things that I showed them the basic chord progression. It's just something that I showed them. But then as soon as we started off playing it, Augie and Brandon added their solos, Brandon added lyrics, it just worked out. It was definitely a collective type of thing. I think we all like the juxtaposition of a pretty pop-sounding song with messed up lyrics. It definitely has a catchy value to it.
303: I feel like it does touch on stardom and fangirling, which is definitely something that's evident in our culture. Is that something you guys have encountered as of late or have thought about it like, oh wait, this actually could happen?
DN: It was meant to be kind of tongue-and-cheek I think. I don't know that it was ever supposed to be super serious. We don't take any of this really that seriously — so going back to your first question, like what made us write Mr. Copacetic about this, the majority of our songs just happened, and we put them together afterward in a way. It's more about the feel.
303: What about your new music video for the song?
DN: It was on New Years' Eve. Brandon was injured. When you see the music video, look out for Brandon's right hand — you'll notice that it doesn't move at all because it got mauled by a cat. His arm swelled up, we had to cancel a show at Herman's Hideaway a few days prior. We shot performance day in a church, and then we did a day of having an actress — the stalker in the video. Sean handled that. So we kind of went with the whole idea that you are saying, that she's just a crazy fan type that's in love with Dan. Dan hates the idea. [all laughing]
But there are tons of layers to be interpreted — it's like an art piece if you look at it more than just a video. It's not like telling a story directly, it's more using stuff shot with us in the church and then the girl. But it's more layered over. We're talking three, four shots, five videos at the same time. It's something you can watch like ten times and find something new in the colors and layers every time.
303: You CITRA sign has already become a symbol of that band — how did that come about?
C: We all made it together. Before we even played our first show, we had an arts and crafts time. We started thinking about shows that we want to go to and there's always lights, light shows, which we have our own light show too. We thought we needed some sign so people always know who they're seeing. So we planned it out a few months before and figured out how to do it, then we got together one day and built this sign. So many other bands ask us to build signs for them. Someone has asked us before to make the exact same sign but with their band name. Do you want us to write you a song too? [all laughing]. We created a font for it basically. That's how we had to do it because of how neon tubing works.
303: How do you feel about playing in 303 Music Fest?
C: It sounds like such a cool idea to put it together — a vinyl of local artists on a limited run. We want to be involved in every Colorado festival there is, especially anything supporting local music or local anything. There's such a cool scene here, in this community. The only reason we're able to do things now is because we've gotten a ton of support from Denver and Colorado in general. So yeah, it feels cool to be a part of it. We hope it becomes an annual thing. The fans care a lot more here. When fans hear something they like, they support it. I've seen people actually go places for the music, and that's good. It feels like something's happening here. It's just cool to see so much support in the city for local music.
This interview has been condensed for length and clarity purposes. All photography by Amanda Piela. CITRA is playing 303 Music Fest on May 17. Go here for information and tickets.
This slideshow requires JavaScript.