The Stanley Hotel invested over $10 million into a new live music pavilion that will make you want to drop everything to drive to Estes Park. Named The Pavilion at The Stanley, the new venue features 300 seats looking out onto a freshwater pond and the mountains. Working with Comedy Works Entertainment, iHeartMedia and AEG, The Pavilion was developed in partnership along with Stanley's entertainment division called Stanley Live. The grand opening of The Pavilion will take place the weekend of April 20 with a comedy festival headlined by Jim Breuer and Tom Papa.
Since it's erection 110 years ago, the Stanley Hotel has always made efforts to bring the best in entertainment to Estes Park — acts such as Harry Houdini, Barbara Streisand and Bob Dylan have all played in the original concert hall, which is a one-eighth scale of Boston Symphony Concert Hall. However, in the last five years, Stanley Live has made further efforts to bring more live music and entertainment to the hotel with bands like Murder by Death and Leftover Salmon hosting multiple-day festivals on-site. "We're now doing almost 30 events a year up there that range from a bluegrass festival to comedy shows," said Reed Rowley, vice president of Grand Heritage management for the Stanley Hotel. With the addition of the Pavilion, Stanley Live's event calendar is sure to grow even more.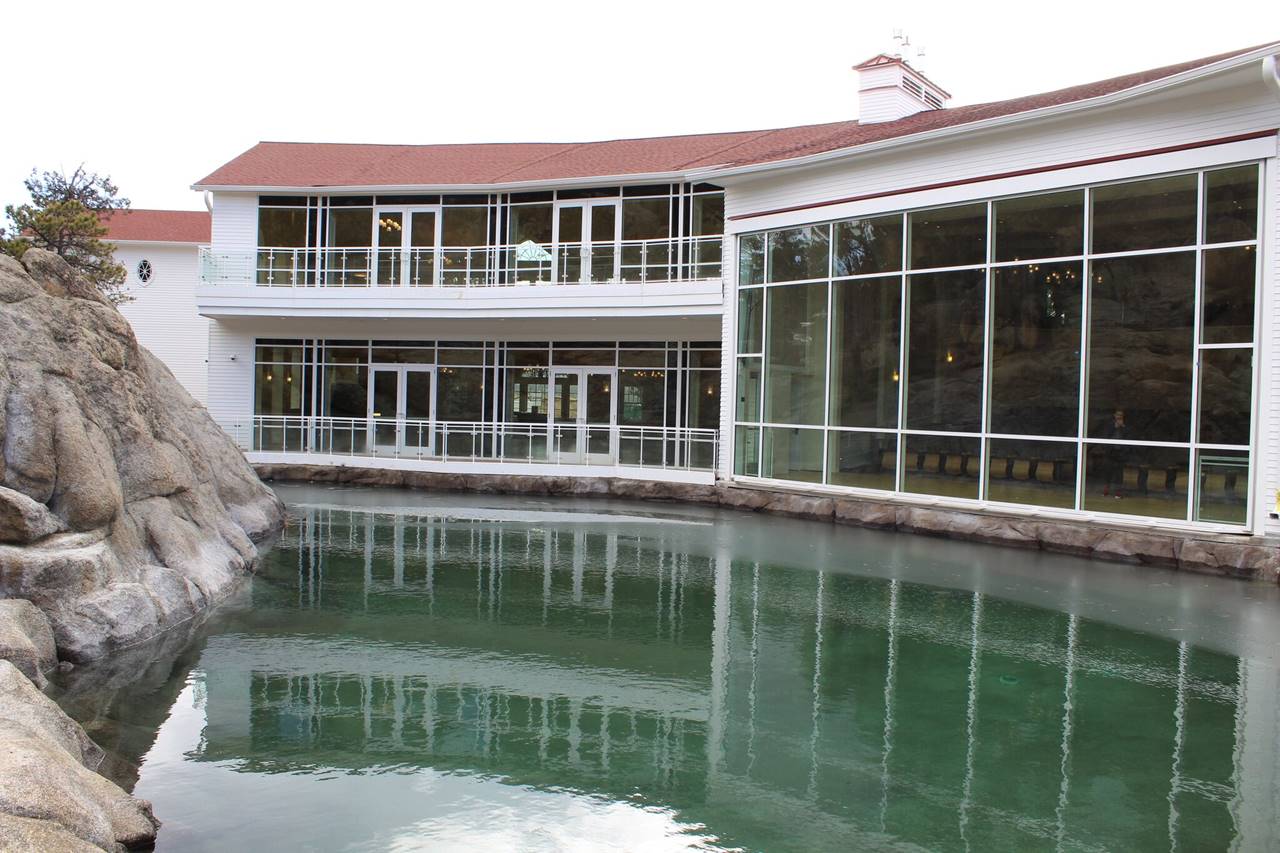 Ideal for summer concerts, the new Pavilion features an 11,000-pound hydraulic glass door that opens outward at 90 degrees above the pond. Although the Pavilion's grand opening isn't until the weekend of April 20 with comedy shows headlined by Jim Breuer and Tom Papa, this weekend Stanley Live is hosting it's inaugural Stan Jam bluegrass festival featuring headliners such as Jeff Austin (formerly of Yonder Mountain String Band) and The Del McCoury Band. On the second day of the event, attendees can stop by yoga or bluegrass workshops as well.
But that's not all. When the warmer months hit, the Pavilion will add more elements — a floating stage on the pond. Rowley said,
"We've got a floating stage [that] actually goes out over the water. So the band or the performer is actually standing on the footing stage under the canopy of the giant glass door, and inside has this backdrop that looks kind of like the backdrop of Red Rocks. It's got these beautiful granite formations with cascading water features. We can light up that hillside in a number of ways, light up the trees, but also light up the pond with floating bulbs or underwater lights. And so you have this really cool, intimate, Rocky Mountain kind of ecosystem, yet you're sitting in a custom leather seat watching an amazing performance."
The stage will go up depending on weather, but probably around May or June, Rowley explained. In the future, Stanley Live hopes to continue their live events to such things as TedTalks and other educational or inspirational lectures. This year the Stanley Hotel also plans on adding a 10,000-square-foot spa, bicycle café with a full liquor license and more. For a full calendar of events go here.