You're going to want to clear your calendars for February 24, because you don't want to miss this festival. The Man On The Moon Festival is the newest fashion-forward and hip-hop showcase to hit Denver. This cannabis-friendly event promises to serve as a spotlight for local businesses and musical artists.
Local promoter Jon Smith intended to curate the perfect session. He wanted to unify the Denver community with a good time. Thus, Smith and his crew adapted the theme and concept of the event to provide partygoers with amazing live performances and a memorable night. When asked what makes this event special Smith replied "It's not just a live show, the festival also serves as a networking opportunity and a supportive hub for local brands."
This will be the festival's first year in production but Smith anticipates it will be an annual showcase. It will be held at the Lincoln Station Bar (776 Lincoln Street) —  the bar and grill has a 450 capacity maximum and boasts of a unique venue. It features two floors, an outside balcony and a stage. There will be merchandise giveaways and clothing pop up shops featuring local businesses such as the Colorado cultivated Cones Collective. If you're in the Capitol Hill neighborhood or looking to check out some local talent then you've found your crowd.
The bill for the festival includes performances by some of Denver's talented unsigned artist such as Sidmfkid and Kid Astronaut, who will be co-headlining the show. Sidmfkid recently released a new single "Can't Be Friends" and has previously performed at Cervantes, and Bluebird Theater. Astronaut — aka Jon Shockness has a new album, Full Moon,  releasing in March. These two are sure to tear down the stage. The showcase will deliver on its promise to spotlight Denver natives and underground artists. The headliners are popular acts — who've been able to generate local buzz, however, the show also includes some undiscovered sounds.
Smith says the local urban artist often feel undersupported by bigger promoters and venues — Man On The Moon Festival seeks to solve this problem by providing a stage that'll support Colorado-bred talent. Big Event Empire and Red Umbrella Records plan to combine cannabis, hip-hop and fashion to create a new-age festival. This festival provides something for the misfits, artists and stoners alike.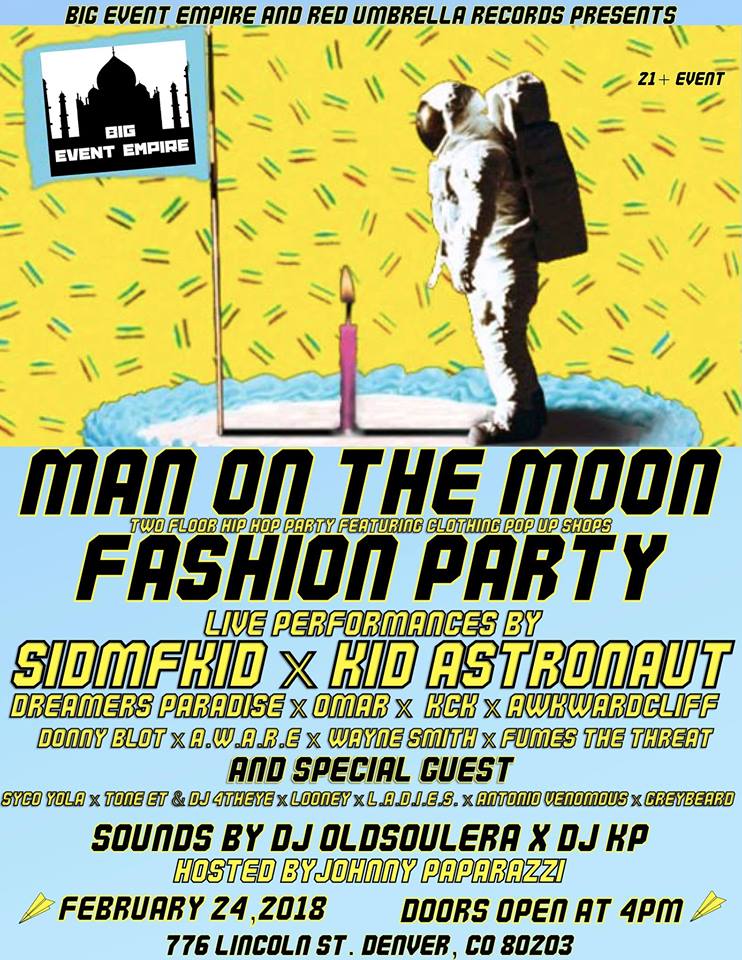 With two DJs, free merch, pop up shops and an amazing lineup this event can't be missed. Doors open at 4 p.m. performances begin at 5 p.m. Tickets are available here and start at $10.