Open just six months in the Highlands, Bremen's Wine & Tap has already seen its fair share of changes.
After parting ways with its chef Matt Selby less than three months after opening, Bremen's turned to its sous chef Isabel Ranney to take the reins as executive chef. Ranney, ready to put her own spin on the restaurant, started with staffing to fill her old sous chef position. But, like most Denver restaurants, she struggled to find the right sous chef — until she hired her husband of two months, Jason Linam.
Now, the newlyweds man the kitchen together, husband reporting to wife. 
"We both grew up in Denver," Linam explained. "We know what the market is like for restaurants to find staff. It was an easy decision for us — she had a need for a sous chef, and she couldn't find the right fit. We knew I could do it."
The couple has been together for five years, but Linam still had to interview for the position. Once the Bremen's team made the decision, everything seemed to fall into place. Together, they rewrote the menu to better reflect the direction they wanted to take the restaurant in the future.
The collaborative spirit works for the couple. Ranney explained that she drives the creative process, while Linam is more focused on the production required to bring those visions to life. Their familiarity with each other allows them to have an open creative process, where they often complete each other's thoughts.
"I know where her head is going," Linam said. "I can help bridge the gap."
The Menu
This slideshow requires JavaScript.
From tapping into collaboration or friendly competition, the couple used their strengths and weaknesses in tandem to create a killer menu. Partially rooted in Ranney's background in herbalism, many dishes reflect her study of herbal medicine — using natural alternatives to treat diseases in the body
"I've always wanted to make an impact on how we view food, and I realized that this restaurant is how I can make a change day-to-day," Ranney said.
Ranney made over the menus — from dinner to brunch — to include a mix of comfort and familiarity with other dishes you may have never even considered — like the Asparagus Pear Tartare ($11) with tangerine oil, avocado and black pepper-agave lavash crackers. Shaped like a traditional beef tartar, this version is vegetarian and completely raw. For a meatier appetizer, we loved the Lamb Lollipops ($16) with mint creme fraiche, flatbread, shaved onion and parsley salad and a strawberry rosemary compote.
"I love to add herbs into my cooking that I know will help people at this time of year," said Ranney. "For example, the lamb shank has elderberries and rosehips which are packed with antioxidants and are antiviral, so it helps people's immune systems without them even realizing because it also tastes delicious."
Ranney works with local farmers like Rebel Farms and butchers like Western Daughters to complete the plate. For the chef's cut steak, she chooses it almost daily alongside the team at the butcher shop. Many of these partnerships collide in the Bone-In Pork Chop ($26) with cranberry and sage polenta, charred rebel farm's greens and a cranberry gastrique.
Linam's pride and joy is the Duck Breast ($23) with gnocchi, leek and mushroom ragout, and we can see why. The gnocchi is perfectly pillowy, through a process that Linam perfected while working at Frasca. He makes it fresh almost daily. Given Linam's background in prepping pasta, we suggest going halfsies with a friend and order the duck gnocchi and the Seared Sea Scallops ($28) with bacon and charred onion risotto and a red wine reduction. For an extra touch of freshness, dig into the season with the Pickled Pear Salad ($12) with almonds, bacon, arugula, goat cheese and a rosemary vinaigrette.
For drinks, Bremen's is staying true to its original roots with wine flights, wine on tap and a rotating tap cocktail. The rotating cocktail will always be seasonally influenced — like the current option, the cranberry-infused Casamigos tequila with Elderberry floater. Known for its healing properties, traces of elderberry and other herbalism-based ingredients show the restaurant's commitment to Ranney's training and passion.
The Couple in the Kitchen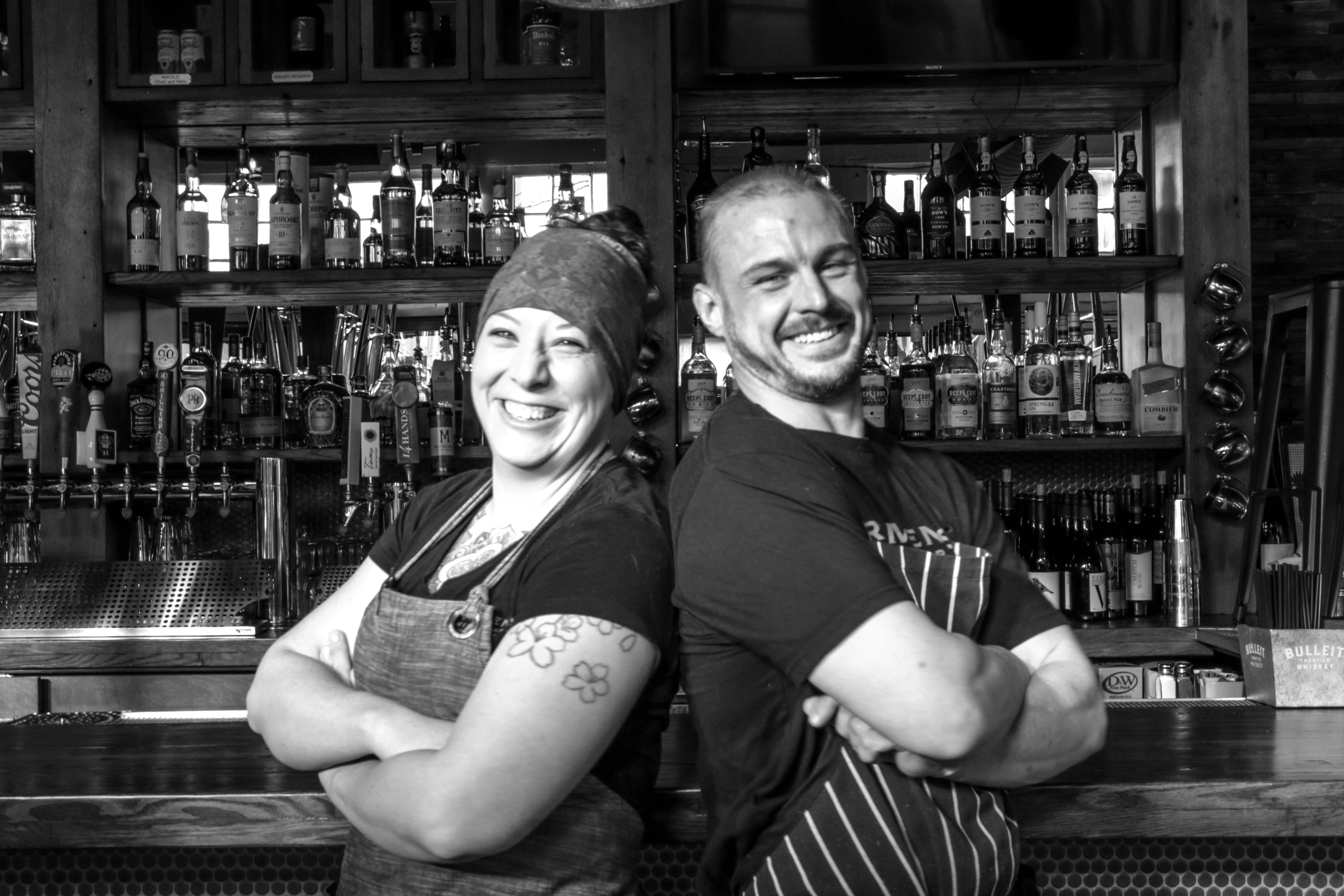 Overall, the couple agrees that the arrangement has worked even better than expected.
"Before, working at different restaurants, we were just ships passing in the night," Ranney explained. "Now we get to spend real time together doing something we love."
In the kitchen, it's all business, though. Although the couple is incredibly casual and down-to-earth, Linam said that in times of high-stress, or when they're interacting with the entire kitchen staff, they fall back on classic teachings. That means it's "yes, chef" in the kitchen and "yes, honey" at home.
But, at the end of the day, both agree that it's a best-case scenario for a couple that works such similar hours.
"You work hard hours in the restaurant industry," Linam said. "For us, finding someone that we didn't have to explain that to wasn't just something we sought — it was a necessity."
"And, at home, it's nice decompressing with someone who's been there with you all night," Ranney added.
Bremen's Wine & Tap is located at 2005 W. 33rd Avenue, Denver. The restaurant is open for happy hour daily from 4-6 p.m., dinner Monday-Saturday from 4-10 p.m. and brunch on Saturdays and Sundays beginning at 11 a.m.
Unless noted, all photography courtesy of Bremen's Wine & Tap.