Brian "B" Blake never intended to be a fashion designer. It was supposed to be a side hustle to fund his career as a hip hop artist, but when the masses responded quicker to his clothing than his music, he adapted. In 2012 he created the local brand, B Fresh with high school friend Jon "Fresh" Frechin. Their '90s-inspired line of sustainably made fanny packs, hats, vests and sunglasses hits that sweet spot where contemporary ideals mesh with nostalgic influences. The end result is a brand that not only conjures up fond memories of the past, it encourages people to think about the state of the planet today and how our choices affect what happens tomorrow.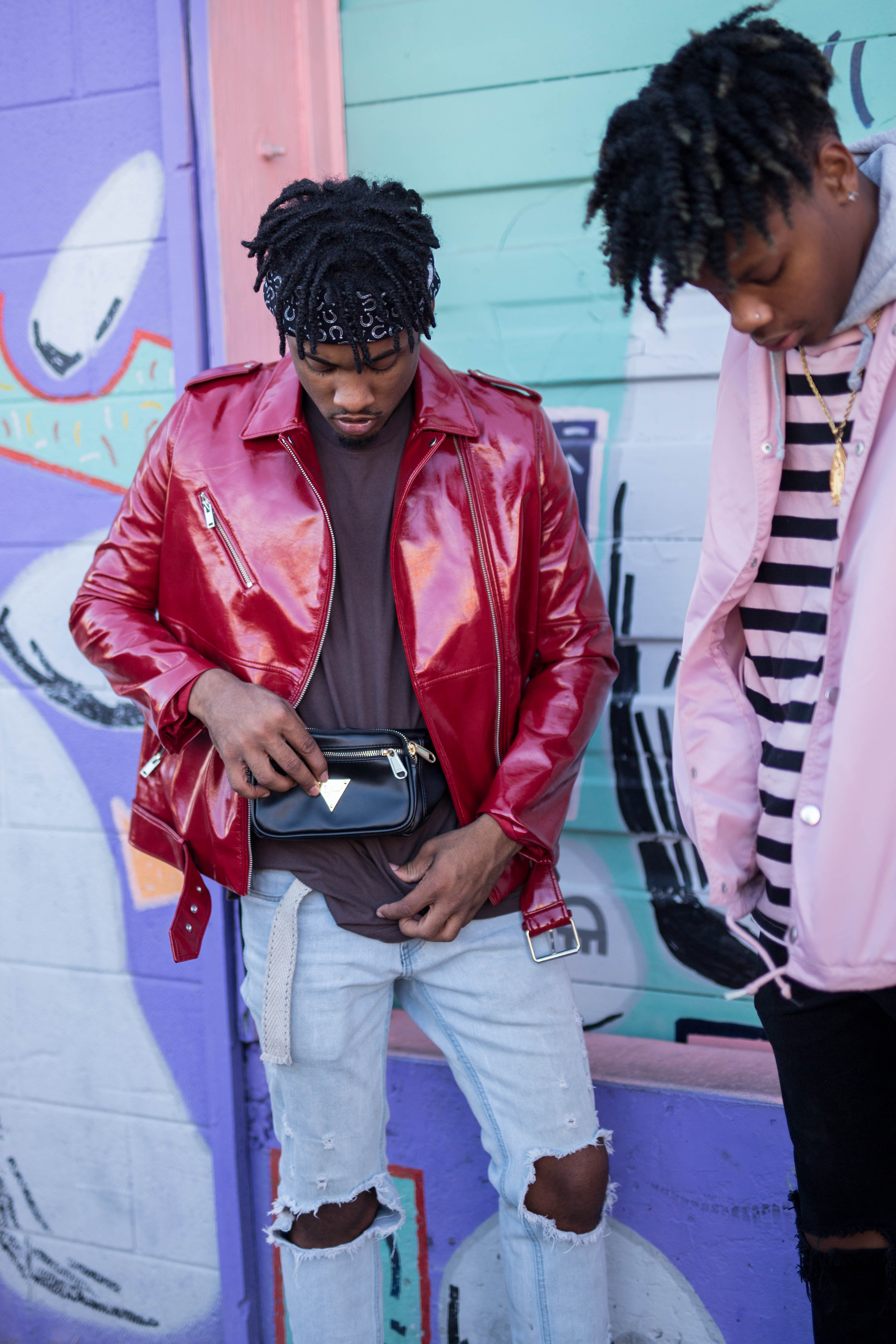 Blake and Frechin met at Regis Jesuit High School in Aurora and bonded over their ability to bend the rules, be the most colorful and live lightheartedly, the same values that B Fresh is built on. "In a nutshell, we're '90s kids perpetuating what we think is cool, but doing it in a way that's responsible," said Blake. "The '90s were a more organic way of life where styles were found and adopted rather than just seen online somewhere, so that drives what we do now." B Fresh's increasing sales and contracts with companies like the Dew Tour: Skate + Snow Events prove that the duo is onto something with their throwback style. Some of B Fresh's most popular items continue to be the "Tribe Called B Fresh" fanny pack and "Fresh Prints" bucket hat, both inspired by some of Blake's favorite old school hip-hop artists.
Style is crucial for the B Fresh team, but sustainability is also a paramount concern, so they've done the legwork to connect with like-minded brands. For example, The Rainforest Alliance supplies them with bamboo material for their hats and sunglasses, and Icebox Knitting, a Colorado-based brand, supplies B Fresh with fabric made from upcycled materials collected from areas like construction sites.
This slideshow requires JavaScript.
"Our efforts to reduce our footprint and increase our use of local and sustainable products are only going to increase as we get larger," said Blake. "We think it's better to be like Bill Gates and start our own corporation and nonprofit than to just work for one that's already out there, so that's what we're going to do." B Fresh is also part of EarthHero, an online marketplace that only features products sourced, manufactured and shipped in ways that support a healthy planet.
Although the '90s are clearly the bedrock B Fresh was built on, Blake and Frechin are adding additional influences to their lineup. "What inspires us to keep pushing forward is we realize that it's all cyclical, so what's next is we will keep trying to go back," he explained. "This fall, we went heavy on homage to the '70s with crushable corduroy hats and 'The 77' vest, which is the 1977 Chevy pickup truck of ski vests. We are against looking into the future for inspiration, so we focus on what's best about the past." As for 2018, the team is staying pretty tight-lipped about what B Fresh fans should expect to see. "We can't go into much detail, but it's going to be big, so let's just say 'stay tuned."
All photos courtesy of B Fresh.