In a world where most electronic music is moving towards the mainstream appeal, Snails has made a name for himself by creating his own genre — a grimy, heavy bass sound known as Vomitstep. His following — affectionately known as Vomitsquad — gathered on October 6 for an event called Sluggtopia to celebrate his first night headlining Red Rocks. The stacked line-up featured heavy bass artists NGHTMRE, JOYRYDE, MUST DIE!, LAXX, Boogie T. and SQUNTO.
After unveiling his new stage and obliterating the audience with dirty remixes of his classics and selections from his new album, Snails took a completely unexpected move by bringing Big Gigantic saxophonist Dominic Lalli on stage for an injection of funk in a night filled with filthy drops and trap remixes. Despite the frigid temperatures and relentless wind, Vomitsquad matched the energy of the artists throughout the night.
We caught up with Snails just hours before his set to talk about his new album, Vomitsquad and what's in store for 2018.
303 Magazine: I heard your mom is one of your biggest influences. Is she here tonight?
Frédérik Durand: Unfortunately not. I want her to be so good, I'm like, "Momma, momma! Are you okay? Are you okay?" I have to deal with so much stuff, and I know how stressed she's going to be worrying about me, so I'd prefer for her to see a recap video and everything rather than her be here because I want her to be really good. She's here in spirit.
303: What do you do to prepare for a show like this?
FD: Normally, I just like, try to relax a bit. I love to go see the openers play and set myself in the mood. I was sitting there like, I think these are the biggest headbangers here from 5 p.m. to now. It's really cool. I love to go see them, chill, put myself in a good vibe so when I enter the stage I'm really ready.
303: I heard you're going to be dropping some songs off a new album tonight. Do you have a release date for the new album?
FD: Ah, yeah…[Manager shakes his head, signaling Durand to keep his mouth shut]… it's a secret right now [laughs]. It's a secret, but the album is going to premiere tonight. So, I'm excited.
303: I know your fans are really excited to hear it.
FD: I am excited to share it. It's been since December of last year I've been working on it. I'm just excited to see the reaction. Hopefully, they will like it as much as I did. It's definitely a Snails 2.0, I'm trying to reach other levels, but still have the weirdest songs ever, you know?
303: What's your next step? What will we see in 2018?
FD: For me it's like, my journey or my goal is to try and stay in the same kind of sound, which is like super weird, but try more vocalist stuff. Like "King is Back" and "Dirty Raxx," I feel like that vocal gave a soul to the song. I have always had a weird sound and everything, but I want to try and work more with people. For me, as an artist, it was a new journey. I had never tried this, so it's like, whoa, I'm here, so why not? We just tried reaching out to a bunch of new singers and amazing artists. I'm more than happy about it and everybody has been jamming to it, so I'm excited just to share it.
303: You've played at Red Rocks before, but this is your first night headlining. How does it feel compared to the last time you were here?
FD: It's pretty crazy. Every time I've played here, it was just an amazing experience. Now, having the chance to play anything I want, having the freedom of my whole set — it's crazy.
303: Who are some artists right now you think some of your fans should know about?
FD: There's a bunch actually. Definitely guys like Boogie T. and SQUNTO — I love them to death. There's a new kid called Wooli, he calls himself like a mammoth kind of guy — mammoth music — and he's doing crazy, crazy sound. That dude, a guy from Montréal called Krimer, he's really poppin' right now, there's a bunch. I play a lot of their music, and they really like push the level to another step and have really been crushing it.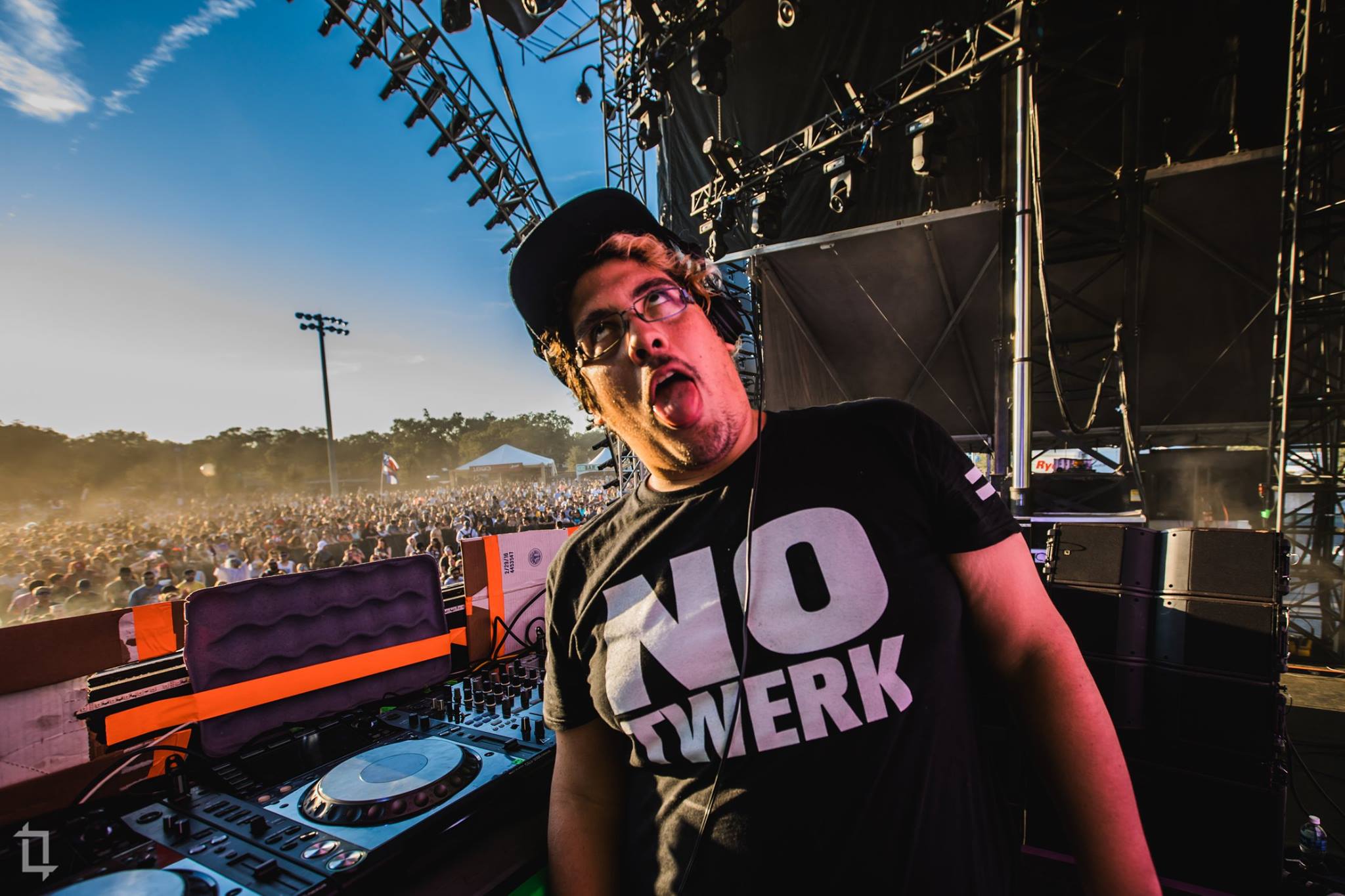 303: You have definitely created your own genre — Vomitstep. Everyone's got the #VOMITSTEP shirts on out there. It's a really cool crowd. It's a family.  
FD: You know, it's crazy. Our sound, how a genre can unite some people. When I started, I was like, I'm going to call it the weirdest name ever. I'm going to call it Vomitstep, because I just want people who are as weird as me to like that music. For me, one of my main goals was to try and be different. It was more of a joke at first, like, I'm going to call it a disgusting name, so it's just like cool, weird people like it and now it's created the most amazing family ever. They are super intense, they give gifts and do everything, that's amazing. It's an amazing feeling to recognize and to have that, it's really fun.
303: Your love for tacos is no secret. What's your favorite type of taco?
FD: Al pastor. 100%. I could eat thousands and thousands of them. It's my favorite.
Click here to view upcoming dates for Snails' "The Shell Tour." All photography courtesy of Snails on Facebook.