Khalid's American Teen Tour hit his target audience in Denver on Tuesday night. At 7 p.m. when the doors opened, hundreds of teens had lined up around the entire block to be some of the first into the Fillmore Auditorium. A security guard later mentioned that some kids had been waiting on the sidewalk since 2 p.m. that afternoon.
The Fillmore holds close to 3,000 people total, but the balconies were scarce last night. The floor looked like a Denver high school mixer with no chaperones – 2,000 American teens packed together like sand in a sandbox. Around 8:45 p.m., before Khalid even came on, one girl was carried up the stairs by security guards into the ladies' bathroom — she had passed out during the DJ set from the desert heat and cluster of the concert crowd. Another girl's gray T-shirt was fully drenched in sweat when she emerged from the blob. Several other people experienced heat exhaustion or dehydration and had to be taken out of the crowd by friends or security guards.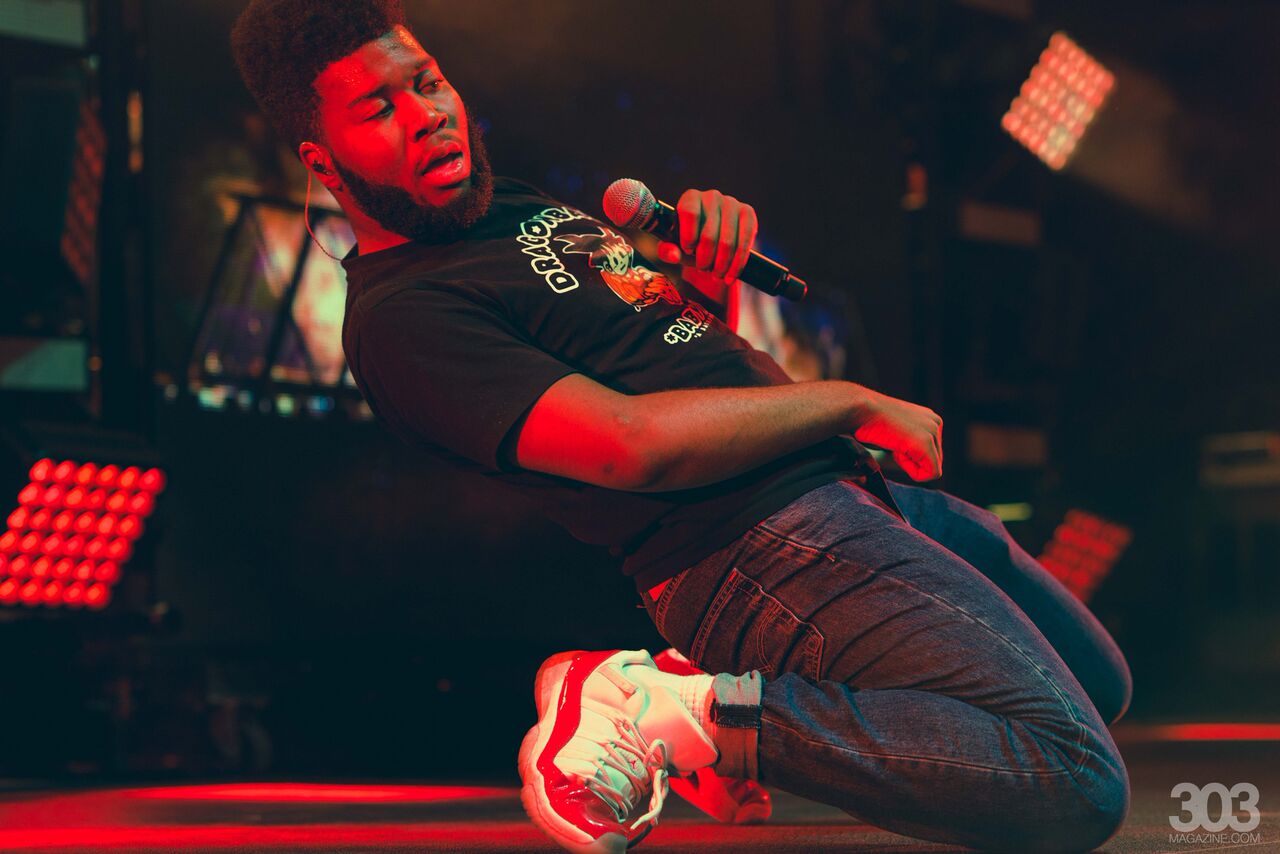 At 8:58 p.m., the lights dimmed, the audience screamed and then red, white and blue stage lights lit up the theatre as Khalid ran out on stage to the beginning notes of "American Teen." His look was classic — he wore white sneakers, blue jeans and a black graphic T-shirt. This style was seen on the concertgoers as well.
With clean and catchy vocals and lyrics like, "Oh shit, I just graduated. I don't have any obligations. So let's have a little fun," no wonder he's become a sensation to American teens going through similar times in their lives. Most of his songs grapple with the current teen culture in America of dating in the days of social media and online relationships. At the start of his second song, "Let's Go," two backup dancers in red, white and blue cheerleading outfits ran out on stage to dance with Khalid. The two massive screens on stage flashed American flag graphics throughout the entire performance.
Next, Khalid played a few of his most popular songs back-to-back accompanied with an electric light show — "Another Sad Love Song," "8TEEN" and "Saved," which kept the audience happily screaming. By 9:30 p.m. the crowd was past its original hype. Khalid had migrated to a stool — it was personal time. "This next one is for anyone who has been cheated on. This is called 'Shot Down,'" he told the crowd and received much applause. As a young performer, he seemed shy talking to the audience — looking for reassurance, he asked several times how the audience was doing. Yet again, for a 19-year-old from El Paso, Texas, he was shockingly confident on his first-ever world tour.
Next, he played "Coaster," "Winter" and his new song with Marshmello called "Silence." At 10 p.m he played the song that made him famous. "Ok, so does like everyone know every word of this song?" he asked awkwardly before singing "Location." The crowd did sing every word, and documented it on their phones. A skilled singer with already a massive teen following, this should be the start of a long musical career for Khalid.
All photography by Alden Bonecutter. Go here to see the full gallery.