With the drag community on the rise, it's no surprise that a few of Denver's very own drag queens are coming into the spotlight. Meet Mia Staxx, a 25-year-old Latina queen known for her elaborate looks and ultra feminine like appearance that will fool just about anyone. Since hitting the drag scene five years ago, Staxx has gone on to perform at some of the hottest night clubs in Denver as well as help legitimize the art form of drag by being a visible role model within the LGBT community. She is also the mother of the Staxx family name, meaning other drag queens who adopt the Staxx last name to their drag names, are mentored and looked after by Mia. As a growing icon within the Denver community we decided to pay a visit to the local drag queens quarters to catch a glimpse of costume collection, learn more about her history, and pick her mind about the rising culture.
303 Magazine: First off, tell us a bit about yourself and how you got started in the Denver drag scene?
Mia Staxx:  My real name is Brandon Castañeda. I'm 25, and I've been doing drag for over five years. I first got started at a popular Latin club in Denver called El Potrero. I started going to bars before I legally should have been when I first saw performing queens. It was new to me because on Rupaul's Drag Race the queens don't necessarily perform. The first thing I thought to myself was, "I can do so much better!" I've always been a performer having done theater, dance and cheer, so it came very naturally.
303: What inspired your drag name, Mia Staxx?
MS: Mia is a nickname for my little sister, who's always been my best friend and support system. I coined the Staxxx name from an old school stripper, Kat Stacks. She was really popular with celebrities. She knew how to get her money, and she loved hustling and exposing celebrities she was involved with. She was always in the news no matter how scandalous the reason. I love being the center of attention, so it fits well. As Mother of the Haus, I switched up Stacks to Staxx to be even more risqué. Staxx of Money and Staxx of Ass, it's a way of life!
303: Each drag queen has a sort of aesthetic, how would you describe yours? Who do you look to for style inspiration?
MS: Aesthetic! It's most important! My second favorite aspect of drag is putting the look together. I admire women's beauty and women's fashion which makes the transformation so fun for me. If I had to describe my look it would be "hood star chic" One of the things about my aesthetic I pride myself on is realness. I hear all the time, 'You look like a real woman' or, 'You look better than most girls.'
I love to wear what's hot in real everyday women's fashion. My biggest style inspirations would be Kylie Jenner, Nicki Minaj and Nikki Mudarris. Their style is the perfect balance of daring, eccentric and classic beauty. They know how to put different pieces together to make the perfect statement. I also get so much inspiration from my Staxxx sisters. We've got the style game on lock!
303: Tell us a bit about where you source your looks from and how you keep them fresh. What are your favorite places to shop? Where do your wigs come from?
MS: My number one source for my looks is my incredibly talented sister, Andrea Staxxx. She's the only Staxxx that can sew a garment, including me! And I'm so grateful for that. She's always got us covered for our performance outfits. For non-custom looks, I shop everywhere! Forever 21, online stores like Fashion Nova and AMI Clubwear. I've shopped at thrift and second-hand stores. It's not where you shop that matters. If you know how to style yourself you can literally shop anywhere. I buy wigs from Amazon and Hair Sisters (online) and Living Color Beauty Supply locally. As far as keeping looks fresh, just switch it up. If you've worn that jacket with those shoes and hair, don't do it again; find another way to make it hot.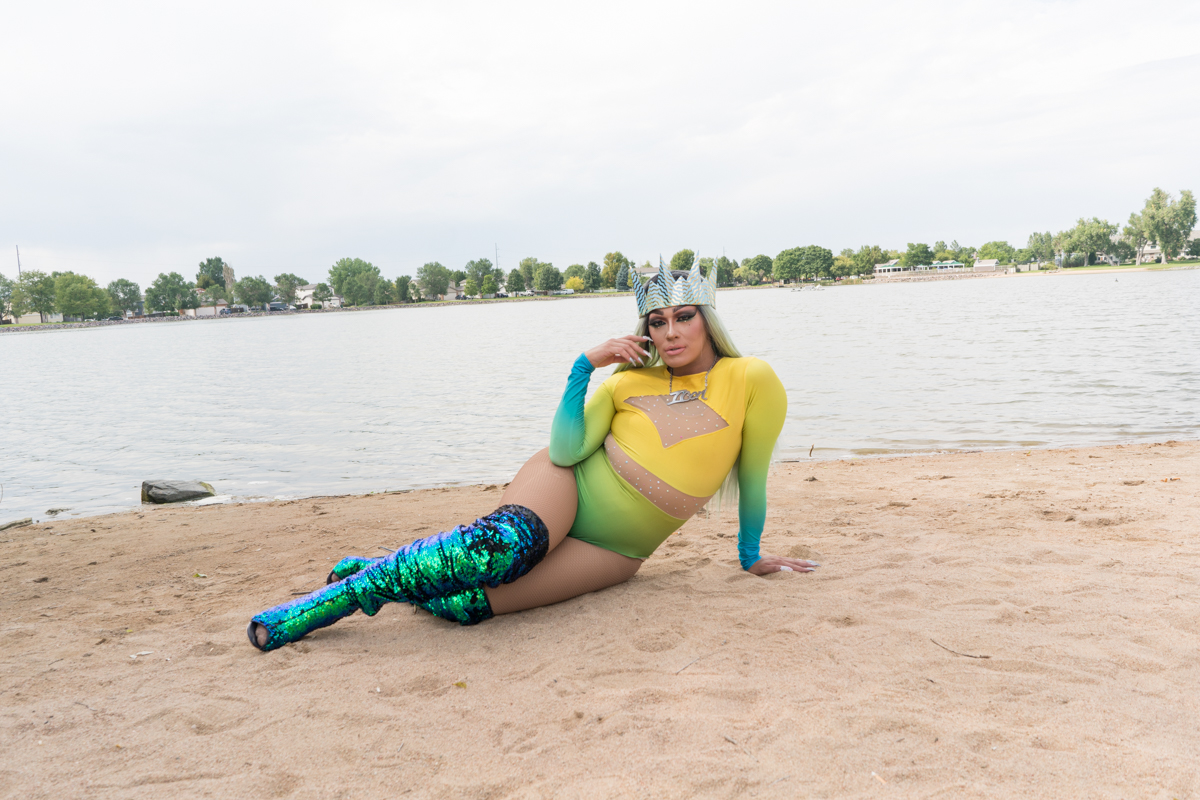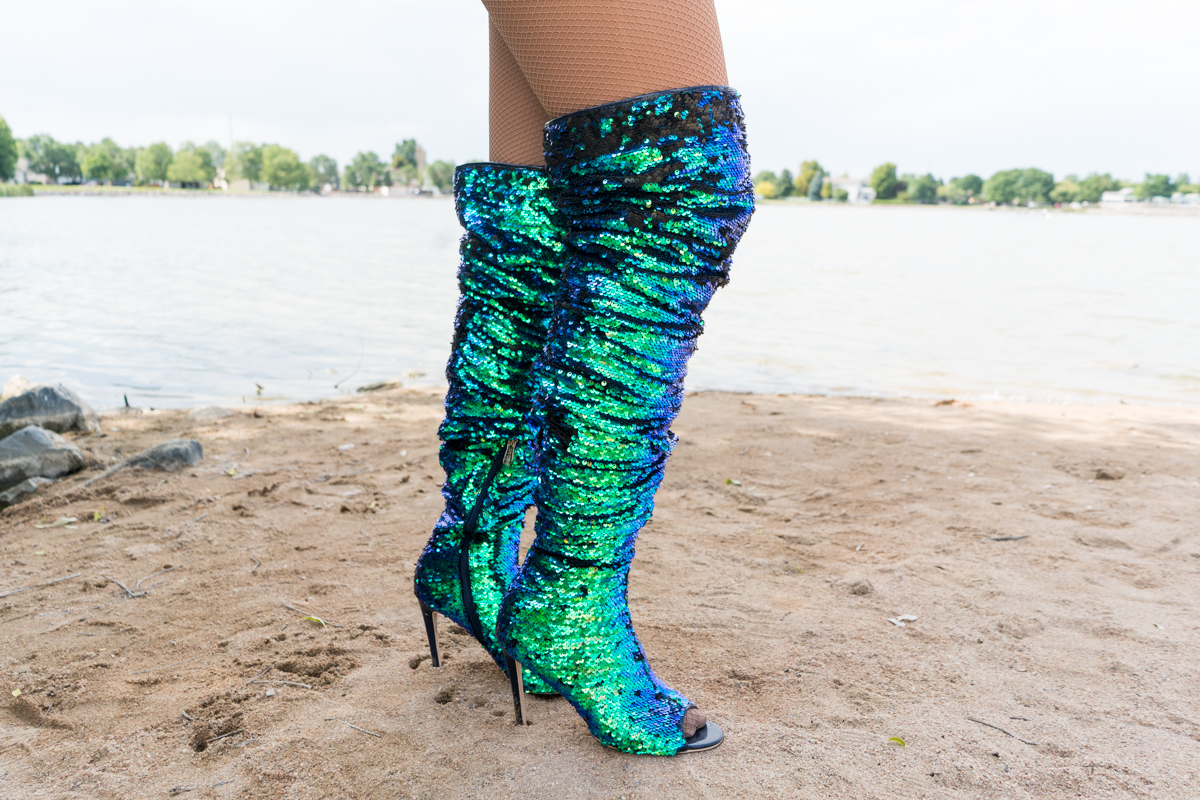 303: What types of shows and performances are you doing in drag? Where do you typically perform and where can our readers catch you?
MS: I perform regularly all over this amazing city. There was a point where I hosted four regular shows a week. I've definitely slowed down a bit. You can still catch me rapping, singing live, flipping and splitting on different stages at Tracks, Charlie's, Gladys, El Potrero and wherever else they need the baddest bish! Follow me on Facebook, Instagram, Snapchat and Twitter, to find me on any given weekend.
303: What tips and tricks can you give to those are just starting, or want to start, doing drag?
MS: My biggest piece of advice to new aspiring queens is be yourself and do whatever the fuck you want! Drag isn't about acceptance. It's about putting your best art in view of anyone willing to see it. Dress how you want, perform what you want, call yourself any name you like. There are too many baby queens that think they have to fit a mold in order to succeed, but if you have the will and desire to succeed, you will no matter what. Most importantly have fun and try new things!
303: The drag community has really grown in terms of visibility from TV shows and music, what is your take on this? Is it a good or bad thing and how has this affected the Denver drag community?
MS: I think it is amazing how much drag has grown into [the] mainstream. RuPaul's Drag Race airing on VH1 and drag queen hosted television and web programs have helped that tremendously. Drag is becoming a part of everyday society and we have to be grateful. The one downside, if any, is the fact that some Denver queens think that what they see on Drag Race is the best or only type of drag ( i.e. stoned gloves, the "Valentina" brow, pageant hair) There are so many types of drag that RPDR doesn't show, and they're all equally important.