The world has always been divided into two types of people — those who prefer sweet foods and those who prefer savory. However, at Denver's Chocolate Lab, these two groups can exist together in sweet, savory harmony.
On May 5, this small, highly-acclaimed chocolate shop launched a full lunch and dinner service — cocktails included. With the exception of the grilled cheese and mac and cheese, all of Chocolate Lab's menu items contain chocolate in some capacity.
The Space
Phil Simonson has run the Chocolate Lab out of its current retail space since March 2016. The store recently closed for renovations and reopened on May 5 with a dining area and bar to accompany its full-service menu.
This transition from chocolate shop to restaurant gives the Chocolate Lab a unique feel. Chocolate remains front and center with a window of truffles greeting you as you walk in. The bar and entire dining room are also visible from the front door. While some small restaurants can feel crowded, the intimate space allows the Chocolate Lab to maintain the feel of a cozy chocolate shop.
To fully sell the idea that people can consume chocolate at any time for any meal, it also expanded its hours. It is open Monday through Thursday from 11 a.m. to 9 p.m, Friday and Saturday from 11 to 12 a.m. and Sunday from 11 a.m. to 7 p.m. These hours may soon grow.
"If you're here and having fun, I want you to hang out and enjoy it. I'm not going to send you out the door because it says 9 o'clock on our window," Simonson said.
The Story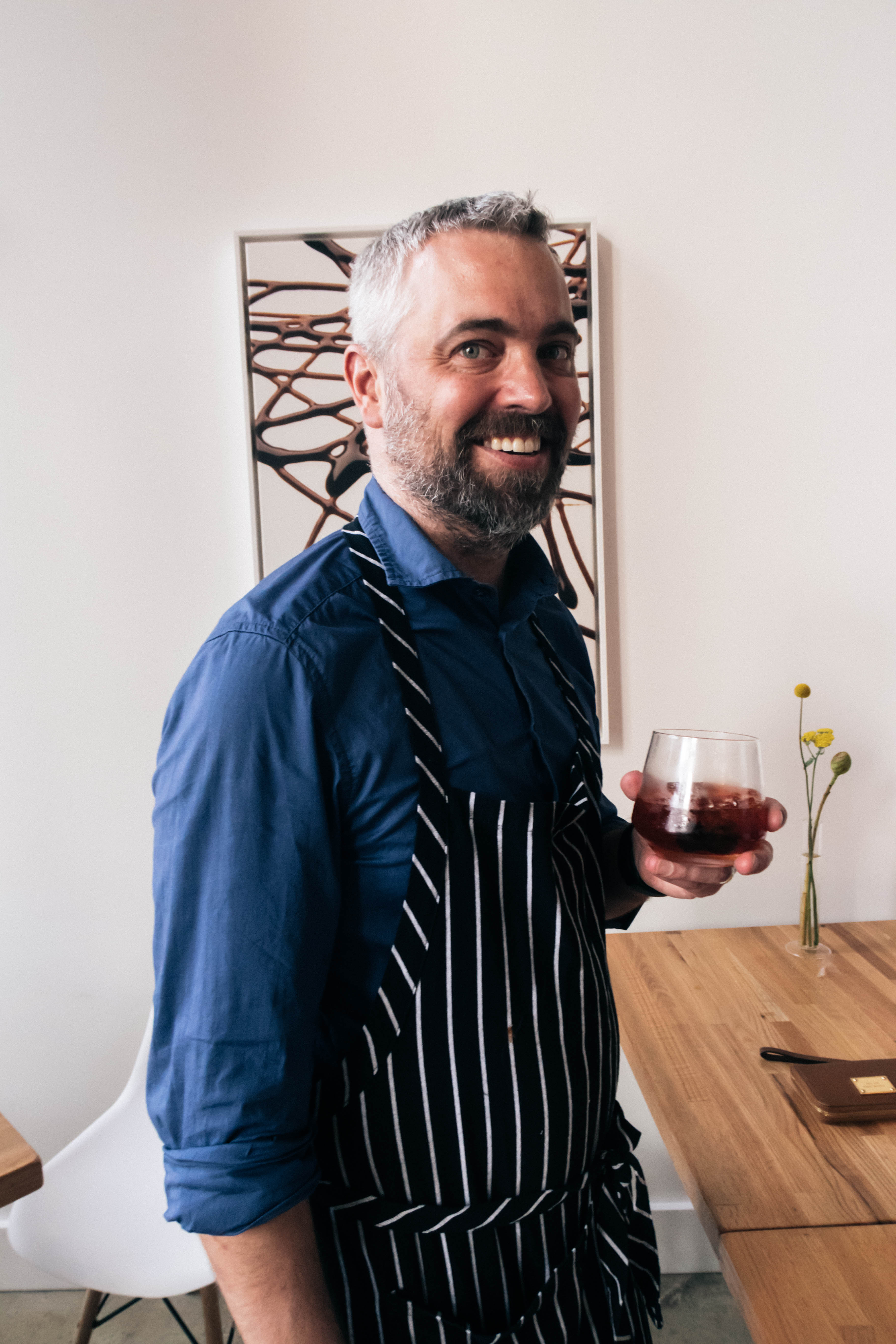 The restaurant serves as the next step in Simonson's mission to seamlessly blend chocolate with nontraditional flavor pairings. Surprisingly, Simonson never cared much for chocolate.
"I don't like sweet. You give me savory and salty and I'm a happy little guy," Simonson explained.
However, on their first Valentine's Day together, Simonson's now husband made him a box of chocolates. Simonson fell in love with the truffles — and the man who made them.
Since opening the Chocolate Lab in 2010, he has invented 250 different types of truffles — many with a savory twist. However, even truffles as inventive as the "Drunken Onion" could not satisfy Simonson's appetite for experimentation.
"I get bored really easily. I like to just have a lot of different things to do," Simonson said. "Doing the food was me being able to take another creative outlet and just run with it. For me, it's been a lot of fun to play with pushing the envelope with chocolate."
Creativity plays a central role on Chocolate Lab's new menu. Although some experiments succeed more than others, each of these unique flavor combinations — which you can't find anywhere else in Denver — are all worth a try.
The Food
This slideshow requires JavaScript.
To get a full understanding of what Simonson can do with chocolate, try his cheese board ($17). The plate comes with chandoka cheese — a strong cheddar cheese mellowed out with a light sprinkling of white chocolate. In the center of the plate sits fenugreek cheese; its maple finish complements the caramel almonds under it. In its last pairing, chocolate acts as the primary flavor — the combination of sweet, creamy Oma cheese with a homemade triple chocolate brownie tastes just like chocolate cheesecake.
If you can only eat one thing while at Chocolate Lab, try the bacon-wrapped Medjool Dates ($9). The chocolate balsamic caramelizes on the outside to make the bacon extra crispy. Simonson wraps the bacon around a chewy date filled with creamy milk chocolate and Gruyere cheese. With these creative additions, Simonson gives this classic dish extra layers of both texture and flavor.
For the main course, we recommend the Pulled Pork Sandwich ($10). Both the 18-hour slow roasted pork and bourbon-chocolate barbecue sauce melt in your mouth. In this dish, chocolate adds moisture to the pork and sweetness to the barbecue sauce. However, since chocolate isn't a prominent flavor, it's the perfect meal for those skeptical of eating chocolate for dinner.
In some of Simonson's experiments, chocolate felt like a gratuitous addition. Simonson covers his Crispy Brussels Sprouts ($8) in a honey-chili glaze, which helps tame the vegetable's natural bitterness but also overpowers the cocoa nib garnish. Similarly, the balsamic atop the Warm Tomato Salad ($9) dominates the palate. The white chocolate foam adds a pleasing visual element to the salad but cannot stand up to the tangy flavor of balsamic. The Chocolate Lab could benefit from removing chocolate from these menu items or adjusting them to play up the flavor of chocolate more.
However, even when the chocolate wasn't noticeable, each dish proved Simonson could work with savory flavors as well as sweet. He has created a menu that everyone — chocolate lover or otherwise — can appreciate for its novelty and quality.
The Drinks
This slideshow requires JavaScript.
If there's one thing to not skip on, it's Chocolate Lab's cocktail menu. All of its cocktails either contain chocolate or complement chocolate.
The Chocolate Lab's S'moretini is a fan favorite. While you still get a hint of the fluff vodka, the chocolate liquor and Kahlua make the cocktail taste like dessert. Be sure to savor the homemade toasted marshmallow garnish — after trying it, you will never enjoy store-bought marshmallows again.
If you want a slightly stronger drink, go for the Chocolate Manhattan. Recommended by the bartender, this cocktail blends chocolate whiskey with sweet vermouth and orange bitters.
They even serve a variety of beers and wines. Simonson also hopes to start a wine and chocolate pairing program in December. However, even if that vision does not pan out, Simonson has only begun experimenting. We look forward to regularly returning to Chocolate Lab to see what creative new foods and drinks Simonson dreams up.
Chocolate Lab is located at 2504 Colfax Ave., Denver. It is open Monday through Thursday 11 a.m. until 9 p.m., and Friday and Saturday 11 a.m. until midnight and Sunday from 11 a.m. until 7 p.m.
Unless noted, all photos are taken by Rachelle Foos.