Whether it is because of the mountains, the marijuana or the music, Denver seems to be a hub for folk and country music. Wolf van Elfmand is one of the local musicians here putting in work for the folk genre. Formerly of the band Von Stomper, his new solo project titled Real Wolf is set to be released this June and he has already released a music video for his song "The New Folk." Read below to discover his musical passions that seem to fill up every niche of his lifestyle.
303 Magazine: What gravitated you towards the folk/country genre?
Wolf van Elfmand: I first got bit by the folk bug — it's an evil bug — probably when I was 18, 19 and that's been a huge influence for me ever since. It's a really cool hole to fall in because it's bottomless. But my inspiration doesn't just come from that, especially as a writer. Early on it was people like David Byrne and Talking Heads, Frank Zappa, Randy Newman and a lot of other songwriters that are not Country. But the genre [I play] sort of falls into that — which is why I'm such a weirdo…I always tell people [my style] is folk and country blues. I say country blues but I am really a finger picking guitar player, so that's the style.
303: What's your take on the Colorado music scene? How has it evolved?
WVE: This is a very feel-good kinda town here in Denver, people like to go listen to music and forget about their troubles. It's really growing and that's good for the scene, we need more creative minds. I moved here from the front range in Fort Collins and there's huge growth in the scene there, too. I'm encouraged by being here and happy I landed here.
But I would also like to see the listening crowds grow and the opportunity for DIY spaces grow. I'd like to see that same desire and success from businesses because people want to be a part of that. That would really help deepen the quality of the songwriting community where I reside.
303: Can you talk a little about your new EP?
WVE: It's a four-song EP that we are releasing on June 10 and doing a show at the Fort Green Bar. I first met the producer Evan Reeves, through Von Stomper (my former band), and we nerded out a lot on folk music and have a lot of similar interests in songwriters. We had communicated about getting together and recording a little demo and he is friends with Dango Rose, the upright bassist in Elephant Revival. Dango, Evan and I got together and Dango invited a few friends to play on it and we made it throughout the course of six months, we took our time and picked songs we believe in and we are looking forward to sharing. The music itself is more country than anything else genre wise, but I like to think the theme of the lyrics has a versatility and something unique to share.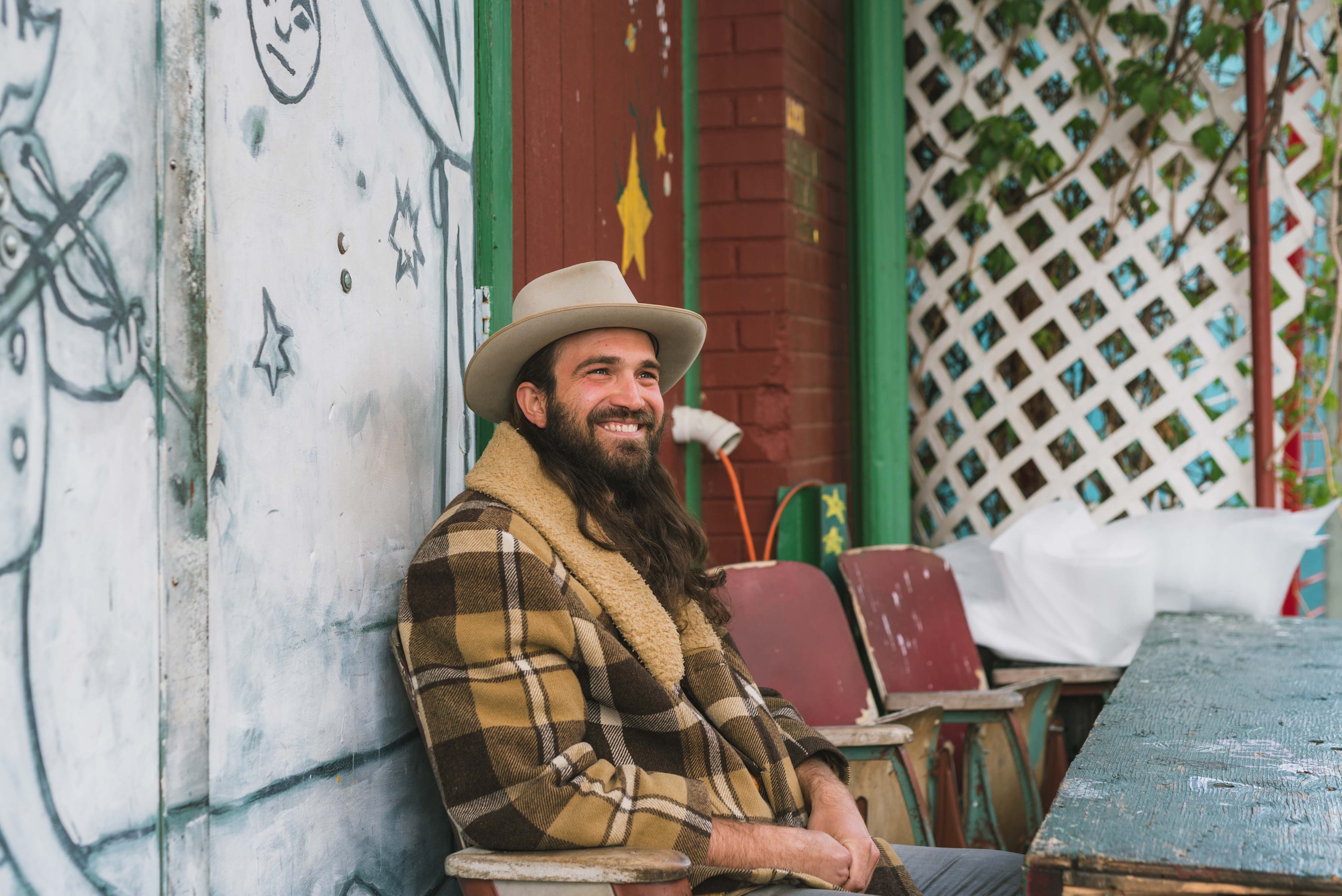 303: Okay, I have to know — where's the name from?
WVE: Oh, interesting question — Wolf is my grandfather's name, so that is where and why I'm called Wolf. His name is Wolf Laitner. Very interesting guy, I feel honored to carry his name.
303: What about the last half of the name?
WVE: It's not important. [Laughs.] 
303: "The New Folk" is well written — and a little political. Where do you find inspiration for writing?
WVE: So much of it comes out of the air and you are lucky to grab it. A lot of times, things just occupy emotional headspace and you can either force them into a song — which sometimes works — or they find their way into a song because you are motivated by it or care about the issue or topic. There's always been something for me in trying not to preach and trying to use a kind of light-hearted or alternate approach to further cement a point without being abrasive.
["The New Folk"] is a piece on seeing generational shifts and changes, the urbanization of so many people these days, living in a growing city but at the time I was traveling through rural towns, through the Midwest. There was a lot of inspiration because of everything political — it was written amongst the political chaos and I wanted to have a chant for a group I felt a part of.
I really wanted to at least help paint the picture and show appreciation, just for this change that's happening. It seems like one side is growing and one side is shrinking. The yin-yang piece of that is true, as the good grows the forces against it grow.
303: How did the idea for the music video come about?
WVE: The idea came from trying to have a video that helped convey the lyrics of the song and we wanted to do something original. Dango, who co-produced the song, knew a guy, Joseph Tonelli, living in Nederland who just started making these [animated videos]. We just connected and went over the plot — and the song is very straight forward so it was fun to do because the lyrics and imagery worked well with his style.
303: What are you involved with outside your own musical work?
WVE: I have a music therapy practice and I also do private lessons so I spend time giving lessons on ukulele, guitar, piano to young kids. I work as a musical therapist in assisted living and with developmental disabilities. You get to see music's transformative qualities in a very real-time way and the way so many different people react to it, it has inherent powers. I love seeing the growth in my students and connecting with clients.
303: How do you make time for all these music endeavors?
WVE: I think that musicians have a surprising amount of time, they just have to stay focused — that's the harder part you know. Being in a DIY band gave me the confidence to start my own business. You just have to be able to manage your time and allot time to certain things and sit at the computer and get work done. You really got to stay on yourself. I feel like I have free time but you're [your own] boss so you have to stay on it. Keeping a good mental health helps with everything.