Denver was alive Saturday afternoon as droves filled the streets for RiNo street festival Project Pabst. Incorporating multiple venues and two stages set up between 27th and 28th streets on Larimer, the all-day affair showcased excellent local artists and a diverse selection of mainstage acts including STRFKR, Phantogram, Danny Brown and Ice Cube. The Meadowlark, Larimer Lounge, Nocturne and Cold Crush all played host to their own distinct scene — the diversity made the festival. Local rock and hip-hop groups attracted fans eager to escape the sun as bars became packed with people seeking stronger libations than the omnipresent PBR being sold outside.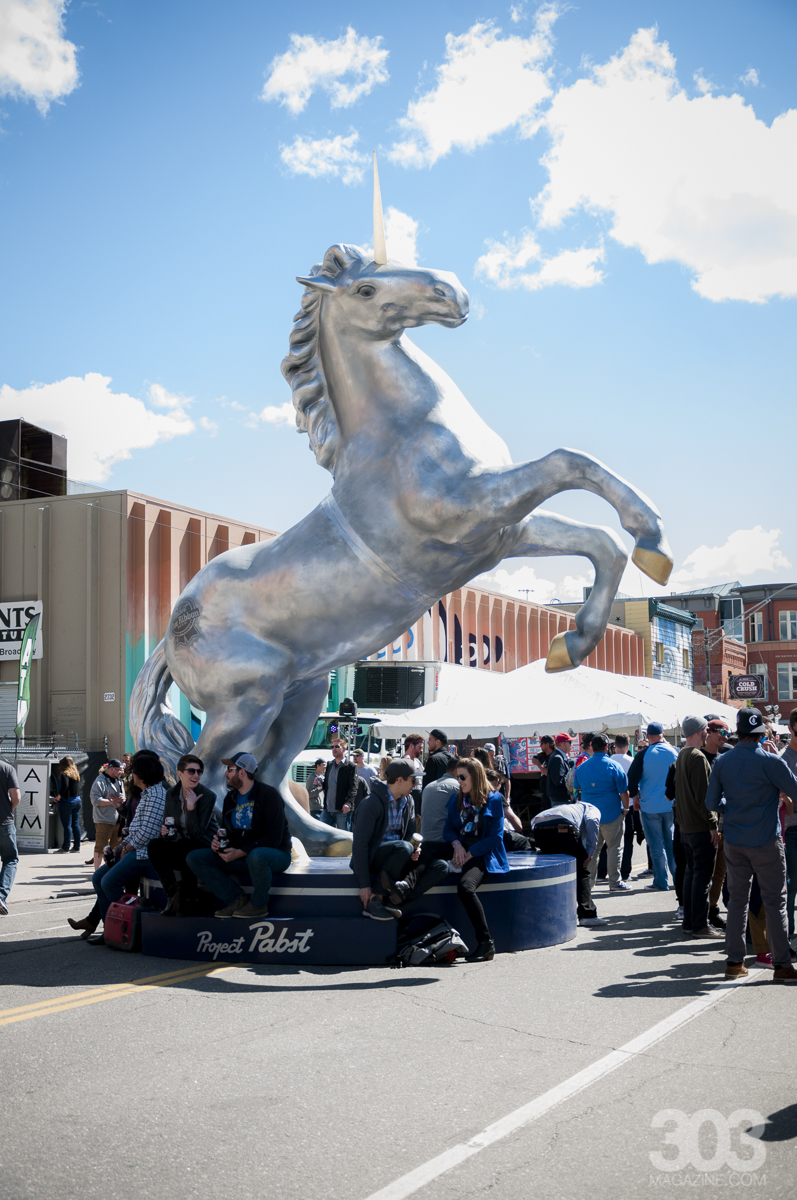 Chicago garage rockers, Twin Peaks, kicked things off on the Laser Horse Stage, followed by LA rock duo, Deap Vally, bringing a surprisingly robust set of hard blues to the Captain Pabst Stage. Clad in a frilled dollar-bill-print romper, vocalist Linsdey Troy strutted the stage with attitude that befitted the sound. Festival organizers smartly arranged the line up so no overlap occurred on the main stages, ensuring that ticket holders would not have to miss their favorite act.
STRFKR hit the stage at 4:45 p.m. clad in NASA jumpsuits and space helmets while frontman Joshua Hodges arrived in full drag. Inflatable bananas, penises and sex dolls soared over the crowd as the band brought their signature indie-disco to a highly receptive audience. Perfectly suited for the middle of the day, their energy was mirrored by the audience. Danny Brown followed suit looking surprisingly handsome — a fresh set of diamond-enhanced front teeth and leather jacket solidifying his rockstar status. Opening with the nihilistic banger "Die Like a Rockstar" and playing hits from across his catalog, I was surprised when "Blunt After Blunt" appeared to elicit but a few plumes of smoke from the fairly tame crowd.
Local post-punk outfit Male Blonding filled the cramped Meadowlark basement with their noisy, aggressive and highly original rock. I was surprised to find that by the time they had finished their set they had become one of my favorite acts of the day. If you didn't manage to catch them here they will be hosting a party for their album release at Globe Hall on June 30. Crowds emerged from the darkened venues to catch Phantogram, who could not have been a better choice for sunset. People watched from rooftops as many in the crowd below inquired as to how they got up there — no one being willing to give up the secret.
West Coast legend Ice Cube made the most of his headlining spot using his hour-long set to run through favorites from his highly varied 30 year career. Starting with N.W.A. classics including "Fuck the Police" he proceeded into selections from his drum-heavy, Bomb Squad produced first album AmeriKKKa's Most Wanted. Joined by Westside Connection's own WC, Cube commanded the stage with the charisma of a seasoned professional. Funk cuts from his 1993 masterpiece Lethal Injection "You Know How We Do It" and George Clinton assisted "Bop Gun" lit up the dancefloor. There was the customary weed talk and some heartfelt memorializing of his recently deceased touring DJ, DJ Crazy Toones and OG-crooner Nate Dogg, but mostly the music was left to speak for itself.
Around 10 p.m., as Cube's set drew to a close, the crowd flooded into the already buzzing neighborhood. Long lines quickly formed outside the venues as those keen on keeping the party going satisfied their hunger with local acts playing until close. The night was warm, the bars full of satisfied music lovers — the festival providing a good and necessary reminder of the city's potential for greatness amidst a changing landscape.
All Photography by Candace Peterson. See full gallery here.