Denver Fashion Truck has been wheelin' and dealin' clothing, locally made fashion, art, home goods and handpicked vintage through dual mobile boutiques for almost four years. In September of 2016 Adrian Gallegos and Desiree Gallegos-Barragan, owners and husband and wife, took their show off the road — kind of — and opened a coinciding brick and mortar.
DFT sits next to Sunny's Diner at 2343 West 44th Ave. in Denver's Sunnyside neighborhood. The storefront's extra space has enabled the duo to connect to their community through events and partnerships with local makers, expand their vintage selection and even given them the option to keep warm and off the roads on Colorado's chilliest days.
While the boutique changes on a daily basis depending on what merchandise is coming in and going out, most pieces are single and one-of-a-kind. Desiree and Adrian have found their look and maintained it on all of their platforms. "It's Colorado 'woodsy' meets Metropolis of Denver," said Adrian. He named their partnerships with artists, designers and makers as one of the reasons for their look. With jewelry constructed out of repurposed cans and organic candles lining their shelves, it makes sense.
Another sartorial decision the duo has embraced for their shop are vintage pieces and antiques. It has come directly from their love of unique and even odd pieces in their personal style choices. "The idea of the boutique came about five years before we started the mobile shop and we had been collecting vintage for it. That was part of our first idea. Even when we first launched — on our first day — we had vintage," said Desiree. "It's a part of our passion. That's what we like to do, go thrifting and antiquing. Naturally, we wanted to house that stuff," added Adrian.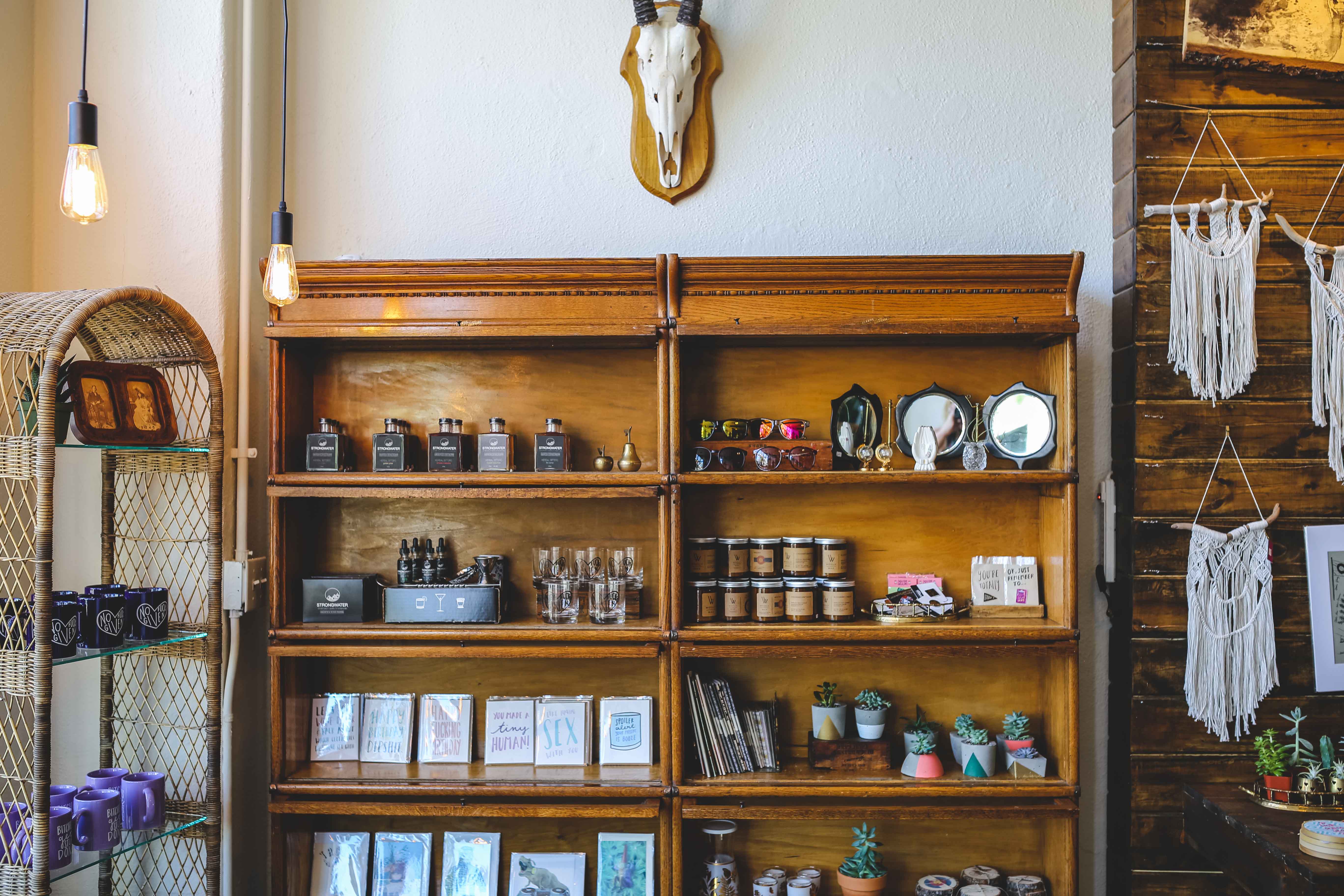 There is more space in the shop than the mobile boutiques but they still have to be picky about the merchandise they buy to sell. Both Desiree and Adrian enjoy sorting through piles and racks at antique shops and big name thrift stores like Goodwill and The Arc, but Desiree particularly loves attending estate sales. She said that while they can get competitive and a little crazy they always have the best and unique finds at really reasonable prices. "You can sign up for it and get notifications about when they are. They give you photos so you can know beforehand if it's something you want to go to," she said. She even had on her favorite piece of the moment that she found at an estate sale. She pointed to the gold broach in the shape of a shooting gun that rested on her chest. Both classic and cartoony at the same time, she knew as soon as she saw it that it wouldn't make it into the store's inventory.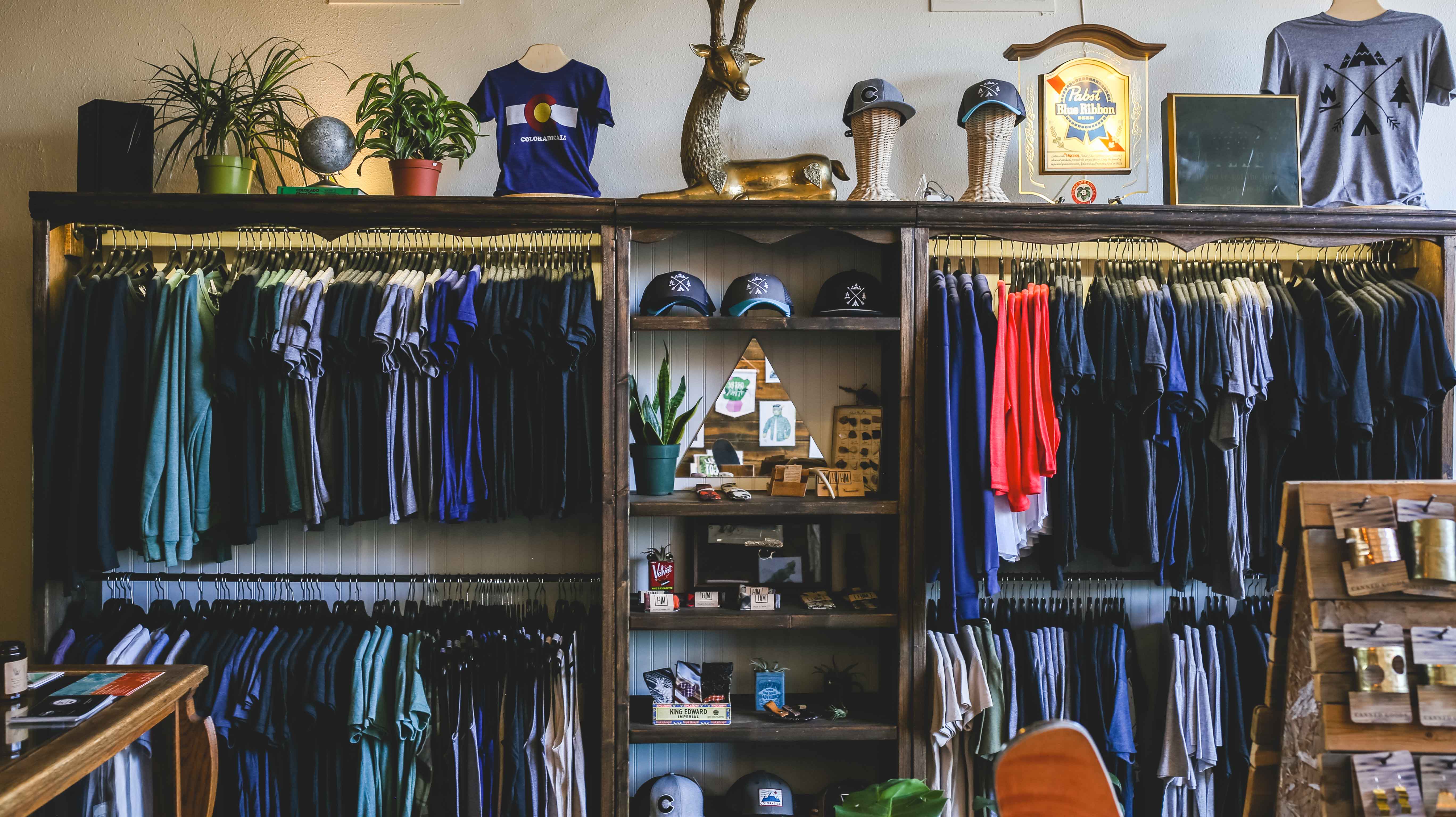 As for the shop, they enjoy that fashion is repetitious and concentrate on retro pieces with character that are trendy and that can be easily cycled into an existing wardrobe. Brass home goods, clothing with bold stripes and graphic tees are on their radar at the moment. "I think it's the perfect balancer. You can buy all your stuff at Ikea but you might be lacking character. I think vintage is perfect for that. I can never wear a completely new getup. There's always something that's vintage on me, the same with Desiree," said Adrian.
Finding icky pieces is a part of the game when buying used so Desiree and Adrian make sure to give everything a hard look and deep clean when they're buying. Laundry, steaming and minor fixes like sewing are regular activities for them but they won't buy even the coolest piece if it's too banged up. Markdowns can be tempting but Adrian stressed that if it's not in good condition then it's a loss.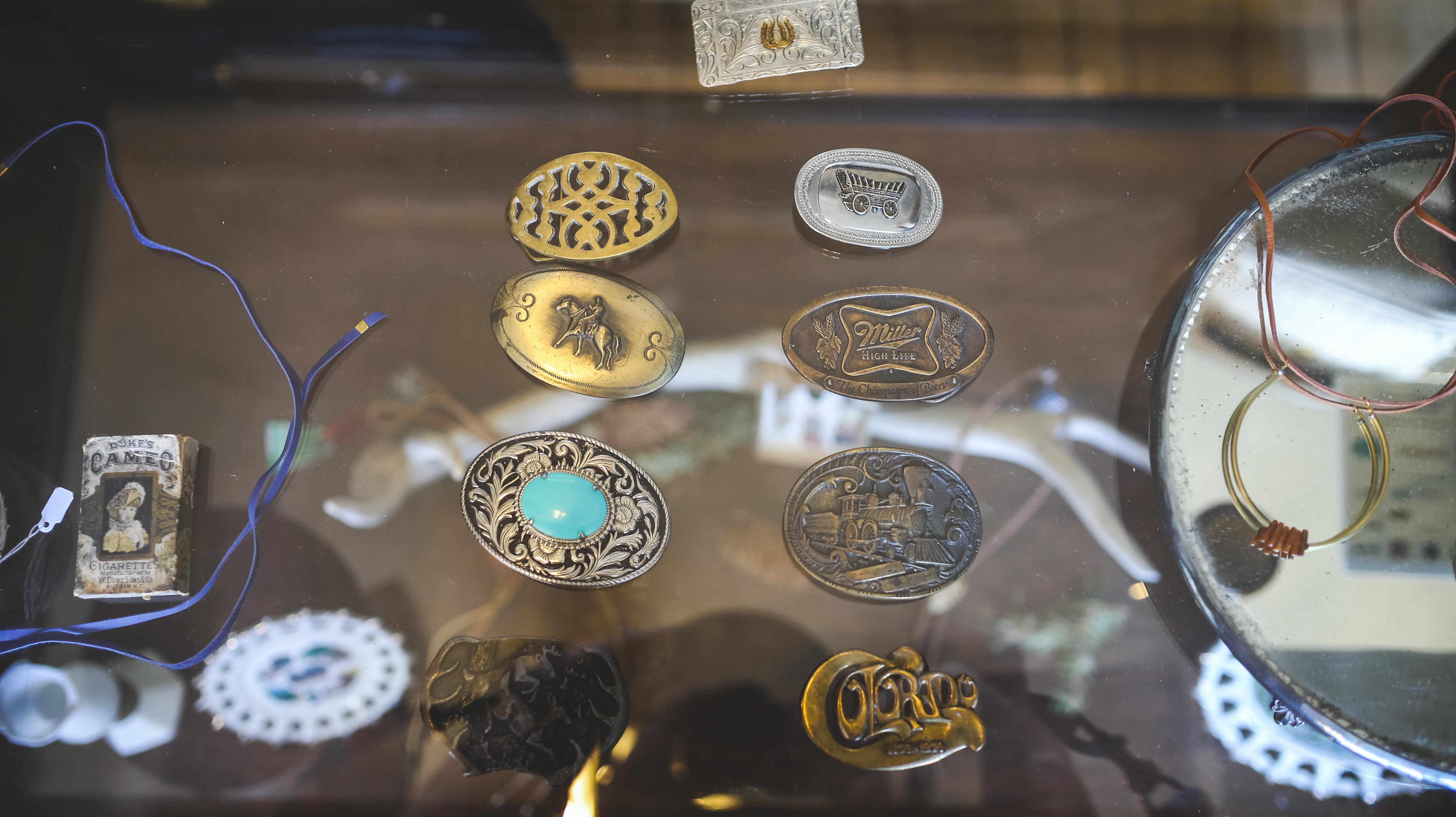 The couple looks forward being a part of Colorado's growing vintage community. At the end of March, they took part in the Vintage Whites Market where they drove their truck into the event space and set-up shop next to other local vintage sellers. They loved the experience as both vendors and shoppers and enjoyed seeing so many young people who were interested in vintage.
While adding a physical shop to their fleet was a natural progression for the duo and a goal that they have had their sights set on since the inception of Denver Fashion Truck, Adrian stressed that they are still invested in the mobile market and in growing as a shop in general. "Keep an eye out because we are out there rolling. We are nonstop with the mobile boutiques. A lot of people get the wrong impression because we started a shop but we're still out and about and we still have bigger plans for the future," said Adrian.
Check out their site for their mobile "upcoming stops" and store events.
All photography by Danielle Webster, unless otherwise noted.