Tattoo Masquerade®, one of Colorado's newest and most diverse art parties, will be returning to the Colorado Convention Center next weekend, June 2 – 4, for its second year. Offering the public 32 hours of art-filled nectar, this three-day, multi-arts event will be showcasing world-class tattooists, renown live painters, gorgeous jewelry makers, insane performers, beautiful healing arts practitioners and a variety of cool and unique vendors — all whom are flocking to Denver from over 80 cities that span from Hawaii to the east coast.
If you're looking to get some fresh ink, enter your body art into competitions and fill your walls with gorgeous artwork, Tattoo Masquerade® has got you covered. But you will also be able to treat yourself to a massage, admire and learn about live raptors and reptiles, tempt your fate at not looking away during The Enigma Live's humor-filled daily freakshow, scan yourself in 3D, pamper yourself with all-natural salves and body products, marvel at aerial performances, stilt-walkers and flow artists — and even enjoy belly dancing and some evening burlesque action to end the night with style. You'll also be able to take the kids out for a fun-filled day packed with incredible face painting, airbrushed (temporary) tattoos, balloon-twisting and music.
The convention center's 35,000-square foot Four Seasons Ballroom will be packed with over 150 booths and roaming entertainment to suit anyone's art-filled cravings. And it gets better, much better because advance ticketing is now priced as low as $10 per day*!
While there, you will be able to check out discounts from several local partners that are being offered to event-goers. On top of it all, there will be five different non-profit organizations at the event: Wounded Warrior Project, Victory Service Dogs, Wild Wings Environmental Education, Zoological Discovery and P.Ink — an organization that unites breast cancer survivors with tattoo artists. And artist Friday Jones will be onsite as a sponsored tattoo artist and will be tattooing one survivor per day.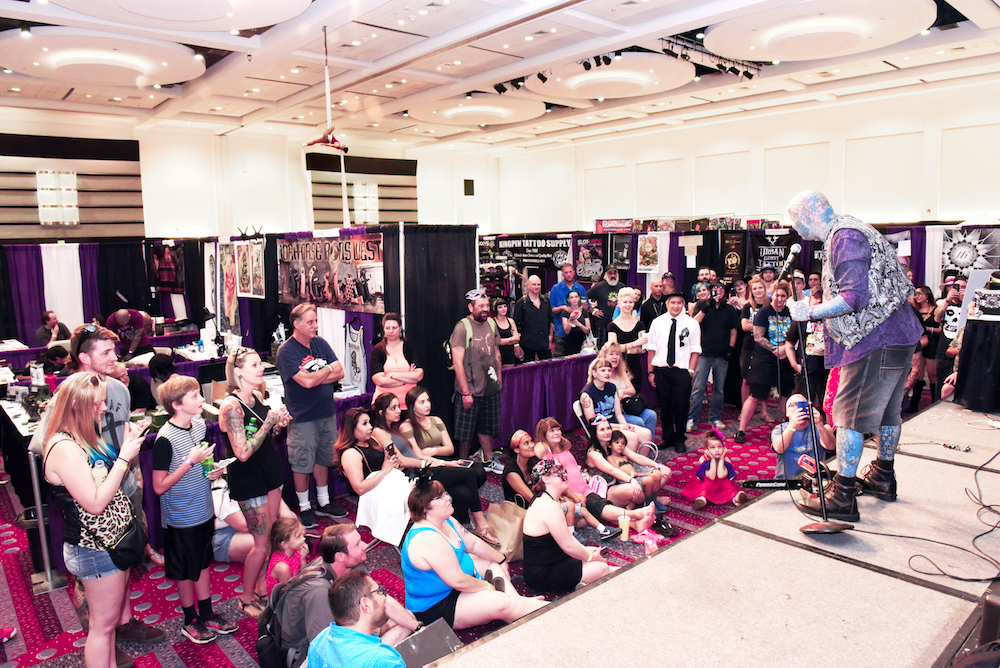 Last summer, 303 Magazine was there to cover the inaugural launch of Tattoo Masquerade®. Produced by Vinyasa Productions, a Denver-based grassroots duo powered by Marshall Bendelac and Megan Sax, and hosted by the Denver Tattoo Collective that is headed by Willy Smith, a super talented local artist with 25 years of tattooing experience, and we were beyond impressed with the creators' collective vision — not to mention their execution of such. Therefore, it should come as no surprise that 303 jumped back on board as a proud sponsor of this year's event and we now encourage you, art lovers of all ages, to come join in the fun June 2 – 4.
Looking for more information? Head over here.
*Based on a three-day pass purchased with the offered student/faculty/military discount; full-priced single-day tickets with advanced purchase cost only $16.
SPONSORED