Opening with the title track from Justin Vernon's — AKA Bon Iver — new album 22, A Million, "22 (OVER S∞∞N)," the crowd at the 1st Bank Center on April 11 instantly knew they were going to see a different side to this beloved artist. If you've listened to his latest work, you'll know he experimented with the ambient and electronic world. His self-titled album from 2011 entered the realm of electronic folk but it seemed that Vernon had fully crossed over in 2016.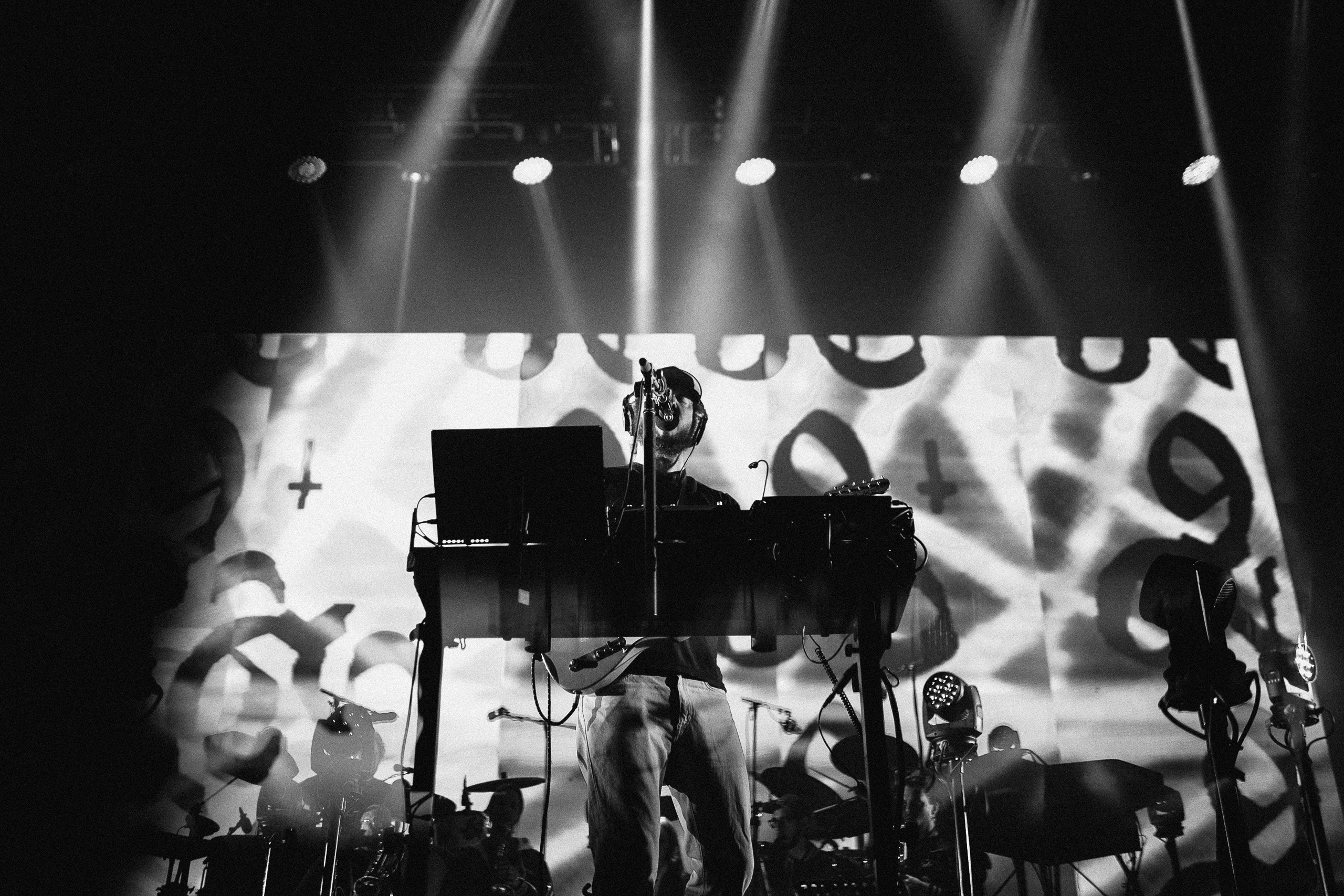 "10 dEAThbREasT⚄ ⚄" ripped from the stage next, with guitar and electronic pounds bursting from the speakers. His new album seemed so abstract when purely listening, but in the live element, you could hear the influences of rock 'n' roll and electronica quite clearly. Vernon was so precise with adding in the electronic bits that it wasn't just another DJ set. It was an orchestrated event that balanced live instrumentals with electronica, as if the electronics were there only to expand and showcase the instruments. "715 – CR∑∑KS" and "33 "GOD"" came next, and I realized he was playing 22, A Million in order that it was laid out on the album.
The screen behind him flashed lights as per usual, but also showed art that was similar to his album. I thought it was interesting that religious themes were dotted throughout the visual art, and the verse from Psalm 22 was highlighted at the end of "33 "GOD"." If you look up the lyrics to some of the songs from his album, you'll notice even more religious iterations. Crisis of faith? Maybe. Or maybe just some really damn good inspiration for Vernon to muse over. "29 #Strafford APTS and "666 ʇ" came next when Vernon told us to "turn that cross upside down." Vernon was quite awkwardly funny throughout — he even spilled the story of "Towers" before he performed it with the band, "This song is, uh, about, uh, virg, virginity." Don't worry, people still squealed with excitement at his boyish act.
Vernon began to mix up the old with new, tossing the crowd bones of favorite songs like "Michicant," "Minnesota, WI" and you got it folks, "Skinny Love." However, I sensed an evolution for this artist, because even when he played old favorites, there was an electronic twist on them. Perhaps this comes from years of practice and wanting to spin something new, or maybe this new album truly reflects the soul of Bon Iver. It still contains the disenchantment and skepticism as his previous albums, it just now hits the electronic age.
For "Skinny Love," Vernon sat down alone with just his drummers behind him. Yet he sang it like it was a newly released hit, pouring depth and emotion into the song with his unique vocals. Then it came, the political stance.
"When I got to town somebody said, 'oh you're playing at 1st Bank Center, not much goes on there' – uh super not true," he said in his awkward attitude. "You know, yeah there's a lot of shit were not paying attention to in general — like 1st Bank Center for one. There's a lot a shit to talk about these days should've been before these days,  yeah rock concerts are cool places for like things to be said of political nature but I want to share with you a hyperlink, Adam Curtis's HyperNormalisation. Yeah a YouTube link at a concert." – Justin Vernon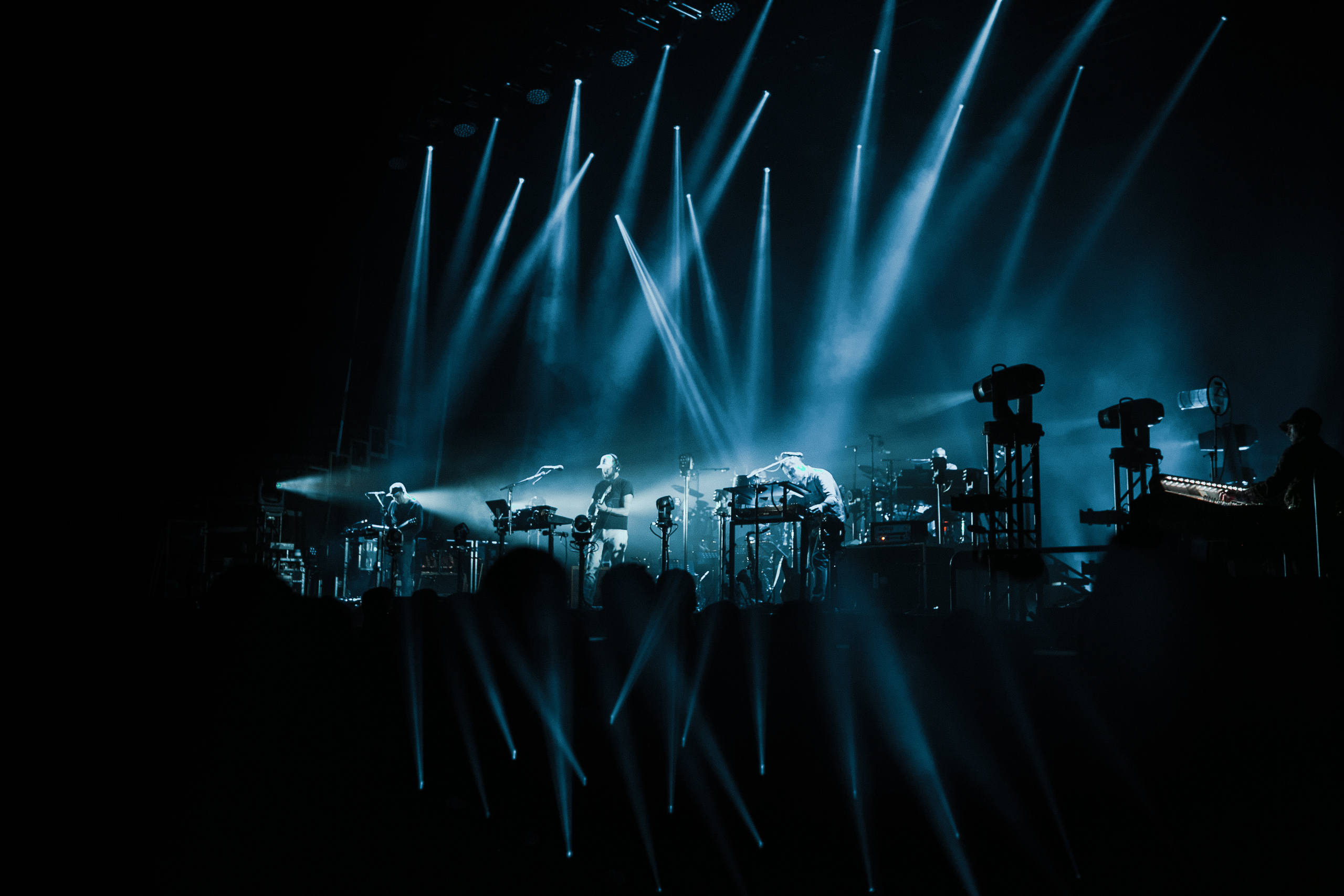 Then, rock'n'roll completely took over with a transition of light images on the screen that mirrored the clashing symbols and thunderous electronic backing. He played two more songs from his new album then threw it back with "Creature Fear." The song held a precise chaos that showed off his drummers and saxophonists, and after the instruments settled, he thanked us. I dreaded leaving the auditorium — it felt like the concert had just begun.
"I've been out of the way for awhile and this feels insanely healing to play for y'all tonight," he stated, smiling into the microphone. Familiar organ chords found themselves into the song "Beth/Rest," and one woman screamed loudly during a quiet point in the ethereal song. It didn't go unnoticed, "Yeah, yeah that's right," Vernon said swankily, "That was the right thing to do at that time, you're the first one in history girl," and the power organ chords and smooth jazz influences behind him created for a moment that you couldn't help but laugh. Bon Iver is hitting Coachella next, and all we can do is hope that this reclusive singer will share his musical insights with us Coloradans again.