Most people alive today probably remember creating small hanging mobiles in art classes in grade school, but without Alexander Calder those memories might not exist. Calder revolutionized sculpture in the 20th century by inventing mobiles and experimenting with heavy materials and gravity. These moving sculptures balance objects and respond to air or other energetic input, contrary to the very basic foundation of sculpture — solidity. Calder also created standing mobiles — balanced objects atop a fixed point on the ground, rather than suspended from the ceiling — and stabiles — or stationary sculptures. His work magnified a rare joy in the post-WWII era and has survived the years since with impressive force. The Denver Botanic Gardens opened Calder: Monumental today, a special exhibition in their York Street location which is the largest outdoor collection of his work seen in the West and a truly diverse portrait of the iconic artist. The works spans from 1956 to 1976, the later portion of Calder's career.
There are three main reasons why anyone should want to see this exhibition. First, this collection of Calder's will only be displayed at the Denver Botanic Gardens. All of the nine pieces are on loan by museums or the Calder Foundation itself (organized by Calder's grandson, Alexander S.C. Rower)— and convincing the owners to loan the pieces was no easy task. Second, many people associate Calder with urban design whereas Calder himself wanted to emulate organic, earthly forces and intended for his sculptures and mobiles to be in natural, earthly spaces. Finally, the Botanic Gardens have been working on this exhibition for two years in conjunction with Alexander S.C. Rower and guest curator Alfred Pacquement (former director of the Musée National d'Art Moderne in Paris.)
The time and effort involved in orchestrating not only the placement of the pieces inside the gardens but the actual procurement of the works is truly monumental, just like Calder's art.
Snow Flurry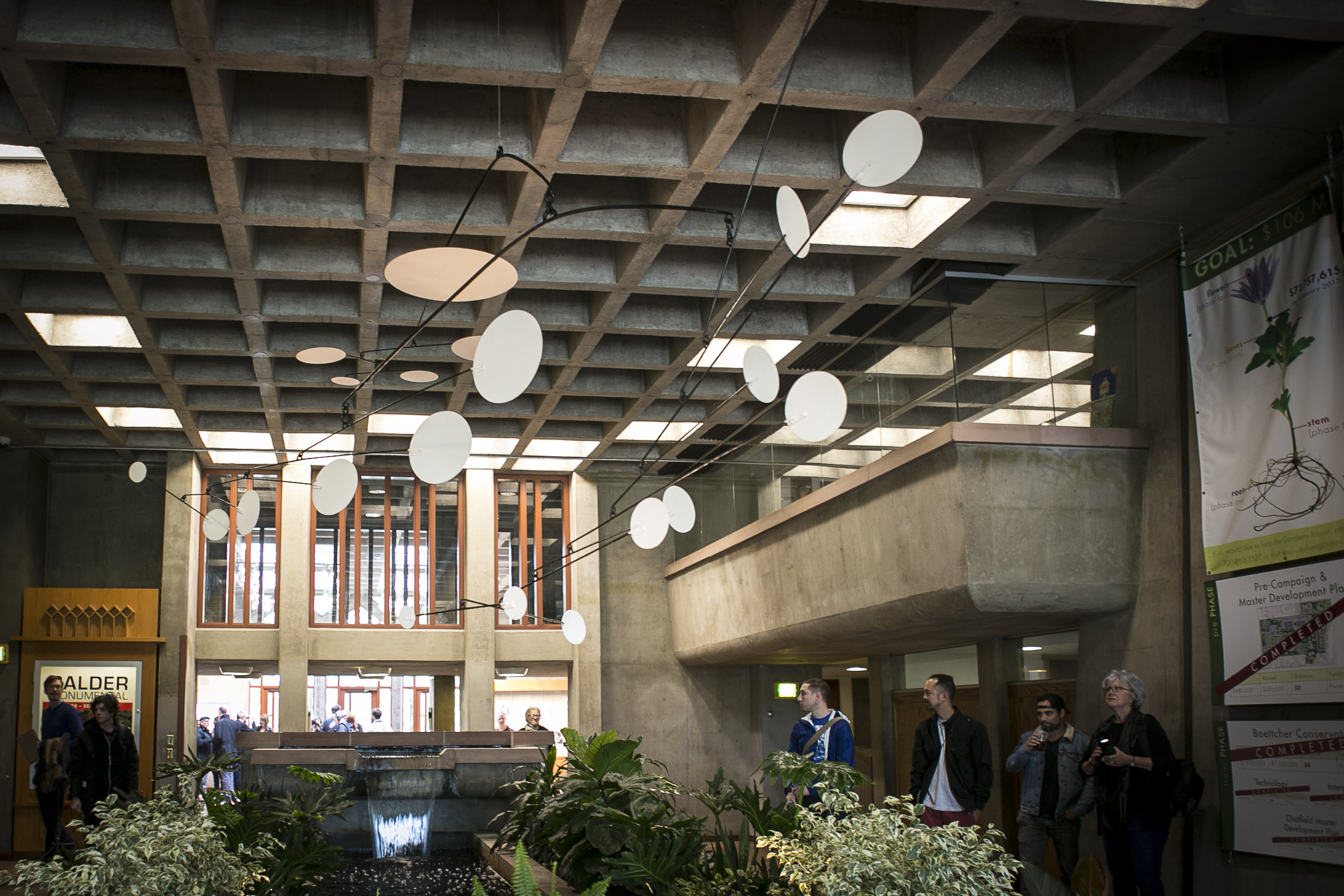 Created in 1959, Snow Flurry is the perfect way to begin the tour of Calder because it is so quintessentially him. Hanging from the ceiling above a pool and garden, it captures both the technical structure of the building and the organic movement of nature.  This piece was lent to the exhibition by the Denver Art Museum, so it may be familiar to some Denverites. Because it sits indoors, there aren't many elements to move the white circles, but the reflecting pool beneath the mobile as well as some good old-fashioned imagination brings it to life. Calder believed that using two-dimensional slices of shapes was enough to inspire the viewer to see a three-dimensional object. In this case, snowflakes.
Funghi Neri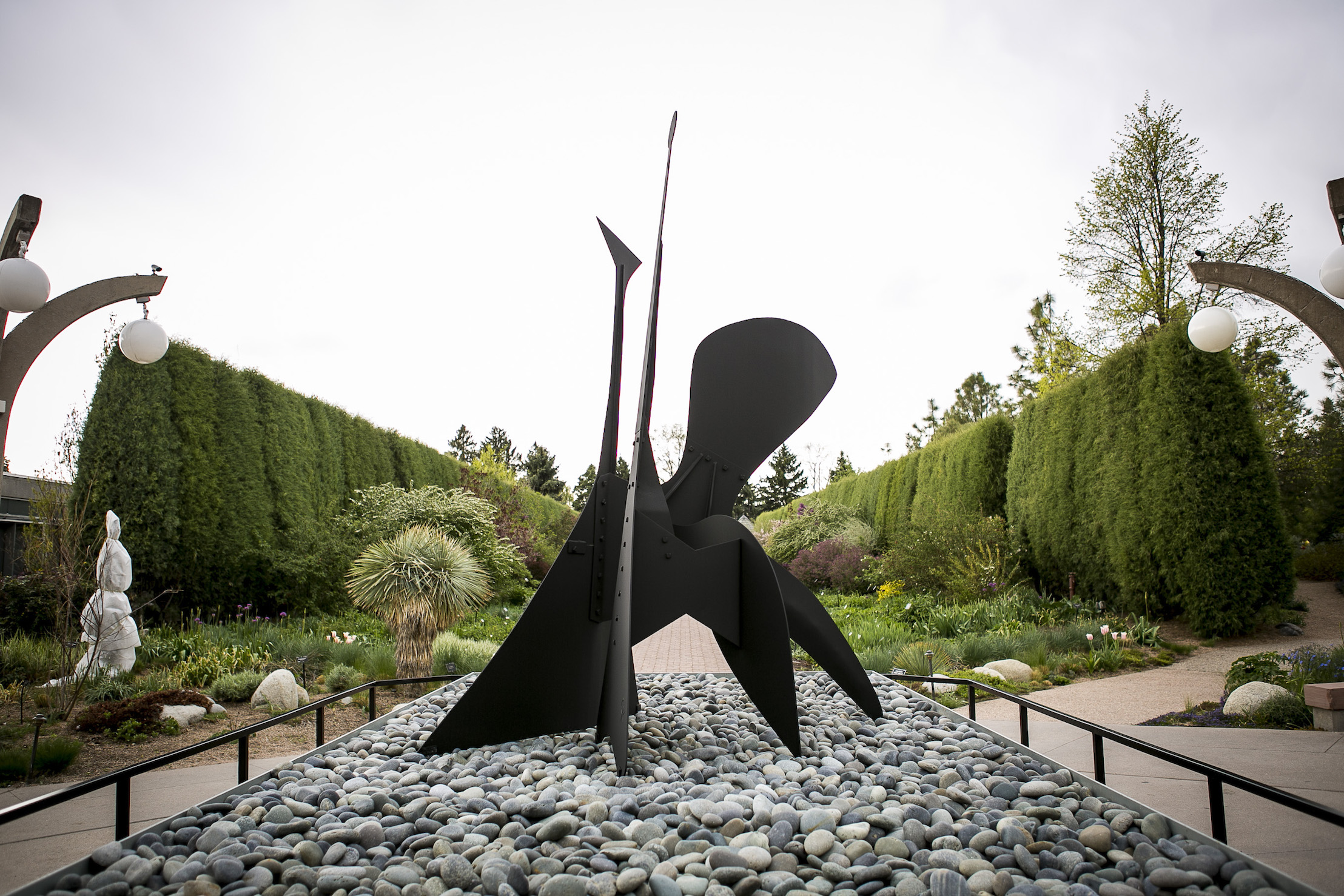 Even though the hanging mobile in the building is more iconic, Funghi Neri is the first to see. Situated where visitors pass on the way in and out of the gardens, it is a fitting place because it is one of the earliest works in the exhibition, created two years before Snow Flurry. Lent by the Calder Foundation, this is considered a "stabile", or a solid sculpture that still uses some form of balance to stand upright. Pacquement said, "It has been said that the stabile is a mobile at rest, and the mobile, a stable in action," signifying that stable sculptures like Funghi Neri are pre-kinetic, or hinting at movement without actually moving. Walking around the stabile gives the viewer varying perspectives, with the outlines and shapes — as well as the viewer's understanding of the entire subject — changing. This is true for Calder's stabiles and mobiles, though the mobiles have parts that literally move.
Tripes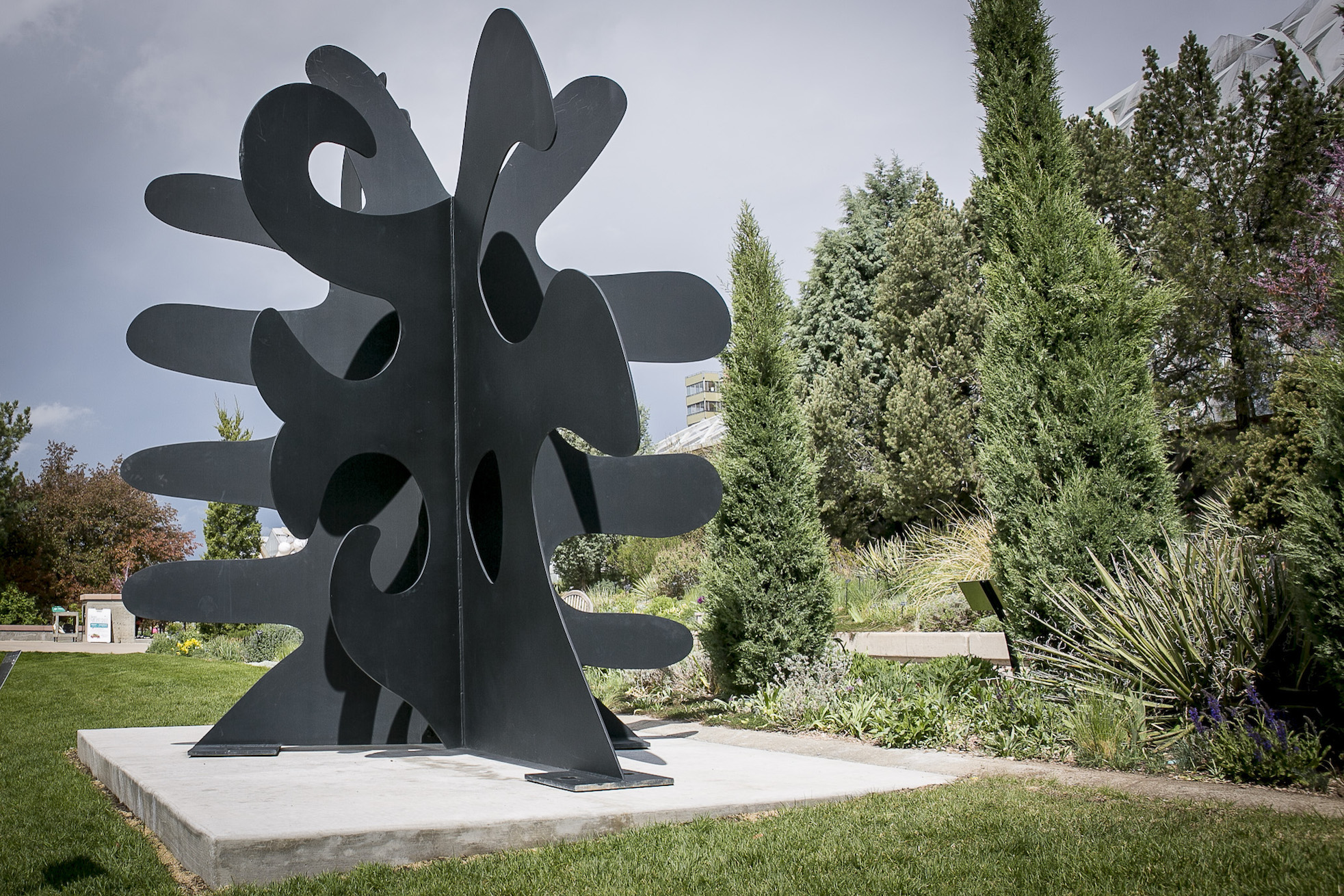 Tripes was created in 1974, making it the second oldest piece in the exhibition. Standing at about 12 feet tall, this stabile dominates the landscape around it, seeming both ominous and silly. Although the materials are industrial — metal, bolts and basic colored-paint — the shapes, lines and resulting figures consistently have a biological association attached to them. It helps that many of his titles hint at natural themes, though it should be noted that he titled his works after their creation. Tripes, for instance, reminded him of tripe — the edible stomach lining of various animals — and he titled it in French because it was going to be displayed in France. Funghi Neri was named in Italian because it was commissioned by someone in Italy, and apparently reminded Calder of mushrooms.
Untitled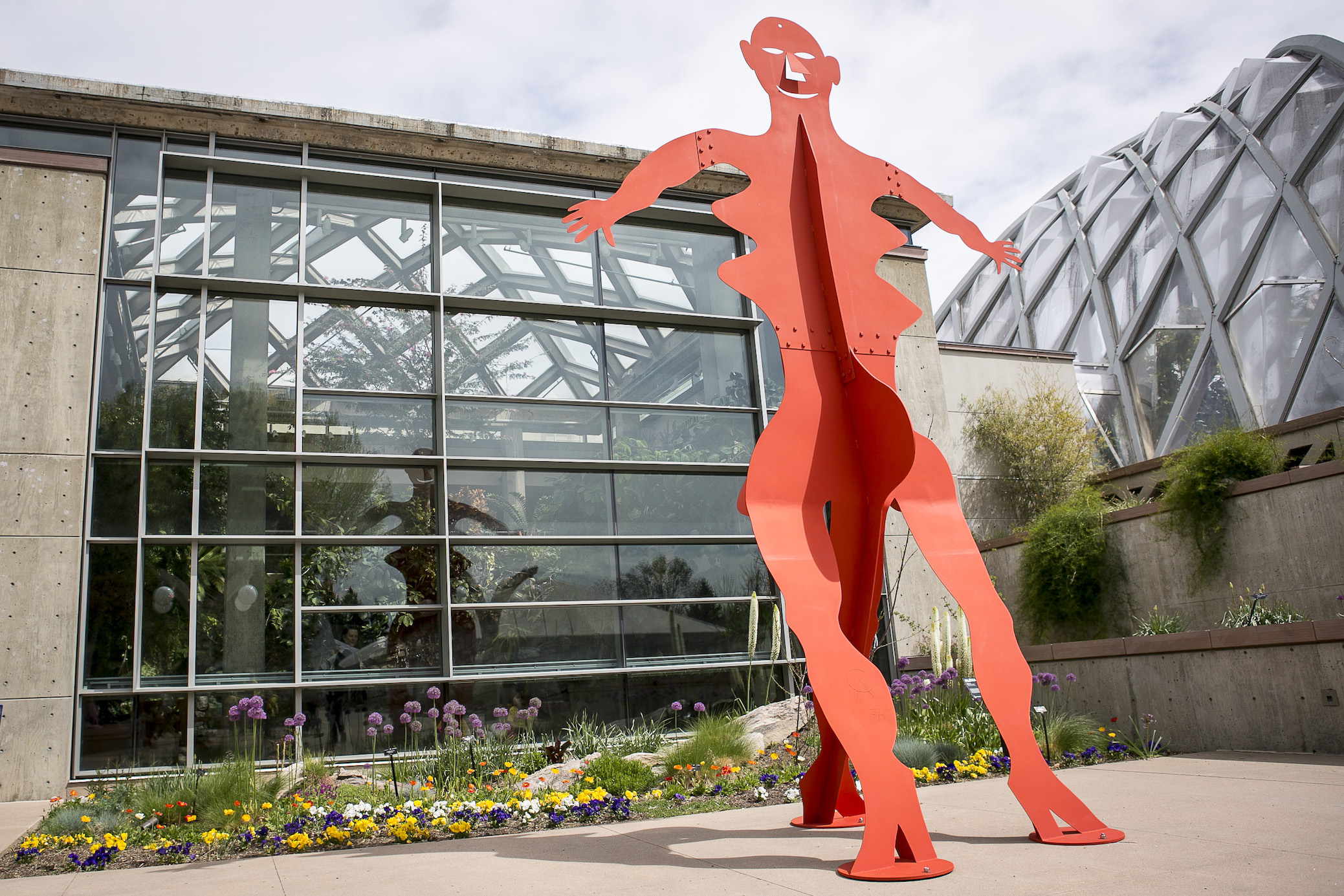 What makes this and other monumental sculptures by Calder so impressive is that he never made more than one or two small models before fabricating the life-size version. He preferred to hand-draw shapes on sheet metal and never accepted help conceptually, so the pieces are a pure extension of his vision. Untitled, created in 1976, enforces the claims that Calder never stopped exploring his own style of artistic expression. Even his grandson admitted he had no idea what influenced his grandfather in making this piece. If it's not immediately obvious, it supposedly portrays a woman. Sure, she's wearing high heels and has four breasts, but there are some other aspects that seem to point in the opposite direction (like the third leg between her legs or the masculine head.) With all of the transgender conversation in today's world, this stabile seems suddenly more relevant, more visionary. 
The Crab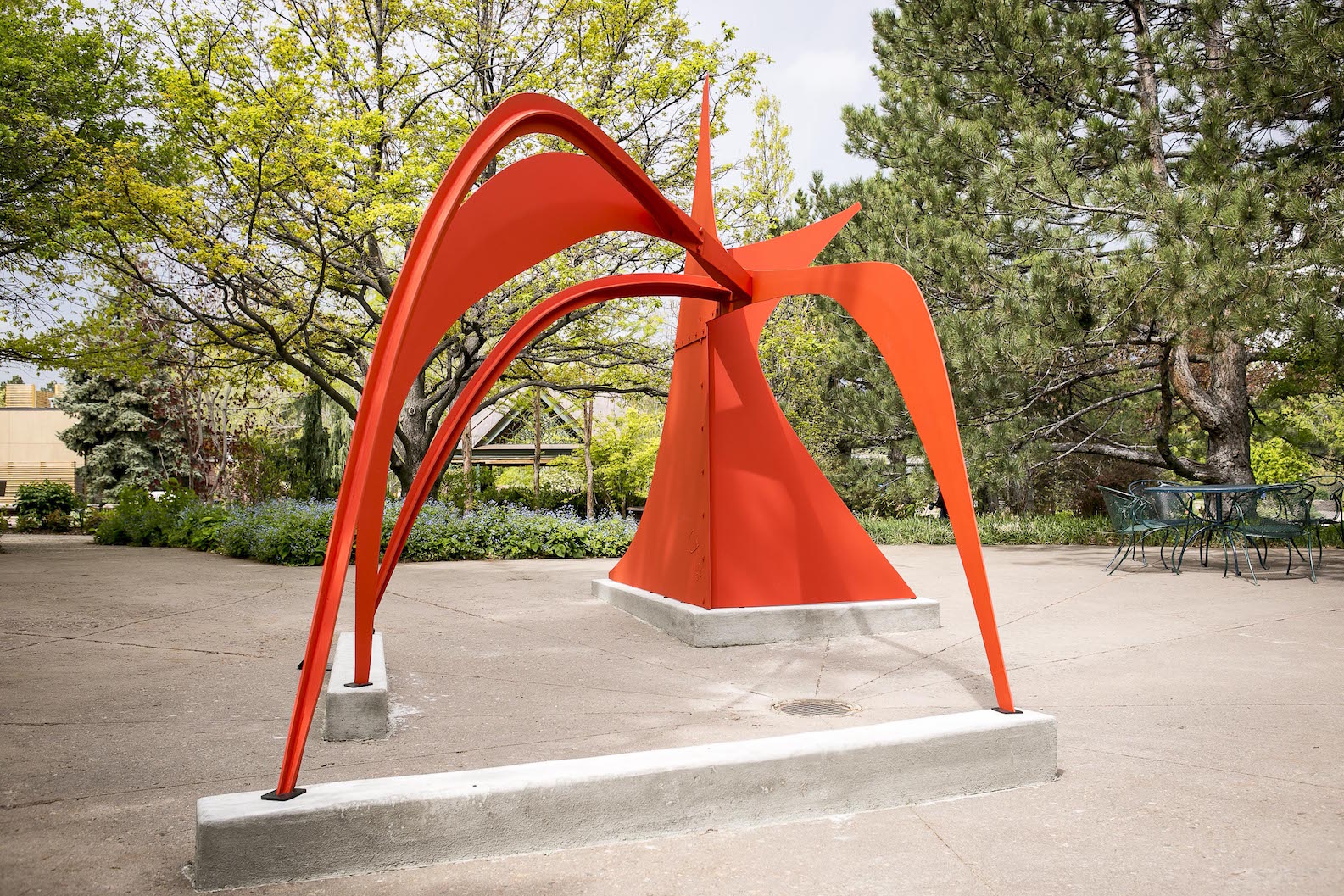 First things first, do not try to walk under this piece. There is someone who sits guard all day in order to keep people from doing just that. The piece is on loan from the Museum of Fine Arts, Houston, where it typically resides at the entrance to the museum and is obviously a valued piece of its collection. Made in 1962, The Crab is technically a stabile but borrows from the long lines of a mobile, tricking the eye into believing the weight is moving between the large base and the satellite arms. Using just one or two of the primary colors allowed Calder to focus more on the shapes of his sculptures, and in the case of The Crab, the crimson paint invites the viewer to notice the undulating outlines of the 'arms.' The strategic placement of this piece in a nook of green vegetation makes the red pop even more and also compliments the imperfect curvature of the sculpture with the imperfect curvature of the surrounding trees.
6 Dots Over a Mountain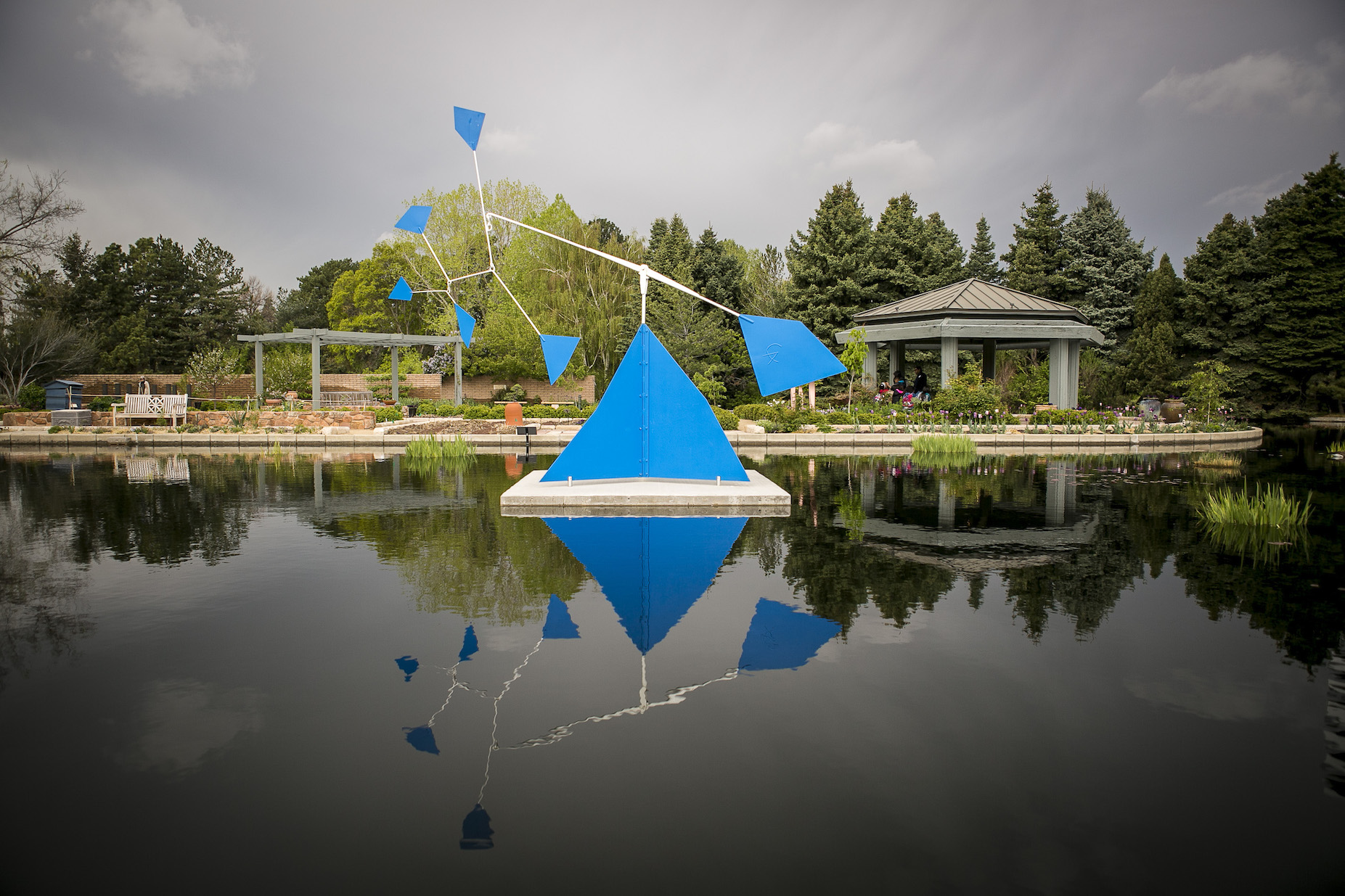 "The secondary colors and intermediate shades serve only to confuse and muddle the distinction and clarity," Calder wrote in 1951 in an essay about abstraction in art. Though he reinvented his style throughout his career, Calder never strayed far from this idea that black, white and a primary spectrum were perfectly suited to expressing ideas far greater than any color wheel. But his use of these basic colorings is not as impactful without lush surroundings. This piece, created in 1956, is on loan from the Smithsonian Institution's Hirshhorn Museum and Sculpture Garden and is considered a standing mobile. Calder liked using contradictions and right angles to portray organic shapes and seeing his work within the Botanic Gardens illuminates a side of his art that is deeply overlooked when seen indoors or surrounded by concrete. Though 6 Dots Over a Mountain was not originally intended to be displayed over water, this placement opens another dimension in viewing it. One side of the mobile portion is painted blue, the other red and small movements which may otherwise go unnoticed are mirrored in the pool below. 
Five Rudders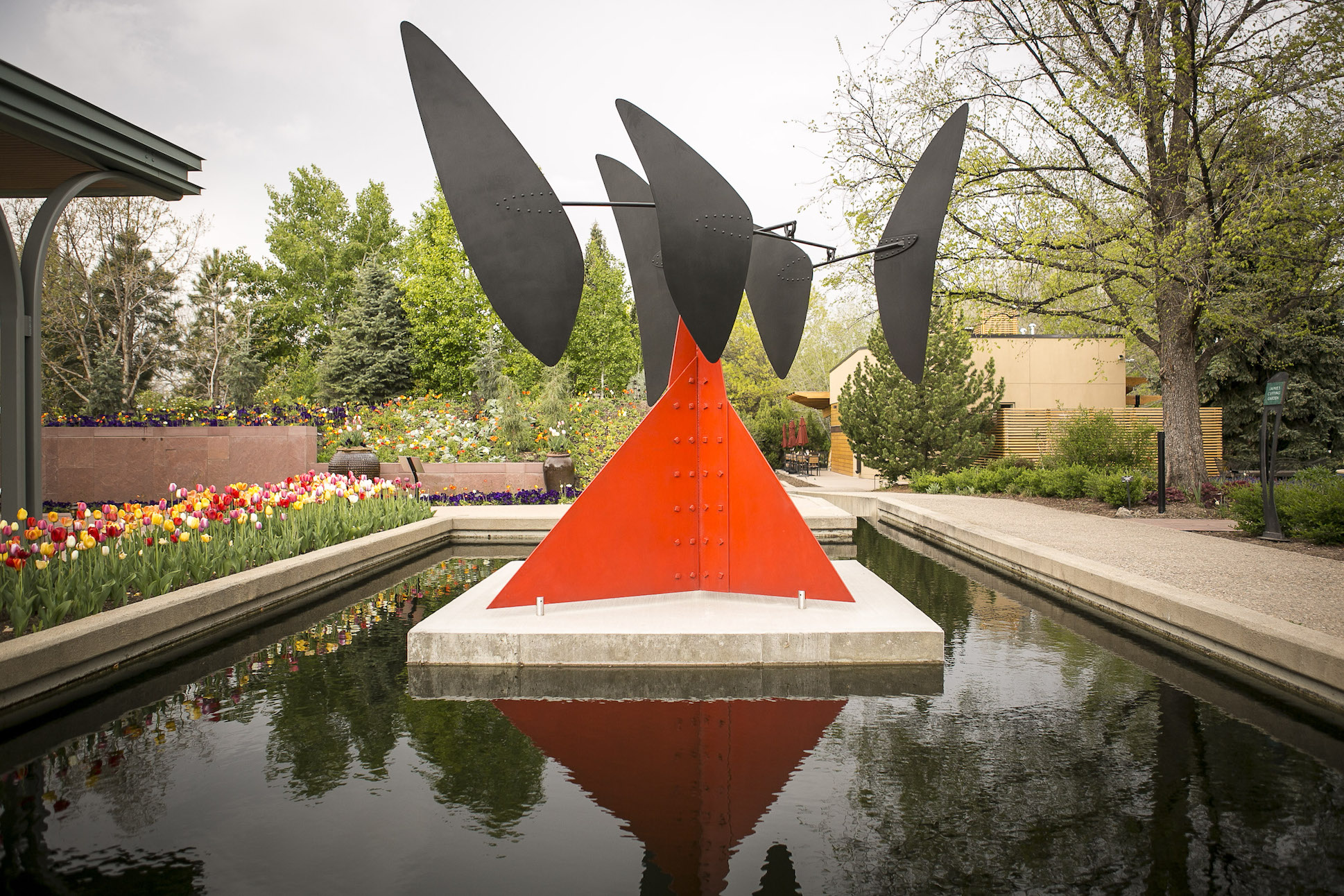 Another standing mobile, Five Rudders was designed to be more resilient to movement. The bars that hold the mobile together are more prominent than usual and the rudders are dynamic in theory but actually quite resistant. Calder hoped that this standing mobile would only move in nearly extreme conditions. Knowing that and taking the title into account, Five Rudders takes on a maritime feel, appearing as a submarine diving into the ocean. This piece, created in 1964, is on loan from the Mildred Lane Kemper Museum, Washington University in St. Louis, Missouri.
Polygons on Triangles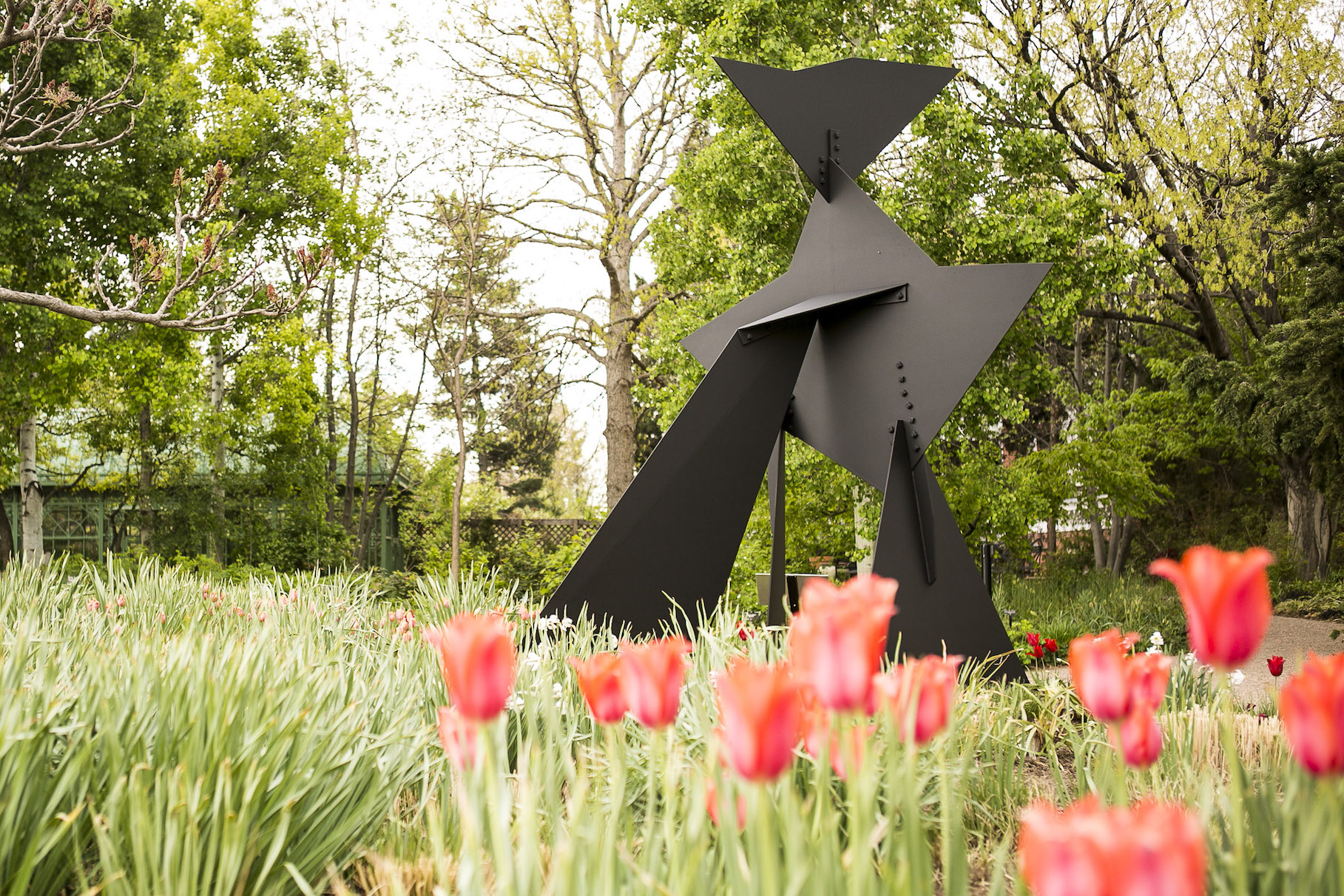 Created in 1963, Polygons on Triangles obviously portrays Calder's fascination with geometry. The top "headpiece" led to some people calling it "The Nun" — because of the cornettes that Daughters of Charity wore before abandoning them in the 1960s. From other angles the stabile appears as an animal, a robot or just a collection of geometric shapes. Calder wrote, "That others grasp what I have in mind seems unessential, at least as long as they have something else in theirs." Take special note of the bolts that hold the steel plates together in this piece because they illuminate how Calder would occasionally add erroneous bolts just for aesthetics and not to enforce structural integrity.
A Two-Faced Guy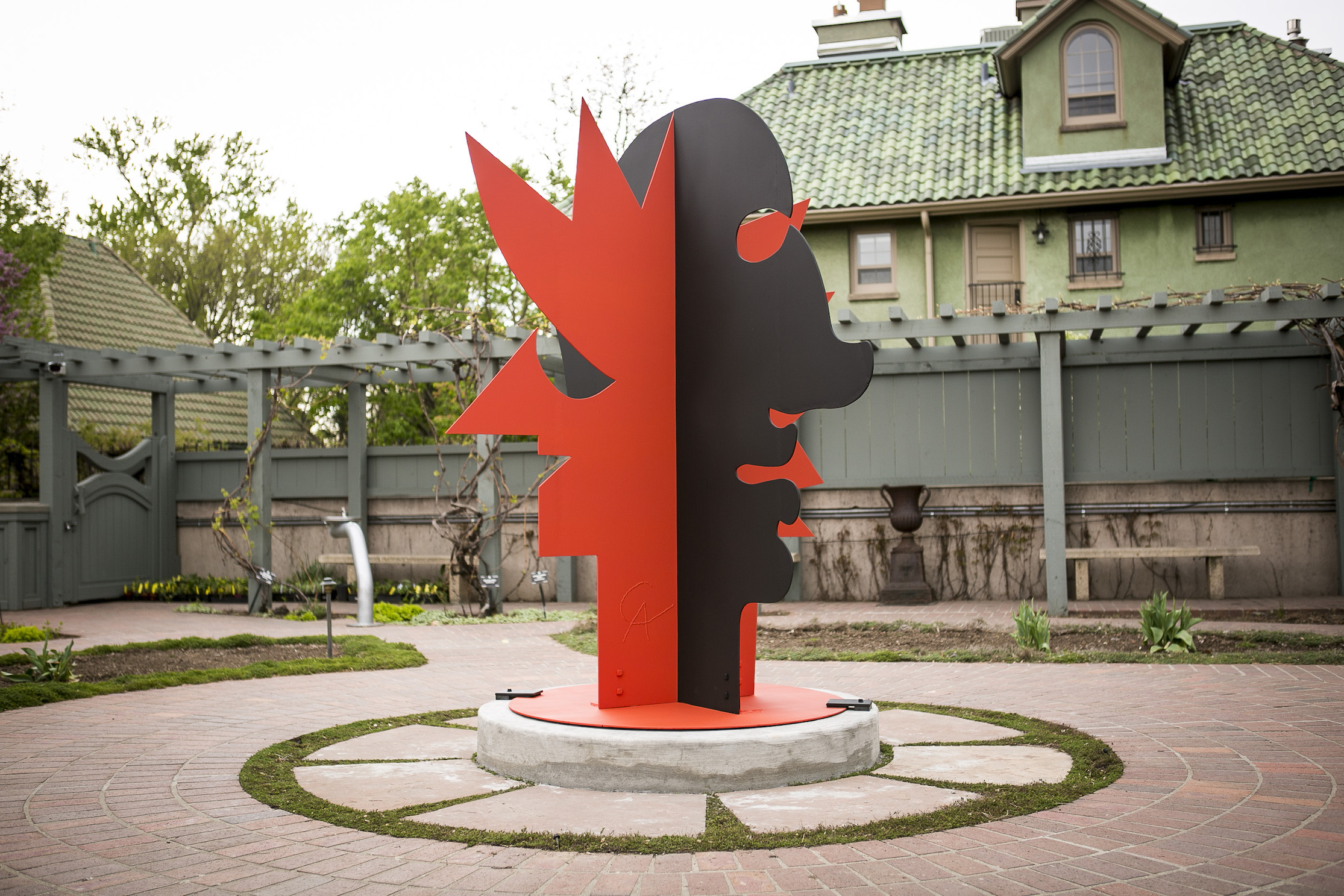 This is the "surprise" piece of the exhibition, secluded in the southeast corner. Made in 1969 and on loan from the Calder Foundation, A Two-Faced Guy is an optical illusion. From certain stand-points, only one of the faces is visible at a time. Using red for the face with straight edges and black for the face with curved edges, there is an innate good versus evil quality about it. Perhaps Calder was representing his experiences dealing with someone, or perhaps he was portraying himself. What is certain about this piece and all of Calder's work represented in this exhibition is that he had an unparalleled vision for sculpture. His contemporaries — Pablo Picasso, Piet Mondrian, Henri Matisse and Marcel Duchamp to name a few — recognized him as a revolutionary artist, helping to coin the terms "mobile" and "stabile" for techniques Calder had invented alone. The truly remarkable aspect of Calder — what sets him apart from other modern artists of his time — is that not only did he embrace abstract expressionism, he came up with an entirely new form of art to express the abstraction.
Calder: Monumental will be at Denver Botanic Gardens, 1007 York Street, April 28 – Sept. 24.