If your ideal Sunday involves getting into bed before 10 p.m. then you might want to stop reading. This past Sunday, Big Wild killed it at the Gothic Theatre. I left with my ears ringing and my t-shirt drenched — far from ready to take on Monday morning. Massachusetts native Jackson Stell started making music while attending Northeastern University, but it wasn't until he relocated to California that he started creating under the name Big Wild. Drawing inspiration from his surrounding landscape — Big Sur, the mountains, the steep cliffs — his music is both smooth and instrumental and draws heavily from hip-hop. He played a sold out show the previous night but didn't let his energy falter during night two. His music makes you want to feel good and dance, and collectively on Sunday night, all of us at the Gothic were dancing and feeling pretty damn good.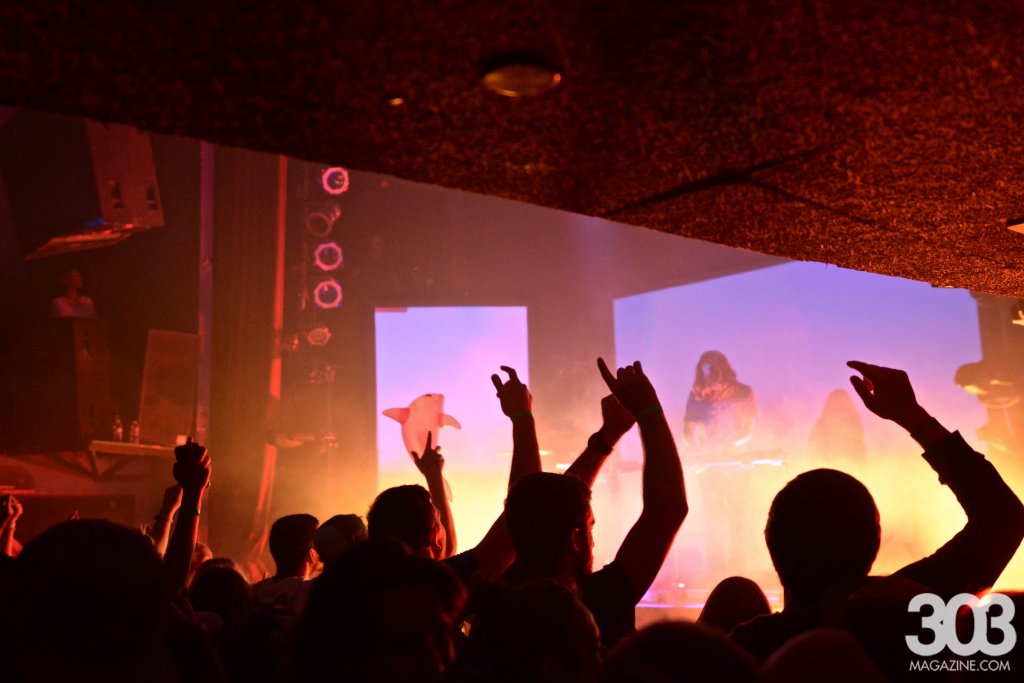 The show started with two openers — Phantoms and IHF (Imagined Herbal Flows.) Ben Gorvine of Washington, D.C. goes by the name IHF. The hip-hop producer opened with slower, more ambient beats than the rest of his counterparts. His sound on Sunday mixed jazz and smooth sounds to get the crowd warmed up. Following IHF was Phantoms, an EDM group created by Kyle Kaplan and Vinnie Pergola. Their sound was way more upbeat than the previous act and incorporated vocals and live drums. Their cover of Ariana Grande's "Side to Side" is what got the crowd going initially — and they kept the energy alive with covers of Eric Clapton and Kendrick Lamar's "Swimming Pools."
By the time Big Wild got on stage, the crowd was already energized and anxious for the main act. Big Wild is currently touring his latest EP Invincible, which he released in early 2017. He first gained traction when he began touring with electronic duo Odesza in 2015 and keeps growing in popularity. He's currently signed to Odesza's Foreign Family Collective imprint. He kicked off the show with a track of his latest EP, "I Just Wanna." This song was the perfect mix to start with because of the build — which is both energized but controlled. Stell extended this build to gain the crowd's attention, then timed the first drop perfectly. "I Just Wanna" is arguably one of Big Wild's most upbeat and fun songs — it's repetitive but incorporates high-energy melodies that got the audience stoked.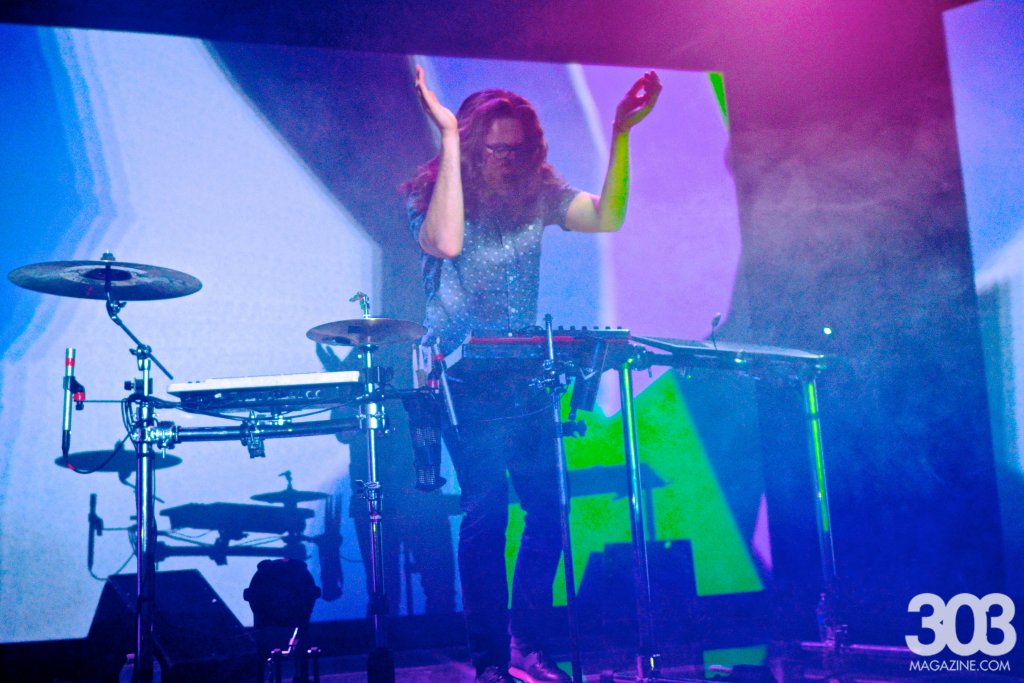 As the show continued, Big Wild switched up his sound between older tracks and songs off his latest EP. The crowd stayed with him the whole time — continually jumping and grooving to each of his mixes. It was his mix of Ludacris' "Stand Up" where Big Wild started to show his hip-hop roots. He's known for mixing hip-hop songs with his own high-energy beats. It was also at this point in the show where Stell was able to show off his musical talents. During his performance of "Empty Room" he switched between jamming live on his drum set and piano. Later on, Stall started drumming on a wooden box known as a Cajón — a percussion instrument first built in Peru. Sitting on the box and drumming, it was hard not to be impressed by Stall's talent.
After his use of the Cajón, Stall slowed the show down somewhat to let his beats build more. His mix of "Show Me Love" by Hundred Waters started slowly with the sound of rain pouring down. He paired this with a video backdrop of a rainstorm and began recapturing the energy of the audience. It was when the beat dropped during this song that the concert's sound turned. Here, Stall began playing songs with fuller sounds and bigger drops and seemed to gain a second wind of energy. My favorite part of the night came just before he mixed his own "Venice Ventura" with Rich Boy's "Throw Some D's." He yelled out into the crowd and unexpectedly jumped into the audience — crowd surfing on a Sunday night? I'll take it.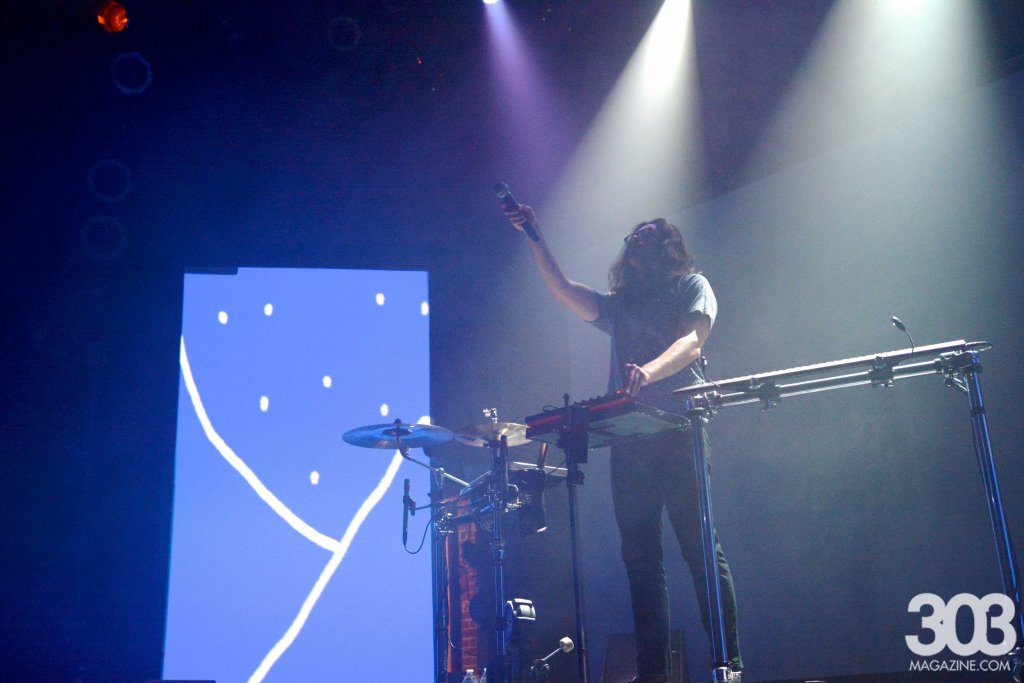 Stell continued to wrap up his set with fan favorite "Hey Mami" — a mix of a popular Sylvan Esso song. He whistled his way through the majority of the track — I didn't even know it was possible to whistle that long. This was not the most impressive part of the show, but as someone who can't whistle a single note, this got me pretty stoked. As my energy started to fade and my Monday responsibilities began to loom overhead, Big Wild wrapped up with show with his most popular song, "Aftergold" and just like that I was back to forgetting the weekend was almost over.
Stell encored with "Invincible" — the title track of his latest EP. "Invincible" gave us one last look into Big Wild's use of strong beats with a fun, upbeat twist. He followed this with his last song of the night, a cover of Snakehip's "All My Friends" featuring Tinashe and Chance The Rapper. As the lines of, "all my friends are wasted" closed out the night, I couldn't help but look around and think that there couldn't have been a more fitting end to the show. Stell wrapped up the night by looking out into the crowd saying, "I know it's Sunday but you got fucking down and I respect that." Me too, Jackson, me too.
All photography by Will Sheehan. See our full gallery here.