The fourth annual Collaboration Fest hosted by Two Parts and the Colorado Brewers Guild was the most ambitious creative beer festival yet. The festival outgrew its old location and has found a new home at the National Western Complex. With over 150 breweries, 500 brewers and more than 100 unique beers poured the space was much needed for the beer enthusiasts. While it is nearly impossible to try every beer, although we did our best, there was a beer for every taste.
New England style hazy IPAs were everywhere. Japanese inspired beers came onto the scene and more than one brewer added rye influences to their brew. Some of the beers were brewed for a purpose, "Makin Noise: Pussy Riot Beers" had their own corner and came in five distinct variations. Other beers were made with the help of a higher power, a throwback to traditional brewing practices. This festival is an opportunity for these brewers to try what they have always wanted and to experiment in new ways. The things that are being explored here might very well be the new trends we see in the upcoming year.
Below are our picks for the beers to best encompass the spirit of Collaboration Fest.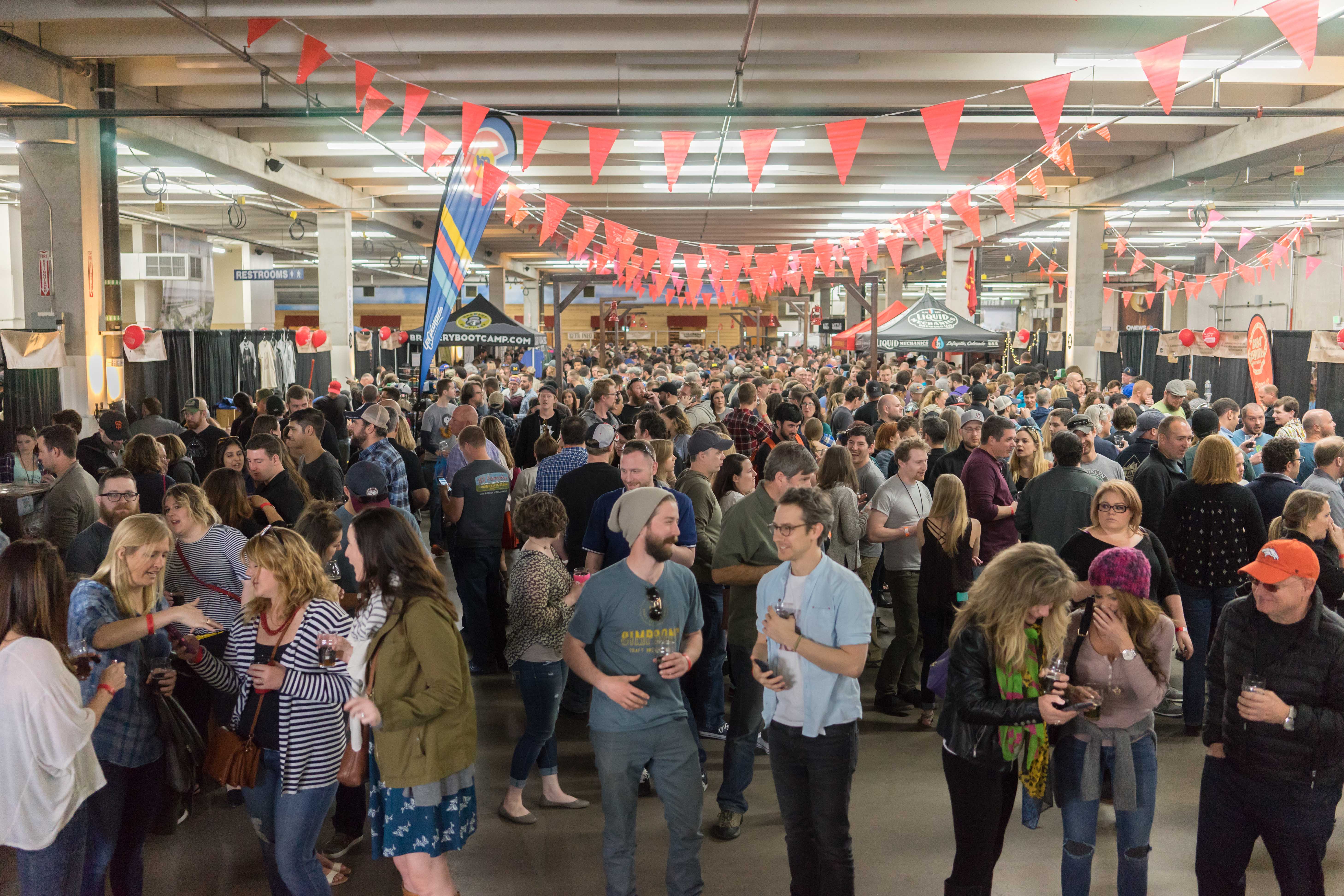 Precious Medals: Our Mutual Friend Brewing and Wiley Roots Brewing
The single haziest IPA at the festival, these two breweries created a triple IPA and used seven different kinds of hops. This beer also included edible 24K gold flakes, making it the fanciest beer at the festival. The first sniff transported you to the tropics and the first sip was a gushing of fruit flavors. Just when you thought the limits of hazy IPAs had been reached these two breweries showed there is only more to come.
White Samurai: Call To Arms Brewing Company and Spangalang Brewery
This beer was an homage to their previous employers (Avery and Great Divide) and it would make those two breweries proud. You can taste the hints of White Rascal and Samurai but it is uniquely its own with a bit of spice wrapped in citrus. An immensely sessionable beer with a smooth mouthfeel.
Scrimshaw: Fossil Craft Beer Company and Cerebrus Brewing
This kettle sour gose was brewed with Hawaiian black lava salt and then conditioned on pineapples. If that wasn't enough it was dry hopped on Lemondrop and Wakatu hops to give this beer a distinctly island flavor profile. It wasn't overwhelming sour, it was balanced by the pineapple and the salt. The taste is what you might imagine a trip to the big island feels like.
Rye on Pistachios: Wynkoop Brewing Company and Pikes Peak Brewing
Collaboration Fest encourages brewers to think outside the box and aging a beer with pistachios is something you might not see anywhere else. The rye beer was robust but not overpowering and the flavor of the pistachios was a perfect match. It was a bit strange at first to be drinking something with such a nutty influence but by the end of the glass we were sad it was over.
Makin' Noise: A Pussy Riot Beer, Lady Justice
This has been a collaborative project for the last several months, originally tapped on January 20 of this year as a protest and as a way to make voices heard in response to the election of Donald Trump. It has only grown since then and five different beers were featured at the festival. This particular imperial saison was brewed with warrior hops for strong women. It took the dry, crisp and light sasion flavor profile and gave it a literal kick of hops.
Japanese Saison: Jagged Mountain Craft Brewery and UberBrew
What does a beer with green tea, shiitake mushrooms, kelp, roasted seaweed and toasted sesame seeds taste like? Not at all what you might expect. It was light, fruity and had a bit of the kick from the Japanese pepper. It was by far the most surprising beer flavor based on the ingredients, like many things, never assume the end result.
Rye No More (No More): Bierstadt Lagerhaus and Call To Arms Brewing Company
This is a beautiful traditional lager that was kicked up a notch. It is hoppy and has a malty, almost chewy bite from the rye but never lost its base lager feeling. Not only that, but it was poured from a traditional keg and head a frothy head that almost stopped you from drinking it. This beer was not just a drink but an entire experience.
West Side is the Blessed Side: Joyride Brewing Company and Little Machine Beer
These two breweries came together to brew a traditional Belgian tripel, one with red grapes and one with white grapes symbolic of communal wine. To keep it as traditional as possible they enlisted the help of a local father from St. Dominic's Church since this style was originally brewed by monks in Belgium. The beer was blessed by the father and made with holy water, so it wasn't just two breweries coming together in this collaboration but an entire community.
"Whoever shall drink it may gain health in body and peace in their mind and soul." – The blessing Father Wes of St. Dominic Parish gave the beer.
—
In its fourth year, Collaboration Fest continues to lead the way in boundary pushing beers. The beers here might never be brewed again making it fun for beer geeks and casual drinkers alike. If you couldn't make it to the event, check out your local brewery to see if they have their collaboration beer on tap. Then circle March 24, 2018 on your calendar so you can attend next year.
All photography by Brittany Werges. Go here to see our gallery from Collaboration Fest 2017.