I felt like a terrible person for missing the Women's March on Saturday. Why did I miss the Women's March, you ask? Because I was still hungover from Railroad Earth's Friday show. But Railroad Earth eased my guilt by putting on their own peaceful protest of sorts.
In a nutshell, Friday's show was a bit dark and psychedelic. The evening's rendition of "Storms" stood out to me the most, its lyrics carrying themselves a bit heavier than usual. Saturday was full of hits and crowd pleasers (because, Saturday) like "Smile Like a Buddha" and "Bird in a House" — plus an encore of "My Sisters and Brothers" by Jerry Garcia Band (one of my personal favorite songs ever).
"We got a hole to mend
We got a fire to tend
We won't let these troubles grind us
We got friends and prayers to mind us."

-Storms
And Sunday ("Never miss a Sunday show!") was when they most steered the set towards a patriotic and hopeful direction: Todd Sheaffer crooned "Birds of America" (Railroad Earth's first time playing the song this year, according to Hobo's Companion, for all you super fan/music nerds out there) while Carbone fiddled along with that searing so-beautiful-it-hurts chorus riff. This was immediately followed by Simon and Garfunkel's "America," invoking nostalgia for an "America" that's long been lost, or perhaps never even existed at all. You know, that dreamlike imagery of America, land of the free, home of the brave, the great "American Dream"— but hasn't it always been more of a state of mind than a tangible thing, anyway? So it goes. Railroad Earth closed out their three night run in Denver with a "Peace On Earth" encore. Not so subtle, right?
During the show, a friend pointed out how most bluegrass bands have a banjo or a fiddle or a mandolin or a Dobro — but Railroad Earth has all of those instruments and more. This is what makes their sound so dynamic: half of the band members play multiple instruments, switching throughout the set, depending on the song. Sunday night's second set mandolin war between Goessling (who plays everything from acoustic guitar and banjo to flute and saxophone) and Skehan (who also plays the piano) were mind boggling, with pickin' so fast, all you could do to keep up was bobblehead dance and marvel at the talent exploding before your very eyes. (Yes, my neck is still sore.)
To describe Railroad Earth to someone who's never heard them before is a challenge — partly, because I'm biased: they're my absolute favorite. It's feel good music. It's music that makes you jump around and smile so hard, you're cheeks ache. Railroad Earth is a band where you can show up to the show by yourself (with no pot) and leave with twenty new friends (and stoned as hell).
When asked to describe their own music for their website bio, band members had a few ideas: John Skehan described RRE as an amplified string band with drums. Tim Carbone claims they're a "Country & Eastern band." When it boils down to it, Railroad Earth rocks and rolls, hoots and hollers, swings and stomps — and almost everything in between.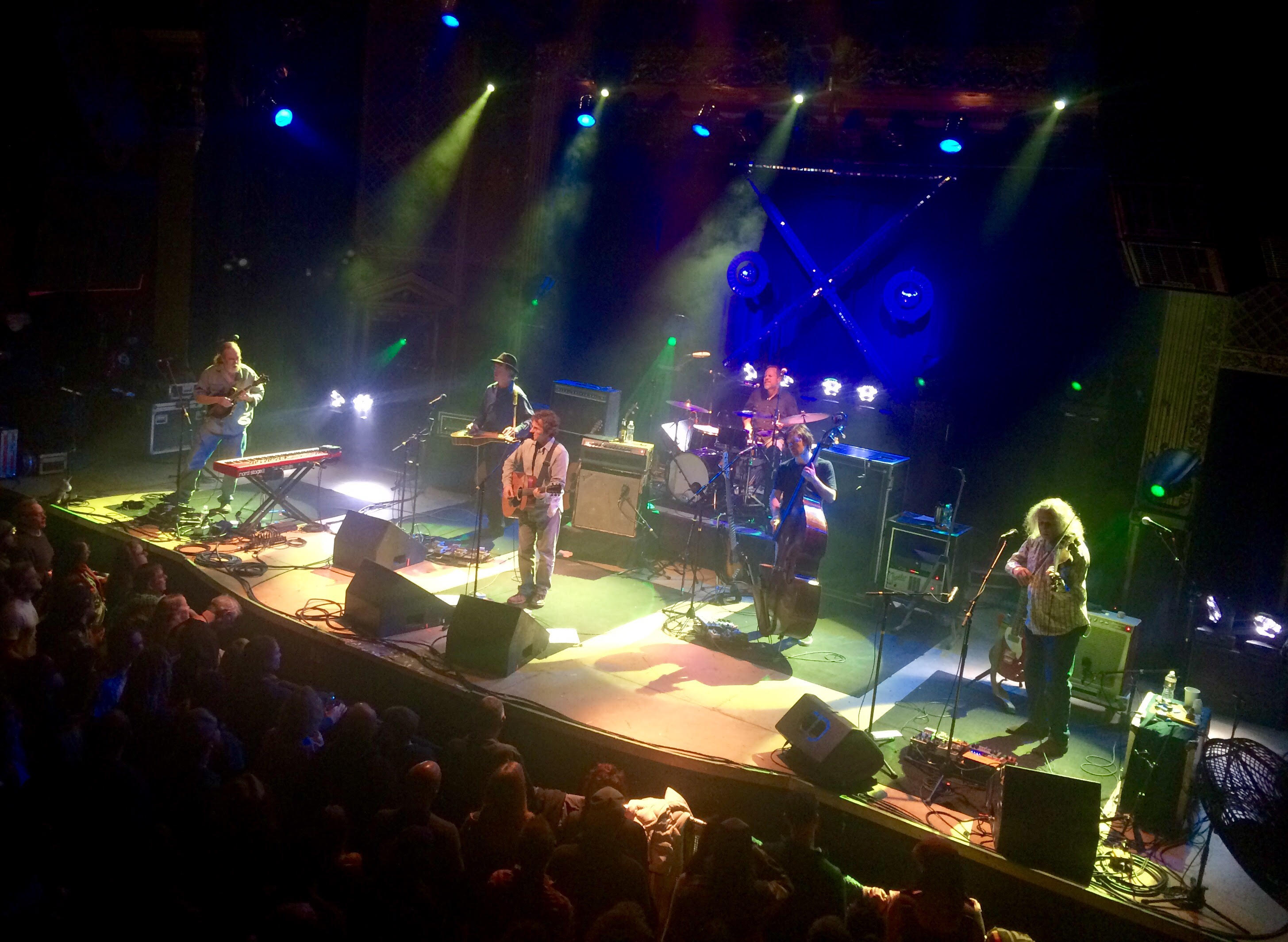 While I missed the massive historical event (because I slept until 2pm) on Saturday, dear friends have described the march as being contagiously positive (or was it positively contagious?). The crowds who marched around the world on Saturday helped to restore faith in humanity, reminding us that there are many good people out there — contrary to the nonstop apocalyptic headlines clogging our news feeds. And above all else, the marches provided hope for a better future.
And that's what Railroad Earth also achieved this weekend: providing hope. The palpable joy and love that hangs thick in the air at Railroad Earth shows is nothing like I've experienced at any other event. With their outstanding music and carefully chosen set lists, Railroad Earth hosted their own little march within the walls of the Ogden this weekend. We stomped, we smiled, we sang along. And we left hopeful for a future where people "tweet others the way they want to be tweeted."