Cuffing season is upon us. While I am not sure how the full extent of cuffing season is supposed to affect me, here is what I do know: winter is cold, but Colorado winters are full of activities that are cold and beautiful. Activities are more fun when shared and with all the winter activities that lie ahead, it's time to cuff yourself to someone awesome. Plus, they can keep you warm. So, if you are still on the hunt to lock down a good-looking and adventurous significant other this cuffing season, try something new and head to Loveland Ski Area on December 10 for the second LuvByrd Chairlift Speed Dating Event.
LuvByrd is a dating app for outdoor enthusiasts. You can look for your match at events that start with your outdoor passions and meet people that enjoy what you like. LuvByrd has teamed up with Loveland Ski Area to host the second Chairlift Speed Dating Event. Last year over 200 Colorado singles came out with their boards and skis in tow to meet and greet on a ride up the hill.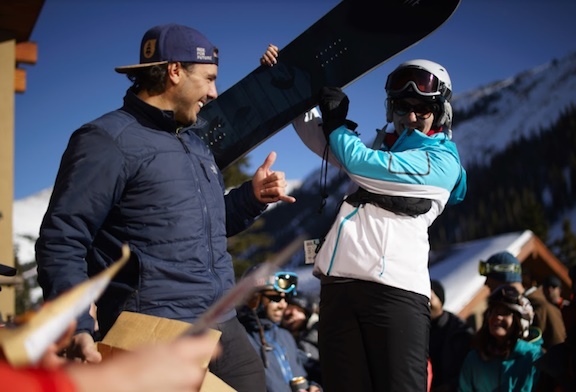 You don't have to spend a fortune to attend this event, LuvByrd is offering discount lift tickets here for $48. Your ticket includes free beer from Upslope, so you can drink away those first date jitters and a raffle ticket that could win you fresh gear from Phunkshun Wear, Candy Grind, Grass Sticks Poles, Zeal Optics and camping meals from Paleo Meal To Go for your second date.
If that is not enough to tempt you into attending, LuvByrd will also be giving away a pair of Meier Skis plus a two-night stay at the Vail Bunkhouse. If you already have a Loveland ski pass the ticket to the event is free. Now you really don't have any excuses.
How does it work?
Registration for the event is from 9-10 a.m. at the base area of Loveland Ski Area. Starting at 10am LuvByrd will pair you up based on age, gender and preference. Then you and your new match will ride the chairlift to the top. From there you make the decision to ski down together, shred a couple of laps or head back down to the base where LuvByrd will match you up again.
Every time you take a chair lift up you will earn a raffle ticket to help you win free swag. The cozy chairlifts rides will end at 2 p.m. and the party will start on the deck with a happy hour and raffle prizes until 3 p.m. Need to brush up on your chairlift etiquette? Make sure to read this before you head up the hill.
The Details:
When: LuvByrd Chairlift Speed Dating
Saturday, December 10, 2016
10 a.m. – 3 pm.
Where: Loveland Ski Area
Arapahoe National Forest
Georgetown, CO 80435
Cost: Purchase LuvByrd's $48 discount lift tickets here
Looking for more events like this? Check out the LuvByrd app.