To follow the Great American Beer Festival and the gradual shifting of the seasons, Chef Michael Long and Excelsior Events will host the fifth year of what is arguably one of Denver's tastiest gatherings. The Chef and Brew Festival invites 20 Colorado based breweries and 20 local celebrity chefs to compete in an ultimate pairing competition. The event will be hosted at the Exdo Event Center this year, expanding the square footage significantly from the original location at the Oriental Theatre. The idea behind the event is that each chef/restaurant will orchestrate the perfect appetizer to pair with a 2 ounce pour from a Colorado craft brewery.    
The beauty of restaurants and breweries alike is that ultimately they aim to represent a food culture and a collective "flavor" of the people. Some of Denver's most creative chefs will show up to blend Colorado's new and upcoming cuisine with its unique and ever expanding craft beer scene.
Chef Ty Leon of Mizuna will pair with Strange Craft Beer, Chef Jorel Pierce of Euclid Hall will collaborate with Ratio Beer Works, Lena will be represented by both Chef Jerry Mansfield and Matyas Urban who are partnering with their neighbors Prost Brewing, along with a dozen more duos who will compete against one another to form the ultimate pairing.
All in attendance will have unlimited access to both food and beer, as well as the chance to vote for their favorite duo in the People's Choice Best Food & Beer Pairing. Along with the popular vote, the event sponsors will provide four gifted palates from the Denver's culinary media scene to help decide the overall winner. Justin De La Rosa of the Denver Post, Elizabeth Woessner of Dining Out Magazine, Lori Madison of Denver Life Magazine, and Mark Antonation of Westword will weigh in to help find us a champion. Judging alongside Denver's celebrity food writers will be Steve Kurowski of Colorado Brewers Guild and Chef Brandon Foster of Project Angel Heart.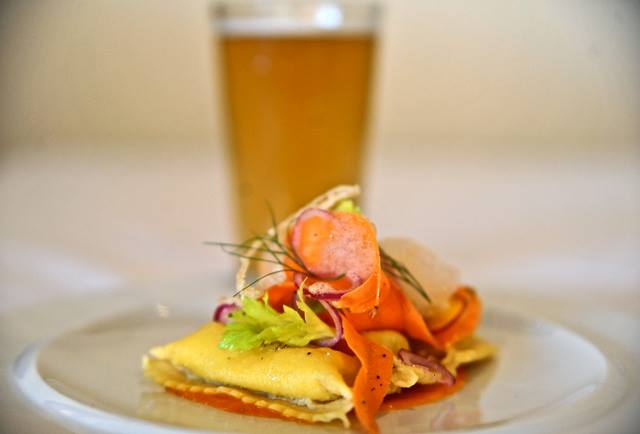 With a pool of judges this fierce competitors are sure to bring their A-game to this year's Chef and Brew Denver. Tickets are on sale now and all benefits will go to Project Angel Heart— a local nonprofit that prides itself on delivering meals to Coloradans with life-threatening illnesses.
Chef and Brew will take place at 1339 35th Street on November 17th. Tickets for the event can be purchased here ($49.00 – $69.00)
All photos courtesy of Chef and Brew.