New York duo Phantogram came through Denver yesterday, just several days after releasing a brand new album. Comprised of Josh Carter and Sarah Barthel, the electronic-rock group Phantogram began releasing music in 2009 under the name Charlie Everywhere. After the release of their premier album, Eyelid Movies, and a heavy festival and touring presence in 2010, it didn't take long for the musicians to take over the scene. They now even have a side project with 2000s' rap icon Big Boi.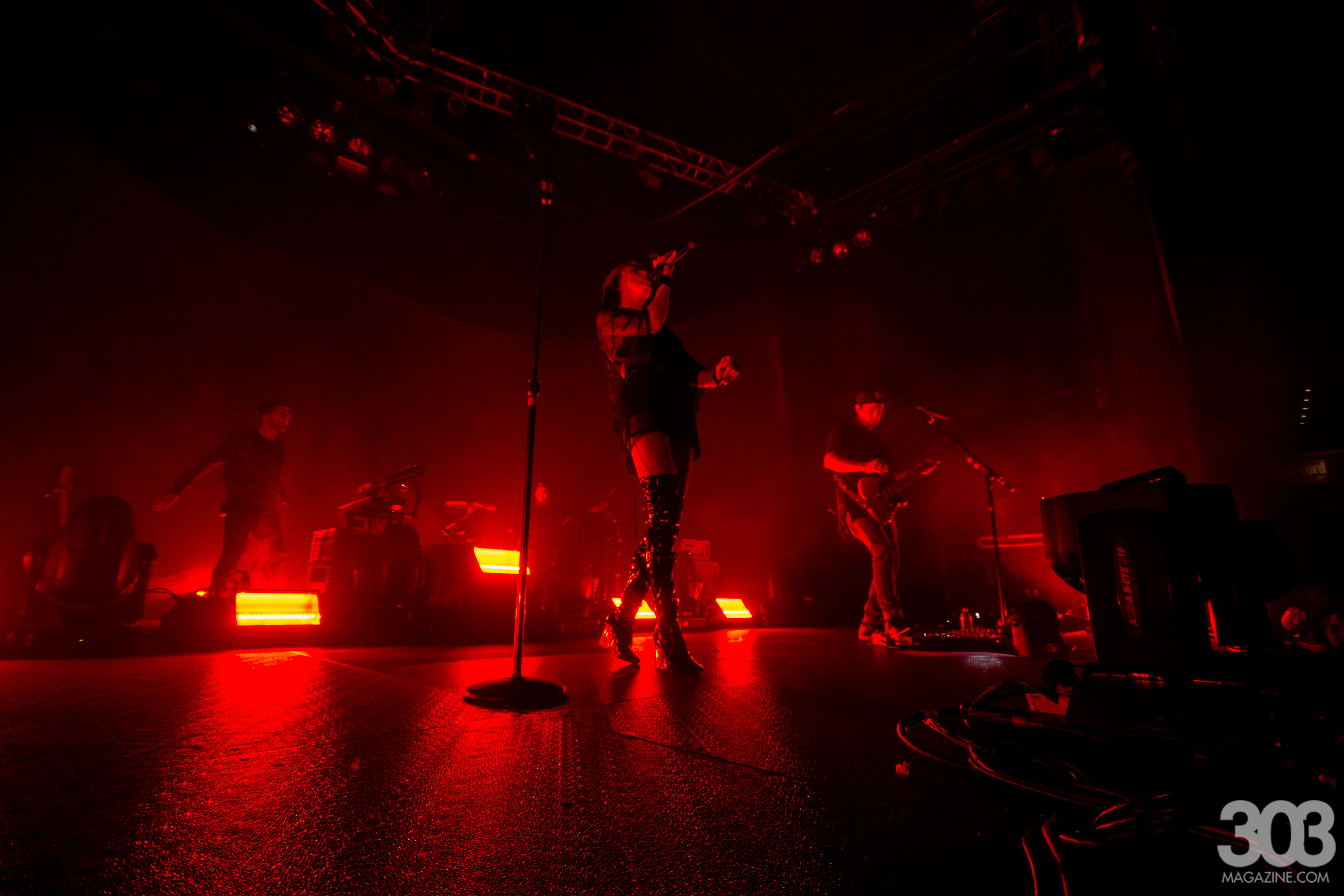 Just this month the duo released a new album titled Three. Reviewed as mainstream, predictable and disappointing, the album didn't receive the praise its predecessors had before. Some tracks are a little too reminiscent of Sleigh Bells guitar and drop sequences or even MIA-esque vocals. Though I agree that it's more mainstream and less experimental than their debut Eyelid Movies, Three still hits the spot. The album shows us not only a different side of Phantogram, but also a different side to alt-pop music.
"We've been playing here for a long time so thanks for making this fuckin' happen. Shit. Sorry for swearing… Just kidding." Barthel
On the evening of Wednesday, October 12, Phantogram played at the Fillmore Auditorium, returning to Denver for the second time in 2016 (they played with Big Boi as Big Grams in January of 2016 at Red Rocks). Along with the duo came opener, The Range. This Rhode Island DJ, James Hinton, played an ambient electronic set infused with rap, pop and dubby bass. Hinton amped up the crowd by waving his arms, jumping and encouraging everyone to get moving.
Phantogram opened with "Funeral Pyre" and immediately the set felt ambitious. It was dark, grim and mysterious with hints of anger, melancholy and for some reason that angsty feeling of just being fucked over. Front-woman Barthel sported an all-black rocker outfit while relentlessly whipping her hair in the lights, then receding into the shadows. The light coordination was fairly impressive. Spotlights honed in on performers' faces with laser-like accuracy, adding an out-of-this world dramatization to the show. The lights beamed onto the crowd in waves as if we were all being abducted by Phantogram.
After a transcendent introduction, Phantogram lead into "Don't Move" where in a Wizard of Oz moment, it was revealed they were playing behind a thin curtain that was projecting a live video of the band members performing. The projection would be morphed and filtered across the mesh sheet into different formations and videos. The curtain dropped for "You're Mine," finally unveiling a clear sight of Phantogram. With a white curtain hanging in the back as if placed there to cover something up, and a projector shining light onto the band members, it honestly felt like a souped-up house show.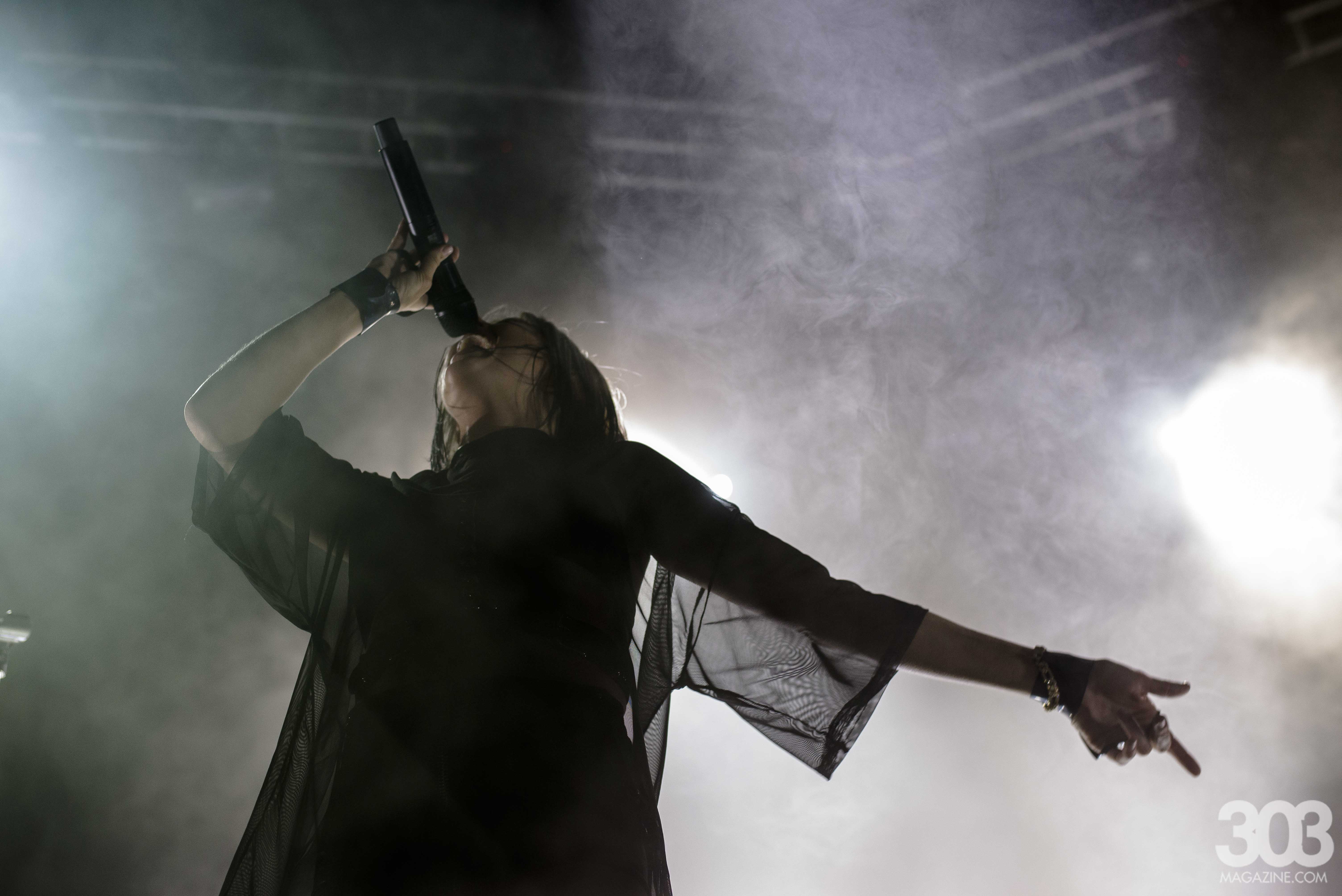 The band followed "You're Mine" with another single from Three, "Same Old Blues" and then slowed things down with "Answer." This track included the first of many-to-come guitar-offs between Carter and Barthel. "When I'm Small" was quite the crowd-pleaser; Barthel let loose both on stage and with vocals, concluding with an emotional belting of moans and "oohs."
"We got one more song for you. It's that fuckin single." – Barthel
After a couple more tracks, Phantogram returned for four encores including "Cruel World" and "that fuckin' single," "You Don't Get Me High Anymore." The front curtain rose once again and the projections let loose for a while, making it pretty unfortunate for those fans who left before the encores. Family photos and videos were projected during the emotional "Barking Dog." Barthel introduced the band and thanked the opener before playing their final track of the evening.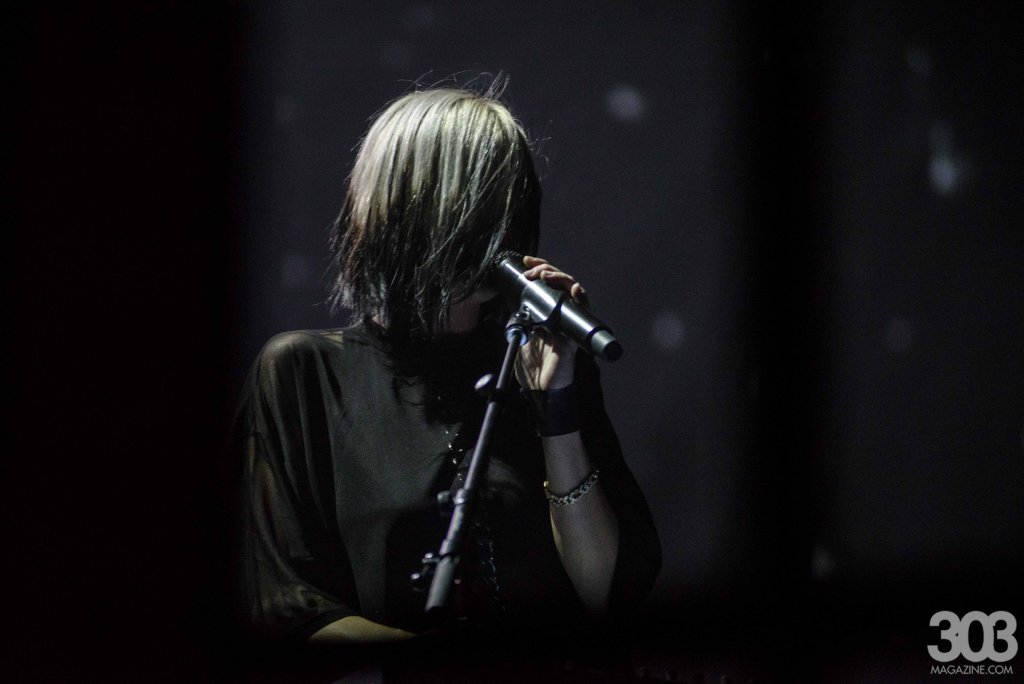 I've seen Phantogram once before and I won't lie, that show was one of the biggest let-downs I've ever experienced at a concert before. It was five years ago and I was committed to Phantogram with Eyelid Movies, so this night at the Fillmore was the duo's second chance for me. Granted it's multiple albums and quite a few years later, so they've had time to grow and mature, but I have to say I left impressed. Phantogram highlighted their diversity in musical capabilities and spectrum of talents with creative lighting and a dedicated stage presence. The band would alternate both vocals and instruments, and go hard with some bass and guitar, or go slow, accenting vocals and their experimental nature that still exists when you look for it–even in the "mainstream" Three. For now, I'm looking forward to their return to the Mile High to see if they can build on this momentum.
All photography by Austin Voldseth. Check out our full gallery here.