First, allow me to get this out of my system: Dweezil Zappa is a total dreamboat. Okay, moving on.
Last night, I rolled up to the Ogden amidst a sea of fleece onesie-wearing Tipper fans on their way to the Fillmore. As I passed by the Supermans, Pokemons, red foxes and dinosaurs, I was pleasantly greeted by no line at the Ogden's box office (a true rarity), no line to get into the venue (despite the new metal detectors) and no line at the bar. And Dweezil had just taken the stage in a timely fashion, just after 8 p.m. The scene was delightful: space to dance (under the fan!), a bunch of old guys and me. Needless to say, I was probably the most enthusiastic person in the room when Dweezil took off his shirt.
Dweezil's current tour is appropriately dubbed the "Cease and Desist Tour," in reference to the legal drama that he's been dealing with for the last year regarding the Zappa Family Trust (ZFT) and his entitled siblings, Ahmet and Diva. Despite Dweezil's effort to compromise and remedy the legal trouble, which is based on a tour merchandise contract that was reneged by Dweezil's mother, Gail, "allowing her to keep 100% of the tour merchandise revenue for herself from 2006-2015," the family feud is still ongoing.
After Gail's death, Ahmet and Diva became trustees of the ZFT and had the opportunity to make right of the situation, but instead told Dweezil that if he won't give them the profits from his tour merch, that he's no longer allowed to tour under the name "Zappa Plays Zappa." Dweezil has since changed the name of his band to Dweezil Zappa Plays Frank Zappa, which did not appease his siblings — and so he's since received a cease and desist letter from them.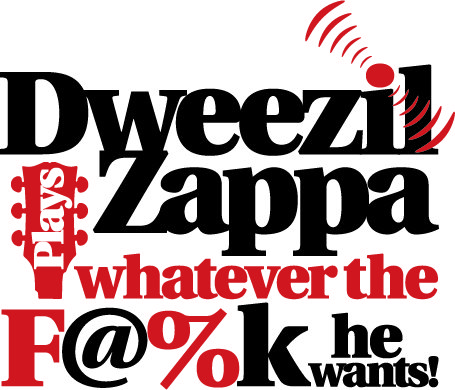 Dweezil's lawyer best sums up the scenario in the following word: "Dweezil has done more than anyone in the family, including Frank's widow, to promote Frank Zappa as a musician/composer, as a brand and a cultural and musical icon. He has done so with humility and the utmost integrity." While it's a major bummer that the siblings have beef with this, what can you do?
Families are weird. The show must go on.
Anyway, at last night's Ogden show, Dweezil and his band celebrated fifty years of Frank Zappa's music (and the 50th anniversary of Freak Out!) by playing a smorgasbord of Frank's deeper, more psychedelic tracks from his early years, including lots of stuff by The Mothers of Invention. There were some tracks off of Frank's 1971 movie 200 Motels, like "She Painted Up Her Face" and "Half a Dozen Provocative Squats" (during which Dweezil made note for us to pay attention to the lyrics, "which are hilarious").
He played some of the stranger tracks from Freak Out!, like "Help, I'm A Rock" and "Who Are The Brain Police?" A sultry rendition of "You Didn't Try To Call Me" had the audience swooning over Dweezil's new female singer, belting out lyrics in her kitty cat dress and stilettos. And a powerful "Teen-age Wind" was also well received, during which Dweezil put emphasis on the lyrics that spoke of being free, a blatant reference to the Zappa Family Trust shenanigans. They also played some favorites from Zappa's 1979 rock opera Joe's Garage, including "Packard Goose" and a beautiful and bluesy "Watermelon In Easter Hay."
A sing-a-long to "Montana" ensued, then again with "Catholic Girls" and once more with "Easy Meat." Dweezil brought up a young boy from the audience donning a "Team Dweezil" t-shirt who'd won a contest to receive a guitar lesson from Dweezil earlier that afternoon. Dweezil knighted the kid with his personal guitar and let him jam out with the band for a while, while the frenzied audience cheered him on. It was pretty powerful when the band encored with a somewhat acapella version (with drums) of "The Meek Shall Inherit Nothing"— a friendly reminder of the presidential debate that we'd skipped in order to boogey to Zappa tunes. They closed out the night with "Cosmik Debris" and a rocking rendition of "Muffin Man."
"Those Jesus Freaks
Well, they're friendly but
The shit they believe
Has got their minds all shut
An' they don't even care
When the church takes a cut"
In short, it doesn't matter what Dweezil has to name his band. In a statement on his website in response to his family's legal ongoings, he says, "The last thing I want is for any of this drama to overshadow my Father's music. His commitment to excellence and his integrity have always been a guiding light for me." And Dweezil does an admirable job of doing just that, talking us through each song, reminiscing fondly about Frank's work and keeping the beat alive.