Based out of both Philadelphia and Denver, Lotus is no stranger to the 303. Lotus has played numerous shows in the Denver area, like last Halloween's show at the Fillmore, and they have also toured and recorded with various Denver artists. On Saturday September 17, they are returning to Red Rocks for the first time since their iconic "Talking Heads Deconstructed" tour, which featured Denver's Gabe Otto as David Byrne. Lotus will play at the legendary natural amphitheater again to debut their new album Eat the Light.
Lotus's new album is a reflection of the bands versatility in sound production. The band is able to capture a wide spectrum of sound, while still staying true to the core vibes that epitomize Lotus. The album is the first to feature vocals on every track, a step away from their previous albums. Eat the Light captures the feelings of sunlight, summer-time and smiles. It embodies a dance energy that is contagious, with catchy melodies and lyrics that have fans humming the tunes day-in and day-out.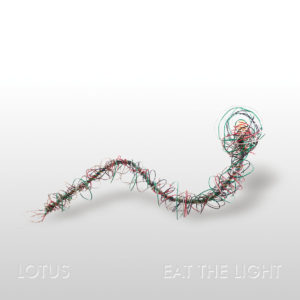 303 Magazine had the privilege to speak with Lotus's guitarist/keyboardist Luke Miller to discuss the band's new album Eat the Light. The album featured a lot of collaborations with artists and is definitely a new and refined sound for the band, sure to shake up the Rocks on September 17 with immense energy.
303 Magazine: Did Denver's music scene help inspire Lotus for some songs? 
Luke Miller: I would say it was more mutual friendships than the Denver music scene in particular. In the sense of wanting to collaborate with other people, yeah it did.
303: Eat the Light is the first Lotus album that featured vocals on every track. What inspired the change from previous albums like Nomad that had a little bit more of a jam?
LM: One, on basically every album, we had at least one song that featured more vocals. We found that it was hard to market those to any outlets outside the jam band scene because it was 10% of a 10-track album. The Talking Heads deconstructed shows were a big point of influence on that. Playing those shows and seeing thousands of people sing along to the songs and get into singing the lyrics together was incredibly cool, so we thought having moments like that during Lotus shows would be really cool.
Photo by Lindsey Bartlett
303: "Suntan" is featured with Denver-based Rachel Eisenstat (Raven Jane). How was it to work with her and did she help make the song the summer-inspired track Lotus was going for?
LM: Yeah, she actually went to the same college I did in Indiana. We didn't actually overlap in years there, but I kind of knew her through that. She's got a beautiful-sounding tone in her voice. Raven Jane's music is a bit bluesy, indie-folksy, a little bit darker, so with "Suntan," we wanted to bring out the side of her voice that is more of a summer-time vibe.
303: Was this a fun album for Lotus to make, especially because it featured a lot of collaborations? 
LM: Yeah, it was fun being in the studio with the vocalists and trying to work with them to get a good performance and tweaking the melodies. It was a learning process for us because when you're featuring vocals, there's only a certain amount of space so you have to trim down the instruments a little bit more than what we do on a normal Lotus track. It was a good exercise in learning that less can definitely be more.
303: Does the first track, "Fearless," help embody a theme of what the band is trying to do behind the album? Is it propelling Lotus to do something new?
LM: That wasn't the intent when the track was written. Since we got together, we tried to not hold ourselves to one sound or anything so that you can draw a circle around what Lotus is. The track is about other aspects in life, going out there and trying new stuff.
303: Is Denver one of your favorite spots to play music? Are there elements from the Denver music scene that get you pumped up?
LM: There's such a rabid appetite here for people to see live music. People that are into improv, funk, EDM, all types of music and everything kind of comes together and is always exciting. People are always so amped up. A show like Red Rocks, a lot of people fly in for, and needless to say, Denver is one of my favorites.
303: Is Red Rocks a lot different for you and does it help shape the set that is put together for the show?
LM: For one, it's always the biggest show of the year for us, excluding big festivals and such. We try to use it as a point to reassess the light-rig and see what kind of new innovations we can use at Red Rocks, which then we can later in the tour use in smaller formats. It's kind of a debut point for production type and look to step up the live show and make it better in any way possible. There's always that pressure at a Red Rocks show to put on our best show possible. There's so many other  bands out there that are bringing amazing shows so we want to do something unique, but be up to the spectacle that is Red Rocks. Live up to that standard.
Interview has been edited and condensed.