I think I left most of my dance moves in the mountainous fields of Winter Park during the Divide Music Festival that occurred July 22-24, 2016. With performances stretching from local to national, the musical junkie has been fully satiated if they camped out under the sweltering sun and wintry moon. Friday was kicked off by Kayla Marque, her soulful voice spiraling through the mountains. I could detail the entire line-up for you, scratch it out under your eyes, but I want your belly to eat up those precious moments that all us festival-goers will surely remember.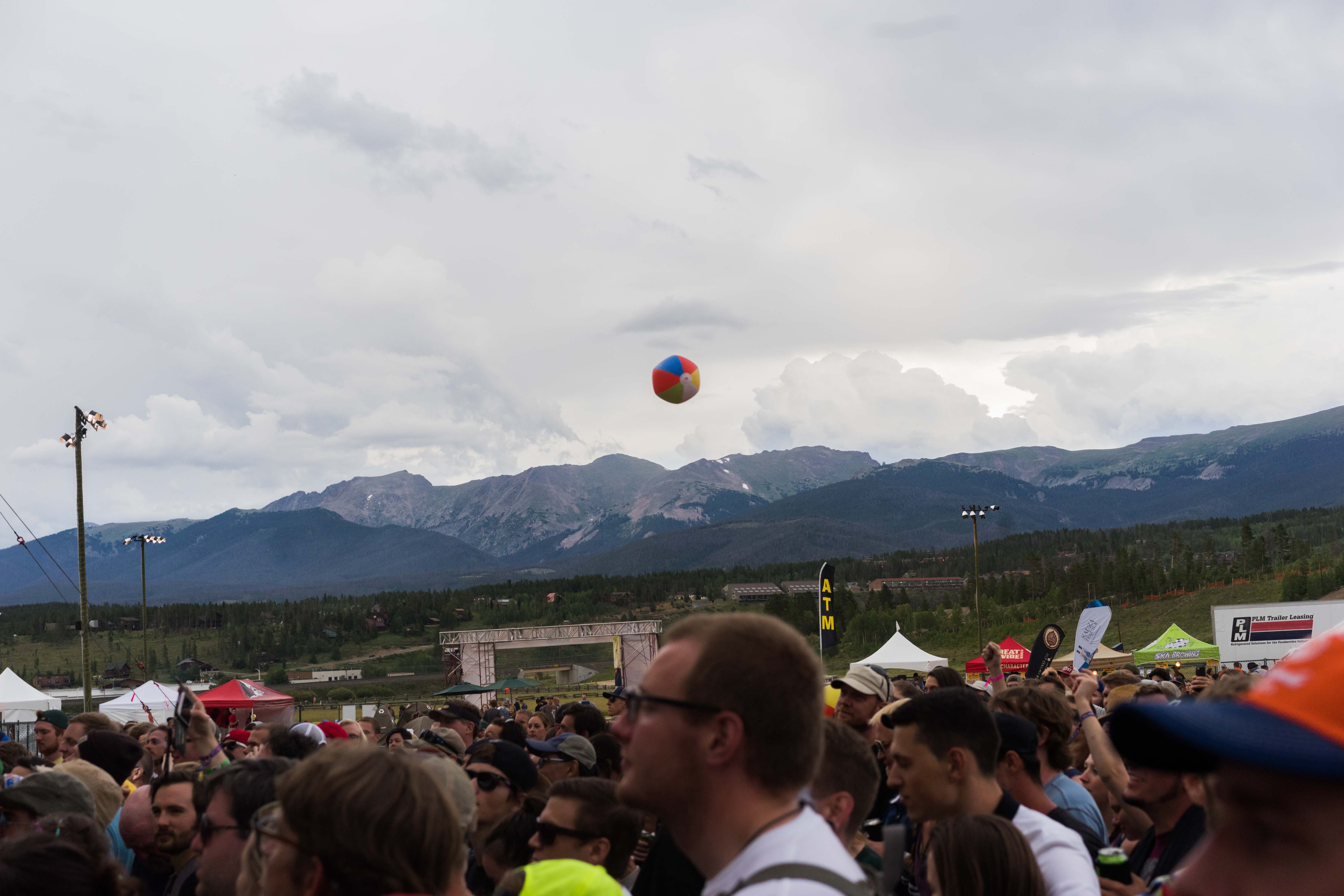 The first being Cake. They sure did like to talk about politics, dedicating "Opera Singer" to Donald Trump. Of course, no one took the satirical band seriously. "He's conflicted, terribly," lead singer John McCrea joked, "But we don't want it to be Armageddon." They then entered the song "Bound Away," a song that can make warm fuzzies pop up in any hippie's heart. From there, they kept digging on their bass, touting their trumpet and jiving on the percussion. "Love You Madly," "Frank Sinatra" and  "Sheep Go To Heaven" came from the funky instrumentalists.
It wouldn't be a Cake show without Crea's dry, monotone humor. "I wrote this in a very tall building," he stated, explaining the song "Guitar." He did the same with "Stickshifts and Safetybelts," (it was written in an automobile.) Often going onto tangents about the American life, one man scoffed, "Shut Up," to the band, and Crea pointed him out for all to hear and laugh at. He made good points, however; he stated musical gatherings are one of the last places people can go to without hating one another — a poignant comment that came through a smile. Ending with "Sick of You" and "Jolene," the crowd left perhaps a little befuddled but appreciative of the dirty purity that can only be derived from a true alt-rock group.
Leaving to refuel on booze on all the shining silver beer and food trucks, the crowd began to stir around 9 p.m. — Edward Sharpe and the Magnetic Zeros were next on the roster. I had seen them once previously, when singer Jade was still a part of the group. Sadly, not all bands can stay the same forever, no matter how many of us fans care to romanticize them. I was anxious to see what the group's dynamic now felt like. I'll tell you one thing — it felt amazing.
Swiftly flying into "40 Day Dream," the gang proved to the crowd they were still holders of musical light and freedom. Lead singer Alex Ebert was extremely giving to to his fans, whispering the lyrics of "I Don't Wanna Pray," and saying we were all making up shit now, in reference to the words. The group acted as a jam band for the night, drifting into one song then abruptly careening into the next. Ebert kept up a nonchalant act, as if he figured the band could figure it all out for him. I kept thinking their sound was if someone rolled melancholy into trip-hop artistry. They went on to play "If I Were Free" and "Man of Fire," when Edward suddenly stepped out into the crowd.
Maybe you saw it on all the snapchats and rising of phones, but his skeletal frame carefully walked across the dividers and he jumped down to twirl around with the audience. I was able to participate in a jig with the man before hordes of girls pulled him away. Most of the fans were standing in shock, and it shows how beautiful this band is. They really don't care about anything — except for the sharing of music. This was clearly seen when they brought a member of the crew to rap a section of the song "
Truth.
" The piling of emotion was about to burst, and after the man killed the verse, the crowd exploded in cheers.
"Janglin,"" and "Yaya" came into light, with the indie archetypal "Home" hitting next. I was wondering how Ebert would handle it, as this song was previously flooded with Jade and their sweet talk to one another. When it came to her section, he simply shrugged, gave a soft smile, said well and danced it off. Once the song came to the discussion he had with her, he asked if the audience had any stories to share. If you aren't a believer of fate, I'm about to reverse that ideology for you. The first woman he handed his microphone to shared how her son listened to this song on the eve of his death, before he passed due to a hiking accident. The entire crowd took a gasp in — I couldn't even make this up if I wanted to. The band looked stunned, and Ebert shared a moment with her, and then gave the microphone away again. It ended with one young man sobbing, "Art is Vulnerable!" This brought the crowd into laughter once again, and dance rippled through our bones.
The positive piano chords of "Om Nashi Me" came bouncing into the air, clapping and energy being dipped into the music — a holistic jam. Someone shouted "We Love You!" and Ebert provided the same care-free stature and whispered, "I love you" back. We knew the show was over, but no one wanted to crawl up the hill into their tents just yet. The band felt this, and Ebert asked for us to all sit down, and he came into the crowd once more to sit and sing with us. And this was only night one of the three day festival. Smiling with strangers, being fed with music — it was a memorable way to end under the moon.