Coming off the high of performing at Big Gig 2016, 303 Magazine got to speak with Denver-based band The Midnight Club. They may be young (fresh out of high school, I tell ya), but their talent is clearly seen with their well-received array of shows and music videos. Make sure to check them out at the Bluebird on July 29 this weekend — you can grab tickets here. With an album coming out later this year, you'll easily get hooked on their underground jazzy and rock vibe. Discover the artistic layers to this band with our chit-chat below with guitarist Harry Springer.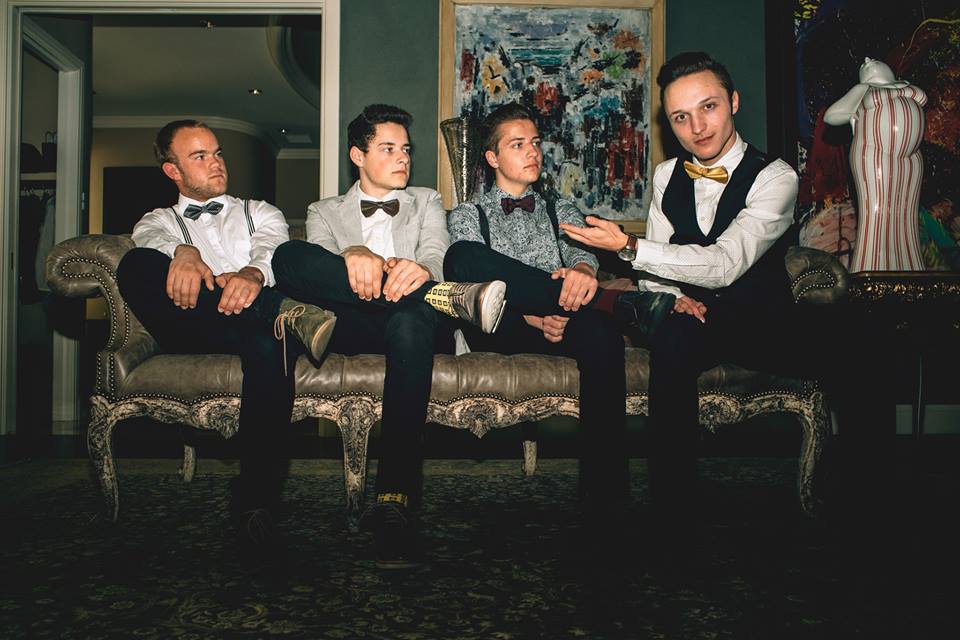 303 Magazine: How did your band come together?
Harry Springer: Sean McCarthy [our drummer] and I met each other through our former bands playing shows together. He was looking to start an alternative band right as I was, so we decided to link up. We started writing and between the two of us, came up with the concept of the 1920's aesthetic and the general sound that we would end up striving for.
We went into the studio to begin recording the first batch of instrumentals, prior to having the rest of the band. I met Owen Coleman [our vocalist] through a mutual friend the day after we had started recording. One week later, he came in to do vocals and he really rounded the sound out. Henry Lovelace [our rhythmic guitarist] and I had been friends since 8th grade, and he joined almost immediately after hearing our first two demos.
 Do you fit into any specific "Genre"?
HS: I wouldn't necessarily say that we fit into a certain genre. As the primary songwriter, I take most of my influence from an image. In the case of The Midnight Club, after we decided on the 1920's aesthetic, I molded the music and lyrics around that concept rather than around any other bands. This said, inevitably, the music we listen to will affect our sound. I listen to a lot of David Bowie, The Beatles, Queen, My Chemical Romance, The Cure and Panic! At the Disco. All of whom are artists who are as aesthetically provocative as they are musically.
 What's your musical process like as a band?
HS: Music is much more interesting to me, personally, when it is multidimensional and just as visually interesting as it is musically interesting. I will usually write and record a very rough draft of a song in my bedroom. From there, I can begin personal pre-production, where I start dissecting the song and decide where I should take it lyrically. When I'm happy with the song, I can start focusing on the lyrical content.

 What's been your favorite memory from a show?
HS: When we headlined the Gothic Theatre on April 15th, we were very weary of the turnout, given the fact that it was the night of our singers' high school prom and it was the middle of a snowstorm. We were exceedingly nervous as the show drew closer. There ended up being about 700 people there and I remember for our single "Knock Back," the crowd was so loud that I could hear them through my in ear monitors. It was our second show, and hearing such a thundering crowd participation was very exciting and very validating.
What was one of your first memories of music? How has living in Colorado influenced your sound?

HS: I recall being a little kid who, though I had no musical background, was always very excited by the sight of a guitar or band. My cousin used to play guitar and I would love going over to his house so I could strum it. I persistently bugged my mom to let me start playing and at age 10, she finally budged and got me a guitar.
In Colorado, we're fortunate enough to have so much aesthetic diversity and beauty. As a band who values image so much, a unique and beautiful aesthetic such as Colorado definitely inspires us a lot on that front and, consequently, with our songwriting as well.

 Do you see yourself keeping the same aesthetic (that jazzy, Gatsby vibe) for your next generation of songs?
HS: The Gatsby aesthetic will definitely stay consistent throughout the duration of this album's cycle. I can't say for sure for future albums. If we do it, we will definitely elaborate on it and change it up to keep it interesting. We all really enjoy playing off of it but if we get bored of it, we'll take it in another direction.